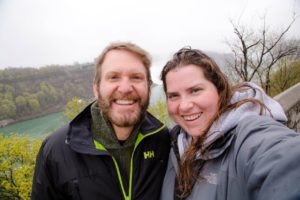 12:30am arrival – even the best of friends say 'take an Uber' after midnight.  My Canadian bestie?  Short cat nap, greeted me just past Customs…then hit the highway.  HUGE surprise.  Middle-of-the-night trek to Niagara Falls.  Hotel slept, woke directly across from North America's greatest free falling water.  Chilly a.m. mist but whatta morning run!
GREAT to wake in Canada!  Purchased 2 tickets on Hornblower Cruises.  Would be seeing the Falls up close & personal.  Donned my plastic 'Hornblower pink' rain jacket & boarded the boat (America's competing 'Maid of the Mist' provide jackets o' blue).
Niagara Falls is actually comprised of three waterfalls: American, Bridal Veil and Horseshoe Falls.  The first 2 lie in the U.S., the latter straddles both U.S. & Canada borders.  Elaborate walkways built on the American side provide 'a' view of the Falls.  Canada however, positioned directly across from the Falls, claims BEST view…by far.
Cruise first passed by American & Bridal Veil.  Lotta opportunity for selfies, water crashing over large boulders below.  Seagulls darted in & out of the Falls, diving into the water below fishing for dinner.  Provided some of the day's favourite shots.
When folks think of 'Niagara' Falls, it's Horseshoe Falls we've seen.  Powerful, thunderous water, tinted green of mineral-eroded limestone.  The force of falling water created a wide spray across the entire boat.  Whatta memory – SUPER FUN (& wet)!  One of the most wondrous, magical, 'take your breath away' places on Earth.  I was here, May 6th 2017.  Could not stop smiling ❤
Boat disembarked.  Slow-walked 2 miles down the boardwalk, past flowering Queen Victoria Park.  Watched fast moving water pour over Horseshoe Falls, self-surrounded by a swath of daffodils.  Hot chocolate at Tim Horton's.  a WOW kind of day!
Rode the QEW (Queen Elizabeth Way), over Burlington Skyway Bridge, then the 407 – to Sarah's flat in Brampton.  Impromptu pull-off to view an old grounded ship on Lake Ontario.  Unplanned excursions, highly recommended.  Many thanks Sarah, much LOVED!
The Grounded Ship was a replica of the Grand Hermie used by Jacques Cartier in 1535-1536 and 1541-1542 to explore Canada. This ship was built in 1967 for Expo 67 [in Montreal] as part of the nautical theme as Expo 67 which was on islands in the St. Lawrence Seaway.  The ship was taken to Quebec City and abandoned in 2001.
Marathon in early a.m. – but not before dining fancy in North America's tallest building, the CN Tower.  No regret, B-I-G life 🙂
Niagara Falls
To hold myself 'run accountable', photo-blogged EVERY day of my 2 week journey in New Zealand.  Reward?  Would see more than your average tourist – each morning: new run, brand new area.  Last day in New Zealand?  Kirikiriroa Marathon.
March 5 (CO time): Auckland Airport – 4 miles
16 hour flight from Los Angeles, 19 hour time difference – meant I left Friday night but didn't arrive in Auckland 'til Sunday morning.  Yikes, where did Saturday go?  EVERY day's a run day but my first run in New Zealand would be on Colorado time 🙂  Restroom stall change-of-clothes, packing service watched my luggage, then logged 4 miles on NZ's North Island.
March 5 (NZ time): Grand Millennium, Auckland – 6.2 miles
City tour, quick hike up Mount Eden, rode to the top of Auckland's Sky Tower.  Finished Day One with a 10K treadmill trot at the hotel gym (running on NZ time now).
March 6: The Redwoods, Rotorua – 12 miles
3 tour stops: Waitomo [subterranean cavern illuminated by THOUSANDS of tiny glowworms], Agrodome (sheep shearing demo) & Te Puia [traditional meeting house & Māori Haka].
10 minutes from The Redwoods, my first amazing NZ run (first of several).  Massive trees, tropical vegetation & cicadas – the forest sang (12 mile FUN run).
March 7: 'Geyser Run', Rotorua – 8 miles
my first MORNING run in New Zealand (finally time-zone acclimated).  Logged 8 miles of geysers before a half-day bike tour & late afternoon flight to South Island.
March 8: Burnside Park, Christchurch – 3 miles
Short pre-dawn run 'round Christchurch's Burnside Park.  Run highlights: rugby field, lawn bowling, morning sunrise.  Later jetboat'd on the Waimakariri River.
March 9: 'City Park Run', Christchurch – 10 miles
2nd double-digit run in NZ, 2nd time I got lost – neither long runs were planned.  One left when I should've turned right, long morning on Christchurch city streets.  Run highlights: EIGHT city parks, morning sunrise.  Rental car pickup.  Drove across the Southern Alps, detouring in the afternoon to walk a swinging bridge over Hokitika Gorge.
March 10: 'Glacier Run', Franz Josef Village – 7 miles
Day 7's highlight WAS my morning run.  Half-mile out of town, crossed the Waiho River via Bailey Bridge, to a dirt access road.  Pre-dawn trail run thru giant ferns & tropical vegetation, down to a murky silt-choked river.  Rock hopped across, spun 'round & glacier gawked — Franz Josef straight ahead/high above.  Popped over boulders, trekked UP, UP, UP.  Waterfall-played on the return to town.
Run NZ – Franz Josef Glacier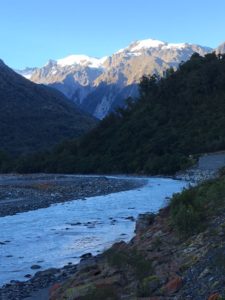 Alarm set, pre-dawn start.  Not just any morning run – Franz Josef Glacier.
Woke north of town, Alpine Glacier Motel off State Highway 6.  Half-mile trek to Glacier Access Road – [Catholic] Lady of the Alps on the left, [Anglican] St. James on the right.  Good omen 🙂
Quick left off Hwy 6, crossed the Waiho River via Bailey Bridge.  Bounced over the wooden pedestrian plank, alongside this one-lane country bridge, to a dirt access road.  4 miles to Franz Josef trailhead.
Westland Tai Poutini Nat'l Park.  Scary dark trail run thru giant ferns & tropical vegetation. [NOTE to self: BUY A FLASHLIGHT!]  Darkness soon gave way to pale-pink sunrise.  Trail-ran DOWN to a murky silt-choked river.  Rock hopped across, spun 'round & glacier gawked — Franz Josef straight ahead/high above.  Popped over boulders, trekked UP, UP, UP.  Snow-melt waterfalls littered the mountain's jagged rock walls.  UP, UP, UP.  Nearing the glacier base, read a Park placard detailing the death of multiple adventurists, following an earthquake initiated rock slide.  Ok, enough – but jeez, it's beautiful here.  When it's my time, let it happen quick…somewhere high in elevation, surrounded by snow (my humble Alpinist prayer ❤).
Waterfall-played on the return trek to town.  5 hour drive ahead, heading East now.  Tonite's destination: Queenstown, NZ's hippie-happy Boulder.  Ski town built on the shores of Lake Wakatipu.
Close 30 minutes from Franz Josef, River Walk hiked.  Bright morning sun poured over Fox Glacier (popular heli tours buzzed overhead). WOW, whatta view!  Lunched an hour later in Haast, before travelling a narrow rocky stretch – 'The Neck' – between lakes Wanaka & Hāwea.  Foothills of the surrounding Southern Alps mirrored off these glacier-fed waters.  Stunning.
Apartment dwelling 3-nights in Queenstown.  Tomorrow morning: touring Doubtful Sound – 2 buses, 2 boats.  But first, burger & a pint in Queenstown Gardens.  One week down, one week to go…vacations go so fast.
…meanwhile, far far away — the Colorado Marathon…me [Captain America] in the upper right promo ad 🙂
Franz Josef Glacier