Set my watch-alarm – no need today – woke early to other 4WD vehicles struggling up the boulder-littered trek to Bridal Veil Falls.  Cool morning temps, dusky predawn sky.  Telluride HIKE day!
Mile drive (from last night's sleepover).  Parked; positioned third roadside.  Spots fill fast (& ranger patrolled).  You're late, you hike – an additional 2 ½ miles UP.  Crawled thru the gate at Bridal Veil Powerhouse (built in 1907 to power Smuggler-Union Mine).  Would snap a pic of the Falls on the hike return.  Tall evergreen (pine & spruce), lush undergrowth (fern & wildflower) AND….waterfalls.
Would see more waterfalls on today's trek than any previous Colorado hike in my life.
Relatively short 5.4 miles roundtrip.  Blue Lake wasn't my original hike destination – one left turn when I should have veered right, log-crossed Bridal Veil Creek.  Bluest blue water, absolutely no regrets.
Open meadows of wildflower, canyon wall backdrop.  Waterfall, waterfall, waterfall.  WOW.  Top 10 Colorado hike location.  If only Telluride were closer – so many hikes, so little time.  I see a week-long backpack adventure in my summer future.
Unleashed Ro early on (slept much of the drive home).  Up trail, down trail.  Run, run, run.  Poised high on rocks above, bouncing thru field flowers trying to flush out wildlife (chipmunk & grouse).  Happy dog, happy life ❤
Altimeter topped at 12,400ft.  Mountain walls reflected off Blue Lake's quiet clear surface.  Crazy beautiful.
Dropped off trail.  Waded thru a tall cascading waterfall, explored an abandoned mining cabin.  Bridal Veil Falls tourist shot snapped – check, done.  $3 shower at Town Park in Telluride, money well spent 🙂  SUPER FUN DAY!
Left early/drove 7 hours straight to avoid next day's holiday traffic crunch.  Reward?  Monday cookout at Ash & Tom's.  Burgers & pasta salad [black bean burger/non-cow eaters].  Afternoon'd w/ daughter at the family puzzle du jour.   Happy Labor Day 2017!
Blue Lake Trail-Telluride
AMAZING morning sunrise.  Watched for half-hour before rustling up breakfast – eggs & chicken-apple sausage (sadly, warm runny eggs/pan-fried 20 minutes).  Brushed teeth, shut up the tent, tethered Ro to my belt – HIKE day!
Mile/mile-half drive DOWN from my camp site.  Secured parking near Rotary Park, short tenth-mile walk to Garden Creek Falls.
Previously trekked this trail, day-before the Casper Marathon 2015.
[June 2015] …hiked Casper Mountain.  Not the Rockies experience of the Bighorns, but a good 5-mile day hike.  Probably not the best prep, day before a marathon but…I'm a lover of mountains.
Bridle Trail: 5 mile loop up/over the Falls.  June 2015 vs August 2017?  Today, whole lotta hikers.  Whole lotta COLORADO hikers.  Appears much of the Front Range arrived in Wyoming overnight & were doing what Coloradans do – get OUTDOORS.  Literally met only ONE Wyoming-based family on today's trail.  [Thanks to Ro – everyone stops & says hi.  He's a very pet-able Pup. 🙂 ]
Englemann spruce, Rocky Mountain juniper, Ponderosa pine, Douglas fir, Green Ash, Cottonwood, Chokeberry, Quaking Aspen.  This trail's a tree BONANZA, landscape more reminiscent of Boulder County than Central Wyoming.
Bridle hiked counter-clockwise, finishing over the Mountain's rock-canyon outcropping.  WIDE-OPEN Casper 2800 feet below, today's WOW shot ('though skyline bit hazy due to BC/Western Canada forest fires).
Picnic'd by the Falls, then drove into town before roads closed for tomorrow's eclipse.  YMCA-showered (FREE/very much appreciated!), check'd out the Cowboy Code of Ethics, shopped Wyoming's (dog-friendly) Eclipse Festival.
7pm 'til after next day's TOTAL Eclipse (noon-ish) – Mountain gated off from Casper.
Dusk-walked Ro by our camp owner's wild mustang rescue.  BEAUTIFUL horse.  Another pink, high mountain sunset.  Dinner plans?  Shrimp, mushrooms & olives in a wilted bed of spinach.  Camping B-I-G on BIRTHDAY weekend ❤
Bridle Trail, Casper WY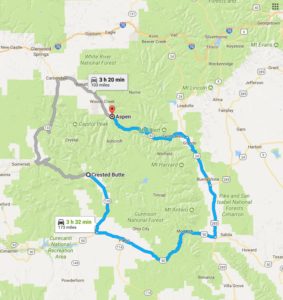 Holiday weekend.  Add Monday as a vacation day & suddenly you're 4 days from the office.  Mentally scheduled this weekend's trek a year ago, when PS' CEO (my employer) made the journey.  Hotels in two towns – both sides of this epic mountain crossing adventure.
Aspen to Crested Butte.
By car it's a 3 ½ hour drive.  On foot, one can be there in under 8.  Waist-high fields of wildflower.  Hike start at Maroon Bells, Colorado's most photographed peak.  Sign me up!
Lazy morning start, couldn't drop Pup at the kennel 'til 9am.  Lunch in Georgetown, Hwy 24 south to Leadville, west over Independence Pass (open 'til October or first snow).  Late afternoon arrival in Snowmass Village, 20 minutes from downtown Aspen (& much better on the pocket book).  Carb- loaded for dinner.  Hiking all day tomorrow, why not?  🙂
Sunday morning.  What I didn't know?  Only access to Maroon Bells trailhead [in summer] is by bus.  No cars allowed.  No drama, surprises happen…but later trail start than expected.
Maroon Bells.  Never been in summer.  Trees all leafed out, lush meadow undergrowth – whole lotta green.  Maroon-Snowmass Trail #1975 to Crater Lake, 1.4 miles.  Busy hike path.  Trek canopied in Colorado Aspen.  BEAUTIFUL!
Snapped photos & snacked at Crater Lake.  Couple of hikers shared their topo map (thanks!) – soon after, switched trails.  Next landmark: West Maroon Pass.  Path broke from rock to mud. Long patches of pack snow.  Continued to lose trail, backtrack, regain trail.  Snow-melt waterfalls, beautiful landscape though sometimes frustrating process to maintain forward momentum.
Biggest trail miss?  Came across a large swath of glacier remnant & fresh snow.  Fast-moving water rushed underneath weakening the base, making it precarious to cross.  Trail couldn't be on the other side, right?  Bush-whacked 45 minutes (half-mile) UP UP thru dense willow & snow-covered pine.  Zero path, nada.  Continued to push thru thicket, trek UP/over, listening for human sound.  SUCCESS!  Group of 6 hikers stopped for lunch high 'bove a scenic glacier – unfortunately not trekking to Crested Butte, not on trail.  ARGH!  Obliged to snap a group photo, then far far in the distance saw 2 hikers snow-crossing.  TRAIL!  Backtrack, restart.
Most harrowing water crossing?  Used a fallen pine to ford West Maroon Creek.  Fast-moving waist-deep water.  How cold would a complete submersion be?  Yep, that thought entered the brain.  Slow & steady.  Luckily, no drama 🙂
Elevation increased, temps dropped.  Deep shoe-sucking mud, emptied into seasonal streams, trail ultimately lost under pack snow.  Snaked thru a large boulder field, cairn-marked between competing 13- & 14er peaks.  Less than a mile UP to West Maroon Pass, then another 4 [miles] down to the trailhead.  Transport on the other side leaves at 4pm – mighty tight timing.  Yikes!
Dark clouds from the West.  Weather change.
Passed a guided group of climbers; they had turned back.  20 feet of snow at West Maroon Pass.  IMPASSABLE.
15 minute discussion with my hiking mate.  [good/bad trait] I'm a determined, focused individual – not easy to redirect once I've got a game plan cemented in the head.  Lost the battle today; turned around we did.  In hindsight OF COURSE we had no choice…but at the time, disappointment overwhelmed any happy endorphins.  Hiked a good 2 miles in silence.
This too shall pass.  AND it did 'bout the time we reached Crater Lake.
Caught the return bus back from Maroon Bells, headed back to my Snowmass digs – hoping to find a spot in the Inn.  3-day holiday weekend, not a chance.  Nor another hotel in Aspen…or Snowmass Village…or Carbondale…or Glenwood Springs (an hour out).
Of course I DID have a hotel reservation tonite – in Crested Butte, 3 ½ hours away by car.  Fueled up, purchased a bag of gas station snacks.  All part of the journey.  9:30pm rolled into my HIKE destination.
New town, new adventure awaits in the morning 🙂
Aspen to Crested Butte