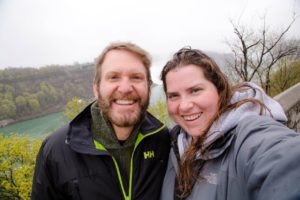 12:30am arrival – even the best of friends say 'take an Uber' after midnight.  My Canadian bestie?  Short cat nap, greeted me just past Customs…then hit the highway.  HUGE surprise.  Middle-of-the-night trek to Niagara Falls.  Hotel slept, woke directly across from North America's greatest free falling water.  Chilly a.m. mist but whatta morning run!
GREAT to wake in Canada!  Purchased 2 tickets on Hornblower Cruises.  Would be seeing the Falls up close & personal.  Donned my plastic 'Hornblower pink' rain jacket & boarded the boat (America's competing 'Maid of the Mist' provide jackets o' blue).
Niagara Falls is actually comprised of three waterfalls: American, Bridal Veil and Horseshoe Falls.  The first 2 lie in the U.S., the latter straddles both U.S. & Canada borders.  Elaborate walkways built on the American side provide 'a' view of the Falls.  Canada however, positioned directly across from the Falls, claims BEST view…by far.
Cruise first passed by American & Bridal Veil.  Lotta opportunity for selfies, water crashing over large boulders below.  Seagulls darted in & out of the Falls, diving into the water below fishing for dinner.  Provided some of the day's favourite shots.
When folks think of 'Niagara' Falls, it's Horseshoe Falls we've seen.  Powerful, thunderous water, tinted green of mineral-eroded limestone.  The force of falling water created a wide spray across the entire boat.  Whatta memory – SUPER FUN (& wet)!  One of the most wondrous, magical, 'take your breath away' places on Earth.  I was here, May 6th 2017.  Could not stop smiling ❤
Boat disembarked.  Slow-walked 2 miles down the boardwalk, past flowering Queen Victoria Park.  Watched fast moving water pour over Horseshoe Falls, self-surrounded by a swath of daffodils.  Hot chocolate at Tim Horton's.  a WOW kind of day!
Rode the QEW (Queen Elizabeth Way), over Burlington Skyway Bridge, then the 407 – to Sarah's flat in Brampton.  Impromptu pull-off to view an old grounded ship on Lake Ontario.  Unplanned excursions, highly recommended.  Many thanks Sarah, much LOVED!
The Grounded Ship was a replica of the Grand Hermie used by Jacques Cartier in 1535-1536 and 1541-1542 to explore Canada. This ship was built in 1967 for Expo 67 [in Montreal] as part of the nautical theme as Expo 67 which was on islands in the St. Lawrence Seaway.  The ship was taken to Quebec City and abandoned in 2001.
Marathon in early a.m. – but not before dining fancy in North America's tallest building, the CN Tower.  No regret, B-I-G life 🙂
Niagara Falls
Queenstown ⇨Lake Manapouri ⇨Doubtful Sound
2 buses, 2 boats.  7:15am pickup, 8pm return.  FULL day – but first, a 3-mile pitch-black run along Lake Wakatipu thru Queenstown Gardens.  Would purchase a flashlight later in the day – last time getting spooked in the early a.m. 🙂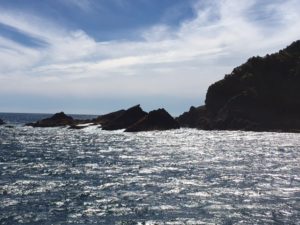 2 hour 45 minutes west over the Southern Alps to Lake Manapouri.  Box lunch purchase, then ferried 'cross glacier-fed water, where a 2nd motor coach awaited.  Travelled on New Zealand's most expensive road over Wilmot Pass, stopping twice to walkabout/experience the dense rainforest of Fiordland National Park.  Clouds parted, sun appeared – snapped several shots of Deep Cove, our catamaran entrance on West Arm.
3 hour cruise thru pristine water, surrounded by lush volcanic mountains.  If you're limited on funds, this is the one place to splurge.  Just WOW!  Gotta/hafta/must [see] Doubtful Sound (or Milford Sound) on NZ's Tasman Sea.
Doubtful Sound was named 'Doubtful Harbour' in 1770 by Captain Cook, who did not enter the inlet as he was uncertain whether it was navigable under sail.  It was later renamed Doubtful Sound by whalers and sealers, 'though it is not technically a sound but a fiord.
Beautiful sunshiny day.  Deep Cove to Crooked Arm, Crooked Arm to First Arm, First Arm past the Shelter Islands.
Fur seals sunbathed on the tiny boulder-faced islands, last land before entering the turbulent Tasman Sea.  Boat lurched in ocean waves – up, back, side-to-side – before turning back, returning to the Sound.
Extra time available so…explored First Arm's inlet waters.  Stopped our Patea Explorer, cut the engines entirely.  Ship staff asked for 2 minutes of silence, [would be] the day's most memorable takeaway.  Island waterfalls splashed, saltwater lapped against our drifting vessel.  Silence.  Emotional, visceral & exotic.
Easy half-day adventure tomorrow – panning for gold…in New Zealand.
…meanwhile, far far away in New Jersey — Ash's bridal shower; next up: a Colorado wedding
Up an hour before dawn, kept my first run on South Island close to our Christchurch lodging – early tour start this morning.  Quick 3 miles 'round Burnside Park.  Run highlights: rugby field, lawn bowling, morning sunrise.  G'day New Zealand!
Full day planned – 4WD tour, Jet Boat…no TranzAlpine Train.  Rated one of the world's top six train journeys, but unfortunately all train travel on South Island down ('til March 22nd) due to extensive forest fire (it's Southern Hemisphere summer).
Off-roaded across a rural cattle farm [Torlesse Station], driving UP UP UP steep switchbacks, ultimately climbing 3000ft+.  Stopped & took in the landscape – clouds poured in, keeping temps cool…beautiful Canterbury Plains loomed below.  No cattle this high; altitude however doesn't slow the island sheep.  Sighted a herd lunching on moisture-rich shrub grass.  HUGE topography change from yesterday, more reminiscent of Colorado than New Zealand's tropical North.
45 minutes from Torlesse Station, jet-boated up one of New Zealand's major snow-fed rivers, the Waimakariri.  Spray jacket, hat, gloves, life vest – check check check, boarded my first [Hamilton] jet boat.  Weaving in & out of rock faces, over white water rapids, thru high rock canyons…at times, gliding over water less than 3 feet deep.  WOW, WOW, WOW!
Amazing shot of the Southern Alps on the return ride near Lake Pearson.  Mirror image of Colorado's San Juan Range.  Stunning.
Rental car pickup tomorrow.  5 hour drive, west over Arthur's Pass to Franz Josef Glacier.  Super excited!  Is it morning yet? 🙂
…meanwhile, far far away in Colorado — pup's enjoying an adventure of his own 🙂
Jetboating the Waimakariri