4 weekends marathoning – this Saturday: kick around, do laundry?  Heck no – road trippin' SD: "Great Places, Great Faces".
Ended Friday work week with my final father-daughter dance lesson.  Too far/too late to reach South Dakota – but how 'bout Lusk? [Wyoming of course 🙂 ]  Small but clean digs, free buffet breakfast.  Short hour-half drive to Custer State Park, car-dodging buffalo by 9am.  FAAANNNTASTIC!  Native to the U.S.A, our American bison – BIG, STRONG, MASSIVE.  Personal fave of the animal kingdom.
20 minutes west thru Custer, 20 minutes north to Crazy Horse Memorial.  Had heard mixed reviews 'bout the Monument.  Lakota Chief Henry Standing Bear commissioned the project in 1939 – Crazy Horse's massive 87ft face wasn't completed 'til 1998.  Current work is focused on Crazy Horse's hand, finger & his horse's mane.  Timeline?  Long after my life span.
Paid an extra $10 to school bus-ride near the base of the Mountain.  Felt a bit nickel-n-dimed but WOW – gotta say, being so close to something so massive, was well worth the $$.  Wrong time to be short-sighted with cash.  Once completed Crazy Horse will rival nearby Mt. Rushmore.  Sculpted to 'honor the culture & heritage of all North American Indians'.   Just WOW.
Didn't leave the Memorial Museum for almost 2 hours.  LOVE LOVE LOVED!  Native American artifacts, photographs, sculptures, paintings.  Completely unexpected.  WELL WORTH GOING!
Wait, wait – the day's not over.  Next up: Mount Rushmore.  Washington, Jefferson, Roosevelt & Lincoln – literally carved IN the Black Hills of South Dakota.  Short-hiked up-n-down the Presidential Walk.  Fave spot?  Rushmore's 'Walk of Flags' entrance.  Every state, every U.S. territory represented.  Left beaming USA pride.  Bought an ice cream recipe'd by Pres. Thomas Jefferson himself ❤
Sleeps in historic Deadwood.  Dinner above the saloon where Wild Bill Hickok was killed, tomorrow visiting his marker.
…ask not what your country can do for you, ask what you can do for your country — John F. Kennedy
$98 roundtrip — airfare WOW price — so late-registered for a third February marathon…the Cowtown Marathon in Fort Worth.  930am Saturday morning, touchdown: Dallas.  My first landing at Love Field, same airport President Kennedy used in November 1963.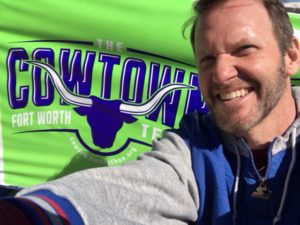 Ya'll know I'm a HUGE history fan – first stop: the Sixth Floor Museum at Dealey Plaza.  Housed in the former Texas School Book Depository, museum retells the events surrounding JFK's assassination.  Waited 40 minutes for ticket admittance – who knew so many people [on a Saturday morning] would be museum trekking?
Self-guided tour lasts 'bout an hour half – I finished in under 30.  Placard-to-placard trail, 'til each tourist receives their moment at 'the Corner Window' – spot where Lee Harvey Oswald fatally head-shot the President as his motorcade turned onto Elm Street.  Honestly, found the entire experience creepy, sad, voyeuristic.  Upon leaving the building, walked thru Dealey Plaza & past 'the Grassy Knoll' where it's believed another conspirator fired but missed the President.  Again, not my thing.  Live & learn.
50 minutes away, arrived in Fort Worth for marathon bib pick-up/hotel check-in.
Sunshine, breezy & 60 — BEAUTIFUL — lucky me, half day remaining.  Short 2 mile run along the Clear Fork Trinity River ('cause every day's a run day), pre-race dinner at Hoffbrau Steaks (ate RED MEAT like a native) PLUS time for haircut (clipper close-shave).
Early to bed, early to rise – 'cause tomorrow I'm running Cowtown 🙂
November 22, 1963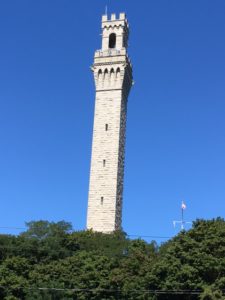 Late Monday a.m. start – didn't wake 'til 8 (slowly settling into lazy vacation life).  Yogurt, handful of nuts.  Day's first stop: the Pilgrim Monument.
— The Pilgrim Monument was built between 1907 and 1910 to commemorate the first landing of the Mayflower Pilgrims in Provincetown on November 21, 1620.
— The Pilgrim Monument is the tallest all-granite structure in the United States. The granite came from Stonington, Maine, and each stone is the thickness of the wall.
Toured the tired lighthouse museum.  Hasn't really changed over the years but I go every visit – LOVE history, LOVE our American story.  Climbed 116 steps to the Monument top & took in its ocean view.  Stunning.  Best way to start a Monday morning 🙂
Walked Commercial thru P-town's West End; met up with a local kayaker just past the Causeway. Paddled to the tip of the Cape three years ago.  This trip toured Provincetown's extensive water estuaries.  Launched 2 hours before high tide, meandered thru tall field grasses…like something from the African Queen.  Water fowl, fish, green crab & [salty, edible] pickle grass.  Beached on a sand bar & enjoyed a short swim while waiting for the tide to come in.
One final dinner, one last evening show – then sadly, vacation time came to a close.
Tuesday morning ferry, another beautiful sunshiny day — AND 4 hours playtime before my airport return home.  BOSTON!  Day choice: Public Garden and a local cemetery.  [Honestly] it's the history that interests me, not crypts & dead bodies.  Samuel Adams, John Hancock, Paul Revere – these early revolutionaries & signers of the Declaration fill our school books.
WOW, whatta summer!  Visited both coasts of Canada, family vacationed in St. Louis, road-tripped thru Yellowstone, pony-trekked the Tetons…then ended 'heat' season, celebrating the big 5-0 on scenic Cape Cod.   #noregretlife