REDEMPTION WEEK.
Gotta say – last week's marathon result really really stung.  Been putting in the time, working hard.  Heat or no heat – never expected to throw a 5 hour marathon result again.  Aside from the mental struggle of a sub-par performance, took 'til Wednesday to bounce back physically.  Nauseous, early week pace all over the place in my training runs.
8.7 miles Wednesday, 12.2 miles Thursday.  Back on track.  Unlike last week, took a taper day [on] Friday.  Easy 2 mile jog, marathoning Saturday morning in Brighton – 2nd weekend my run commute would be under 30 minutes.  Nice 🙂
FUN FACT: to keep costs down, Director reused old race bibs.  Tomorrow I'd be running a Ladies 9K event from 2014.  LOL>
Early wake-up, early Start.  Cold morning.  35 degrees, woke to rain.  Swapped rain for sleet as Brighton temps dipped just under freezing.  Small race, 20 laps 'round a flat 1.3 mile course.  20 laps, ugh.  Packed a run bag with all my fave food & drinks.  Tucked under a picnic area awning – would have 20 opportunities to grab a snack.
6am Start.  Went out fast, hung a quarter-mile behind the lead pack.  Followed the flags, made my way once around the course.  Multiple mud crossings, developed a rhythm.  Lap 4: gloppy cold rain, mix of wet snow & rain.  Increased speed, held an 8:20/min pace, started picking off runners.  Slowed — ran an easy 9:30/min mile — every third interval.
1:56 Half marathon.  Not a personal best…but the fastest I'd run post-cancer.  Mentally knew: pacing too quick – it's a marathon, not a 10K.  Would keep running STRONG 3 more laps, then reassess.  Not targeting a new PR 'til September…but what if.  What if today everything came together for my first sub-4 since 2015.  Logged a slow loop, but surprisingly followed with two sub-9/min miles.
Rain stopped at lap 17 (22 miles).  Fizzling, running empty/outta gas, 9:40 lap.  Refueled, sucked down 2 packets of soft food.   A minute+ under sub-4, quickly eating thru my time bank.  2 laps remaining.  Lap 19, run clock read 3:51.  Legs like lead, breathing labored.  Pushing hard, forward thru mud, sloppy conditions – no longer avoiding the muddiest stretches.  Everything I have this day, no holding back.
Finish time – unfortunately, just missed – 4:01:34.  No sub-4, not today…but almost there.
Fastest run of 2017.  Strike that – fastest run since March 2015 & a new Colorado PR.  3rd place Male, 4th overall.
2017 Runs With Scissors – April 22, 2017

Male Marathon Results

Place      Name               Age    Time

Nicholas Ferron     34    03:00:18
David Jepsen        41    03:22:44
K R Haga            50    04:01:34
Sometimes you're the windshield, sometimes you're the bug…  MARY CHAPIN CARPENTER
Tough day.  Heat fail.
Training hard all month – Bighorn just over 60 days away.  Completed another 10K Friday: 6 mile run, quarter-mile swim.  Slept hard, probably some of my best [the] day before a marathon.  Haven't yet acclimated, deep sleep after every swim.
Today's run only 20 minutes away in Westminster.  Can't beat that commute, huh?
Sunshiny skies, 8am Start, expecting a warm Finish.  Commuted with my North End neighbor, Larry – he'd run the 10K today.  Beautiful morning, well organized event.  All-Out Beat the Heat Marathon.  'Beat the Heat' was exactly the plan.
Cool comfortable temp, Star-Spangled Banner blared proudly.  Dropped my hat, hand over heart & sang along.  Countdown from 10, our marathon journey began.  Briefly started on asphalt (ran past an alpaca farm), then adjusted to packed trail (dirt).  Climb, Climb, Climb – course incline the first 8 miles…that's a lotta climb, luckily I'm a fan of hills 🙂
Marathon athletes will start out heading west on Big Dry Creek Trail toward Standley Lake Regional Park. At about 2.5 miles athletes will begin 4 miles of the gravel trail & road system within the park, including the spectacular views along a north / south dogleg near the dam, then exit the park to continue west toward the south trailhead and the west turnaround. As they return they way they came, athletes will skip the dogleg to return to Big Dry Creek Trail and follow it east for about 16 miles to the east turnaround.
Sun kicked in at 10 – rays were always there, but didn't feel the heat 'til 2nd Half.  70, 75, 81° F.  Perfect for a casual walk with the pup – but on a marathon run without any tree cover, our high-altitude sun baked.  Number of participants dropped off significantly — folks opting to finish the Half, avoid the exposed bike path east to Denver.  Today's first Half highlighted shots of Standley Lake, backdropped by the Flatirons.  2nd Half however was dry, flat, cracked earth, patches of dried salt littered the landscape.
Mentally broke at 21.  My friend Larry doubled his 10K effort, met me just past mile 23.  Walking now.  Notta lotta chatter.  Notta lotta options – small race, no golf-cart to the Finish should you call it quits.  UGLY…nearly 2 hours to finish those last 5 miles.  Dehydrated, sweat-caked salt 'round my eyes, dried to the sides of my face.
A finish is a finish, collected my medal…but today's fail stung.
2017 All-Out Beat the Heat – Full

April 15, 2017 in Westminster, CO

2587   K R Haga   5:11:18
Shoes off, home.  2 hours sleep, briefly woke to shower.  3pm: bowl of soup.
6:15pm: my quarterly Boulder Dinner Theatre date with Ash, Tom & Stephen.  "Disenchanted!" – comedy depicting the now adult, middle-aged Disney princesses.  Time to turn that frown upside down.  Good laugh.
10 hours sleep, 2 easy miles on the treadmill, quarter-mile swim at CAC.  Weekend over?  Heck no, it's Easter Sunday!  Afternoon-celebrated at Casa Alegre — our Mexican Easter tradition — 4th year  with Ash & Tom.  Mexican fiesta, olé!
Direct flight on Southwest, winter marathoning in Michigan – extending my monthly steak to 39.
Crazy quick turnaround on Super Bowl weekend.  16 hours – touchdown to take-off.  Landed late Friday nite, rental car pick-up, 20 minute drive to Wyoming — Wyoming, Michigan 🙂  frugal Super 8 fast sleep, 5 hours total.  Checked my weather app – still below zero.  Yikes!  After balmy treks in Florida & Georgia, today would be my first 'true' winter marathon of 2017.
We've all heard of Punxsutawney Phil, the little furry guy in Pennsylvania who comes out, sees his shadow, and declares six more weeks of winter. Then there's Augustus T. Groundhog, better known as Grand Rapids Gus. He's Phil's much more interesting cousin. Unlike Phil, who it seems can only see shadows, Gus has much better eyesight and can look at a calendar on February 2 and know that spring doesn't start for six weeks. Gus suggested that instead of lamenting over six more weeks of winter, we should EMBRACE the cold and snow and do something fun.

And so, the Groundhog Day Marathon was born.

Full Marathon:

Like the movie, you'll feel like you're repeating the same day over and over.  A total of 6 loops of approximately 4.4 miles…will have you feeling just a little case of deja vu.  500 Runner limit combined for full and half marathons.  Don't plan on the course being free of snow.  It's paved, which means no underlying rocks and roots, but that's about all we're promising.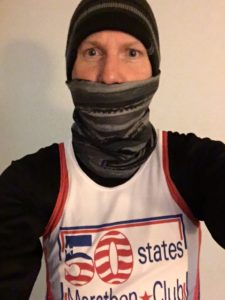 Parked my rental at John Ball Zoo & boarded an early 6am shuttle to the Start.  Michiganers know,   sub-zero Start = HUGE WARMING tent (that's where all pre- & post- race festivities centered).   Unfortunately, the porta-potty still stood outside – brrrr on the bum).  Multiple layers, neck scarf, sweats, beanie & a Captain America hoodie (summoned all my super powers this run).
Crowded full & half-marathon field, combo start.  Whitney Houston anthem, air horn start, careful walk over heavy ice to snow-covered trail.  Tough first mile.  Mind wandered, now 9 above zero, self-questioned whether to run or call it a day.  Runner field thinned; I adapted to course conditions.  More like running [on] trail today: focused on foot placement & staying upright.
First lap in 41 minutes, one minute behind goal…my pre-race 'non-snow' goal.  Sunshine on the next 2 laps created landscape magic.  Ran thru a frozen forest, popsicle-like trees & field grass weighed heavy under quarter-inch ice.  Winter beauty, truly stunning.
Wind ceased, third run aside Grand River.  Large upstream chunks of ice pushed down its center, breaking thru the city stream.  Crazy beautiful.  Sun disappeared, temp held steady at 12 degrees.  Lost much of the field as half-marathoners completed their journey.
NEVER a fan of laps – but DID look forward to 2 stretches each rotation.  Popsicle forest & the iceberg-laden Grand River.  Ya'll know I'm a fan of winter…& this was some of its best.
Last lap, last aid station.  Water or Gatorade?  Naaahh mahh, wahhh-ter.  Just point, she says: 'sometimes my tongue freezes too'.  WHAT?  true Michiganer experience.
Lost 6 minutes over the last 10K – but overall, my strongest run all year.  Fastest finish time, fastest recovery, fastest car ride back to the airport.  Didn't refill my tank, completely outta time (sorry Enterprise, but only drove 22 miles total).  Small airport, no problem with security – yikes! my return flight was already boarding.  Would have to shower at home 🙁   #dirtyflyer
Groundhog Marathon
SAT FEBRUARY 4

K R Haga  M  Louisville CO  US  4:39:12.86
tomorrow: Super Bowl 51 at Ash & Tom's home — Go Pats!
next weekend: skiing Vail (first time) — LOVE LOVE my Colorado life!
To all of you who ran Groundhog, I hope you are as proud of yourselves as I am. Remember, this is a race with a mileage that killed the first man that did it (and it sure as hell wasn't tundra-level weather when he did). You are so frickin' awesome! To those who volunteered–manning/womanning the aid stations, warming tent, and parking direction­–I feel like you had it even harder because you endured the arctic to provide us runners with the crucial necessities we needed to achieve this goal (and you certainly don't mess around when it comes to cookie variety ). Thank you for being there and being an immensely valuable presence of this race when you easily could have just slept in and let us die. To all who were involved in creating this year's Groundhog with set-up, management, and that kick-ass warming tent at the finish, thank you for giving the running community this opportunity to be completely insane and run this race. I'll see you at the next one!
Punxsutawney Phil Sees His Shadow