"As we express our gratitude, we must never forget that the highest appreciation is not to utter words, but to live by them." – John Fitzgerald Kennedy
I am thankful for my FAITH.  I can leap without fear; I am completely at peace.  A higher power guides the journey/prods the direction, knows my beginning & end.  Through HIM, anything is possible.
I am thankful for my HOME.  No matter what the weather, I am sheltered/comfortable inside.  Window view sports our snowcapped Flatirons – EVERY DAY thankful – my piece of the Rockies.  No other place on Earth.
I am thankful for an abundance of FOOD.  Never a time I went hungry.
I am thankful for GOOD HEALTH.  Easy to take for granted.  After last year's surprise, it's a gift.
I am thankful for DREAMS.  Always been a goal-driven individual – expectations tomorrow, in 3 months, next year.  Not all dreams complete as designed, but whatta life journey I've experienced.  2019: Antarctica ❄
I am thankful for FAMILY.  Laughter & shared life moments.  Inspiring circle I've chosen as Family; blood relatives I share DNA.  NZ, Toronto, Ash's wedding, Crested Butte, Nova Scotia, Ireland.  Lucky in life ❤
Thanksgiving Day feast with Ash & Tom in their Westminster home, our Colorado tradition.  Turkey & dressing, sweet potato casserole.  Veggies & mashed potatoes, deviled eggs & cranberry sauce.  An hour later, dessert: Ash's pumpkin cheesecake.  Tryptophan COMA.
Woke at 10pm, to drive home & sleep another 8 hours.  This is how the Pilgrims fed?  LOL>
ALSO, thankful for birthday cake, fondue & dinner theatre.  Yep, that happened this week too!  Celebrated Stephen's BIG day both Tuesday AND Saturday – a birth week celebration 🙂  Friday night, dinner theatre for 4 – tried a new venue, Candlelight Dinner Playhouse in Johnstown (not a fan of 'Annie', play showing in Boulder).  First impression, FAAANNNNTASTIC!  Good to have options.
LinkedIn Inspiration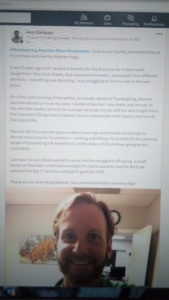 Arun:  thank you so much for the kind words – and sharing your post.  Much appreciated.
————————————————
#Thanksgiving #mentor #boss #inspiration
Time to say thanks, one more time, to my ex-boss and mentor, Keenan Haga.
It was 8 years ago and I landed in America for the first time for a short work assignment. New York streets, face-paced environment, and people from different ethnicity – everything was daunting. I was struggling to find my feet in the new place.
On a fine cold morning of November, few weeks ahead of Thanksgiving, Keenan was introduced to me as my boss. I smiled at him but I was shaky and unsure. In the next few weeks, not only he coached me to do my job well but also taught me a few important things: how to dream, how to treat people with respect and how to live a good life.
Keenan left his corporate gig a couple of years ago and moved to Colorado to devote more time for his passions – running and hiking. He recently hit his personal target of completing a full marathon in all the states of US and now going across continents.
Last year, he was diagnosed with cancer and he shrugged it off saying 'a small bump on the road', continued running with chemo sessions. And he did it, he survived the big 'C' and now setting his goals for 2018.
Thank you for everything Keenan. You continue to inspire me every day!  – Arun Kailasam
Two years ago same month bought an overnight Amtrak ticket to Omaha.  Picked up my rental at the Airport, drove to Des Moines for my 50-State 'Iowa' marathon.  Same event where I enjoyed a VIP performance of Dracula.  Still a FUNNY story – LOL>
Fast forward to Thanksgiving 2016.  Received an email announcing the 2nd annual Nebraska Marathon.  Train ride nostalgia that day I guess.  Yep, they got me.  Generally I only race register 3-4 months in advance.
Friday night train (7pm ticket), no work day miss 🙂  Parked at DIA, took commuter rail to Union Station.  Would be returning Sunday by air.  Learned rail isn't known for on-time punctuality.  2015: train-returned home almost a half-day late.
9:45pm Friday:  Greeted on-board by a juggler, my seatmate aisle over.  Nope, can't make this stuff up.
8:21am Saturday:  Tagged a ride Downtown using my Lyft app.  No rental required this trek.
Hotel check-in (host hotel assured a post-race shower), bib pick-up (across from baseball's College World Series), afternoon matinee at the Orpheum (Finding Neverland).  Who knew there was so much happening in Omaha!
FOOD.
24 hour fine-dining binge.  Tuna burger at Denver's trendy Hopdoddy.  Oktoberfest-celebrated with Bräts & kraut in Omaha.  THEN seafood-gorged at Shucks Oyster Bar at happy-hour prices: 99-cent oysters, 35-cent peel-n-eat shrimp.  FAAANNNNTASTIC!
It's not a gland problem folks.  I run because I eat ❤
Marathon in morning – might need to circle the Park twice.  So much food, so little time.
Amtrak juggler
Master went to Grasshopper.
Too much time on the road Monday in Wyoming.  Wanted to hike this weekend, just didn't want to drive to get there.  Ash recommended Herman Lake, an alpine hike above tree-line – chock full of wildflower & only an hour-half from home.  Check, done.
Early Saturday start.  Full tank of gas, backpack, Ro in the backseat.  Beautiful Colorado day.
Handful of exits past Georgetown, one away from Grays.  Dirt trailhead parking lot right off exit 218: Herman Gulch Trail.  Steep hike on the CDT (Continental Divide Trail), BESTEST way to celebrate National Dog Day 2017!
Forewarned 'bout 2 Start complaints: highway noise & a HUGE initial climb.  Check & check.  Butted right against I-70, traffic noisy/distracting/easy-to-hear from Colorado's east-west thruway.  Drops off quarter to half-mile in.
1000 foot grind UP UP UP from the parking lot.  Think daughter felt vindicated after I shared my elevation stats.  AND no Colorado switchbacks this trek, just a direct push UP.  Settled/caught my breath, sucked down a liter of water, elevation bit shy of 11,000ft.  Trail emptied into high alpine meadow.  AWESOME hike!
Steady gradual UP 'til our lake destination, never really noticed.  Mountain decorated/dressed in colour.  Lush summer vegetation.  Evergreen: pine, spruce, juniper.  Wildflowers EVERYWHERE, every shade.  Absolutely beautiful.
Good for the head.  Surrounded by sheer MASS, felt small again.  Inner peace.
It's not Herman Lake's size, but its location – spongy tundra border, framed-in by Pettingell Peak.  Cold wind blew, snow a short 3 weeks away.  Nature knows.  Backed against a boulder, Ro tethered to my belt, lunched in the Colorado Rockies at 12,000ft.
No other place on Earth ❤
UPDATE:  Home by 2pm Saturday.  Grocery shopped, cleaned house/laundry, Sunday church – AND Patsy Cline.  Ok, not THE Patsy Cline (she's been gone since 1963) but a 2-hour two-Act matinee of the lady's music at Longmont Community Theatre.
I'm not just 'marathon man', I've got an artsy side too 🙂
'Today, Tomorrow & Forever', a Celebration of Patsy Cline (audio only)