After a lackluster winter along the Front Range, found ourselves pummeled by wet heavy snow – late, on May 18th.  Last 4 years [we've] been surprised with a few inches in May.  In Colorado: winter ain't over, 'til it's over 🙂
Looking forward to mountain flowers & high-flow snow-melt streams this June – unofficial start to Colorado HIKE season.  Cabin in Leadville booked June 23rd-24th, bringing the pup – first 14er climb of 2017, Mt. Elbert.
May SNOW 2017
Whole lotta snowfall at Ash's Silverthorne wedding venue – only 10 days away.  Yikes!
KUSA – A late spring snow storm that created headaches for travelers on Colorado highways and postponed graduation ceremonies while providing some much needed moisture is moving out of the state on Friday.

But how just how much snow has fallen so far in your area?

Breckenridge – 16.5 inches

Nederland – 28 inches

Silverthorne – 16 inches

Estes Park – 31 inches

Boulder – 3.8 inches

Louisville – 9.8 inches
Colorado towns hit with 3 feet of snow.  Happy May.

Doyle Rice , USA TODAY Published 10:52 a.m. ET May 19, 2017 |

A May snowstorm continued to pound the central and northern Rockies on Friday, a day after burying portions of Colorado under three feet of snow.

The storm has created headaches for travelers on highways, caused thousands of power outages and forced schools and businesses to close.

The highest reported snow total so far was 42 inches near Allenspark, Colo., the National Weather Service said. Many other locations picked up between two and three feet.

More snow is forecast Friday before it tapering off Saturday.

Interstate 80 and U.S. Route 30 from Laramie to Cheyenne, Wyo., closed in both directions Thursday night due to the heavy snow. Both roads remained closed as of early Friday morning, AccuWeather said.

The last time Cheyenne experienced such a significant snow event this late in spring was about 67 years ago, when Harry Truman was president, the Weather Channel said.  In Denver, the storm marked the city's biggest mid-May snow in 42 years.

Several high school graduation ceremonies in the Denver area were postponed due to the storm, KUSA-TV said.  Thousands of people were without power as the heavy snow weighed down power lines.

The late-season snow event is not unheard of.  Both Cheyenne and Denver have experienced accumulating snowfall even into early June in the past, AccuWeather meteorologist Ryan Adamson said.

Temperatures will warm up and conditions will improve over the weekend.
Direct flight on Southwest, winter marathoning in Michigan – extending my monthly steak to 39.
Crazy quick turnaround on Super Bowl weekend.  16 hours – touchdown to take-off.  Landed late Friday nite, rental car pick-up, 20 minute drive to Wyoming — Wyoming, Michigan 🙂  frugal Super 8 fast sleep, 5 hours total.  Checked my weather app – still below zero.  Yikes!  After balmy treks in Florida & Georgia, today would be my first 'true' winter marathon of 2017.
We've all heard of Punxsutawney Phil, the little furry guy in Pennsylvania who comes out, sees his shadow, and declares six more weeks of winter. Then there's Augustus T. Groundhog, better known as Grand Rapids Gus. He's Phil's much more interesting cousin. Unlike Phil, who it seems can only see shadows, Gus has much better eyesight and can look at a calendar on February 2 and know that spring doesn't start for six weeks. Gus suggested that instead of lamenting over six more weeks of winter, we should EMBRACE the cold and snow and do something fun.

And so, the Groundhog Day Marathon was born.

Full Marathon:

Like the movie, you'll feel like you're repeating the same day over and over.  A total of 6 loops of approximately 4.4 miles…will have you feeling just a little case of deja vu.  500 Runner limit combined for full and half marathons.  Don't plan on the course being free of snow.  It's paved, which means no underlying rocks and roots, but that's about all we're promising.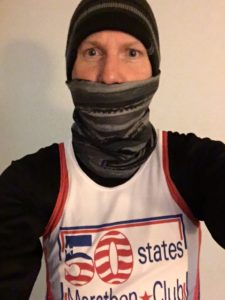 Parked my rental at John Ball Zoo & boarded an early 6am shuttle to the Start.  Michiganers know,   sub-zero Start = HUGE WARMING tent (that's where all pre- & post- race festivities centered).   Unfortunately, the porta-potty still stood outside – brrrr on the bum).  Multiple layers, neck scarf, sweats, beanie & a Captain America hoodie (summoned all my super powers this run).
Crowded full & half-marathon field, combo start.  Whitney Houston anthem, air horn start, careful walk over heavy ice to snow-covered trail.  Tough first mile.  Mind wandered, now 9 above zero, self-questioned whether to run or call it a day.  Runner field thinned; I adapted to course conditions.  More like running [on] trail today: focused on foot placement & staying upright.
First lap in 41 minutes, one minute behind goal…my pre-race 'non-snow' goal.  Sunshine on the next 2 laps created landscape magic.  Ran thru a frozen forest, popsicle-like trees & field grass weighed heavy under quarter-inch ice.  Winter beauty, truly stunning.
Wind ceased, third run aside Grand River.  Large upstream chunks of ice pushed down its center, breaking thru the city stream.  Crazy beautiful.  Sun disappeared, temp held steady at 12 degrees.  Lost much of the field as half-marathoners completed their journey.
NEVER a fan of laps – but DID look forward to 2 stretches each rotation.  Popsicle forest & the iceberg-laden Grand River.  Ya'll know I'm a fan of winter…& this was some of its best.
Last lap, last aid station.  Water or Gatorade?  Naaahh mahh, wahhh-ter.  Just point, she says: 'sometimes my tongue freezes too'.  WHAT?  true Michiganer experience.
Lost 6 minutes over the last 10K – but overall, my strongest run all year.  Fastest finish time, fastest recovery, fastest car ride back to the airport.  Didn't refill my tank, completely outta time (sorry Enterprise, but only drove 22 miles total).  Small airport, no problem with security – yikes! my return flight was already boarding.  Would have to shower at home 🙁   #dirtyflyer
Groundhog Marathon
SAT FEBRUARY 4

K R Haga  M  Louisville CO  US  4:39:12.86
tomorrow: Super Bowl 51 at Ash & Tom's home — Go Pats!
next weekend: skiing Vail (first time) — LOVE LOVE my Colorado life!
To all of you who ran Groundhog, I hope you are as proud of yourselves as I am. Remember, this is a race with a mileage that killed the first man that did it (and it sure as hell wasn't tundra-level weather when he did). You are so frickin' awesome! To those who volunteered–manning/womanning the aid stations, warming tent, and parking direction­–I feel like you had it even harder because you endured the arctic to provide us runners with the crucial necessities we needed to achieve this goal (and you certainly don't mess around when it comes to cookie variety ). Thank you for being there and being an immensely valuable presence of this race when you easily could have just slept in and let us die. To all who were involved in creating this year's Groundhog with set-up, management, and that kick-ass warming tent at the finish, thank you for giving the running community this opportunity to be completely insane and run this race. I'll see you at the next one!
Punxsutawney Phil Sees His Shadow
After an almost non-existent winter, jeez the season roared in BIG this past week.  No longer a question of snow, but how much precip – and will it affect my morning or evening work commute.  'Bout time, well overdue 🙂
The mountains?  Delayed ski resort openings at Thanksgiving ⇨ now resort closures…too much snow.  Avalanche closed I-70 (both directions) half-day last week – 15 feet of snow covered a section of highway.  Winter season's arrived.  Been driving the Jeep EVERY day since Christmas & absolutely LOVIN' it!  Sub-zero temps all week – crazy cold.
Migrated to treadmill running to log my daily miles.  "Every day's a run day" – haven't missed since Christmas Eve.
First weekend home this year.  Stay indoors, hunker down with the pup?  Heck, no – layered UP & local-hiked NCAR to Chautauqua.  Sun rose pink on the Flatirons Saturday morning, fave/most familiar trail trek now snow-hidden.  No worries, have hiked this route at night – know it like the back of my hand.  Boots, crampons, cap & gloves – GAME ON…first snow hike of 2017!
Battled thin air for a mile; lungs ached 'til I settled into a healthy rhythm.  Handful of 14ers on this hiker's 2017 wish list.  Limiting July   & August to one (& only one) marathon/month.  Finding balance this year.
Love of mountains, love of running.  2017 – all about achieving: BALANCE.
the Big Chill: 2017 sub-zero start