After a FULL day (& a half) of Hop-On Hop-Off, met up Sis & husband Paul – just in time for a whirlwind trip to the US Embassy.  Poor Stephen…unfortunately, this wasn't a tourist stop.  Good news: following day his wallet was recovered, just the passport lost.  Whatta sport, personally would've freaked out.  Foreign country, no cash, no credit cards, no identification – yikes!
[side NOTE: they don't actually allow Americans inside our Embassy.  We did see trick-or-treaters come-n-go, but the 3 of us with US passports were left outside/looking in, barred outside the gate.]
Lemons into lemonade.  Sis noticed folks walking with swag bags.  We asked, they pointed.  Bib pick-up just a half-block away.  Sooooo while Stephen secured an emergency passport, the 3 of us picked up our Sunday marathon bibs.  FAAANNNTASTIC!
Another positive?  Only 2 blocks away: Dublin's DART [train station].  Stephen's extended family (whole lotta Irish cousins) would be greeting us in Bray, 30 minutes away.  Dinner alongside the Irish Sea.  Drinks & LAUGHs at the Golf Club.
What a welcoming posse of peeps!  The Irish O'Sullivans (& Byrnes).  Not MY Irish family but I certainly left Bray feeling that way.  Chatted it up with 2 family marathoners.  Stephen's cousin Jane – ok, not actually Jane (my fave of the cousins) but her daughter Claire & son-in-law.  So many laughs (& tall tales) this nite – glad I packed the pigeon shirt.  LOL>
Hug-n-kiss goodbyes, late-night train home, brunch in the a.m. – that's the correct term when you sleep past 10 🙂
Hearty bowl of Guinness stew, Saturday half-day walked the City.  Grafton Street, Ha'penny Bridge, the river Liffey & Temple Bar.  Italian feasted for dinner, marathon #100 tomorrow – IN IRELAND.  How CRAZY is that?  WOW, WOW, WOW!
Marathon #100 Bib Pick-up
O'Sullivans & the Byrnes
Saturday city walk
Lotta talk this summer 'bout last minute registrations.  Not so this weekend.  Added the Portland Marathon last Thanksgiving, bought airfare over Christmas break.  Almost a year ago, seriously – that's a lotta love for the Pacific Northwest.
2 hour direct flight, arrived just after midnight.  Hotel'ed nearby, picked up my rental following morning.  Why pay for a car overnight to sit in the hotel parking lot?  Free airport shuttle, up by 7am.  Big plans, outdoor Oregon plans.
When I ranked my 50 State marathons ('cause people asked), Oregon came out on top.  Crater Lake Nat'l Park.  Whatta memory, whatta beautiful place.  However, never got the chance to see Portland during my first 50 State tour.
Friday HIKE day.  Saturday CITY day.  Sunday RUN day.
HIKE day: Columbia River Gorge, 72 waterfalls.  Most of the day's preplanning went into which waterfalls I'd have to skip.  Dropped off I-84 early, driving the Historic Columbia River Highway.  First stop: Vista House.  However, pasted across Exit 23: CLOSED.  That's disappointing, website still posting active hours.  Next stop: Exit 25, Latourell Falls Trailhead.  Again, CLOSED.  What the heck?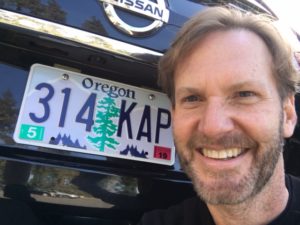 Drove up Corbett Hill, stopped by the country store.  Wildfire.  HUGE wildfire.  All of Oregon's Columbia Gorge gone.  Eagle Hill Trailhead – today's 'Wild' hike to Bridge of the Gods – gone.  Multnomah Falls: trees charred, ground still smoldering, no access.  Entire Gorge likely will remain closed to the public thru 2018 year-end – with an active State Police writing citations.  150 given to PCT hikers & tourists last weekend alone.  Ugh.
Plan B?  Hiking the other of the River – Washington State.
Brief stop at Bonneville Dam.  Toured the hatchery.  Most fish released early (water temps spiked during the wildfire).  Few old sturgeon remained.  Talked with Rangers re: potential hikes.  Cross the Columbia at Bridge of the Gods, 15-minute drive to Dog Mountain Trailhead.  Sage advice: Don't forget to buy a park pass in Cascade Locks or State Police will ticket your car at the Trailhead.  Who knew?  Thanks Ranger 🙂
In the movie 'Wild' (& also in my hike book), folks cross Bridge of the Gods – Oregon to Washington – on foot.  Argued a few minutes with the toll booth lady, who said it wasn't illegal but she wasn't letting folks walk.  Too much traffic today.  Double ugh.
Columbia Market, purchased my Northwest Forest Pass.  DROVE over the Bridge ($2 toll).  Hung a right, one small town, easily located the trailhead.  Backpack.  Started UP.  Tired of human chatter/enough talk 'bout what I CAN'T do.  STEEP UP first seven-tenths mile.  Quick sweat, shed a layer.  Another half-mile, settled into the hike.  Mood improved, body dwarfed by Cascade pine.
Evergreen blanketed in hair-like moss.  Marveled first time I witnessed in the Sierra Nevadas.  2 months later, just as stunning ❤
2,000ft UP.  Forest opened, huge expansive vista.  Columbia River Gorge down below.  Across the Gorge, hours away by car – Oregon's Mount Hood, snowcapped/towering high above treeline.  WOW!
7 mile hike, never topped 3,000ft.  No waterfalls BUT good to be outside.  For that I'm thankful, always grateful.
Car return, fancy downtown digs – the Hilton – CITY day tomorrow.
Columbia River Gorge
No 'whale of a thirteener' hike, no 'Debbie Gibson' Lake, no bighorn sheep.  Small garter snake, remnants of Aspen yellow, SNOW & Grave Danger RADIATION.  What?????
Alarm buzzed at 5am.  Dark outside but could hear rain.
Alarm buzzed again at 6:30.  Felt my age this morning.  32 miles yesterday, slooooow start.  Cup of Pappy's sassafras tea.  Unpacked yesterday's gear, re-stuffed the backpack with hike essentials.  On the road by 8am.  New day, new month, promised Ro high elevation.
Plan A: Whale Peak (elevation 13,078ft), Plan B: Gibson Lake.  Hour-half drive on Hwy 285.  Morrison, Conifer, Bailey…dirt-road right, just past Grant.  BEAUTIFUL autumn drive.  Had I woke 'on time' today, would have all been dark.  Everything happens for a reason 🙂
Dodged potholes 5 miles to Hall Valley Campground…dirt road/lotta seasonal use.
ATV-road hike.  1.2 miles to Gibson Lake Trailhead.  The panorama?  Colorado Autumn – one of the last weekends of Aspen YELLOW.  Snowy mountain backdrop.  Today's WOW shots came early.
Gibson Lake Trailhead coated in ankle-deep snow.  Continued UP the ATV-road.  [in hindsight] Should've looked a little harder.  Back of the parking lot, no visible path – but on my hike return, spotted the weathered trail sign.  Gibson Lake → 3 miles.  Ugh.
Snow got deeper, off-leash joy for Ro.  UP, UP, UP.  Took more than a few water breaks.  50K day-after: legs weren't exactly bounding effortlessly.  LOL>
Trees stunted, wind blew.  Into the Backpack: treat for Ro, GLOVES for dad.  Trail snow thinned, precip blowing to the side in drifts.  Still no Lake but could make out a vault toilet, far in the distance.  Gonna top the next hill, lunch at the Lake, contemplate next steps.  Based on snow conditions, not sure how plausible summiting a 13er was gonna be.
"Go bak" – scribed on a large boulder.  'Vault toilet' reality: 3 buildings & an American flag.  Large purple gate (middle of absolute nowhere) tagged: 'Keep OUT Mine Property'.  Today's deal breaker?  "Grave Danger: Very High Radiation Area".
Hadn't seen THAT sign before.  4.4 miles in, good enough today.  Kicked back 20 minutes (ironically, against the RADIATION gate), downed a turkey sandwich (both halves), fed Ro.  Might be GLOWING, but my stomach would be full 🙂
2 roadside stops on the drive home: unplanned, unexpected, unrelated – but both SUPER cool.
photo opp: Christ of the Rockies statue (Camp Santa Maria)
food LOVE: foot-long w/ sauerkraut at Coney Island Boardwalk (Bailey)
Crazy FULL weekend – GRATEFUL to be working tomorrow.  Monday, REST day.