After a FULL day (& a half) of Hop-On Hop-Off, met up Sis & husband Paul – just in time for a whirlwind trip to the US Embassy.  Poor Stephen…unfortunately, this wasn't a tourist stop.  Good news: following day his wallet was recovered, just the passport lost.  Whatta sport, personally would've freaked out.  Foreign country, no cash, no credit cards, no identification – yikes!
[side NOTE: they don't actually allow Americans inside our Embassy.  We did see trick-or-treaters come-n-go, but the 3 of us with US passports were left outside/looking in, barred outside the gate.]
Lemons into lemonade.  Sis noticed folks walking with swag bags.  We asked, they pointed.  Bib pick-up just a half-block away.  Sooooo while Stephen secured an emergency passport, the 3 of us picked up our Sunday marathon bibs.  FAAANNNTASTIC!
Another positive?  Only 2 blocks away: Dublin's DART [train station].  Stephen's extended family (whole lotta Irish cousins) would be greeting us in Bray, 30 minutes away.  Dinner alongside the Irish Sea.  Drinks & LAUGHs at the Golf Club.
What a welcoming posse of peeps!  The Irish O'Sullivans (& Byrnes).  Not MY Irish family but I certainly left Bray feeling that way.  Chatted it up with 2 family marathoners.  Stephen's cousin Jane – ok, not actually Jane (my fave of the cousins) but her daughter Claire & son-in-law.  So many laughs (& tall tales) this nite – glad I packed the pigeon shirt.  LOL>
Hug-n-kiss goodbyes, late-night train home, brunch in the a.m. – that's the correct term when you sleep past 10 🙂
Hearty bowl of Guinness stew, Saturday half-day walked the City.  Grafton Street, Ha'penny Bridge, the river Liffey & Temple Bar.  Italian feasted for dinner, marathon #100 tomorrow – IN IRELAND.  How CRAZY is that?  WOW, WOW, WOW!
Marathon #100 Bib Pick-up
O'Sullivans & the Byrnes
Saturday city walk
Denver to Boston, Boston to Dublin.  Almost a year of talk, talk, talk – Marathon #100 here at last.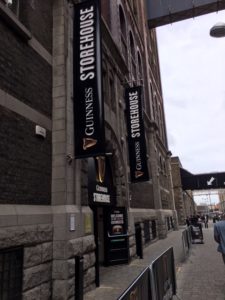 Long travel day…but not like New Zealand long.  All 'bout perspective.  Met up with Stephen in Boston so had a travel mate for a leg ('though in reality, slept the entire 2nd flight).  Early 5am touchdown. Ireland's morning, my 11pm.  Ugh.  Gonna be rough Day One.  Taxi'd downtown THEN best luck ever – super early check-in at The Conrad.  Room available.  FAAAANNNNTASTIC!
11am sleeps, quick shower, sit-down breakfast off St Stephen's Green.  GREAT holiday start!
Walked 5 streets to find pedestrian-friendly Grafton.  The Plan?  City sightseeing.  Specifically, thinking double-decker tour bus.  Did that in Auckland, good way to get acclimated.   But first, an Irish haircut.  New town, new country.  Why not?  Located a trendy spot on Grafton.  Waited my turn, greeted by possibly the oldest coiffeur in Dublin.  Been working at this SAME location since 1964.  9-to-noon/3 times a week; wife's in a nursing home.  Other than that – no idea, [I'm] horrible with accents.  Just smiled & nodded.  It's only hair – luckily I packed a cap 🙂
Hop On-Hop Off, bought a 2-day bus ticket.  Trinity College, National Art Gallery, Phoenix Park, Glasnevin Cemetery.  I'm sure I passed all these stops.  Reviewing my pics: old churches & beer.
Appears I was completely fascinated with the art of brewing ('though I don't booze beer these days).  And when not focused on fermentation, I snapped pics – tens & tens of pics – of Catholic cathedrals (nope, not Catholic either).  An unlikely combination, both found in abundance in Ireland's capital.  Not making excuses.  HUGE FAN of both history & science.
Gothic cathedrals founded centuries ago, end of the Roman Empire.  Hops, natural spring water from County Wicklow.  Churches & beer.  Aside from the science of making beer, spent an hour+ viewing old-era advertising.  'Whistling Oyster', a bicycling fish & Guinness' lovely day Toucan.  A lifetime past, I worked in New York media.  But never ever, a bicycling fish.  LOL>
St Patrick's Cathedral, Christ Church Cathedral, the Dublinia.  Finished the day walking Dublin Castle.  Bus-abandoned somewhere near the river Liffey, service stopped at 6pm – who knew?  3-mile walk thru city neighborhoods & 2 seedy back-alleys (alive with drunks & shouting police).  Picked up the pace, made no direct eye contact…a Google-map death wish.  Yikes!
Tomorrow, Sis is arriving from St. Louis.  Let the games begin ❤
Bicycling Fish & a Whistling Oyster (Guinness Storehouse)
Yesterday in the high Sierras, today on scenic Lake Tahoe.
Sunrise woke in South Lake Tahoe, circled the lake northward – day's first stop:  Emerald Bay.  Mix of tall redwood & pine – HUGE evergreen – line California's largest freshwater lake.  Bay tinted green (emerald green) where it hugs shore.
$10 to the Park Ranger.  Successfully secured parking (kinda a big deal in California).  Stared long/hard at the Lake horizon, before starting the short steep hike DOWN to Vikingsholm on tourist-heavy Tahoe – HIKE day ❤
Vikingsholm…this magnificent "castle" is a unique blend of nature's spectacular beauty and man's architectural ingenuity.

The Vikingsholm foundation was laid in 1928, but the building was constructed in 1929 by 200 workers. Vikingsholm was built by Mrs. Lora Josephine Knight as a summer home. Before starting construction, Mrs. Knight and her architect traveled to Scandinavia to gather ideas for the construction of the house. Some parts of the structure contain no nails or spikes, as a result of old-fashioned construction methods. Most of the building was made from materials found at Lake Tahoe.

Mrs. Knight is best known for building Vikingsholm, but she and her husband Harry, a businessman were primary backers of Charles Lindbergh's non-stop solo flight across the Atlantic in 1927.
Followed the steep one-mile path DOWN DOWN DOWN to Vikingsholm.
White granite canyons, HUGE forest'd trees.  Snagged 2 enormous pine cone for my Colorado mantel.
Interesting well-preserved residence, Vikingsholm, but didn't purchased a ticket to tour inside.  I trail-hiked DOWN to see California redwood, to enjoy the all-consuming scent of pine.  Not disappointed, WOW!
Dipped both hands into Lake Tahoe before trekking back UP.  UP UP to Hwy 89, the local northbound highway I'd travel lake-circumference.  Tahoma, Tahoe City, then lunch.  3 more hours to play 'til my return flight home from Reno.
89 North to Truckee, diverted left on Squaw Valley Road.
Squaw Valley, California – site of the 1960 Winter Olympics.  Gotta/hafta/must STOP, right?  Team USA won first-ever hockey GOLD; Americans [David Jenkins & Carol Heiss] topped both figure skating podiums.
The Games' spirit, the OLYMPIC FLAME stays lit 24/7, 365 days/year.  Pretty neat.  I was here.