Labor Day: unofficial start to Autumn.  For us snow lovers…almost made it thru another summer 🙂
3 day holiday.  Staying 'local' this year, road trippin' Colorado's Western Slope.  Trip highlight: hiking in scenic Telluride – yep, another high-elevation ski town mountain-etched by massive canyons [the San Juans].  Aspen, Crested Butte & now Telluride – been an outstanding Colorado summer.
Friday 5pm.  Work ends, holiday begins.
Packed, picked up the Pup, on the road by 6 – along with most of my Front Range neighbors.  Argh.  Camping holiday.  Needed to check into my site by 10pm.  Valley View folks were mighty nice to hang around 'til 20-past.  Otherwise would have started my adventure with a hefty night hike, parked on the wrong side of a chained cattle-gate.  As it was, struggled to pitch-tent in the dark.  Mighty remote.
Woke Saturday morning to quiet Colorado paradise.  Dry arid landscape, mix of evergreen & cacti.  Natural hot springs tucked between the Great Sand Dunes & Gunnison National Park.  Hiked thru fields of sunflower, lapsing 30-45 minutes at each naturally heated pool.  Meadow Pond, Waterfall Pond, Top Pond, Party Pond…whole lotta warm-water bubbling.
Pupster begged, no one around.  I relented.  Happy dog-paddling pup.
Our most remote ponds are up a short, but steep trail. Most take about twenty minutes to trek the ¼ mile trail to the Top Ponds. Guests agree these peaceful, bubbling warm waters make it the trip well worthwhile. It's a series of three (almost four) ponds flowing one into the next. The top-most pond fills about two feet deep and offers ample space to find a corner to one's self. Its water cascades down to join more warm source water beneath a large tree providing shade throughout the day. Water temperatures vary dramatically as these ponds mix with more snow-melt and runoff than our other sources. In recent months, temperatures ranged from 98°F to 107°F.
Showered, on the road by 1pm.  Quick detour in Villa Grove.  Small 3-building town – but one of those buildings advertised pie.  Never miss an opportunity for pie ❤
3 hours of winding byway.  Poncha Springs, Gunnison, fuel/sanity break in Montrose.  Ridgway, Placerville, Sawpit, Telluride.  Campground, no room in the Inn.  Soooo many people…Telluride Film Festival.  Who knew?
Opted to drive toward Bridal Veil Falls – tomorrow morning's hike launch.  Mile-half of dirt & boulders (4WD trek).  Secured an overnight pull-off, clouds grayed, evening skies opened.  RAIN.  Car-camped high above Telluride.  Nite 2 elevation: 10,000ft+.
Coolest of nights on Casper Mountain – awesome sleeping weather [sadly, missed sunrise].  Quiet excitement/anticipation/buzz around camp – ECLIPSE day!
Listened to a group of NASA scientists speak last night at the Lodge.  Crowd was a weird mix of 'super smart' & 'super quirky'.  My tent neighbor spoke of geothermal pulse dangers generated by nuclear weapons exploding high in the atmosphere – but able to knock out all transformers in the Midwest, which would result in hundreds of thousands of people dying from lack of electricity.  Hmm…  Somehow our forefathers survived without air conditioning, right?  Guy passed out Homeland Security business cards with a personal gmail address.  Double, hmm…  Let's imagine he was completely legit & this was Homeland Security's new way of reaching out/disseminating National Security threats to the General Public [in a Casper WY campground] – what could I personally do about preventing a nuclear explosion 400 miles above Earth's atmosphere?  Like I said: missed this morning's sunrise, slept like a baby.  Guess ignorance is bliss 🙂
Walked/fed the Pup, broke down my tent, Jeep all packed.  Horizon gazed.  Sunshiny day.
Short hike over to 'the viewing area' – large swath of meadow high on Casper Mountain.  Roadside concession stand sold hot dogs & soft drinks.  A&W root beer for a buck.  Heck of a deal.
10:25am: Planted my chair, sat & watched '1st contact' thru a pair of ISO-approved solar shades purchased online thru Walmart.  Double-checked my paper glasses were not 'fake'.  Still, fingers-crossed this wasn't a mass plot by China to leave half our country blind.
Hour-20 'til TOTALITY.  Ro?  Chased grasshoppers, caught a morning nap in the high grass.  Happy dog.
Group of CU (U of Colorado) students showed, hijacked my solitude.  In hindsight, they made the experience light/super FUN.  Typical university kids, excitement/laughter/lotta noise.  Two were talking plasma & NASA measuring the Sun's corona, while another plotted to conceive an 'eclipse' child during the 2 minute-29 second event.  Super smart, super young – LOL>
FELT a noticeable temperature change.  Wind gusted.  Everything happened at once.
TOTALITY.
Skies darkened, white light glowed around our extinguished Sun.
Glasses no longer necessary [next 2 minutes] –  'diamond ring' visible to the naked eye.  Surrounded by sunset & stars, soaked up the cityscape lights of Casper below (street-lamps triggered by the mid-day eclipse).  WOW, WOW, WOW!
Just the slightest of slivers & our 2 minutes of darkness, history/a memory.  Day again.  Bright light – piercing white light – escaped the Sun's upper right corner.  Not daybreak but insta-day, NOON.  Still chilly (58 degrees), but surrounded once again by Sun.
Like nothing I've EVER experienced.
Great American Exodus
Departed at 12:30pm, arrived home at 12:45am.  Hundreds of thousands of cars on ONE highway.
Tag, Arkansas family – you're up next.  TOTALITY!
The next total solar eclipse in the Americas comes on April 8, 2024.  Totality first touches Mexico, enters the United States at Texas, cuts a diagonal to Maine, and visits the maritime provinces of Canada.

Although it has been a long 38 years since the last U.S. total solar eclipse before 2017, it is a relatively short 7 years to the succeeding total solar eclipse in North America.  Perhaps we should call this the Great North American Eclipse.
Great American Eclipse
Great American Exodus
Late night Friday – head didn't hit the pillow 'til 12:30am, Atlantic time.  Sunday marathon, Saturday rest day?  Heck no – touring Annapolis Valley, then driving 3 hours to Nova Scotia's southernmost point (pre-race bib pick-up in Barrington Passage).
Surrounded this trip by teachers – so felt well educated before this morning's stop at Grand-Pré  [National Historic Site].  On Saturday morning's run, Kyla talked 'bout the French Acadians' intricate levee/tide gate system, creating farmland from Minas Bay & the Bay of Fundy.  Same day hiking to Cape Split, Jade spoke of the Expulsion – more than 10,000 Acadians were removed from their houses by the British, many resettling in the States (Boston, NY, Philadelphia…and 'Cajun' Louisiana).  Sad tale – interesting history.
The Acadians were the first European settlers in Nova Scotia, brought over from France in the years after 1632 to colonize what was then the French territory of Acadie, land which included modern-day peninsular Nova Scotia, New Brunswick and Prince Edward Island. By 1713, when Acadie was ceded to the British and became Nova Scotia, the Acadians were long-settled and well-established. Scattered across the peninsula in a chain of loosely-connected agrarian communities, they claimed political neutrality and asked to be left alone on their farmlands, undisturbed.

Over time, their neutrality became increasingly problematic. Known as the 'Neutral French', they were Roman Catholic, occupied valuable and productive farmland, maintained a friendly relationship with the Mi'kmaq, and vastly outnumbered the British — who in turn were predominantly English-speaking Protestants congregated in small, isolated nodes of settlement, where nervous magistrates struggled to govern effectively. All of this at a time when religion, language and relations with the Mi'kmaq were indicators of larger national allegiances — and mattered significantly.

By 1754, Great Britain and France were at war in America and it was no longer deemed safe to have the Neutral French as the majority population in Nova Scotia; their continued presence was perceived as a threat which could not be satisfactorily contained. In June 1755 the British captured Fort Beauséjour, strategically located on the Isthmus of Chignecto at the head of the Bay of Fundy; as the next step in securing the safety of Nova Scotia, the Council at Halifax decided in July 1755 to deport the Neutral French.

Thus began the tragic chain of events which saw the rounding-up of the Acadians, the seizure and destruction of their homes, farms and livestock, their forcible banishment from Nova Scotia.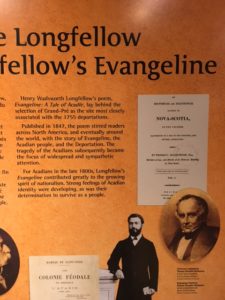 Visiting Grand-Pré cemented my newly gained knowledge.  Adding Longfellow's epic poem Evangeline made that history personal, humanized dates/facts/figures/their struggle.
"…the betrothal of a fictional Acadian girl named Evangeline to her beloved, Gabriel, and their separation as the British deport the Acadians from Acadie in the Great Upheaval. The poem then follows Evangeline across the landscapes of America as she spends years in a search for him, at some times being near to Gabriel without realizing he was near. Finally she settles in Philadelphia and, as an old woman, works as a Sister of Mercy among the poor. While tending the dying during an epidemic she finds Gabriel among the sick, and he sadly dies in her arms."
Still before noon, stopped briefly at Covenanters' Church, the place where Acadians were forced to pledge allegiance to Britain or face deportation.  Whole lotta history, emotionally charged morning.
Less history, more geography.  Next up: Gaspereau Vineyards.  Not a wine drinker (since 2012) but find the scientific process fascinating – the agricultural landscape, the vineyards…stunning.
Few more neighbor visits, lunch, then said our goodbyes.  Half-way point: Mahone Bay.  GREAT stop for a tea & something sweet 🙂  Snapped a pic of 'The Three Churches'.  Another hour-half on the 103 – SUCCESS, [marathon] packet pick-up in Barrington Passage.
Sleeps tonite in Shelburne.  Town's claim to fame?  Founded by British Loyalists, once North America's 4th largest town (bigger than Halifax, larger than Montreal).  More than 10,000 American colonists, still loyal to the Crown, emigrated here (in 1784) just after the end of the Revolution.  Who knew?
Watched an amazing sunset, beautiful pinks over the North Atlantic.  Late 8 a.m. marathon start.  Sticking to road, staying out of the water.  Big seal population.  Our course 'round Cape Sable Island is a Great White breeding ground.  Yikes!
Evangeline A Tale of Acadie (1847)

This is the forest primeval. The murmuring pines and the hemlocks,

Bearded with moss, and in garments green, indistinct in the twilight,

Stand like Druids of eld, with voices sad and prophetic,

Stand like harpers hoar, with beards that rest on their bosoms.

Loud from its rocky caverns, the deep-voiced neighboring ocean

Speaks, and in accents disconsolate answers the wail of the forest.

This is the forest primeval; but where are the hearts that beneath it…