Late night Friday – head didn't hit the pillow 'til 12:30am, Atlantic time.  Sunday marathon, Saturday rest day?  Heck no – touring Annapolis Valley, then driving 3 hours to Nova Scotia's southernmost point (pre-race bib pick-up in Barrington Passage).
Surrounded this trip by teachers – so felt well educated before this morning's stop at Grand-Pré  [National Historic Site].  On Saturday morning's run, Kyla talked 'bout the French Acadians' intricate levee/tide gate system, creating farmland from Minas Bay & the Bay of Fundy.  Same day hiking to Cape Split, Jade spoke of the Expulsion – more than 10,000 Acadians were removed from their houses by the British, many resettling in the States (Boston, NY, Philadelphia…and 'Cajun' Louisiana).  Sad tale – interesting history.
The Acadians were the first European settlers in Nova Scotia, brought over from France in the years after 1632 to colonize what was then the French territory of Acadie, land which included modern-day peninsular Nova Scotia, New Brunswick and Prince Edward Island. By 1713, when Acadie was ceded to the British and became Nova Scotia, the Acadians were long-settled and well-established. Scattered across the peninsula in a chain of loosely-connected agrarian communities, they claimed political neutrality and asked to be left alone on their farmlands, undisturbed.

Over time, their neutrality became increasingly problematic. Known as the 'Neutral French', they were Roman Catholic, occupied valuable and productive farmland, maintained a friendly relationship with the Mi'kmaq, and vastly outnumbered the British — who in turn were predominantly English-speaking Protestants congregated in small, isolated nodes of settlement, where nervous magistrates struggled to govern effectively. All of this at a time when religion, language and relations with the Mi'kmaq were indicators of larger national allegiances — and mattered significantly.

By 1754, Great Britain and France were at war in America and it was no longer deemed safe to have the Neutral French as the majority population in Nova Scotia; their continued presence was perceived as a threat which could not be satisfactorily contained. In June 1755 the British captured Fort Beauséjour, strategically located on the Isthmus of Chignecto at the head of the Bay of Fundy; as the next step in securing the safety of Nova Scotia, the Council at Halifax decided in July 1755 to deport the Neutral French.

Thus began the tragic chain of events which saw the rounding-up of the Acadians, the seizure and destruction of their homes, farms and livestock, their forcible banishment from Nova Scotia.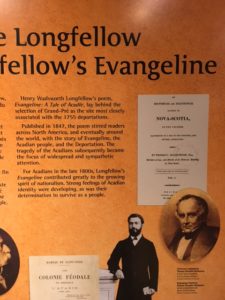 Visiting Grand-Pré cemented my newly gained knowledge.  Adding Longfellow's epic poem Evangeline made that history personal, humanized dates/facts/figures/their struggle.
"…the betrothal of a fictional Acadian girl named Evangeline to her beloved, Gabriel, and their separation as the British deport the Acadians from Acadie in the Great Upheaval. The poem then follows Evangeline across the landscapes of America as she spends years in a search for him, at some times being near to Gabriel without realizing he was near. Finally she settles in Philadelphia and, as an old woman, works as a Sister of Mercy among the poor. While tending the dying during an epidemic she finds Gabriel among the sick, and he sadly dies in her arms."
Still before noon, stopped briefly at Covenanters' Church, the place where Acadians were forced to pledge allegiance to Britain or face deportation.  Whole lotta history, emotionally charged morning.
Less history, more geography.  Next up: Gaspereau Vineyards.  Not a wine drinker (since 2012) but find the scientific process fascinating – the agricultural landscape, the vineyards…stunning.
Few more neighbor visits, lunch, then said our goodbyes.  Half-way point: Mahone Bay.  GREAT stop for a tea & something sweet 🙂  Snapped a pic of 'The Three Churches'.  Another hour-half on the 103 – SUCCESS, [marathon] packet pick-up in Barrington Passage.
Sleeps tonite in Shelburne.  Town's claim to fame?  Founded by British Loyalists, once North America's 4th largest town (bigger than Halifax, larger than Montreal).  More than 10,000 American colonists, still loyal to the Crown, emigrated here (in 1784) just after the end of the Revolution.  Who knew?
Watched an amazing sunset, beautiful pinks over the North Atlantic.  Late 8 a.m. marathon start.  Sticking to road, staying out of the water.  Big seal population.  Our course 'round Cape Sable Island is a Great White breeding ground.  Yikes!
Evangeline A Tale of Acadie (1847)

This is the forest primeval. The murmuring pines and the hemlocks,

Bearded with moss, and in garments green, indistinct in the twilight,

Stand like Druids of eld, with voices sad and prophetic,

Stand like harpers hoar, with beards that rest on their bosoms.

Loud from its rocky caverns, the deep-voiced neighboring ocean

Speaks, and in accents disconsolate answers the wail of the forest.

This is the forest primeval; but where are the hearts that beneath it…
Run the Year Motto:  Run, Crawl, Walk, Conquer, Dominate 2,016 miles in 2016
December 2016 update:  Banged out my last 2 marathons of 2016 but struggled with daily consistency – that said, 101.5 miles (more than all of November) with still another half-month to go.  Biggest excuses: Sub-zero weather (yep, that time of year) & two more chemo treatments (last scheduled on December 22nd 🙂 ).  Finding it harder & harder to bounce back, true energy zapper.
December focus: FINISH STRONG
Race ReCap:  Death Valley Trail Marathon in Furnace Creek CA & 3 Bridges Marathon in Little Rock AR.  Ran 29 marathons this year (including 3 ultras) PLUS kept my monthly streak alive.  37 consecutive months marathoning!
Mileage ReCap:  mid-month tag at 1,873.2 miles; 143 miles short with only 13 days to go.  Yikes!
Fast becoming my favourite of all holidays as we celebrate the vast, diverse planet we live on.
Two years ago my employer provided seeds & small clay pots – and we planted on Earth Day.  This year PS sponsored a company outing to NOAA – the National Oceanic & Atmospheric Administration, located here in Boulder.
Aside from the crazy amount of security required to enter NOAA, whatta super interesting day.
NOAA monitors climate change – measuring greenhouse gases in the atmosphere & the acidification of our oceans.
Discussing ice core samples extracted from Greenland & Antarctica, I got lost in the science & unfortunately zoned out when we walked down the National Weather Service hallway.  Plugged back in as our guide discussed CO2 collection & plotting atmospheric data.
Ended our day by the Earth Ball, a model plotting everything from global electricity usage & oceanic warm spots to Facebook user locales.
Inspired to become more Earth-friendly, have personally committed to reusable bags this year.  Be good to Mother Earth folks, we share space on this beautiful, live-giving planet.  If not for you, do it for future generations 🙂
Antarctica May Have Hit Highest Temperature on Record

By Brian Clark Howard, National Geographic

PUBLISHED MARCH 31, 2015

Scientists have measured what is likely the highest temperature ever on Antarctica: 63.5 degrees Fahrenheit.

The measurements were made last Tuesday at Argentina's Esperanza Base, on the northern tip of the Antarctic Peninsula, according to the meteorological website Weather Underground. The previous hottest known temperature on the continent was 62.8°F (17.1°C), recorded at Esperanza Base on April 24, 1961.

The Weather Underground called last week's temperatures a "remarkable heat wave," although they occurred during the end of the austral summer, when Antarctic temperatures are typically highest.

The temperature has yet to be certified as an official record for the continent by the World Meteorological Organization.

It's hard to draw much conclusion from a single temperature record, cautions Gavin Schmidt, a climate scientist with NASA's Goddard Institute for Space Studies in New York City. Last year Antarctica also logged a record cold temperature, he notes.

What's more important are the long-term trends, says Schmidt. And when it comes to Antarctica, he points out, the past few years "have actually been quite complex."

The world's ocean has been warming rapidly, absorbing much of the planet's excess heat. As a result, large glaciers on or around Antarctica that come in contact with the warming water have been melting rapidly.  But some other glaciers farther inland on the continent are actually growing.

"That has not been satisfactorily explained," says Schmidt.

The science is particularly complex because the ozone hole continues to affect the region's climate in ways that aren't well understood.  And global circulation of winds and currents remains a challenge for scientists to grasp.

"One record warm temperature doesn't cut through all that complexity," says Schmidt.

When it comes to the whole planet, the Earth remains on track to warm by an average of at least two degrees C (3.6 degrees F) by the end of the century, scientists report, although precisely how much is expected to depend on countries' abilities to reduce emissions of heat-trapping greenhouse gases.