Late arrival in Buffalo, cabin rental 20 minutes west of Dayton.  Buffalo NY, Dayton Ohio?  Heck no.  I'm talking Wyoming.  In town for Saturday's ultra, Bighorn.  One mile shake-out run along State Hwy 14, road trippin' after breakfast.
Montana.  2 hours north on I-90.
Forty Mile Colony.  Lodge Grass.  Crow Agency.  Today's destination: Little Bighorn Battlefield on the Crow Reservation.
The Battle of the Little Bighorn (commonly referred to as Custer's Last Stand) was an armed engagement between combined forces of the Lakota, Northern Cheyenne, and Arapaho tribes and the 7th Cavalry Regiment of the United States Army. The battle, which occurred June 25–26, 1876, along the Little Bighorn River in eastern Montana Territory, was the most significant action of the Great Sioux War of 1876.

The fight was an overwhelming victory for the Lakota, Northern Cheyenne, and Arapaho, who were led by several major war leaders including Crazy Horse and Chief Gall and had been inspired by the visions of Sitting Bull (Tȟatȟáŋka Íyotake). The U.S. 7th Cavalry, including the Custer Battalion, a force of 700 men led by Lieutenant Colonel George Armstrong Custer, suffered a major defeat. Five of the 7th Cavalry's twelve companies were annihilated; Custer was killed, as were two of his brothers, a nephew, and a brother-in-law. The total U.S. casualty count included 268 dead and 55 severely wounded (six died later from their injuries), including four Crow Indian scouts and two Pawnee Indian scouts.
Purchased a guided tour at the Visitors Center, operated by Apsaalooke Tours (affiliated with the Crow Nation Office of Tourism).  Bus tour was led by an enthusiastic Apsaalooke [Crow].  Details of the battle & war strategy were painstakingly reviewed.  Additionally our guide shared his language, teaching [us] multiple native words: hello, goodbye, bird, coyote, mustang, mountain.
While I struggled with his accent & the story, the landscape around me was breathtaking.  LOVED being here.  Life is about seizing opportunity.  I could have laid low the day before Bighorn…but a short 2 hours away, engaged/partook/learned 'bout Custer's Last Stand, a significant piece of U.S. history – a story retold by descendants of the native people who won that battle.
Inspired, I needed to know – so, how did it all end?
After Custer's defeat, Sitting Bull, along with his people, fled north to Canada.  In 1881, he returned to the United States to surrender.  Sitting Bull was killed by Indian police on the Standing Rock Reservation in South Dakota on December 15, 1890.
Sad end to the Lakota spiritual leader – resisted westward expansion, in an effort to preserve the Lakota way of life.
Little Bighorn Battlefield
4 weekends marathoning – this Saturday: kick around, do laundry?  Heck no – road trippin' SD: "Great Places, Great Faces".
Ended Friday work week with my final father-daughter dance lesson.  Too far/too late to reach South Dakota – but how 'bout Lusk? [Wyoming of course 🙂 ]  Small but clean digs, free buffet breakfast.  Short hour-half drive to Custer State Park, car-dodging buffalo by 9am.  FAAANNNTASTIC!  Native to the U.S.A, our American bison – BIG, STRONG, MASSIVE.  Personal fave of the animal kingdom.
20 minutes west thru Custer, 20 minutes north to Crazy Horse Memorial.  Had heard mixed reviews 'bout the Monument.  Lakota Chief Henry Standing Bear commissioned the project in 1939 – Crazy Horse's massive 87ft face wasn't completed 'til 1998.  Current work is focused on Crazy Horse's hand, finger & his horse's mane.  Timeline?  Long after my life span.
Paid an extra $10 to school bus-ride near the base of the Mountain.  Felt a bit nickel-n-dimed but WOW – gotta say, being so close to something so massive, was well worth the $$.  Wrong time to be short-sighted with cash.  Once completed Crazy Horse will rival nearby Mt. Rushmore.  Sculpted to 'honor the culture & heritage of all North American Indians'.   Just WOW.
Didn't leave the Memorial Museum for almost 2 hours.  LOVE LOVE LOVED!  Native American artifacts, photographs, sculptures, paintings.  Completely unexpected.  WELL WORTH GOING!
Wait, wait – the day's not over.  Next up: Mount Rushmore.  Washington, Jefferson, Roosevelt & Lincoln – literally carved IN the Black Hills of South Dakota.  Short-hiked up-n-down the Presidential Walk.  Fave spot?  Rushmore's 'Walk of Flags' entrance.  Every state, every U.S. territory represented.  Left beaming USA pride.  Bought an ice cream recipe'd by Pres. Thomas Jefferson himself ❤
Sleeps in historic Deadwood.  Dinner above the saloon where Wild Bill Hickok was killed, tomorrow visiting his marker.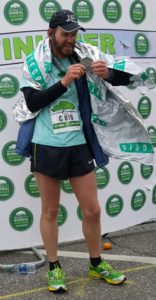 6:30am Start – up early, 5:30 shuttle last transport from my hotel.  One block from the Outdoor Memorial.  National Anthem, followed by 168 seconds of silence – respect for the lives lost in 1995.
Chilly start – gusty wind & light rain.  Running in shorts again…gotta check the weather app before I leave home.  LOL>  25,000 runners, corral start.  Lotta local crowd support, much appreciated.
Started tenth-mile behind the 4:15 pace group.  Hung close thru mile 2.  Chickasaw Bricktown Ballpark (home to OKC's Triple-A Dodgers).  Past two [Phillips 66] oil derricks, 500 feet outside the Oklahoma State Capitol.  Caught the 4 hour pacers at mile 5.  Halfers peeled off before 8.
Gorilla Hill, Nichols Hills, Rose Hill, Heritage Hills – not a flat course 🙂
2:01 first Half.  Couple minutes slower than last Saturday…on a more technical course – I'll take it.  Struggled the two miles 'round Lake Hefner.  High gusty winds.  Head lowered, pushed thru the day's weather obstacle.  Misty rain blew sideways.  4 hour pace group matched me, moved past me.
Tree cover at mile 16, more at 18.  Downhill stretch [thru mile 20] before a quad-burning 4 mile climb…topping out in OKC's scenic Heritage Hills.  Mighty late in the day for 4 miles of UP.
Run/walk combination last 2 miles.  Mental dip/endorphin drop but not a bad performance – maintained posture, felt good in my shoes.  Hilly run…third straight weekend marathoning – finished just over 4:15, an Oklahoma PR. 2nd fastest of 2017, 16th best of my 88.  128 consecutive run days – feelin' STRONG!
2017 Results – OKC Marathon

Haga, K R   LOUISVILLE  CO   4:17:20
6 hours to burn before my Colorado flight home.  Fried pickles at Toby Keith's (while in Oklahoma, gotta/hafta), feet up/giant Coke & a movie….then, 2 stops of interest: Oklahoma's Land Run Monument & a brief pull-over at the State Capitol.
More than 50,000 Americans lined up at noon on April 22nd 1889 for our country's last great Land Run.  Towns were formed, homesteads staked.  Ironically, monuments outside the state's Capitol Dome celebrate Oklahoma's Native American population (from whom the land was taken).  Cowboys, Indians & Oil.  American history is kinda messed up, huh?
Far North next weekend, adventuring with my Canadian bestie Sarah.  Marathoning of course but ALSO…Niagara Falls!
Oklahoma City Memorial Marathon