Yesterday in the high Sierras, today on scenic Lake Tahoe.
Sunrise woke in South Lake Tahoe, circled the lake northward – day's first stop:  Emerald Bay.  Mix of tall redwood & pine – HUGE evergreen – line California's largest freshwater lake.  Bay tinted green (emerald green) where it hugs shore.
$10 to the Park Ranger.  Successfully secured parking (kinda a big deal in California).  Stared long/hard at the Lake horizon, before starting the short steep hike DOWN to Vikingsholm on tourist-heavy Tahoe – HIKE day ❤
Vikingsholm…this magnificent "castle" is a unique blend of nature's spectacular beauty and man's architectural ingenuity.

The Vikingsholm foundation was laid in 1928, but the building was constructed in 1929 by 200 workers. Vikingsholm was built by Mrs. Lora Josephine Knight as a summer home. Before starting construction, Mrs. Knight and her architect traveled to Scandinavia to gather ideas for the construction of the house. Some parts of the structure contain no nails or spikes, as a result of old-fashioned construction methods. Most of the building was made from materials found at Lake Tahoe.

Mrs. Knight is best known for building Vikingsholm, but she and her husband Harry, a businessman were primary backers of Charles Lindbergh's non-stop solo flight across the Atlantic in 1927.
Followed the steep one-mile path DOWN DOWN DOWN to Vikingsholm.
White granite canyons, HUGE forest'd trees.  Snagged 2 enormous pine cone for my Colorado mantel.
Interesting well-preserved residence, Vikingsholm, but didn't purchased a ticket to tour inside.  I trail-hiked DOWN to see California redwood, to enjoy the all-consuming scent of pine.  Not disappointed, WOW!
Dipped both hands into Lake Tahoe before trekking back UP.  UP UP to Hwy 89, the local northbound highway I'd travel lake-circumference.  Tahoma, Tahoe City, then lunch.  3 more hours to play 'til my return flight home from Reno.
89 North to Truckee, diverted left on Squaw Valley Road.
Squaw Valley, California – site of the 1960 Winter Olympics.  Gotta/hafta/must STOP, right?  Team USA won first-ever hockey GOLD; Americans [David Jenkins & Carol Heiss] topped both figure skating podiums.
The Games' spirit, the OLYMPIC FLAME stays lit 24/7, 365 days/year.  Pretty neat.  I was here.
Late night Friday – head didn't hit the pillow 'til 12:30am, Atlantic time.  Sunday marathon, Saturday rest day?  Heck no – touring Annapolis Valley, then driving 3 hours to Nova Scotia's southernmost point (pre-race bib pick-up in Barrington Passage).
Surrounded this trip by teachers – so felt well educated before this morning's stop at Grand-Pré  [National Historic Site].  On Saturday morning's run, Kyla talked 'bout the French Acadians' intricate levee/tide gate system, creating farmland from Minas Bay & the Bay of Fundy.  Same day hiking to Cape Split, Jade spoke of the Expulsion – more than 10,000 Acadians were removed from their houses by the British, many resettling in the States (Boston, NY, Philadelphia…and 'Cajun' Louisiana).  Sad tale – interesting history.
The Acadians were the first European settlers in Nova Scotia, brought over from France in the years after 1632 to colonize what was then the French territory of Acadie, land which included modern-day peninsular Nova Scotia, New Brunswick and Prince Edward Island. By 1713, when Acadie was ceded to the British and became Nova Scotia, the Acadians were long-settled and well-established. Scattered across the peninsula in a chain of loosely-connected agrarian communities, they claimed political neutrality and asked to be left alone on their farmlands, undisturbed.

Over time, their neutrality became increasingly problematic. Known as the 'Neutral French', they were Roman Catholic, occupied valuable and productive farmland, maintained a friendly relationship with the Mi'kmaq, and vastly outnumbered the British — who in turn were predominantly English-speaking Protestants congregated in small, isolated nodes of settlement, where nervous magistrates struggled to govern effectively. All of this at a time when religion, language and relations with the Mi'kmaq were indicators of larger national allegiances — and mattered significantly.

By 1754, Great Britain and France were at war in America and it was no longer deemed safe to have the Neutral French as the majority population in Nova Scotia; their continued presence was perceived as a threat which could not be satisfactorily contained. In June 1755 the British captured Fort Beauséjour, strategically located on the Isthmus of Chignecto at the head of the Bay of Fundy; as the next step in securing the safety of Nova Scotia, the Council at Halifax decided in July 1755 to deport the Neutral French.

Thus began the tragic chain of events which saw the rounding-up of the Acadians, the seizure and destruction of their homes, farms and livestock, their forcible banishment from Nova Scotia.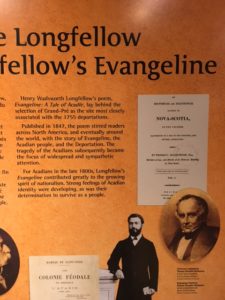 Visiting Grand-Pré cemented my newly gained knowledge.  Adding Longfellow's epic poem Evangeline made that history personal, humanized dates/facts/figures/their struggle.
"…the betrothal of a fictional Acadian girl named Evangeline to her beloved, Gabriel, and their separation as the British deport the Acadians from Acadie in the Great Upheaval. The poem then follows Evangeline across the landscapes of America as she spends years in a search for him, at some times being near to Gabriel without realizing he was near. Finally she settles in Philadelphia and, as an old woman, works as a Sister of Mercy among the poor. While tending the dying during an epidemic she finds Gabriel among the sick, and he sadly dies in her arms."
Still before noon, stopped briefly at Covenanters' Church, the place where Acadians were forced to pledge allegiance to Britain or face deportation.  Whole lotta history, emotionally charged morning.
Less history, more geography.  Next up: Gaspereau Vineyards.  Not a wine drinker (since 2012) but find the scientific process fascinating – the agricultural landscape, the vineyards…stunning.
Few more neighbor visits, lunch, then said our goodbyes.  Half-way point: Mahone Bay.  GREAT stop for a tea & something sweet 🙂  Snapped a pic of 'The Three Churches'.  Another hour-half on the 103 – SUCCESS, [marathon] packet pick-up in Barrington Passage.
Sleeps tonite in Shelburne.  Town's claim to fame?  Founded by British Loyalists, once North America's 4th largest town (bigger than Halifax, larger than Montreal).  More than 10,000 American colonists, still loyal to the Crown, emigrated here (in 1784) just after the end of the Revolution.  Who knew?
Watched an amazing sunset, beautiful pinks over the North Atlantic.  Late 8 a.m. marathon start.  Sticking to road, staying out of the water.  Big seal population.  Our course 'round Cape Sable Island is a Great White breeding ground.  Yikes!
Evangeline A Tale of Acadie (1847)

This is the forest primeval. The murmuring pines and the hemlocks,

Bearded with moss, and in garments green, indistinct in the twilight,

Stand like Druids of eld, with voices sad and prophetic,

Stand like harpers hoar, with beards that rest on their bosoms.

Loud from its rocky caverns, the deep-voiced neighboring ocean

Speaks, and in accents disconsolate answers the wail of the forest.

This is the forest primeval; but where are the hearts that beneath it…
Elbert & Aspen, 2 big mountain hikes.  Mental fixed, done retreating.  Back to marathoning.
Days after Bighorn, laid out my path for 100.  Had already registered for six races, 3 more needed to hit my target in Dublin.  Travel costs, proximity to home, days off required [from work] – add NO repeats.  Thus far, all 91 marathons have been unique/original runs.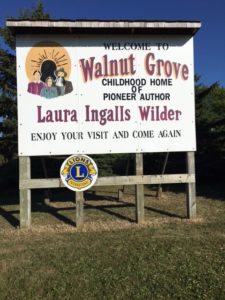 Lake Okoboji.  Midwest humidity, 90+ degrees.  Ya'll know how I love heat, ARGH!
Friday morning flight.  Said I'd never fly Frontier again but for $60 (one-way), I'd live out of my carry-on.  3-hour drive from Minneapolis.  Lunch stopped in Mankato, 2 hours on flat farm roads 'cross the Iowa border to bib pick-up.  Motel check-in (another $49 bargain) in Spirit Lake then my Midwest adventure began.  Hmm…what to do in rural Iowa?
An hour-half north & west using a handful of rural state roads, crossed back into Minnesota & entered Walnut Grove.  'The' Walnut Grove – as in, 'Laura Ingalls/Little House on the Prairie' Walnut Grove. Even bigger?  Once a year (each July) the town celebrates with a series of events – biggest being a live outdoor performance, known as Wilder Pageant.  Called, tickets available – heck yeah, I'm in.
First stop: Laura Ingalls Wilder Museum on [aptly-named] Ingalls Street.  GREAT collection of both Wilder's books AND the television series.  Outside stood a replica of the Ingalls' dugout sod home.  As a kid, LOVED the show…however, was even a BIGGER FAN of the books.  'On the Banks of Plum Creek' (centered in Walnut Grove) was my personal favourite of the series.
Between 2nd & 3rd grade my family moved 'cross country.  HUGE life adjustment.  Lived out of a camper while my dad built an add-on structure (lived there 3 years).  Wood stove, no toilet, no running water. Dad went thru a series of assembly jobs, laid-off each winter.
Rural town, new school, tough times.  Poor family, no money.  That year, my 3rd grade teacher read a chapter aloud [once a week] from 'Little House in the Big Woods".  I was HOOKED.  Reading became an escape, I was a mind traveler & the library was FREE.  [could be] Transported far from my family's struggles, their squabbles 'bout money & later divorce.
Inside the museum, a photograph of Mary, Laura & Carrie.  A newspaper clipping (dated June 1879) reporting Mary's illness & sudden blindness.  An audio recording of Laura (from the 1950's), interviewed by a newspaper reporter in Mansfield MO.  Real people, real lives.
5 minute drive away, visited the Ingalls Dugout Site.  $5/car to visit a sign by a creek, on a rural farm.  No regrets 🙂
Car napped an hour before Wilder Pageant.  Gates opened at 7, local singers entertained at 8, play began at 9pm – titled "Fragments of a Dream", show's 40th anniversary.  2 Acts, 16 scenes.  An older Laura (age 70) narrated the Ingalls' story: family's arrival in Walnut Grove, building the local church, fighting a plight of grasshoppers & Laura's schoolyard fights with Nellie Oleson.
(FUN FACT: the infamous 'Olesons' were actually the 'Owens' – learned many names were changed in the books)
Well done Walnut Grove, well done.  Sadly, left the land of many mosquitoes (Minnesota) between Acts (left at intermission).  Long day, lotta hours logged in the rental.  Hour-half return drive to Iowa (late midnight arrival), marathon in the morning.