food, FAMILY & fun – but first…another marathon 🙂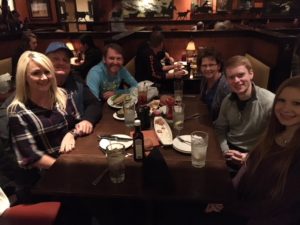 Early 5am flight to Dallas, morning arrival in Arkansas.  First stop: Family.  Kid brother owns a trucking company AND just opened a gym.  We all work somewhere – but the gym…that was mighty impressive.  Pre-kid days, Bro was a power lifter (obviously not my twin).  Daughter now off to college, LOVE LOVE he's following his passion.
Next up: lunch at Williamsburg Kitchen.  That's where one finds Mom weekdays (owner/creator/innovator of this lunch-only spot 30 years+).  LOVE this place, LOVE her Reuben, LOVE the family 'eats for FREE' discount.  FAAAANNNNTASTIC!
3 ½ hour drive on rural Arkansas roads, day's destination: Cotter AR.
Population: 948.  Five miles past Flippin, 20.2 miles from the Missouri border.  Middle of nowhere.  People in Arkansas haven't heard of this town.
Fun story.  Sun goes down maybe 10 miles from Cotter.  I'm not a great driver – even worse when it's dark.  900ft from Cotter High School (bib pick-up), Google Maps says to turn left.  Dirt road…no judgments, we have those in Colorado.  Rental car lists dramatically to the left, something is wrong – I now see the sign: Railroad Crossing.  Yep, been driving on the tracks themselves.  Pitch black, no stars here.  Yikes!  Good laugh AFTER I eased off the tracks & wasn't killed.  LOL>
Pasta charity dinner.  Sleeps 10 miles away in Mountain Home.  Daybreak marathon start.
AWESOME turn-out.  Field was limited to 750 participants AND it sold out, 4th year in a row.  Today's experience would be all about weather.  Warm start.  Never peeled my first layer so humidity-dripped in Razorback winter.  Sweated it out with a trio of runners kicking the Half.  Chatty upbeat folks.  Group slowed at mile 12.  Goodbyes, maintained pace, exited to the left – second lap.
Cloud-cover cooled conditions.  Wind gusted, no bugs 2nd Half.  No elevation gain either – 'bout as flat a course you'll find.  Hit the wall early, more mental than anything.  Notta lotta runners & I had no tunes.  [note: iPods don't last forever.]  Light rain, extra out-n-back at mile 18-ish (special from the first lap).  30mph headwind at the turn, 7 miles to go.  Walked much of mile 20.
Run-Walk-Ran last 5 miles with Sarasota runner, Buzz Scott.  Half-mile to Finish, pep talk from Buzz.  Marathon finish #103.
Heat/humidity, gusty wind, light rain & some folks say sleet.  Another sub-par effort.  17 pounds UP since June's REVEL run – lotta gain for a guy my size.  Not a dieter.  Who gains weight over the summer?!  …but first (28 miles away), 2 slices of the best gas-station pizza ever. Four other runners also crowded in – no mistaking us: race shirt & shoes, we all look alike.  HA!
Family nite in Fort Smith.  Dinner out, cards at Mom's, Sunday morning church.  Good to be HOME ❤
Agee Race Timing, LLC

K R HAGA
2017 White River Marathon

Overall: 102 out of 188
Time: 05:13:55.56
Denver to Boston, Boston to Dublin.  Almost a year of talk, talk, talk – Marathon #100 here at last.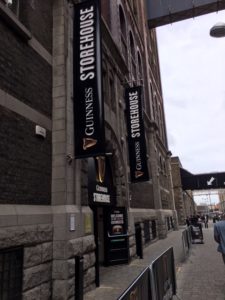 Long travel day…but not like New Zealand long.  All 'bout perspective.  Met up with Stephen in Boston so had a travel mate for a leg ('though in reality, slept the entire 2nd flight).  Early 5am touchdown. Ireland's morning, my 11pm.  Ugh.  Gonna be rough Day One.  Taxi'd downtown THEN best luck ever – super early check-in at The Conrad.  Room available.  FAAAANNNNTASTIC!
11am sleeps, quick shower, sit-down breakfast off St Stephen's Green.  GREAT holiday start!
Walked 5 streets to find pedestrian-friendly Grafton.  The Plan?  City sightseeing.  Specifically, thinking double-decker tour bus.  Did that in Auckland, good way to get acclimated.   But first, an Irish haircut.  New town, new country.  Why not?  Located a trendy spot on Grafton.  Waited my turn, greeted by possibly the oldest coiffeur in Dublin.  Been working at this SAME location since 1964.  9-to-noon/3 times a week; wife's in a nursing home.  Other than that – no idea, [I'm] horrible with accents.  Just smiled & nodded.  It's only hair – luckily I packed a cap 🙂
Hop On-Hop Off, bought a 2-day bus ticket.  Trinity College, National Art Gallery, Phoenix Park, Glasnevin Cemetery.  I'm sure I passed all these stops.  Reviewing my pics: old churches & beer.
Appears I was completely fascinated with the art of brewing ('though I don't booze beer these days).  And when not focused on fermentation, I snapped pics – tens & tens of pics – of Catholic cathedrals (nope, not Catholic either).  An unlikely combination, both found in abundance in Ireland's capital.  Not making excuses.  HUGE FAN of both history & science.
Gothic cathedrals founded centuries ago, end of the Roman Empire.  Hops, natural spring water from County Wicklow.  Churches & beer.  Aside from the science of making beer, spent an hour+ viewing old-era advertising.  'Whistling Oyster', a bicycling fish & Guinness' lovely day Toucan.  A lifetime past, I worked in New York media.  But never ever, a bicycling fish.  LOL>
St Patrick's Cathedral, Christ Church Cathedral, the Dublinia.  Finished the day walking Dublin Castle.  Bus-abandoned somewhere near the river Liffey, service stopped at 6pm – who knew?  3-mile walk thru city neighborhoods & 2 seedy back-alleys (alive with drunks & shouting police).  Picked up the pace, made no direct eye contact…a Google-map death wish.  Yikes!
Tomorrow, Sis is arriving from St. Louis.  Let the games begin ❤
Bicycling Fish & a Whistling Oyster (Guinness Storehouse)
Late night Friday – head didn't hit the pillow 'til 12:30am, Atlantic time.  Sunday marathon, Saturday rest day?  Heck no – touring Annapolis Valley, then driving 3 hours to Nova Scotia's southernmost point (pre-race bib pick-up in Barrington Passage).
Surrounded this trip by teachers – so felt well educated before this morning's stop at Grand-Pré  [National Historic Site].  On Saturday morning's run, Kyla talked 'bout the French Acadians' intricate levee/tide gate system, creating farmland from Minas Bay & the Bay of Fundy.  Same day hiking to Cape Split, Jade spoke of the Expulsion – more than 10,000 Acadians were removed from their houses by the British, many resettling in the States (Boston, NY, Philadelphia…and 'Cajun' Louisiana).  Sad tale – interesting history.
The Acadians were the first European settlers in Nova Scotia, brought over from France in the years after 1632 to colonize what was then the French territory of Acadie, land which included modern-day peninsular Nova Scotia, New Brunswick and Prince Edward Island. By 1713, when Acadie was ceded to the British and became Nova Scotia, the Acadians were long-settled and well-established. Scattered across the peninsula in a chain of loosely-connected agrarian communities, they claimed political neutrality and asked to be left alone on their farmlands, undisturbed.

Over time, their neutrality became increasingly problematic. Known as the 'Neutral French', they were Roman Catholic, occupied valuable and productive farmland, maintained a friendly relationship with the Mi'kmaq, and vastly outnumbered the British — who in turn were predominantly English-speaking Protestants congregated in small, isolated nodes of settlement, where nervous magistrates struggled to govern effectively. All of this at a time when religion, language and relations with the Mi'kmaq were indicators of larger national allegiances — and mattered significantly.

By 1754, Great Britain and France were at war in America and it was no longer deemed safe to have the Neutral French as the majority population in Nova Scotia; their continued presence was perceived as a threat which could not be satisfactorily contained. In June 1755 the British captured Fort Beauséjour, strategically located on the Isthmus of Chignecto at the head of the Bay of Fundy; as the next step in securing the safety of Nova Scotia, the Council at Halifax decided in July 1755 to deport the Neutral French.

Thus began the tragic chain of events which saw the rounding-up of the Acadians, the seizure and destruction of their homes, farms and livestock, their forcible banishment from Nova Scotia.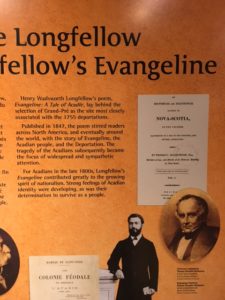 Visiting Grand-Pré cemented my newly gained knowledge.  Adding Longfellow's epic poem Evangeline made that history personal, humanized dates/facts/figures/their struggle.
"…the betrothal of a fictional Acadian girl named Evangeline to her beloved, Gabriel, and their separation as the British deport the Acadians from Acadie in the Great Upheaval. The poem then follows Evangeline across the landscapes of America as she spends years in a search for him, at some times being near to Gabriel without realizing he was near. Finally she settles in Philadelphia and, as an old woman, works as a Sister of Mercy among the poor. While tending the dying during an epidemic she finds Gabriel among the sick, and he sadly dies in her arms."
Still before noon, stopped briefly at Covenanters' Church, the place where Acadians were forced to pledge allegiance to Britain or face deportation.  Whole lotta history, emotionally charged morning.
Less history, more geography.  Next up: Gaspereau Vineyards.  Not a wine drinker (since 2012) but find the scientific process fascinating – the agricultural landscape, the vineyards…stunning.
Few more neighbor visits, lunch, then said our goodbyes.  Half-way point: Mahone Bay.  GREAT stop for a tea & something sweet 🙂  Snapped a pic of 'The Three Churches'.  Another hour-half on the 103 – SUCCESS, [marathon] packet pick-up in Barrington Passage.
Sleeps tonite in Shelburne.  Town's claim to fame?  Founded by British Loyalists, once North America's 4th largest town (bigger than Halifax, larger than Montreal).  More than 10,000 American colonists, still loyal to the Crown, emigrated here (in 1784) just after the end of the Revolution.  Who knew?
Watched an amazing sunset, beautiful pinks over the North Atlantic.  Late 8 a.m. marathon start.  Sticking to road, staying out of the water.  Big seal population.  Our course 'round Cape Sable Island is a Great White breeding ground.  Yikes!
Evangeline A Tale of Acadie (1847)

This is the forest primeval. The murmuring pines and the hemlocks,

Bearded with moss, and in garments green, indistinct in the twilight,

Stand like Druids of eld, with voices sad and prophetic,

Stand like harpers hoar, with beards that rest on their bosoms.

Loud from its rocky caverns, the deep-voiced neighboring ocean

Speaks, and in accents disconsolate answers the wail of the forest.

This is the forest primeval; but where are the hearts that beneath it…