Denver to Boston, Boston to Dublin.  Almost a year of talk, talk, talk – Marathon #100 here at last.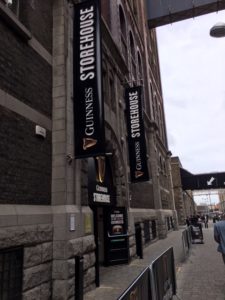 Long travel day…but not like New Zealand long.  All 'bout perspective.  Met up with Stephen in Boston so had a travel mate for a leg ('though in reality, slept the entire 2nd flight).  Early 5am touchdown. Ireland's morning, my 11pm.  Ugh.  Gonna be rough Day One.  Taxi'd downtown THEN best luck ever – super early check-in at The Conrad.  Room available.  FAAAANNNNTASTIC!
11am sleeps, quick shower, sit-down breakfast off St Stephen's Green.  GREAT holiday start!
Walked 5 streets to find pedestrian-friendly Grafton.  The Plan?  City sightseeing.  Specifically, thinking double-decker tour bus.  Did that in Auckland, good way to get acclimated.   But first, an Irish haircut.  New town, new country.  Why not?  Located a trendy spot on Grafton.  Waited my turn, greeted by possibly the oldest coiffeur in Dublin.  Been working at this SAME location since 1964.  9-to-noon/3 times a week; wife's in a nursing home.  Other than that – no idea, [I'm] horrible with accents.  Just smiled & nodded.  It's only hair – luckily I packed a cap 🙂
Hop On-Hop Off, bought a 2-day bus ticket.  Trinity College, National Art Gallery, Phoenix Park, Glasnevin Cemetery.  I'm sure I passed all these stops.  Reviewing my pics: old churches & beer.
Appears I was completely fascinated with the art of brewing ('though I don't booze beer these days).  And when not focused on fermentation, I snapped pics – tens & tens of pics – of Catholic cathedrals (nope, not Catholic either).  An unlikely combination, both found in abundance in Ireland's capital.  Not making excuses.  HUGE FAN of both history & science.
Gothic cathedrals founded centuries ago, end of the Roman Empire.  Hops, natural spring water from County Wicklow.  Churches & beer.  Aside from the science of making beer, spent an hour+ viewing old-era advertising.  'Whistling Oyster', a bicycling fish & Guinness' lovely day Toucan.  A lifetime past, I worked in New York media.  But never ever, a bicycling fish.  LOL>
St Patrick's Cathedral, Christ Church Cathedral, the Dublinia.  Finished the day walking Dublin Castle.  Bus-abandoned somewhere near the river Liffey, service stopped at 6pm – who knew?  3-mile walk thru city neighborhoods & 2 seedy back-alleys (alive with drunks & shouting police).  Picked up the pace, made no direct eye contact…a Google-map death wish.  Yikes!
Tomorrow, Sis is arriving from St. Louis.  Let the games begin ❤
Bicycling Fish & a Whistling Oyster (Guinness Storehouse)
Late night Friday – head didn't hit the pillow 'til 12:30am, Atlantic time.  Sunday marathon, Saturday rest day?  Heck no – touring Annapolis Valley, then driving 3 hours to Nova Scotia's southernmost point (pre-race bib pick-up in Barrington Passage).
Surrounded this trip by teachers – so felt well educated before this morning's stop at Grand-Pré  [National Historic Site].  On Saturday morning's run, Kyla talked 'bout the French Acadians' intricate levee/tide gate system, creating farmland from Minas Bay & the Bay of Fundy.  Same day hiking to Cape Split, Jade spoke of the Expulsion – more than 10,000 Acadians were removed from their houses by the British, many resettling in the States (Boston, NY, Philadelphia…and 'Cajun' Louisiana).  Sad tale – interesting history.
The Acadians were the first European settlers in Nova Scotia, brought over from France in the years after 1632 to colonize what was then the French territory of Acadie, land which included modern-day peninsular Nova Scotia, New Brunswick and Prince Edward Island. By 1713, when Acadie was ceded to the British and became Nova Scotia, the Acadians were long-settled and well-established. Scattered across the peninsula in a chain of loosely-connected agrarian communities, they claimed political neutrality and asked to be left alone on their farmlands, undisturbed.

Over time, their neutrality became increasingly problematic. Known as the 'Neutral French', they were Roman Catholic, occupied valuable and productive farmland, maintained a friendly relationship with the Mi'kmaq, and vastly outnumbered the British — who in turn were predominantly English-speaking Protestants congregated in small, isolated nodes of settlement, where nervous magistrates struggled to govern effectively. All of this at a time when religion, language and relations with the Mi'kmaq were indicators of larger national allegiances — and mattered significantly.

By 1754, Great Britain and France were at war in America and it was no longer deemed safe to have the Neutral French as the majority population in Nova Scotia; their continued presence was perceived as a threat which could not be satisfactorily contained. In June 1755 the British captured Fort Beauséjour, strategically located on the Isthmus of Chignecto at the head of the Bay of Fundy; as the next step in securing the safety of Nova Scotia, the Council at Halifax decided in July 1755 to deport the Neutral French.

Thus began the tragic chain of events which saw the rounding-up of the Acadians, the seizure and destruction of their homes, farms and livestock, their forcible banishment from Nova Scotia.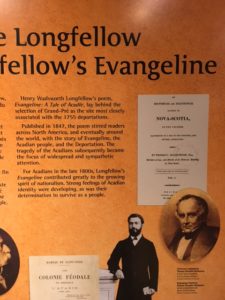 Visiting Grand-Pré cemented my newly gained knowledge.  Adding Longfellow's epic poem Evangeline made that history personal, humanized dates/facts/figures/their struggle.
"…the betrothal of a fictional Acadian girl named Evangeline to her beloved, Gabriel, and their separation as the British deport the Acadians from Acadie in the Great Upheaval. The poem then follows Evangeline across the landscapes of America as she spends years in a search for him, at some times being near to Gabriel without realizing he was near. Finally she settles in Philadelphia and, as an old woman, works as a Sister of Mercy among the poor. While tending the dying during an epidemic she finds Gabriel among the sick, and he sadly dies in her arms."
Still before noon, stopped briefly at Covenanters' Church, the place where Acadians were forced to pledge allegiance to Britain or face deportation.  Whole lotta history, emotionally charged morning.
Less history, more geography.  Next up: Gaspereau Vineyards.  Not a wine drinker (since 2012) but find the scientific process fascinating – the agricultural landscape, the vineyards…stunning.
Few more neighbor visits, lunch, then said our goodbyes.  Half-way point: Mahone Bay.  GREAT stop for a tea & something sweet 🙂  Snapped a pic of 'The Three Churches'.  Another hour-half on the 103 – SUCCESS, [marathon] packet pick-up in Barrington Passage.
Sleeps tonite in Shelburne.  Town's claim to fame?  Founded by British Loyalists, once North America's 4th largest town (bigger than Halifax, larger than Montreal).  More than 10,000 American colonists, still loyal to the Crown, emigrated here (in 1784) just after the end of the Revolution.  Who knew?
Watched an amazing sunset, beautiful pinks over the North Atlantic.  Late 8 a.m. marathon start.  Sticking to road, staying out of the water.  Big seal population.  Our course 'round Cape Sable Island is a Great White breeding ground.  Yikes!
Evangeline A Tale of Acadie (1847)

This is the forest primeval. The murmuring pines and the hemlocks,

Bearded with moss, and in garments green, indistinct in the twilight,

Stand like Druids of eld, with voices sad and prophetic,

Stand like harpers hoar, with beards that rest on their bosoms.

Loud from its rocky caverns, the deep-voiced neighboring ocean

Speaks, and in accents disconsolate answers the wail of the forest.

This is the forest primeval; but where are the hearts that beneath it…
Three weeks since my last marathon.  Training's been hit or miss 'round Ash's Colorado wedding & dog-sitting the grandpup.  BUT the body's feeling good again, generally I run a bit banged up.  Might run with young guns but marathon recoup takes a day or 2 longer 🙁
Saturday bib pick-up in Golden.  Quick turnaround & back on the road.  Heading north for the day — gettin' my mountain on, a pre-marathon trek in Red Feather Lakes.  Lil' quiet time, inner peace at the Buddhist Shambhala.
But first…lunch stop at The Forks.  BIG American flag, half-hour outside Wyoming – this is Cowboy country.  Not a lotta non-beef options on the menu, app-started with Rocky Mountain Oysters.  (Google it 🙂 )  When in Cowboy country, do as the locals.
Early start Sunday – 2:30am alarm, on the road by 3.  Hour drive to Morrison.  Caught one of the last marathon buses at 4:15am.  No Start Line drop-off/parking allowed, road closed to traffic.  Elevation: 11,004ft.  My highest marathon start point.
90 degrees the day before.  Surrounded by snow remnants this morning.  Expecting temps to heat up near the Finish – going out fast today, wouldn't feel the sun 'til 3 hours in.  Met up with marathoner pal Stacy.  She's an Ambassador for REVEL.  Would be riding in the SAG wagon today (a sweeper), encouraging runners to complete today's 26.2 miles before the 6 ½ time cutoff.
The use of broom wagons has expanded to other sports events—especially in marathon events a broom wagon is a common feature. In marathons many amateur runners join in, and sometimes are not able to reach the finish line within the allocated time. The broom wagon puts an end to their race, and the runners have to hand in their numbers.
Beauty of knowing Stacy & her being an Ambassador – the pre-race email.  Better prep than ANYTHING you'll find online.
MILE 1HM or 13FM – the three sisters – the 3 hills of the course

If you are running the half marathon, you are going to have a massive hill at the very beginning.  If you're running the full marathon, this hill is mile 11.5 ish (you'll be cruzing downhill with a large meadow to your right, you'll see an intersection ahead and you'll have to cross and turn right…. just ahead is where these hills start).  It's actually a series of 3 hills.  Steep up, fast down, x3.  PLAN AHEAD.  Many runners choose to speed walk these sections to save energy or handle their hydration and fuel for a few minutes.  Other runners choose to run through these but FYI – after so much downhill, your quads are going to argue.  Whatever you decide, just be aware these hills will be waiting for you.

MILE 4-13HM or 17-26FM – rollers

The last 9 miles of the course is overall downhill, but there are a few rollers of slight inclines.  By this point of a race I like to think of my legs like gears on a bicycle – rotate the muscles (use calves, then hams, then quads) to keep things relaxed.  While training, practice changing your stride (length) as well as cadence (how frequent you rotate).  Adjusting your landing with the downhill grades allows you to manage your flight, rather than using your quads to brake your body.  Every person may run and experience this 'flight control' differently – but it's definitely something to play with and consider.

TANGENTS– ride those curves like a motorcycle

This course has many many many curves in the road.  Managing your direction of travel can save you a LOT of distance compared to people who run the road in the same 'lane of travel'.  If you are not familiar with running tangents, google and study – you have a GREAT potential on this course to be very efficient.

If anyone is interested in gathering at my house for dinner Saturday evening, please let me know.  We cook up a bunch of pasta, garlic breadsticks, salad, and my husband's homemade meatballs.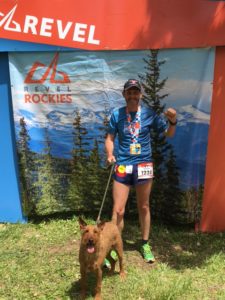 DOWN DOWN DOWN, first 5 miles.  Stayed two-bodies ahead of the 3:45 pacer.  LOVED the morning chill, smell of Ponderosa pine.  Absolutely BEAUTIFUL run.  No negatives.
Couple thousand running today's marathon.  Well ahead of pace, first half.  Stopped shadowing the 3:45ers at mile 17.  Haven't finished under 4 hours since March 2015.  Never ever sub4'd in Colorado. April's 'Runs with Scissors' finish – 4:01 – is the closest I've come.
Last hour: peeled my shirt, water soaked at each Station.  Even at altitude, it's summer in Colorado.
My chance to PR slipped by at mile 23.  Throwing 10 min/miles now – pushed too fast, too early, too long.  BUT had I banked enough time to sub-4?  On the return to Morrison, knew I was still close.  Kept pushing.  Felt really warm.  Passed a group of walkers finishing the Half.  Tenth-mile to go.
Saw the ticker – SUCCESS!  Not a new PR (yet) – but my first sub-4 in 2 years, first in Colorado, my first after cancer.  AND my first & only with pup Ro at the Finish!  FAAANNNTASTIC!
Dehydrated, blood pressure low (90 over 40).  Summer hydration, my 4-year marathon nemesis.  Spent an hour in the med tent.  Nice folks let me bring Ro inside (out of the heat), during my IV drip.
Today I ran sub-4.  On the path, a new PR is gonna happen in 2017.
Revel ROCKIES

K r Haga – June 11, 2017

Bib #   1238

Event  Marathon

Chip Time    3:58:25.66

First Quarter            6.55     55:23.71          8:27

Second Quarter       6.55     54:26.36         8:18

Third Quarter          6.55     1:02:25.85      9:31

One Mile To Go       5.55     55:44.23         10:02

Finish                        1.0      10:25.50         10:25