Set my watch-alarm – no need today – woke early to other 4WD vehicles struggling up the boulder-littered trek to Bridal Veil Falls.  Cool morning temps, dusky predawn sky.  Telluride HIKE day!
Mile drive (from last night's sleepover).  Parked; positioned third roadside.  Spots fill fast (& ranger patrolled).  You're late, you hike – an additional 2 ½ miles UP.  Crawled thru the gate at Bridal Veil Powerhouse (built in 1907 to power Smuggler-Union Mine).  Would snap a pic of the Falls on the hike return.  Tall evergreen (pine & spruce), lush undergrowth (fern & wildflower) AND….waterfalls.
Would see more waterfalls on today's trek than any previous Colorado hike in my life.
Relatively short 5.4 miles roundtrip.  Blue Lake wasn't my original hike destination – one left turn when I should have veered right, log-crossed Bridal Veil Creek.  Bluest blue water, absolutely no regrets.
Open meadows of wildflower, canyon wall backdrop.  Waterfall, waterfall, waterfall.  WOW.  Top 10 Colorado hike location.  If only Telluride were closer – so many hikes, so little time.  I see a week-long backpack adventure in my summer future.
Unleashed Ro early on (slept much of the drive home).  Up trail, down trail.  Run, run, run.  Poised high on rocks above, bouncing thru field flowers trying to flush out wildlife (chipmunk & grouse).  Happy dog, happy life ❤
Altimeter topped at 12,400ft.  Mountain walls reflected off Blue Lake's quiet clear surface.  Crazy beautiful.
Dropped off trail.  Waded thru a tall cascading waterfall, explored an abandoned mining cabin.  Bridal Veil Falls tourist shot snapped – check, done.  $3 shower at Town Park in Telluride, money well spent 🙂  SUPER FUN DAY!
Left early/drove 7 hours straight to avoid next day's holiday traffic crunch.  Reward?  Monday cookout at Ash & Tom's.  Burgers & pasta salad [black bean burger/non-cow eaters].  Afternoon'd w/ daughter at the family puzzle du jour.   Happy Labor Day 2017!
Blue Lake Trail-Telluride
National Ice Cream Day is observed each year on the 3rd Sunday in July and is a part of National Ice Cream Month.  This day is a fun celebration enjoyed with a bowl, cup or cone filled with your favorite flavor of ice cream.

It is believed that ice cream was first introduced into the United States by Quaker colonists who brought their ice cream recipes with them.  Their ice cream was sold at shops in New York and other cities during the colonial era.

1813 – First Lady Dolly Madison served ice cream at the Inaugural Ball.

1832 – African American confectioner, Augustus Jackson, created multiple ice cream recipes as well as a superior technique to manufacture ice cream.

1843 – Philadelphian, Nancy Johnson, received the first U.S. patent for a small-scale hand-cranked ice cream freezer.

1920 – Harry Burt puts the first ice cream trucks on the streets.

1984 – President Ronald Reagan proclaimed July as National Ice Cream Month and established National Ice Cream Day as the third Sunday in the month of July.
How best to celebrate Nat'l Ice Cream Day?  Running a 5K, duh…then afterwards, enjoying a premium dish at Sweet Cow.
Wasn't MY idea, honest.  Credit my blog buddy Sarah.  Thanks friend 🙂
Miles (& countries) apart – celebrating the 'holiday' together.  YUM!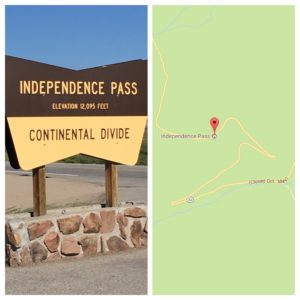 Anytime you see the word 'tundra' in July, it's a good day…a mighty good day.
Woke Tuesday outside of Aspen, Independence Day.  Big parade in town, gonna shut down Main Street 'til early afternoon.  Sit-down breakfast then hit the highway before the town's 930am curfew.  Could always take 'the winter route' home – but who doesn't want to travel Independence Pass on Independence Day.  Perfect, right?
Windy drive UP UP UP State Highway 82, short 45 minutes from Aspen.  Expecting a warm 4th – but at 12,000ft?  Ice still on the far edge of the lake, patches of remnant snow.  Stopped at the Pass, walked at the Pass.  FAAANNNTASTIC!
Colorado's only east-west highway, I-70 can a nightmare.  But today, breezed home.  Parked, unpacked by noon.  Quick run at the gym, off to Ash & Tom's at 4pm.  Grilling on July 4th, gotta/hafta – it's an American tradition.
Last year watched fireworks light up the highway as we returned home from St. Louis.  This year played cards 'til sunset, walked 2 blocks to Open Space & viewed 5 different town celebrations.  Clear skies, cool mountain night – PERFECT.  Best fireworks?  The ones shooting directly 'bove Ash's neighborhood.  WOW!
UPDATE:  Stephen in town Friday & Saturday, time for our quarterly gig at Boulder Dinner Theatre.  Summer season show: Joseph & the Amazing Technicolor Dreamcoat.  Yikes – whole lotta singing, not a lotta story.  And randomly, a bunch of middle-schoolers would sing.  Part of the show but not dressed for the show.  LOVE our artsy tradition but this particular show, not a fave.
Independence Day 2017