Best kind of repeats – PARADE repeats during the holidays.  Been 5 years.  How is that possible?
Everything Downtown decked in holiday colour, queued early for our town's Lights parade at 7pm.  Fire Department always leads the annual array of floats.  Baton twirlers, carolers, Santa, Frosty & Native Americans too.  Not to mention 'Bones', the town's Christmas dinosaur.  Every town has a Christmas dinosaur, right?  LOL>
GREAT way to kick off the Christmas season!  LOVE LOVE my Colorado hometown 🙂
Parade of Lights 2017
Shakespeare & classic 70's tunes – the connection?  Enjoyed both OUTDOORS this week in Boulder County.
Colorado Shakespeare Festival (Boulder) –  "Half-moon outdoor arena, center aisle seat, Flatirons sunset, temps in the low 70's – yep, pretty much PERFECT."  Stole the line from 2015; saw Othello that summer.
Fast forward 2 years: 2017, the Festival's 60th Season.
Hamlet, Julius Caesar – nope, threw my money at Henry VI Part III.  Absolutely no idea what to expect.  Yep, completely on purpose.
Different kind of performance.  Similar to Shakespeare's time, actors were given just 20 hours to learn their lines.  Introduce Hadley [Kamminga-Peck], Dramaturg & Prompter.  Kinda fun to see actors miss lines, turn to the lady seated off-stage & request dialogue.
What else was unique?  Audience members were provided red or white flags (Lancaster or York) – & encouraged to root for their 'House'.  "Take off his head" I screamed.  20 minutes later, booed/hissed when a member of my House, Clifford, was slain.
Typical Shakespeare – inconvenient marriages, 2 families vie for King, whole lotta slaughter.  Unfortunately, nite didn't end well for Team Red.
Tonite's STAR – Queen Margaret, House of Lancaster.  Wore a sword, led an army. The crowd cheered 'Henry', I bellowed: MARGARET!!
NOT the Shakespeare of my youth.  Far exceeded all expectations – FAANNN-frickin-TASTIC!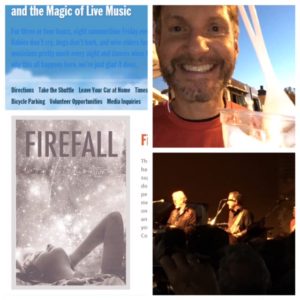 [2014] Kicked off the weekend at Louisville Street Faire listening to live outdoor music, filling up on pizza & ice cream…
[2015] Bowling, "Toy Story" Uno (family game night), Louisville Street Faire – and blink…it's time for all to go home…
Street Faire (Louisville) –  All summer, every Friday night on Front Street (just off Main).  Food, booze, crafts & LIVE music.  Not sure what excuse I was floating last year – but 2017, happy to be back in the WIN column.  Loser streak over.
Louisville residents skew mighty GRAY.  Tonite's band: Firefall.  Honest, had to Google-search but strangely remember their late '70's-era hits.  [thanks Mom 🙂 ]
Super FUN nite – LOVE LOVE my Colorado home ❤
Firefall is a rock band that formed in Boulder, Colorado in 1974.  The band's biggest hit single, "You Are the Woman", peaked at No. 9 on the Billboard charts in 1976.  Other hits included "Just Remember I Love You" (#11 in 1977), "Strange Way" (#11 in 1978), "Cinderella" (#34 in 1977), "Headed for a Fall" (#35 in 1980), and "Staying with It" (#37 in 1981) with female vocalist Lisa Nemzo.
Street Faire 2017
cei·lidh

noun: social event at which there is Scottish or Irish folk music and singing, traditional dancing, and storytelling.

On long, dark winter nights it is still the custom in small villages for friends to collect in a house and hold what they call a "ceilidh" (pronounced kay'lee). Young and old are entertained by the reciters of old poems and legendary stories which deal with ancient beliefs, the doings of traditional heroes and heroines, and so on. Some sing old and new songs set to old music or new music composed in the manner of the old.

It bears mention that ceilidhs are common throughout Nova Scotia. The tradition and the spirit of these gatherings are carried on in most small communities of these maritime provinces.
I've always been an 'old soul'.
Not sure if it's an 'oldest' child trait or maybe I simply spent too much time 'round my grandparents as a child (miss those times).  BUT…seat me at a table on a cruise & I'll saddle next to Esther, whose deaf mother endured the Holocaust.  (No joke – years later, we still exchange Chanukah/Christmas cards.)
Black-n-white flics, 1930's blues singers & museums (ya'll know I can find one in every town).
Tonite Lynne would be hosting a Nova Scotian Cèilidh for her American cousins.  What a treat!  'Cèilidh' or 'Kitchen Party'?  (Heard both terms being used.)  Per our hostess: Cèilidhs must include both guitar & a fiddle.  In luck tonite – we've got both 🙂
No musicians in my family, picked this up [this love] later in life.  Remember being invited to Harding & Donna's home in northern New Hampshire.  Upright piano, spoons, washboard, harmonica, surrounded by Trudy & the Pioneers.  Really good memories ❤
Add games, sandwiches & 2 fast-talkin' monologues – & you've got a Cèilidh.  Super FUN evening!
Nova Scotian Cèilidh