Happy June!  3 months of Colorado summer – bring it on!!  ('though still another half-month to hike our high peaks)
Stephen stayed an extra week after officiating Ash's wedding – kicked off the month with some Irish music.  First stop of Byrne & Kelly's summer tour: Boulder's Dairy Arts Center.  Byrne & Kelly, members of the group Celtic Thunder AND Neil Byrne, Stephen's cousin from Bray [Ireland].  Stephen in New Hampshire, his cousin Neil, Ireland – & they meet up in Boulder, Colorado.  Kismet, right?
Hadn't been to Dairy Arts Center since last Fall's Trail Running Film Festival.
Beautiful sunshiny weather – AWESOME start to Colorado summer, AWESOME nite of music.
Byrne and Kelly
Promised months ago, would not marathon Memorial Day weekend.  No race conflicts permitted during Ash & Tom's Colorado wedding [or 2 weeks following – dog-sitting my grandpup during their Iceland honeymoon].
Week before?  No such promise.  Targeting run #90, 5th in 6 weeks, 12th of 2017.
Flight delay in Chicago, +2 hour time difference, arrived in Manchester 2:30am Saturday morning.  Six hours sleep, short 2 mile pre-marathon run ('cause every day's a run day), hit the highway – destination: Portsmouth, New Hampshire.  2 cars: Stephen, Sheila, daughter-in-law Ashley & two toddlers.  Beautiful sunshiny day.
Portsmouth's right on the water – New Hampshire's only port city.  Public parking off Market, street-scanned for grub.  Irish pub, outdoor seating.  Check, done 🙂
Post-lunch walk in Prescott Park, along the Piscataqua River.  Picture perfect New England.  Alarm sounded.  Watched Memorial Bridge lift, allowing a passing ship to clear its mast.  History-trekk'd thru Portsmouth Navy Yard while Ashley's kids climbed atop the Park's whaling memorial.  AND there was ice cream ❤
More of Stephen's family – Patricia, Noreen & Maggie – joined before his concert start at Christ Episcopal Church.  Second year singing, my first time attending.  Gotta get back for Christmas — hear the conductor wears jingle bells & a tree.  SUPER FUN day!
UPDATE: Friday Jun 9th – National Anthem at Red Sox's Fenway Park
WWI Memorial Bridge (NH to Maine)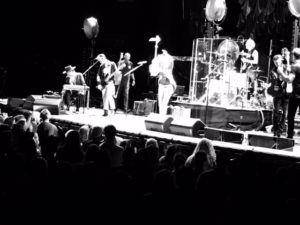 5+ years living in Colorado, never attended a concert.
Red Rocks in September, then Stevie Nicks at the Pepsi Center – what luck!  Received a phone call at lunch asking if I was available to attend same night.  Yep, that's the way it went down.  Stevie Nicks, FREE ticket, seriously?  ABSOLUTELY!!
Rode to Denver with a neighbor…so didn't even have to drive. (but not a complete moocher, I did pay for parking 🙂 )
Will Call'd my ticket – 5th row.  Opening act? Chrissie Hynde & the Pretenders.  Are you kidding me?!!  First time in 'the Can' (as locals call the Pepsi Center) – FAAANNNTASTIC – great music, great venue, great night.  Entire evening, almost too good to be true.
September quote repeat: Don't be afraid to say YES to the unexpected.  Be spontaneous, life is meant to be lived.
the Pretenders
Stevie Nicks
Stevie Nicks *FINALE*