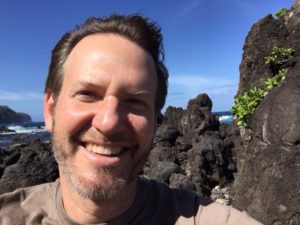 Never once to Hawaii, now twice in 2 years.  Sis' celebrating her big 5-0 Birthday this week AND running a 50K all-UPHILL ultra-marathon in our 50th state.
[Can't believe you have a sister turning 50?  Just smile & say: Nope I can't believe it either.  No need to share she's my younger sister ❤]
Boarded a direct flight to Kona (United).  7 hour ride, 5 of it over the vast Pacific.  Kept my shade shut & movie-binged.  Caught up on the latest Planet of the Apes prequel – don't be a hater.  NOW we know why Nova couldn't speak in the Charlton Heston version.  LOL>
Open-air airport, no walls – just like Maui.  Rental car pickup.  B&B overnight in Kona.  Palm trees, flowers – and chickens, crazy amount of chickens free-ranging in Hawaii.  Tropical, temperate Hawaii.  Sis might be planning ALL future family getaways.
Woke super early (time difference).  Morning hill trek before Saturday's 50K.  Road climbed high above Kona, beautiful view of the ocean.  Easy 2-mile run that got away from me.  Garmin read 5.12 [miles] when I returned for fresh fruit & papaya pancakes.  Paradise.
Late road start to Hilo for tomorrow's 50K registration.  Sis beat me there (retrieving lost luggage) & managed bib pick-up.  Afternoon FREE, too early to check-in my bougie condo in Waikoloa – beach DAY.  Detoured north: Laupāhoehoe Point Beach Park.
80° & sunshine.  HUGE turquoise waves lashed the Park's volcanic-rock shore.  Laid back in lush green grass & closed my eyes.  Ocean breeze, surrounded by Palms, secret quiet paradise.  Big Island drive home (digged on the Hawaiian names).
Laupāhoehoe ⇨ ʻŌʻōkala ⇨ Pa'Auilo ⇨ Honoka'a ⇨ Waimea ⇨ Waikoloa
Lunch in Waimea, dinner in Waikoloa, both with a pig theme.  500,000 wild hogs on the Big Island – I went with fish 🙂
Laupāhoehoe Point
Hawaii's feral pigs have history in their genes

"It has always been believed that the pigs were likely brought by famed explorer James Cook when he discovered the islands around 1778," says Anna Linderholm, assistant professor of anthropology at Texas A&M University.

"He almost certainly brought pigs, chickens, and other animals with him. But our findings show that the wild hogs there today were introduced much earlier than his arrival, by hundreds of years at least. They likely came from European or Asian descent."

Texans love their cattle, and Hawaiians love their pigs. Millions of visitors to the islands have attended luaus where a roasted pig in the ground is considered a must-see event, and Hawaiian lore has it that pigs were associated with various Polynesian gods and they were treated with great reverence and respect.

"The ancestry of feral hogs in Hawaii today can be traced back to Polynesians, and their colorful island history and legends are embedded in the state's culture and many traditions," Linderholm says.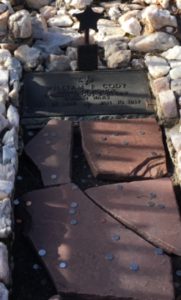 Sunday, FUN day.
Lucille's for breakfast – any excuse for beignets.  Fun story here is the group pic.  While positioning ourselves for a selfie, another patron came forward & asked if he could help.  Sure, why not?
Top 10 photo fail.  Where's Dawn?  LOL>
Filled my friend's last Colorado hours with a drive up Lookout Mountain in Golden.  Buffalo Bill Museum.  Never previously been – another rainy-day activity in a state with little rain 🙂
the Museum?  Chalked full of Wild West Show memorabilia.  LOVE history, LOVE museums, LOVE LOVED their collection of Western American art (an unexpected theme this weekend).
Beautiful overlook, beautiful sunshiny day.  distant Foothills all snow-covered.  'Tis the season ❤
Lotta controversy over Bill's gravesite in Golden.  Towns in South Dakota & Wyoming both laid claim to the body.  In the end, it was Bill's wish to be buried near his Sister's home where he spent his final days.
2 ½ days of food & Colorado sunshine.  Thanks friend, best 'rainy-day' weekend ever.
IS BUFFALO BILL CODY REALLY BURIED ON LOOKOUT MOUNTAIN?

by KELLEN on October 4, 2016

On January 10, 1917, while visiting his sister in Denver, famous scout, Buffalo hunter, showman and ultimate Son of the West, Buffalo Bill Cody died from kidney failure. Because he passed away in the middle of the winter the road to Lookout Mountain, the spot where he wanted to be buried, was impassable. So Olinger's Mortuary, where he was initially interred, kept his remains in cold storage for six months – embalming it six times – until the road up to the Lookout Mountain was made passable.

Much of the controversy that followed the death of Buffalo Bill and his burial revolves around Colorado's neighbor to the north, Wyoming. The Cowboy State wanted Bill to be buried there just as much as Colorado wanted him to stay in a mountain state. In the first draft of Cody's will, written before he died, he had stated he wanted to be buried outside the town he founded, Cody, Wyoming, somewhere on Cedar Mountain. But in an updated will, Buffalo Bill had specified that he wanted to be buried atop Lookout Mountain with one of the most spectacular views in all of the west.

Buffalo Bill's Casket

There is a conspiracy theory that exists even to this day that says Buffalo Bill is actually buried in the Cowboy State, and not in Colorful Colorado. Legend has it that a number of folks from Wyoming snuck into the funeral home and replaced Bill's body with a local vagrant, a look-alike impostor, then took the real Cody back to the town he founded.

However, there exists quite a lot of evidence debunking this outrageous tale. During the June funeral in 1917, many of Cody's family members as well as thousands of mourners attended the event, and numerous photographs were taken of the family filing past the open casket. If the Bill in the casket was an imposter, it's more than likely one of his relatives would have noticed and said something.

Most of the burial controversy comes from Cody's niece, Mary Jester Allen, who, after the death of Bill's wife Louisa Cody, claimed that Denver officials had conspired to have Buffalo Bill buried on Lookout Mountain. The rumors so inflamed both sides that Cody's foster son, Johnny Baker, reburied the Codys under tons of concrete as security against theft.

Buffalo Bill's Grave

Further inflaming the controversy, in 1948, the Colorado National Guard stationed troops around the grave site after American Legion post members in Cody offered a $10,000 reward to anyone who could steal Cody's body. In 2006, Wyoming legislators jokingly debated waging a "clandestine" effort to retrieve Buffalo Bill. Many historians and a good number of people from Wyoming believe Bill is buried in Colorado, but that doesn't stop from the tall tales and controversy from raging on today.
Late arrival in Buffalo, cabin rental 20 minutes west of Dayton.  Buffalo NY, Dayton Ohio?  Heck no.  I'm talking Wyoming.  In town for Saturday's ultra, Bighorn.  One mile shake-out run along State Hwy 14, road trippin' after breakfast.
Montana.  2 hours north on I-90.
Forty Mile Colony.  Lodge Grass.  Crow Agency.  Today's destination: Little Bighorn Battlefield on the Crow Reservation.
The Battle of the Little Bighorn (commonly referred to as Custer's Last Stand) was an armed engagement between combined forces of the Lakota, Northern Cheyenne, and Arapaho tribes and the 7th Cavalry Regiment of the United States Army. The battle, which occurred June 25–26, 1876, along the Little Bighorn River in eastern Montana Territory, was the most significant action of the Great Sioux War of 1876.

The fight was an overwhelming victory for the Lakota, Northern Cheyenne, and Arapaho, who were led by several major war leaders including Crazy Horse and Chief Gall and had been inspired by the visions of Sitting Bull (Tȟatȟáŋka Íyotake). The U.S. 7th Cavalry, including the Custer Battalion, a force of 700 men led by Lieutenant Colonel George Armstrong Custer, suffered a major defeat. Five of the 7th Cavalry's twelve companies were annihilated; Custer was killed, as were two of his brothers, a nephew, and a brother-in-law. The total U.S. casualty count included 268 dead and 55 severely wounded (six died later from their injuries), including four Crow Indian scouts and two Pawnee Indian scouts.
Purchased a guided tour at the Visitors Center, operated by Apsaalooke Tours (affiliated with the Crow Nation Office of Tourism).  Bus tour was led by an enthusiastic Apsaalooke [Crow].  Details of the battle & war strategy were painstakingly reviewed.  Additionally our guide shared his language, teaching [us] multiple native words: hello, goodbye, bird, coyote, mustang, mountain.
While I struggled with his accent & the story, the landscape around me was breathtaking.  LOVED being here.  Life is about seizing opportunity.  I could have laid low the day before Bighorn…but a short 2 hours away, engaged/partook/learned 'bout Custer's Last Stand, a significant piece of U.S. history – a story retold by descendants of the native people who won that battle.
Inspired, I needed to know – so, how did it all end?
After Custer's defeat, Sitting Bull, along with his people, fled north to Canada.  In 1881, he returned to the United States to surrender.  Sitting Bull was killed by Indian police on the Standing Rock Reservation in South Dakota on December 15, 1890.
Sad end to the Lakota spiritual leader – resisted westward expansion, in an effort to preserve the Lakota way of life.
Little Bighorn Battlefield