Voice mails & texts during my 3-day Eclipse weekend in Casper, cards in the box.  More of a BIRTHDAY WEEK than just one day 🙂
Celebrated day-after with Ash & Tom.  Best cake EVER, my first trail-running cake.  Trail itself, malted milk balls.  Icing, Nutella.
Birthday DINNER?  Old Bay shrimp boil (outside cooked on the grill).  Birthday APP?  Deviled eggs.  ALL my favourites!
…and a MOVIE.  Not just any movie, Sharknado 5.   Yep, FIVE years of shark tornados.  This year's serial cast in London.  Sharknados disrupting Big Ben.  Ancient shark cave drawings discovered in Stonehenge.  Appears even our ancestors were plagued with cloud-flying, funnel-spinning Great Whites/makos/hammerheads.  Who knew?  LOL>  Perfect evening!
MOST AWESOME GIFT?  Sis sent a lamp.  Not just any lamp, a Filimin – a long distance touch lamp.  7 minutes set-up.  Plugged-in unit, attached WiFi, added profile to Sis' group.  Chose a unique color, any shade on the ROYGBIV rainbow.  That's pretty much it.
My colour: GREEN.  Sis' colour: PURPLE.
Honestly, my family is not a touchy-feely bunch.  We're not huggers.  Texting heart emojis: tightest we get ❤
What is Filimin For?

Sometimes it's difficult to tell someone you love them.

A text, email or phone call are all nice, but often they're just not enough. We all desire something more: a hug; a presence; something simple, mindful and "beyond words."

So we created Filimin. Filimins are decorative touch lights that connect you with those you love.

How does Filimin work?

Imagine you and a loved one each have a Filimin. When you think of her, simply touch your Filimin. Both Filimins will respond to your touch, gently glowing together with one of hundreds of colors to choose from. Knowing you are thinking of her, she can respond by touching her Filimin, and both of your Filimins will together glow a new color.

If your Filimin is part of a group, all of the Filimins will glow together! Every member of the group knows that they're in someone's special thoughts, and can immediately return the love and good will.
I get it – it's a lamp.  I touch the lamp it glows GREEN.  But telling ya folks, when I see PURPLE – knowing my Sister miles away touched her lamp, that she's thinking of me?  Whew, emotional.  For the guy who seemingly has everything…
It's a GREAT gift.  Search it out for your family this Christmas.
Birthday Filimin
How Filimins Are Made

Filimins are assembled, tested and packed at Women's Initiative Network (WIN).

WIN is a small non-profit organization in Wichita, Kansas which helps women in their journey from abusive situations to independence and the workforce.  Many are homeless, with children, recovering from addiction, but have already made the brave decision to stop the cycle of abuse for them and for their families. WIN offers these women a full range of services, including job support and training, emotional and educational support, and resource acquisition.

The women at WIN assemble Filimins from start to finish. They solder, program and configure printed circuit boards, operate CNC machines, use power tools, test, glue, and run each Filimin through a 9-point quality assurance test before packing and shipping them. In developing this process with us, they have accomplished things they never thought they might and have gained confidence and competence in new skill sets.
After a lackluster winter along the Front Range, found ourselves pummeled by wet heavy snow – late, on May 18th.  Last 4 years [we've] been surprised with a few inches in May.  In Colorado: winter ain't over, 'til it's over 🙂
Looking forward to mountain flowers & high-flow snow-melt streams this June – unofficial start to Colorado HIKE season.  Cabin in Leadville booked June 23rd-24th, bringing the pup – first 14er climb of 2017, Mt. Elbert.
May SNOW 2017
Whole lotta snowfall at Ash's Silverthorne wedding venue – only 10 days away.  Yikes!
KUSA – A late spring snow storm that created headaches for travelers on Colorado highways and postponed graduation ceremonies while providing some much needed moisture is moving out of the state on Friday.

But how just how much snow has fallen so far in your area?

Breckenridge – 16.5 inches

Nederland – 28 inches

Silverthorne – 16 inches

Estes Park – 31 inches

Boulder – 3.8 inches

Louisville – 9.8 inches
Colorado towns hit with 3 feet of snow.  Happy May.

Doyle Rice , USA TODAY Published 10:52 a.m. ET May 19, 2017 |

A May snowstorm continued to pound the central and northern Rockies on Friday, a day after burying portions of Colorado under three feet of snow.

The storm has created headaches for travelers on highways, caused thousands of power outages and forced schools and businesses to close.

The highest reported snow total so far was 42 inches near Allenspark, Colo., the National Weather Service said. Many other locations picked up between two and three feet.

More snow is forecast Friday before it tapering off Saturday.

Interstate 80 and U.S. Route 30 from Laramie to Cheyenne, Wyo., closed in both directions Thursday night due to the heavy snow. Both roads remained closed as of early Friday morning, AccuWeather said.

The last time Cheyenne experienced such a significant snow event this late in spring was about 67 years ago, when Harry Truman was president, the Weather Channel said.  In Denver, the storm marked the city's biggest mid-May snow in 42 years.

Several high school graduation ceremonies in the Denver area were postponed due to the storm, KUSA-TV said.  Thousands of people were without power as the heavy snow weighed down power lines.

The late-season snow event is not unheard of.  Both Cheyenne and Denver have experienced accumulating snowfall even into early June in the past, AccuWeather meteorologist Ryan Adamson said.

Temperatures will warm up and conditions will improve over the weekend.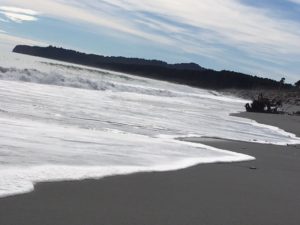 Up early but unfortunately, outta town late.  Morning run just got away from me – 10 miles.  One left when I should've turned right, long morning on Christchurch city streets.  Run highlights: EIGHT city parks, morning sunrise.  G'day New Zealand!
10am rental pickup (sorry Dawn).  2 hours west, couple days 'til our next cityscape.  First stop: Arthur's Pass National Park.  Easy short hike UP to Devils Punchbowl Waterfall.  Purchased 2 apples, hung a ½ hour near the railroad tracks.  Sunshiny day.
UP & over the Southern Alps (another 2 hours west), lunched in Hokitika.  Afternoon adventure: swinging bridge over Hokitika Gorge.  Travelling one-lane farm roads 30-35 minutes, ultimately located the Gorge.  Hiked a mile, mile-half thru a mix of deciduous & tropical vegetation.  Slender wooden bridge 'cross the mighty Hokitika, stunning turquoise blue below.  Not for the faint of heart.  Creaky swinging structure, 6-person weight limit…truly a hidden gem 🙂  WOW, WOW, WOW!
The Hokitika River is in the West Coast of the South Island of New Zealand. It is about 64 kilometers (40 mi) long, beginning in the Southern Alps, emerging from the narrow Hokitika Gorge after merging with the Whitcombe River, and flowing into the Tasman Sea just south of the town of Hokitika.
Hugged the Hokitika for 2 days, ending our river journey Friday.  Stopped briefly in Bruce Bay & touched the Tasman Sea.  Having travelled all the way to New Zealand's western coastline, over the next week would work our way east & up its Pacific shore.
But first…tomorrow morning: Franz Josef GLACIER
…meanwhile, far far away — sent flowers & a tier of cupcakes, 70 mini cakes in all.  Love ya Mom, Happy Happy Birthday!  ❤
Arthur's Pass
Hokitika Gorge swinging bridge
the Tasman Sea