I love a local marathon – today's run, a local marathon.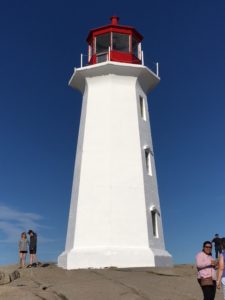 Left Shelburne, arrived in Barrington Passage 10 minutes before race time.  Timing a bit tight…but with less than 200 runners, no worries.  Start: quarter-past 8, sun waking, rising UP above the ocean.
Cool breeze as we left town/passed Tim Horton's & crossed the causeway to Cape Sable Island.  Clouds deflected [sun] rays 'til the Half Marathon turnout.  Ran miles with a couple from Lunenberg NS.  We talked ships & tourism, my 100 marathon goal & 'bout the other American they met at the Start [fellow Maniac Dan Ruiz – hung around & congratulated his Finish; good guy/another 50 Stater].
Halfers peeled off near mile 12-ish (course marked only in kilometers).  Sun beamed, temps warmed, luckily ocean winds gusted (keeping it cool) as we neared The Hawk (Nova Scotia's southernmost point).  Traded places back-n-forth with a foreign runner entering Clark's Harbour (mile 18-ish).  Friendly guy, tried communicating/offered his grapefruit…but I struggled to understand, so nodded & smiled politely.  [Talked later.  Syrian refugee, living local, running his first marathon.]
Barrington Passage, Clark's Harbour, Cape Sable Island – small sparse populations.  today's Aid Stations?  ALL manned (or wo-mann'd) with friendly upbeat individuals.  THAT's why I love a local marathon.  LOVE the support they give to runners & the impression they leave of their community.
Water, energy drinks, gels, buckets of wet sponges.  Used those sponges from mile 19 on.  Emptied one overhead, wrung another 'round my neck.  Next aid station: wash/wet & reapply.  Plan worked 8 days ago in balmy Iowa.  10 degrees cooler in O' Canada: felt even better.
All 'bout adjusting summer-month expectations.  Not a sub-4 but finished & finished with a smile 🙂
4th province completed, second marathon of the month.  Free showers provided at the Rec AND a hot bowl of lobster chowder – FAAANNNNTASTIC!  LOVE LOVE local marathons.  Barrington IS the 'Lobster Capital of Canada'.
2 hours to Halifax, return flight home – but not 'til Monday.  Stephen & Sheila in one car/headed back to the States, sleeps in Fredericton NB.  I with Lynne & family, destination: Peggy's Cove, Nova Scotia's iconic lighthouse.  Best hosts ever, right?
Originally built in 1868, Peggy's Cove Lighthouse is Nova Scotia's busiest tourist attraction, an iconic Canadian image.  Towering white with red trim, [the lighthouse] stands STRONG/majestic over the inlet's craggy rock shoreline.  Breathtaking.  Just WOW!
To the Cavanaughs, Gillis' & Schofields – I am indebted.  Two weeks of vacation squeezed into a 4-day weekend.  What an adventure!
Thanks from the bottom of my American heart ❤
47th Annual Nova Scotia Marathon Half Marathon and 10 Km – Results

Sunday, July 23, 2017

Barrington Passage, NS

42.2K

Place   Bib       Athlete            From                                       Gun Time

42        104      K R Haga        Louisville, CO, US                  4:26:05
Nova Scotia Marathon
Marathon all 10 Canadian provinces in 5 years — that's the plan.  Opportunity knocked.  Got to tagalong Stephen & Sheila's family gathering in Nova Scotia.  They arrived the weekend prior, sight-seeing the easternmost portion of the province, Cape Breton.
I landed Thursday evening: (Air Canada) Denver to Toronto, Toronto to Halifax.  What a greeting – welcomed by the entire Cavanaugh clan!  Easy dinner nearby then an hour north to Wolfville.  Stayed with Lynne & Andy; beautiful home, gracious people.
Early to bed, early to rise.  Andy had coordinated a 15K trail run with his daughter Kyla, a 2018 Boston Marathon qualifier.  Super personality – a mile downtown, past Acadia University, left at the ice rink (home of hockey's Axemen), then the next hour entirely on trail.  Rolling farmland levied from the Bay, 2 centuries ago by the island's French Acadians. 
Quick pace – this gal wasn't even breathing hard.  Ran alongside Minas Basin 'til we hit our target distance, then turned back toward town.  15K, sub-9/minute pace.  Whew – welcome to Canada!  GREAT 6 a.m. morning run! 🙂
Shower, 2 packets of instant oatmeal – back to adventuring.  Hiking the outer tip past Scots Bay, to Cape Split on the Bay of Fundy.  4 miles out-n-back.  Lynne's sister Jade volunteered today's hike.  Cool misty morning, had the trail almost entirely to ourselves.  Green, leafy trees completely canopied our trek.  Few ups-n-downs, steady even trail, near PERFECT conditions – (skill level) overrated as moderate…absolutely stunning views.  Landscape reminiscent of 'Last of the Mohicans', similar to our East Coast Alleghenies. 
Hike end: tip of the island, Cape Split – completely obscured by dense fog.  ARGH!  Sea gull cries pierced the all consuming cloud, their bodies darting in & out as they plunged off nearby cliffs, riding the Bay's blustery current. 
Backpack lunch, then the skies opened.  20 minutes of sunshine.  What once was shrouded by thick clinging fog, now exposed multi-coloured rock, high canyon walls & a shark-fin island – Cape Split – pounded by ocean waves in the Bay of Fundy.  WOW, WOW, WOW!
Drove home via Scots Bay.  Stopped at the [Blomidon] Look Off, soaked in a scenic/panoramic view of Annapolis Valley.  "On a clear day you can see five counties."  Fail – Kings County, the only one [of 5] I can remember (sorry Jade).
Sandwich & an hour nap, more than enough.  Attending my first Cèilidh tonite!
Cape Split, NS
Sunday, SUN day.  Weather took a 180-degree turn from yesterday's 26.2 mile trek.
Branford – Overnighted at a friend's condo along the shoreline.  WOW, whatta morning view!  Ocean breeze & sunshine.  Popped on a jacket & laced up my running shoes.  Morning after marathoning is never my best run but today's beachscape soaked into the soul.  (Thanks Andrea & Bill!)
Westbrook – After visiting a friend's B&B in Madison, the Scranton Seahorse Inn – enjoyed my first clam roll of the season.  Light breeze, smell of salt, sea gulls scavenging for scraps – summer's just around the corner 🙂
New Haven – Ended the weekend walking the Green, downtown New Haven & Yale campus.  You can't go back in time – no regrets, LOVE LOVE my Colorado life – but after living & loving 9 years in CT, whole lotta memories.  BIG smile.