My South Pacific marathon, Kirikiriroa.  Bib pickup yesterday.  Scoped out exactly where I needed to be, when I needed to be there…PLUS spent an afternoon in Hamilton Gardens — 2nd fave thing in Hamilton, after Hobbiton of course 🙂
Kirikiriroa (Hamilton, in Māori)
Poor night sleep, less than 3 hours.  Too many days abroad – super fun vacation, but missing Colorado.  Auckland, Rotorua, then a week drive 'round South Island before returning 2 days ago to the Kiwi North.  Noticeable weather difference on NZ's two island nation.  Unfortunately, marathoning on the hotter, humid twin.  But it's only weather…remembering today how crazy lucky I am in life, marathoning in the South Pacific two short months after Doc declared me 'cancer-free'.
Travel buddy dropped me at 6:15am – still dark, no sun for 30 minutes into today's 42k run.  Followed a throng of local runners to the Start near an illuminated tent across the park.  Last minute race details – luckily I wouldn't be leading, absolutely no clue what was said.  2 weeks in, still struggling at pulling together full sentences [no good at the Kiwi accent].
8-7-6-5-4-3-2-1 & we're off.  No starting gun, air horn, national anthem.  5K loop around & through Hamilton Gardens – mostly uphill before entering the River Road, along Hamilton's Waikato River.  Ran a short portion of this trek yesterday – rolling hills, like most of New Zealand…an island nation built on tectonic plates.  Running hills for 2 weeks now, NZ-acclimated – bring it on!
Went out fast, pushed past runners walking the early hills.  Tried to stay near the 2nd pack, following their artificial light 'til sunrise.  Running downhill on the cobblestone path, caught an upraised brick in the dark.  Took most impact to my left shoulder.  Hit hard.  Blood ran, pooled in my sock.  Stung, but only road-rash abrasions.  Walked a couple minutes, slow jog to the first aid station (first of only 3).  Threw cups of water at my knee – ok, good to go.
First marathon body spill…the positive?  Slowed pace, ran a steady 9:20/minute 'til the 20K mark.  Wairere Bridge, Horotiu Bridge, large horse farm off Pukete.  Lost all tree cover, baked in morning sun, dehydrated fast.  Took more water at 21K.  Next international trek, wearing my hydration pack.  Limited fluids/same situation last September in Russia – [guessing] we Americans are super spoiled with multiple water/sports drink stops in our marathons.  No judgment, different culture – live & learn.
Bloodied knee stiffened.  Last water station at 30K, 7 more miles to go.  UP Cobham Bridge, entered Hamilton Gardens.  Victorian Flower Garden backside, ran aside the park's expansive Rhododendron Lawn…last half-mile.  Came in HOT.  Crossed the Finish, received my medal, then lawn-laid for 10 minutes.  84th marathon, my 3rd continent.  YES!
Australia is also referred to as Oceania and in conjunction with Zealandia. Experts are heavily studying this area of the world and the definitions on the countries and areas that define it are changing rapidly. Currently, there are 3 confirmed countries that divide the continent of Australia. It consists of the country of Australia by the same name, New Zealand, and Papua New Guinea.
Begged a late check-out & post-marathon shower from my fancy last-day NZ hotel.  Late lunch, easy-going 2 hour drive to Auckland (haggled for ice cream with US dollars).  Air New Zealand return flight not 'til 11pm (yep, marathoning/flying home same day).
WOW whatta journey – furthest I've ever been from Colorado.  Ran EVERY day – Auckland, Rotorua, Christchurch, Franz Josef Village, Queenstown, Dunedin, Oamaru, marathon finish'd in Hamilton.  Palm trees, glaciers, geysers, glow worms, whole lotta sheep ❤, Fiordland Nat'l Park, Hobbiton & penguins too!  Nothing left undone, no regret life.
Kirikiriroa Marathon 2017

Keenan Haga

Finish Time: 4:32:50

Race No: 98

Gender: Male

Status: Finished
Ash nazg durbatulûk, ash nazg gimbatul,

Ash nazg thrakatulûk agh burzum-ishi krimpatul.

One ring to rule them all, one ring to find them,

One ring to bring them all and in the darkness bind them.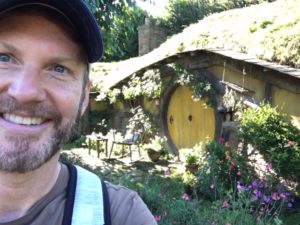 The Hobbit & Tolkien's Lord of the Rings were the second series of novels I read as an adolescent (2nd only after Little House).  Finished LOTR twice, read The Hobbit 3 times.  Foreign language, foreign lands – no surprise I left home right after high school, lived & worked in Russia, travelled much of the world.  Wanderlust.  Boy's a dreamer.
Novotel Hamilton Tainui: final stay in NZ, fancy digs.  Up early, last morning run – almost 4 miles on Hamilton's River Path…marathoning tomorrow, USA return same day.
Rural drive thru sheep country, destination: Hinuera, Matamata.   Rural drive thru Middle-Earth, destination: the Shire, Hobbiton.
Folks have attempted movie adaptations of J.R.R. Tolkien's The Hobbit for years.  Not until Peter Jackson, did a Director get it right.  Filmed in his Jackson's homeland, much of New Zealand naturally LOOKS like Tolkien's Middle-Earth.  From South Island's Mt. Cook & Remarkables (Southern Alps) mountain range to North Island's rolling green-grassy sheep farms.  Felt transported into one of my favourite childhood novels.
Generally, movie sets come down soon after filming ends.  Not here – whatta treat!  Queued near a rock carving of Gollum.  Boarded our tour bus, quick intro/history, clips from the movie – then, the SHIRE.
Hobbit Holes – not one but an entire town of thatched Middle-Earth dwellings.  Past the Garden, a frog pond, apple orchards – kept trekking UP, UP, UP.  Bilbo Baggins lived high on a hill in the Shire.  Retreating down Bagshot Row, paused at 'the Party Tree' [re: Bilbo's "eleventy-first" 111th birthday], past the Mill – before stopping at the Green Dragon Inn for a Southfarthing beverage (just a cider for me).  Couple minutes in the gift shop & my half-day had vanished.  WELL WORTH GOING!
Bib pick-up for tomorrow's run – then walked the afternoon thru the Hamilton Gardens.  21 gardens, called it after 13.  Last night in New Zealand – fancy dinner [at Chim Choo Ree] with my travel bestie, Dawn.  How does one say goodbye?
To hold myself 'run accountable', photo-blogged EVERY day of my 2 week journey in New Zealand.  Reward?  Would see more than your average tourist – each morning: new run, brand new area.  Last day in New Zealand?  Kirikiriroa Marathon.
March 11: Queenstown Gardens – 3 miles
Doubtful Sound.  FULL day: 2 buses, 2 boats – 7:15am pickup, 8pm return…but first, a 3-mile pitch-black run along Lake Wakatipu thru Queenstown Gardens.  Would purchase a flashlight later in the day – last time getting spooked in the early a.m.
March 12: Sunshine Bay, Queenstown – 6 miles
Misty day in LOTR's Misty Mountains.  4WD tour UP Coronet Peak, gold panned in Macetown.  Back in Queenstown, laced up, light jacket (from February's Cowtown Marathon)…gotta get in my run miles.  Steep hill climb to Skyline Gondola, then west 'cross town past 3 city parks – run destination: Sunshine Bay, on the road to Glenorchy.
March 13: Frankton Track, Queenstown – 9 miles
9 mile trek on Frankton Track, mix of trail & bike path, east alongside Lake Wakatipu.  Last day in Queenstown – goodbyes to my fave New Zealand town.  3 ½ hour drive, south & far far east today – Dunedin, South Island's 2nd largest city.  Inside Cadbury's, filled a taster cup with thick liquid chocolate.  Heart racing, sugar-shook remainder of the tour.
March 14: Southern Cross Hotel, Dunedin – 6.2 miles
Rain Day #3: 10K treadmill trot at the hotel gym, window view of Otago Harbour.  Only 2 of 14 NZ days ran indoors, not a bad average.  Climbed to the top of Larnach Castle.  Slow rainy-day Garden stroll [with bestie Dawn] I'll remember most.
March 15: 'Penguin Run', Oamaru – 8 miles
Harbour-walked past old rotting bridges covered with sea birds – to tonite's adventure destination: Oamaru's Blue Penguin Colony.  Purchased VIP tickets (worth every dime) – then laced up/got my afternoon run on.  Penguin Crossing sign (don't see THAT every day), then switchback'd UP, UP, UP.  Climbed Cape Wanbrow Reserve, trail-ran high above Oamaru – WOW views of the mighty Pacific below.
March 16: Oamaru Historic District – 4 miles
Sightsaw most of Oamaru during Thursday's pre-dawn run.  Public Gardens, World War I & ANZAC Day memorials, Harbourside Station, former Post Office (Oamaru limestone, circa 1883), Opera House – & the trip's best morning sun, pink rising over Oamaru Harbour.
March 17: Matakanohi Reserve, Hamilton – 3.8 miles
Back on North Island, pre-marathon day.  Quick up & down trek on Hamilton's River Road, along the Waikato River.  Lotta rolling hills, like most of New Zealand.  Morning at Hobbiton, afternoon in Hamilton Gardens.  Tomorrow: my South Pacific marathon, Kirikiriroa.
Run NZ – Cape Wanbrow Reserve, Oamaru