May has been a super full month of activity, multiple road races, 2 marathons only 3 weeks apart & my first Century attempt (fail after 80 miles).  I've stayed strong mentally & done the swim/bike/run gig for 17 consecutive days.  Tomorrow will be my first break from training as get my tourist on in Minneapolis – then marathon #8 early Sunday a.m.
Part of 2 running groups now – 4 mile run on Thursday nights in Lafayette & a Saturday morning long run group (albeit have only managed one show to date – Saturdays are prime time training).
amazing hike video & sage advice
Crossing Iceland on Foot – SPECTACULAR landscape
10 Things That The People Who Love Their Lives Are Doing Differently
Surprise, surprise… happy people live their lives differently. They don't have different lives. They just do a better job at living them than those who are unhappy.  Most of the time, we find ourselves in the situations we are in because of actions we took and decisions we made. It's the way that you live your life that largely decides whether or not you will live happily.

…live in the moment, but dream in the future

Happy people have hopes, dreams and goals. They have wants and aspirations, but they don't allow themselves to get caught up and lost in them.  You can't live life doing nothing more than looking towards the future because you'll miss the only time that things actually matter or exist: the present.  The present…is the only moment that you can actually live in. The rest is only an illusion.
Staying inspired & living in the N-O-W!
Upbeat & excited before marathon weekend #8 in Minnesota (sure you betcha 🙂 )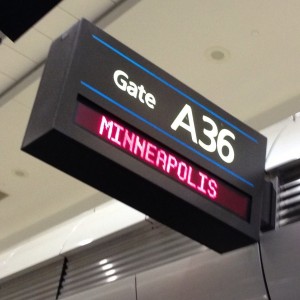 Back in Reykjavik with 20 hours 'til my return flight to Denver.  Rest, relax?  Heck, no.  Shelled out a fast 5400 ISK (Icelandic króna) – tonite's my last chance to see the Northern Lights!
Quick dinner, then boarded a bus to Iceland's western fjords with Stephen & new Aussie friend Maria.  Best chance to see the Lights (& first possibility since September 5th) were tonite on Iceland's western edge.
Clear, cold night; windy & 6 degrees. Waited in pitch darkness, high on a knoll for the Lights to start the dance.
No more than 20 minutes in, folks started to murmur.  Faint clouds seemed to stretch, elongate upward, diagonally.  Gray to pink – and then, the most amazing greens.  FAAAANNNNTASTIC!
Surprisingly almost as soon as these illuminated solar flares began to dance, they would then shrink, diminish, disappear.  That said, once the show started, the frequency of light & colour came in rapid succession.
Another 'WOW' event off my bucket list.  Cannot adequately express how it feels to see this phenomenon in person.
Re-boarded the bus near midnight, mission accomplished.  Honestly, I don't dream BIG enough.  I pray/hope/dream on a scale from 1-10, my God blesses me using a scale 1-100.  So very blessed!
Quick shut-eye, then used Reykjavik's local bus service to briefly explore the city before my Colorado return – Highlights: Reykjavik Art Museum & Hallgrímskirkja (Lutheran church).
Goodbye Iceland — land of volcanoes, glaciers, waterfalls & rainbows!  I leave inspired, forever changed.
7 days ago my island circle tour left Reykjavik.  Traveled first across southern Iceland (viewed waterfalls, geysers, icebergs & glaciers), looped up into the eastern fjords (discovered fish leather fashions), then encountered 3 days of unseasonable snow travelling over mountain passes in Iceland's North (Viking snow swim in Mývatn).
Today, SUNSHINE 🙂 as we completed the loop through Western Iceland.
First stop – Deildartunguhver, the world's largest and most powerful hot springs – gurgling at a piping hot 200°F.
WATCH my short clip 'Deildartunguhver (Iceland)'!
2nd stop – Hraunfossar & Barnafoss waterfalls.  A series of cascading waterfalls, Hraunfossar (Lava Falls) pours from a lava field lying under the glacier Langjökull.  In layman terms – BEAUTIFUL!
Barnafoss (Children's Falls) on the other hand pushes through a volcanic rock canyon before also emptying into the river Hvítá.
Many Icelandic folk tales have been associated with Barnafoss, the most famous being about two boys from a nearby farm, Hraunsás. One day, the boys' parents went with their ploughmen to a church. The boys were supposed to stay at home, but as they grew bored they decided to follow their parents. They made a shortcut and crossed a natural stone-bridge that was above the waterfall. But on their way, they felt dizzy and fell into the water and drowned. When their mother found out what had happened, she put a spell on the bridge saying that nobody would ever cross it without drowning himself. A little while later, the bridge was demolished in an earthquake.
Finale – Þingvellir (Thingvellir) National Park where the Alþingi, an open-air assembly representing the whole of Iceland, was established in 930 and continued to meet until 1798.  It was here that Christianity was introduced as the official religion of Iceland.  AND in 1944, Iceland declared its independence (from Denmark) at Þingvellir.
All super interesting but for me – Today's Highlight: the Eurasian & North American tectonic plates jutting dramatically from the valley's volatile surface.  An active fault line runs diagonally across Iceland (SW to NE) & is the source of earthquakes and major volcanic eruptions (every 4 years on average).
Amazing tour end – STUNNING!
Back in Reykjavik with 20 hours 'til my return flight to Denver.  Rest, relax?  Heck, no.  Shelled out a fast 5400 ISK (Icelandic króna) – tonite's my last chance to see the Northern Lights!