I love a local marathon – today's run, a local marathon.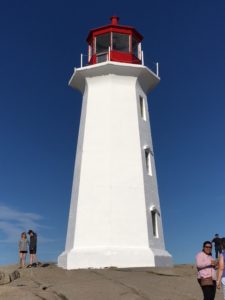 Left Shelburne, arrived in Barrington Passage 10 minutes before race time.  Timing a bit tight…but with less than 200 runners, no worries.  Start: quarter-past 8, sun waking, rising UP above the ocean.
Cool breeze as we left town/passed Tim Horton's & crossed the causeway to Cape Sable Island.  Clouds deflected [sun] rays 'til the Half Marathon turnout.  Ran miles with a couple from Lunenberg NS.  We talked ships & tourism, my 100 marathon goal & 'bout the other American they met at the Start [fellow Maniac Dan Ruiz – hung around & congratulated his Finish; good guy/another 50 Stater].
Halfers peeled off near mile 12-ish (course marked only in kilometers).  Sun beamed, temps warmed, luckily ocean winds gusted (keeping it cool) as we neared The Hawk (Nova Scotia's southernmost point).  Traded places back-n-forth with a foreign runner entering Clark's Harbour (mile 18-ish).  Friendly guy, tried communicating/offered his grapefruit…but I struggled to understand, so nodded & smiled politely.  [Talked later.  Syrian refugee, living local, running his first marathon.]
Barrington Passage, Clark's Harbour, Cape Sable Island – small sparse populations.  today's Aid Stations?  ALL manned (or wo-mann'd) with friendly upbeat individuals.  THAT's why I love a local marathon.  LOVE the support they give to runners & the impression they leave of their community.
Water, energy drinks, gels, buckets of wet sponges.  Used those sponges from mile 19 on.  Emptied one overhead, wrung another 'round my neck.  Next aid station: wash/wet & reapply.  Plan worked 8 days ago in balmy Iowa.  10 degrees cooler in O' Canada: felt even better.
All 'bout adjusting summer-month expectations.  Not a sub-4 but finished & finished with a smile 🙂
4th province completed, second marathon of the month.  Free showers provided at the Rec AND a hot bowl of lobster chowder – FAAANNNNTASTIC!  LOVE LOVE local marathons.  Barrington IS the 'Lobster Capital of Canada'.
2 hours to Halifax, return flight home – but not 'til Monday.  Stephen & Sheila in one car/headed back to the States, sleeps in Fredericton NB.  I with Lynne & family, destination: Peggy's Cove, Nova Scotia's iconic lighthouse.  Best hosts ever, right?
Originally built in 1868, Peggy's Cove Lighthouse is Nova Scotia's busiest tourist attraction, an iconic Canadian image.  Towering white with red trim, [the lighthouse] stands STRONG/majestic over the inlet's craggy rock shoreline.  Breathtaking.  Just WOW!
To the Cavanaughs, Gillis' & Schofields – I am indebted.  Two weeks of vacation squeezed into a 4-day weekend.  What an adventure!
Thanks from the bottom of my American heart ❤
47th Annual Nova Scotia Marathon Half Marathon and 10 Km – Results

Sunday, July 23, 2017

Barrington Passage, NS

42.2K

Place   Bib       Athlete            From                                       Gun Time

42        104      K R Haga        Louisville, CO, US                  4:26:05
Nova Scotia Marathon
Late night Friday – head didn't hit the pillow 'til 12:30am, Atlantic time.  Sunday marathon, Saturday rest day?  Heck no – touring Annapolis Valley, then driving 3 hours to Nova Scotia's southernmost point (pre-race bib pick-up in Barrington Passage).
Surrounded this trip by teachers – so felt well educated before this morning's stop at Grand-Pré  [National Historic Site].  On Saturday morning's run, Kyla talked 'bout the French Acadians' intricate levee/tide gate system, creating farmland from Minas Bay & the Bay of Fundy.  Same day hiking to Cape Split, Jade spoke of the Expulsion – more than 10,000 Acadians were removed from their houses by the British, many resettling in the States (Boston, NY, Philadelphia…and 'Cajun' Louisiana).  Sad tale – interesting history.
The Acadians were the first European settlers in Nova Scotia, brought over from France in the years after 1632 to colonize what was then the French territory of Acadie, land which included modern-day peninsular Nova Scotia, New Brunswick and Prince Edward Island. By 1713, when Acadie was ceded to the British and became Nova Scotia, the Acadians were long-settled and well-established. Scattered across the peninsula in a chain of loosely-connected agrarian communities, they claimed political neutrality and asked to be left alone on their farmlands, undisturbed.

Over time, their neutrality became increasingly problematic. Known as the 'Neutral French', they were Roman Catholic, occupied valuable and productive farmland, maintained a friendly relationship with the Mi'kmaq, and vastly outnumbered the British — who in turn were predominantly English-speaking Protestants congregated in small, isolated nodes of settlement, where nervous magistrates struggled to govern effectively. All of this at a time when religion, language and relations with the Mi'kmaq were indicators of larger national allegiances — and mattered significantly.

By 1754, Great Britain and France were at war in America and it was no longer deemed safe to have the Neutral French as the majority population in Nova Scotia; their continued presence was perceived as a threat which could not be satisfactorily contained. In June 1755 the British captured Fort Beauséjour, strategically located on the Isthmus of Chignecto at the head of the Bay of Fundy; as the next step in securing the safety of Nova Scotia, the Council at Halifax decided in July 1755 to deport the Neutral French.

Thus began the tragic chain of events which saw the rounding-up of the Acadians, the seizure and destruction of their homes, farms and livestock, their forcible banishment from Nova Scotia.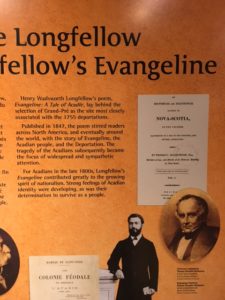 Visiting Grand-Pré cemented my newly gained knowledge.  Adding Longfellow's epic poem Evangeline made that history personal, humanized dates/facts/figures/their struggle.
"…the betrothal of a fictional Acadian girl named Evangeline to her beloved, Gabriel, and their separation as the British deport the Acadians from Acadie in the Great Upheaval. The poem then follows Evangeline across the landscapes of America as she spends years in a search for him, at some times being near to Gabriel without realizing he was near. Finally she settles in Philadelphia and, as an old woman, works as a Sister of Mercy among the poor. While tending the dying during an epidemic she finds Gabriel among the sick, and he sadly dies in her arms."
Still before noon, stopped briefly at Covenanters' Church, the place where Acadians were forced to pledge allegiance to Britain or face deportation.  Whole lotta history, emotionally charged morning.
Less history, more geography.  Next up: Gaspereau Vineyards.  Not a wine drinker (since 2012) but find the scientific process fascinating – the agricultural landscape, the vineyards…stunning.
Few more neighbor visits, lunch, then said our goodbyes.  Half-way point: Mahone Bay.  GREAT stop for a tea & something sweet 🙂  Snapped a pic of 'The Three Churches'.  Another hour-half on the 103 – SUCCESS, [marathon] packet pick-up in Barrington Passage.
Sleeps tonite in Shelburne.  Town's claim to fame?  Founded by British Loyalists, once North America's 4th largest town (bigger than Halifax, larger than Montreal).  More than 10,000 American colonists, still loyal to the Crown, emigrated here (in 1784) just after the end of the Revolution.  Who knew?
Watched an amazing sunset, beautiful pinks over the North Atlantic.  Late 8 a.m. marathon start.  Sticking to road, staying out of the water.  Big seal population.  Our course 'round Cape Sable Island is a Great White breeding ground.  Yikes!
Evangeline A Tale of Acadie (1847)

This is the forest primeval. The murmuring pines and the hemlocks,

Bearded with moss, and in garments green, indistinct in the twilight,

Stand like Druids of eld, with voices sad and prophetic,

Stand like harpers hoar, with beards that rest on their bosoms.

Loud from its rocky caverns, the deep-voiced neighboring ocean

Speaks, and in accents disconsolate answers the wail of the forest.

This is the forest primeval; but where are the hearts that beneath it…
cei·lidh

noun: social event at which there is Scottish or Irish folk music and singing, traditional dancing, and storytelling.

On long, dark winter nights it is still the custom in small villages for friends to collect in a house and hold what they call a "ceilidh" (pronounced kay'lee). Young and old are entertained by the reciters of old poems and legendary stories which deal with ancient beliefs, the doings of traditional heroes and heroines, and so on. Some sing old and new songs set to old music or new music composed in the manner of the old.

It bears mention that ceilidhs are common throughout Nova Scotia. The tradition and the spirit of these gatherings are carried on in most small communities of these maritime provinces.
I've always been an 'old soul'.
Not sure if it's an 'oldest' child trait or maybe I simply spent too much time 'round my grandparents as a child (miss those times).  BUT…seat me at a table on a cruise & I'll saddle next to Esther, whose deaf mother endured the Holocaust.  (No joke – years later, we still exchange Chanukah/Christmas cards.)
Black-n-white flics, 1930's blues singers & museums (ya'll know I can find one in every town).
Tonite Lynne would be hosting a Nova Scotian Cèilidh for her American cousins.  What a treat!  'Cèilidh' or 'Kitchen Party'?  (Heard both terms being used.)  Per our hostess: Cèilidhs must include both guitar & a fiddle.  In luck tonite – we've got both 🙂
No musicians in my family, picked this up [this love] later in life.  Remember being invited to Harding & Donna's home in northern New Hampshire.  Upright piano, spoons, washboard, harmonica, surrounded by Trudy & the Pioneers.  Really good memories ❤
Add games, sandwiches & 2 fast-talkin' monologues – & you've got a Cèilidh.  Super FUN evening!
Nova Scotian Cèilidh