EUROVISION — my annual serial drama/talent show, limited to Europe, Israel and sometimes Australia (but no one knows why).  Year over year – kinda all over the place – never know what you're gonna see.  It's rarely 'bout the music.
With the exception of a few – Abba & Celine Dion – Eurovision winners never cross the Atlantic nor make any US impact.  Rap, rock, jazz, lotta ballads, lotta Euro pop.  Each country nominates an artist & supplies an original tune…Eurovision is a 'song' contest.
This year's event comprised 40+ contestants, LIVE from Ukraine – home of last year's winner, Jamala.  Opening drama?  Russia's entrant, Julia Samoylova, was not allowed to enter the country.  Political rift between Ukraine & Russia.
And then there were 42…
Over 4 nights watched all 42 videos, re-watched my favourites, made my selections.
Last year I favored Ukraine's highly emotional 1944, lyrical retelling of Crimea's ethic Tatars forced deportation.  Gravitated to light & happy this season, settled on: Romania & Belarus.
Other faves: Hungary (digged the gypsy beat & mid-section rap—lyrics too political), Sweden (sexy slick production—catchy hook, but no substance), Georgia (powerful singer—too 'American Idol'), Netherlands (the Dutch 'Wilson Phillips'—harmonies tight, song weak) & Ireland (young kid, song grew on me—but Ireland never makes the Grand Final).
Critics favourite: Portugal.  Didn't hate it, just didn't get it.  1950's style ballad, fit in with Eurovision's 60th anniversary theme.
Accurately called much of the Top 10 – but certainly didn't nail it this year.
Neither Georgia nor Ireland made the Finals.  Romania & Hungary: FUN videos, weak LIVE performances.  Sweden & Belarus, the complete package…though think only I liked the folksy couple from Minsk (finished 17th).
This year's winner: Portugal, followed by Bulgaria & Moldova.
Win some, lose some.  Still stand by my pick, gonna Yodel It! all year – awaiting EUROVISION 2018, LIVE from Lisbon!
4:45am alarm, crazy tired start to marathon morning.  Living B-I-G can have its drawbacks.
Didn't end Super Saturday early, even after a FULL day at Niagara Falls.  My Canadian bestie next drove us from her Brampton home to downtown Toronto (45 minutes away).  Trip wouldn't be complete without a ride UP the CN Tower, tallest building in the Western Hemisphere.  Sarah however had other ideas.  No trip would be complete without FINE DINING at the WORLD's highest & largest revolving restaurant – 1,152ft UP.  Yeah, yeah we walked out on a scary glass panel (2 floors BENEATH the restaurant) – but it's our fancy 3-course meal, I'll long remember.  Thanks friend, GREAT idea!
Home by 11pm – morning came early.  5:15am climbed in Sarah's car Milo, arrived at Ontario Place by 6am.  45-minute bus ride to Mel Lastman Square (marathon Start), dropped between the North York Civic Centre & Toronto Centre for the Arts.
7:30am Start, Orange Corral.  Caught the 4 hour pace group after 2K (no miles today — we're in Canada, running 42.2K).  Cold damp day but unlike yesterday, no rain.  After running in shorts the past 2 weeks, risked getting hot & donned a ski jacket…trying to outthink today's 2nd Half along wind-happy Lake Ontario.
One steep climb 5K in.  3:50 pacers passed me going up, I caught them on the down.  Stayed just ahead thru 25K.  HUGE blast off Toronto's Great Lake pushed me backward.  Pacing bunny (that's what they're called in O' Canada) went by on the left…and that was that.  No mo' gas.  Flat course 'round the lake (Martin Goodman Trail) but went out too fast too early.  Strong headwind next 7 miles, running 9:40-10/min miles.
Entering Humber Bay Park, passed by the 4 hour pack.  Wind at my back, 35K to the Finish.  Slow/run combo to the end, no more slog.  Either gonna run or walk fast – but no more humped shoulders/slow jog.
Realize I went out too fast today but on the right path – know I got it in me, I WILL PR this year.  It will happen.
Back at Ontario Place, marathon FINISH #89.  Couple seconds quicker than last weekend, 2nd fastest run of 2017.  Third province completed & a new Canadian PR (almost 30 minutes better).
Convoluted flight path home, Monday morning work day awaits.  Sunshine – home, sweet Colorado home 🙂
Goodlife Fitness Toronto Marathon
2017-05-07 • Marathon

583   K R Haga   Louisville   04:17:04.8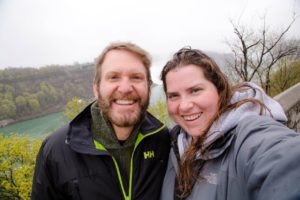 12:30am arrival – even the best of friends say 'take an Uber' after midnight.  My Canadian bestie?  Short cat nap, greeted me just past Customs…then hit the highway.  HUGE surprise.  Middle-of-the-night trek to Niagara Falls.  Hotel slept, woke directly across from North America's greatest free falling water.  Chilly a.m. mist but whatta morning run!
GREAT to wake in Canada!  Purchased 2 tickets on Hornblower Cruises.  Would be seeing the Falls up close & personal.  Donned my plastic 'Hornblower pink' rain jacket & boarded the boat (America's competing 'Maid of the Mist' provide jackets o' blue).
Niagara Falls is actually comprised of three waterfalls: American, Bridal Veil and Horseshoe Falls.  The first 2 lie in the U.S., the latter straddles both U.S. & Canada borders.  Elaborate walkways built on the American side provide 'a' view of the Falls.  Canada however, positioned directly across from the Falls, claims BEST view…by far.
Cruise first passed by American & Bridal Veil.  Lotta opportunity for selfies, water crashing over large boulders below.  Seagulls darted in & out of the Falls, diving into the water below fishing for dinner.  Provided some of the day's favourite shots.
When folks think of 'Niagara' Falls, it's Horseshoe Falls we've seen.  Powerful, thunderous water, tinted green of mineral-eroded limestone.  The force of falling water created a wide spray across the entire boat.  Whatta memory – SUPER FUN (& wet)!  One of the most wondrous, magical, 'take your breath away' places on Earth.  I was here, May 6th 2017.  Could not stop smiling ❤
Boat disembarked.  Slow-walked 2 miles down the boardwalk, past flowering Queen Victoria Park.  Watched fast moving water pour over Horseshoe Falls, self-surrounded by a swath of daffodils.  Hot chocolate at Tim Horton's.  a WOW kind of day!
Rode the QEW (Queen Elizabeth Way), over Burlington Skyway Bridge, then the 407 – to Sarah's flat in Brampton.  Impromptu pull-off to view an old grounded ship on Lake Ontario.  Unplanned excursions, highly recommended.  Many thanks Sarah, much LOVED!
The Grounded Ship was a replica of the Grand Hermie used by Jacques Cartier in 1535-1536 and 1541-1542 to explore Canada. This ship was built in 1967 for Expo 67 [in Montreal] as part of the nautical theme as Expo 67 which was on islands in the St. Lawrence Seaway.  The ship was taken to Quebec City and abandoned in 2001.
Marathon in early a.m. – but not before dining fancy in North America's tallest building, the CN Tower.  No regret, B-I-G life 🙂
Niagara Falls