Days later I still think about it.  Was running his passion?  Meaning…if one had to die, was it just as well he died marathoning?  Did he believe in a hereafter?  Was his family waiting near the Finish?  Was he running with friends?  It was over so quick…did he see God?
Hiro

McKinney, TX  44

Facebook page looks like wife and 2 kids, posts in Japanese?

Think he worked for Toyota.

It may bring you some peace. He had completed the Dallas Marathon in December of 2015 & 2016.  And earlier marathons in California, he wasn't a new runner.
Plane ride home to Colorado provided much-needed relief/mental rest.  Think I had been in shock, all thoughts shrouded in Hiro's death.  Failed to take a Finish pic, didn't even enter my mind.  Super shaky & confused.  Crossed the Finish, was directed to Medical.  Laid down, took fluids, asked about Hiro.  They had no info.  Up in 20 minutes, located my rental, airport-returned to Dallas Love Field.  Restroom splash bath, change-of-clothes in the handicapped stall – best I could manage.
39th The Cowtown

Sunday 02/26/2017

Ft Worth, TX

4:29:02           581      K R      Haga   Louisville        CO       MARATHON
Texted Sis.  In her occupation, she sees life & death every day.  Lotta comfort from her words.  Much appreciated Sis!
If it makes you feel any better it happens a lot.  As many races as you've done I'm surprised you haven't seen it yet.  We were at Disney and saw one being revived after a half.  She was about 50 and 45 lbs overweight.  Luckily she collapsed at a hotel full of cardiologists and surgeons.  He [Hiro] obviously had cardiomyopathy or some kind of lethal arrhythmia.  There's nothing you can do to save them.  It's sobering and horrible but not your fault.  As a runner I would rather go like that than slowly with cancer and suffer.  I think….I've seen a lot of people die and you still lose sleep over it.  Live life to the fullest.  Celebrate every breath and remember to tell the important people in your life you ❤ them.  It does make you feel better.  ❤ u.

Sent from my iPhone
Jogged in the last tenth-mile.  No fist pump, no celebration, death sobered today's Finish.  Home.  Fort Worth to Dallas – 45 minutes, just me & my thoughts.  Radio off, focused on driving.  Horrible dream you just can't shake.  Scene kept playing over-n-over in my head.
I can text later tonite or tomorrow – finished marathon – emotionally super upset – watched a runner die at 26.1 miles – just texting this makes me tear up again – Asian guy named Hiro – they worked on him for 10 minutes before paramedics took him away – kinda takes away from my marathon experience, fastest all year – even waiting with Hiro as he passed

It was so horrible

Convulsing first then he just passed

He spun & tried to catch a pole, then went down on pavement

Too upset to eat, boarding in 30 minutes – I'm so extremely upset – I've never seen someone die – it was horrible – another maniac waited with me & then the race medics until the ambulance came

His spirit just left his body
Course ended flat but nothing left in the tank/pushed too hard too soon.  No breaking 4 hours…again [getting closer].  Just couldn't break 9 minutes after mile 18.  Briefly bench-sat by Mark Twain in Trinity Park (it's a thing in Fort Worth, Google it 🙂 ).
Lost the crowd at mile 10 – Halfers veered right, marathoners straight ahead.  Hill at mile 11, mile 14, steady climb 16-18.  Shoulders back, head up.  Tough course!  STRONG for 23 miles then dropped off pace.
Heard a lot about hills…in particular, the Main Street Bridge at mile 8.  Still sharing the field with Halfers, took to the left & started picking 'em off – runner after runner.  Not expecting next year's free entry but no hangin' my head in shame either.  STRONG!
The infamous Main Street Bridge (.344 mile hill) will be part of a new competitive opportunity for all Sunday runners this year. We will have a timing mat at the bottom of the hill, as well as the top. The fastest non-elite female and male runners to ascend the hill in each of the three distances (Ultra, Full, Half) will win a free entry into next year's race!
Fave part of race: running thru the Fort Worth Stockyards.  Cobblestone path thru Fort Worth's historic district.  FAAANNNTASTIC!
Late registration so I started WAY back.  Corralled with the 5:30 pace group – would spend 2 miles dodging walkers while the field thinned.  At 3.6 miles, caught the 4:30 pack.  2 minutes between every corral start, meant I was pacing a 3:45 finish.  Too fast, too soon.  SLOW down!  Back to running with a watch next month.  Live & learn.
Slept less than 2 miles away but still woke early – needed to locate parking.  Marathon morning for 8,000 runners…my biggest race since 2015.  Generally a bigger fan of smaller town locales, trail treks.  Whole lotta folks but still bumped into Austin-based Maniac, Mike Perez.  Last ran with Mike at the Rockin' K in Kanopolis Kansas (all-time trail fave, 5 water crossings).  Small world.
…ask not what your country can do for you, ask what you can do for your country — John F. Kennedy
$98 roundtrip — airfare WOW price — so late-registered for a third February marathon…the Cowtown Marathon in Fort Worth.  930am Saturday morning, touchdown: Dallas.  My first landing at Love Field, same airport President Kennedy used in November 1963.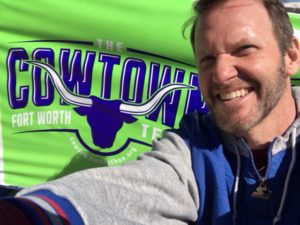 Ya'll know I'm a HUGE history fan – first stop: the Sixth Floor Museum at Dealey Plaza.  Housed in the former Texas School Book Depository, museum retells the events surrounding JFK's assassination.  Waited 40 minutes for ticket admittance – who knew so many people [on a Saturday morning] would be museum trekking?
Self-guided tour lasts 'bout an hour half – I finished in under 30.  Placard-to-placard trail, 'til each tourist receives their moment at 'the Corner Window' – spot where Lee Harvey Oswald fatally head-shot the President as his motorcade turned onto Elm Street.  Honestly, found the entire experience creepy, sad, voyeuristic.  Upon leaving the building, walked thru Dealey Plaza & past 'the Grassy Knoll' where it's believed another conspirator fired but missed the President.  Again, not my thing.  Live & learn.
50 minutes away, arrived in Fort Worth for marathon bib pick-up/hotel check-in.
Sunshine, breezy & 60 — BEAUTIFUL — lucky me, half day remaining.  Short 2 mile run along the Clear Fork Trinity River ('cause every day's a run day), pre-race dinner at Hoffbrau Steaks (ate RED MEAT like a native) PLUS time for haircut (clipper close-shave).
Early to bed, early to rise – 'cause tomorrow I'm running Cowtown 🙂
November 22, 1963
Sand dunes, salt flats, mountain hike & my 77th marathon finish.  Last desert day…all good things come to an end.  Drove back by way of Dante's View — one last hike in the Park, one last overlook of Death Valley.  WOW, just WOW.
More than an afternoon in Vegas ['til my return flight].  Casino walk, afternoon show?  Naw…been there, done there.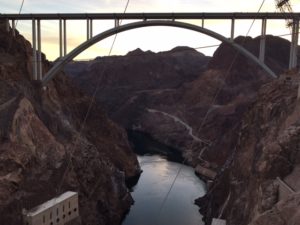 Hoover Dam.
Did a fly-over 2 years ago during my Grand Canyon Heli Tour, but never down, down, down to the Dam's base nor studied its history.
At the time of its creation, Hoover Dam was the largest of its kind.  Harnessing the power & volume of the mighty Colorado River, water is distributed amongst the West thru a system of pipes and irrigation canals.  Hoover Dam's reservoir, Lake Mead, is America's largest man-made reservoir.
Dam construction created thousands of jobs during the country's Great Depression & completed 2 years ahead of time.  The Dam's spillways were last tested in the 1980's; since then water levels have diminished significantly, triggering renegotiation of the Colorado River Compact within the next 2 years.  While Colorado snowpack has provided steady & consistent volume, population explosion in Las Vegas, Los Angeles, San Diego, Phoenix & Tucson have eroded Lake Mead's levels.
Living in Colorado, many of us grow frustrated and anger at California's seemingly wasteful use of water resources: creation of lush manicured lawns & agricultural water waste.  Arid landscaping — popular in Colorado, New Mexico, Nevada & Arizona — has not been widely adopted in America's most populous state.
…but I digress.  Breathe in, count to 10, exhale 🙂
$20 was the ticket price for the tour.  Historical film, followed by a series of elevator rides to the Dam's bypass pipes & massive hydropower generators.  The science as to how this all works — super interesting!
Elevator UP.  Walked the Dam perimeter, snapped sunset shots, self-toured its Monument.  Thank goodness for standby — 'cause this flyer missed his departure home.  Many thanks Southwest Airlines.  Life lesson learned.
Hoover Dam (in 47 seconds)