Coolest of nights on Casper Mountain – awesome sleeping weather [sadly, missed sunrise].  Quiet excitement/anticipation/buzz around camp – ECLIPSE day!
Listened to a group of NASA scientists speak last night at the Lodge.  Crowd was a weird mix of 'super smart' & 'super quirky'.  My tent neighbor spoke of geothermal pulse dangers generated by nuclear weapons exploding high in the atmosphere – but able to knock out all transformers in the Midwest, which would result in hundreds of thousands of people dying from lack of electricity.  Hmm…  Somehow our forefathers survived without air conditioning, right?  Guy passed out Homeland Security business cards with a personal gmail address.  Double, hmm…  Let's imagine he was completely legit & this was Homeland Security's new way of reaching out/disseminating National Security threats to the General Public [in a Casper WY campground] – what could I personally do about preventing a nuclear explosion 400 miles above Earth's atmosphere?  Like I said: missed this morning's sunrise, slept like a baby.  Guess ignorance is bliss 🙂
Walked/fed the Pup, broke down my tent, Jeep all packed.  Horizon gazed.  Sunshiny day.
Short hike over to 'the viewing area' – large swath of meadow high on Casper Mountain.  Roadside concession stand sold hot dogs & soft drinks.  A&W root beer for a buck.  Heck of a deal.
10:25am: Planted my chair, sat & watched '1st contact' thru a pair of ISO-approved solar shades purchased online thru Walmart.  Double-checked my paper glasses were not 'fake'.  Still, fingers-crossed this wasn't a mass plot by China to leave half our country blind.
Hour-20 'til TOTALITY.  Ro?  Chased grasshoppers, caught a morning nap in the high grass.  Happy dog.
Group of CU (U of Colorado) students showed, hijacked my solitude.  In hindsight, they made the experience light/super FUN.  Typical university kids, excitement/laughter/lotta noise.  Two were talking plasma & NASA measuring the Sun's corona, while another plotted to conceive an 'eclipse' child during the 2 minute-29 second event.  Super smart, super young – LOL>
FELT a noticeable temperature change.  Wind gusted.  Everything happened at once.
TOTALITY.
Skies darkened, white light glowed around our extinguished Sun.
Glasses no longer necessary [next 2 minutes] –  'diamond ring' visible to the naked eye.  Surrounded by sunset & stars, soaked up the cityscape lights of Casper below (street-lamps triggered by the mid-day eclipse).  WOW, WOW, WOW!
Just the slightest of slivers & our 2 minutes of darkness, history/a memory.  Day again.  Bright light – piercing white light – escaped the Sun's upper right corner.  Not daybreak but insta-day, NOON.  Still chilly (58 degrees), but surrounded once again by Sun.
Like nothing I've EVER experienced.
Great American Exodus
Departed at 12:30pm, arrived home at 12:45am.  Hundreds of thousands of cars on ONE highway.
Tag, Arkansas family – you're up next.  TOTALITY!
The next total solar eclipse in the Americas comes on April 8, 2024.  Totality first touches Mexico, enters the United States at Texas, cuts a diagonal to Maine, and visits the maritime provinces of Canada.

Although it has been a long 38 years since the last U.S. total solar eclipse before 2017, it is a relatively short 7 years to the succeeding total solar eclipse in North America.  Perhaps we should call this the Great North American Eclipse.
Great American Eclipse
Great American Exodus
AMAZING morning sunrise.  Watched for half-hour before rustling up breakfast – eggs & chicken-apple sausage (sadly, warm runny eggs/pan-fried 20 minutes).  Brushed teeth, shut up the tent, tethered Ro to my belt – HIKE day!
Mile/mile-half drive DOWN from my camp site.  Secured parking near Rotary Park, short tenth-mile walk to Garden Creek Falls.
Previously trekked this trail, day-before the Casper Marathon 2015.
[June 2015] …hiked Casper Mountain.  Not the Rockies experience of the Bighorns, but a good 5-mile day hike.  Probably not the best prep, day before a marathon but…I'm a lover of mountains.
Bridle Trail: 5 mile loop up/over the Falls.  June 2015 vs August 2017?  Today, whole lotta hikers.  Whole lotta COLORADO hikers.  Appears much of the Front Range arrived in Wyoming overnight & were doing what Coloradans do – get OUTDOORS.  Literally met only ONE Wyoming-based family on today's trail.  [Thanks to Ro – everyone stops & says hi.  He's a very pet-able Pup. 🙂 ]
Englemann spruce, Rocky Mountain juniper, Ponderosa pine, Douglas fir, Green Ash, Cottonwood, Chokeberry, Quaking Aspen.  This trail's a tree BONANZA, landscape more reminiscent of Boulder County than Central Wyoming.
Bridle hiked counter-clockwise, finishing over the Mountain's rock-canyon outcropping.  WIDE-OPEN Casper 2800 feet below, today's WOW shot ('though skyline bit hazy due to BC/Western Canada forest fires).
Picnic'd by the Falls, then drove into town before roads closed for tomorrow's eclipse.  YMCA-showered (FREE/very much appreciated!), check'd out the Cowboy Code of Ethics, shopped Wyoming's (dog-friendly) Eclipse Festival.
7pm 'til after next day's TOTAL Eclipse (noon-ish) – Mountain gated off from Casper.
Dusk-walked Ro by our camp owner's wild mustang rescue.  BEAUTIFUL horse.  Another pink, high mountain sunset.  Dinner plans?  Shrimp, mushrooms & olives in a wilted bed of spinach.  Camping B-I-G on BIRTHDAY weekend ❤
Bridle Trail, Casper WY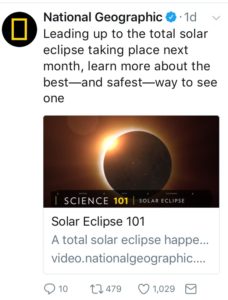 Monday: the first solar eclipse to travel 'cross the USA since June 1918 (99 years).  Totality – FULL eclipse of the daytime sun – not in Colorado, but only 4 hours away in Casper, Wyoming.  TOTAL ECLIPSE on my Birthday – it's a sign, right?  This year's BIRTHDAY CAMPING destination 🙂
Wyoming, America's LEAST populated state (literally #50, behind Alaska & Vermont).  ALL hotels, B&B's, hostels – EVERY SINGLE ROOM booked, no exaggeration.  Paid $35/night (3 months ago) to camp in an open field, private land on Casper Mountain – turned out to be the deal of the weekend!
Past 2 weeks: ECLIPSE, the buzz word in the office/neighborhood/weekly run group/gym.
So many people travelling north to rural Wyoming, news media warning Coloradans to carry food, water, gasoline.  Phone carrier bringing in 2 temporary cell towers to handle the volume increase.
Yikes.  Do I stay or do I go-go?
Packed, planned accordingly.  Left home at 4am Saturday morning.
Wyoming expecting a crush of 600,000 people, most coming from Colorado

Coloradans hoping to catch the Aug. 21 solar eclipse at the last minute shouldn't count on catching the moment when the sun is blacked out by the moon. Without a strategy to view the once-in-a-lifetime spectacle, they may find themselves stuck in bumper-to-bumper traffic on Interstate 25 instead.

When the sky darkens during the much-anticipated event, it will be the well-prepared who get to enjoy its splendor. Among the key tips: leave early, pack extra supplies and arrange a place to stay ahead of time. Otherwise, risk facing bumper-to-bumper traffic and overcrowded campsites at every turn.

Some are predicting that up to 600,000 people will travel to Wyoming (2016 population: 585,501), hoping to squeeze into the 67-mile wide swath of darkness — known as the totality — that will cut across the state that morning, according to the Colorado Department of Transportation.

About two-thirds of those visitors are expected to flood into Wyoming from the south, putting an incredible stress on roads like I-25, which normally accommodates about 83,000 vehicles a day, CDOT spokesman Jared Fiel said.

"When we're talking about adding that many more people to the roads, it's going to be intimidating," Fiel said. "We are fully planning for it be pretty bad. The earlier you can get up there, the better because we really don't know what's going to happen."

Traffic and finding a perfect campsite aren't the only inconveniences in the run-up to the eclipse. Cell phone service may also be hard to come by.

"Certainly the cell towers in Wyoming weren't meant to handle that situation," CDOT's Fiel said, suggesting travelers bring walkie talkies.
Not a soul on the highway at 4am.  Watched the sunrise just past Chugwater.  Antelope grazed where one normally sees cattle.  Breakfast'd in downtown Casper, then claimed my campsite 20 minutes away on Casper Mountain.
10:22am.  Tented, dog walked/fed/water'd.
No plans today [hike day tomorrow] – honestly, thought I'd still be in traffic.  Google-search'd nearby OUTDOOR activities.
Independence Rock: 40 minutes west, HISTORICAL, dog-friendly.  Check, done 🙂
Dry grass-sparse ranch land, Casper to Alcova.  mid-1800's, three National Trails crossed Independence Rock: Oregon Trail (infamous Missouri to Oregon trek), California Trail (Gold Rush of '49) & the Mormon Trail (Brigham Young migration to Utah).
Independence Rock, first blip on the prairie since Casper.  Going UP?  Absolutely!  Not remotely technical – first glance looked like an impossible climb, no more than a moderate hike.  Rainwater pooled in naturally-eroded cracks on the Rock's surface.
For emigrants, Independence Rock was a celebrated milestone.  Arrival on or by the Fourth of July indicated the western mountains could likely be crossed before winter snowfall.
Back on Casper Mountain, past few hours/campsite had grown into a community – joined by another 30-40 RVs/tents.  Sunset, temps dropped.  First night's meal: crab cakes, polenta & kale (pan warmed/previously prepared).   Not bad for camping, right? ❤