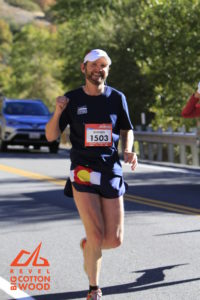 Last marathon bus leaves at 5am — mighty early for a Saturday.  Layered in Mylar & running gloves, coldest start of the Fall…temps just above freezing.  Bused high in the mountains, past 2 ski resorts – Brighton & Solitude – wouldn't leave the warmth of our transport 'til the driver shouted 'last call'.  Elevation: 9,696ft.   33 degrees, bit chilly in running shorts.  Expecting a HUGE temperature swing after daybreak.
My first downhill marathon.  Obviously easier than running UP Big Cottonwood Canyon…but running downhill – for 4 hours – comes with its own set of body challenges.  In hind sight, should've wore my trail running shoes – wider toe box.  I'd go home less 2 nails on my right foot.
Lotta runners, whole lotta energy.  Camped in Mylar [blanket] village, exhaling air into a make-shift tent to keep warm.  Big smiles – cold weather LOVE.
Marathon Maniac group pic, 6:45 start – pop & we're off.
Beautiful course, canyon walls lined with evergreen.  Pit-stopped early at mile 2, then pushed hard 9 miles to catch the 4-hour pace group.  Mostly downhill course – haven't PR'd or broke 4 hours since March 2015.  Continued to push hard, trying to build a lead distance while my body felt strong.
Another pit-stop at mile 13; half marathon done, half to go.  Right foot stung.  Big toe throbbing, bleeding thru my shoe.  Rookie mistake.  Should've wore trail shoes.  Live & learn.
Wooded canyon course continued thru mile 18 – heat kicked in, but the scenery…mighty inspiring.
5 mile loop at 18, course's only uphill grade – not nearly as bad as pre-posted by 'haters' but not super scenic either.  Trees disappeared, started cooking in the day's rays.  As I looped marker 21, saw the 4-hour pacers half-mile ahead.  Argh.
Downhill stretch, then finished the last 3 [miles] strangely running down the highway center lane – between 2 lanes of traffic.
Missed sub-4 by 4 minutes.  Ho hum.  70th marathon finish, 3rd consecutive weekend run.  Despite this summer's surprise health report, still on target…shooting for #100 by 2017 year-end.  I feel a HUGE party in my future – in the meanwhile, grabbed a shower, wrapped my wounds & hit the highway.  Sleeping in Moab tonite.  Desert hiking Arches [National Park] tomorrow a.m.  FAAANNNTASTIC!
K R Haga – Sept. 10, 2016

Bib # 1503

Event:  Marathon

Chip Time:  4:04:00.71

Start Time of Day:  6:45:47AM

Finish Time of Day:  10:49:48AM

Pace (min/mile):    9:18
Big Cottonwood START
Big Cottonwood FINISH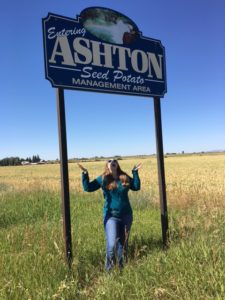 2 days in Yellowstone, day plan to finish our Montana summer vacation in the Grand Tetons.
Checked out of our Ennis MT digs & started the journey south, 'cross the Continental Divide, thru Idaho – in particular: Ashton, Idaho.  Trip wouldn't have been complete without visiting our country's Seed Potato capitol. HA!  True dat – but Ashton visiting Ashton [Idaho] was more the prime motive 🙂
Ashton ID: population 1127.  Photo shot 'round every local sign – then plotted east.  Dropped off any/all major roads & unexpectedly trekked 32 miles on dirt.  Stopped 7 miles in; wide expanse of lily pads & pine.  Quiet, peaceful.  Just dragonflies & forest.
2 hours in Targhee National Forest, popped up on Flagg Ranch, inside Grand Teton Nat'l Park.  Never saw a ranger, never passed a booth.  Score!  (reality is: I carry an annual park pass anyway)
Scrapped plans to hike Jenny Lake & travelled south & east another hour to Moran Junction (the Park's East entrance), past Jackson Lake Lodge, up Pacific Creek Road & 5 miles of gravel.
Destination: Teton Horseback Adventures
Ash mentioned 2 days earlier…wouldn't it be great to horseback ride in the mountains?  Heck yeah. Multiple water crossings, spectacular high peak backdrop.  GREAT idea!
Gazed 'cross Jenny Lake – all vacations come to an end – then dined BIG, 20 minutes south in Jackson [Wyoming].  Air bnb fail in Driggs [Idaho] but luckily Ash secured a last-minute room locally.  [The digs in Driggs, a youth hostel bunk bed share – wee bit old to share a room with teens.]
Long ride home across Wyoming on I-80, 10 hour drive (thanks Tom).  Back to work in the a.m.
Summer time fun – 2nd family trip of July.  FAAANNNTASTIC!
Yellowstone: Part 3 – the Tetons
I am in love with Montana.  For other states I have admiration, respect, recognition, and even some affection.  But with Montana, it is love. — John Steinbeck
Original plan was to run not one – but TWO marathons back-to-back in Montana.  Roped Ash & Tom into helping with the long drive north & scheduled a family vacation 'round Yellowstone & Grand Teton National Parks.  Unfortunately an unexpected health issue caused me to drop from both events – but didn't deter us from enjoying a couple days in the Rockies.  LOVE LOVE this place!
After yesterday's late check-in, slept 'til 8 before heading west to Virginia City — Montana's first territorial capital.  Grabbed breakfast & toured a few historical Old West landmarks – but oddly, no Bonanza memorabilia…wrong state.  Who knew?
Bonanza was a NBC television western series that ran from 1959 to 1973.  The show is set around the 1860s and it centers on the wealthy Cartwright family, who live in the area of Virginia City, Nevada.
Boot Hill — fave day stop.  Hilltop cemetery where 4 guys hung in Jan 1864.  Not a vacation without a local cemetery stroll.  LOL>
last Montana tourist destination before Day 2 park hopping?  the Grizzly & Wolf Discovery Center in West Yellowstone.  Safest way to see a bear, a wolf, a couple of bald eagles too 🙂  LOVED watching these massive lumbering giants scavenge under rocks & trees for food hidden by rangers.  Whenever in Yellowstone, gotta add this [stop] to your itinerary.  Highly recommended.
Quick lunch, second day of geyser trekking – then headed to the falls, Yellowstone Falls.
Lower Yellowstone Falls is the largest volume waterfall in the Rocky Mountains of the United States…308 feet (94 m) high, or nearly twice as high as Niagara Falls.
Hiked both upper & lower falls – a true butt buster, so pace yourself.  Jogged back from Lower Yellowstone to retrieve our car (parked at Upper, a mile away), then drive-returned to our digs in Ennis.  Watched a family of deer ford a local river.  FAAANNNTASTIC!
Gorgeous pink sunset, followed by late nite nachos & live music at the Gravel Bar.  Livin' B-I-G in Big Sky Country 🙂
Day 3 plans?  Grand Teton Nat'l Park – seeing these peaks on horseback.  #noregretlife
Yellowstone: Part 2 – Yellowstone Falls