Signed up for today's trail run almost a year ago.  Sells out every year, marked my calendar.
Why Death Valley?  Fave of my 50 State runs: Crater Lake [Oregon].  fave Half: Rocky Mountain [Colorado].  Opportunities to race in a National Park come far & few between.  Not letting this opportunity pass.
biggest concern?  Intense HEAT.  Cracked dirt, sand, salt flats & record 130+ degree summer highs.  Ya'll know I'm not a hot weather runner…but the quest to 'park-run' overruled any worry.  It's December, how hot could it be?
Chilly morning wake-up.  Ironic, huh?  Cap, gloves, hydration pack.  Hydration pack?  Yep, trail run.  Park rangers trucked in water at miles 7, 15 & 23.  Oatmeal breakfast; backpacked Fritos & an apple.
Race Director provided last minute instructions (& a few laughs), then boarded chartered buses to the Start.  Probably a 60/40 split marathoners/halfers.  Hour-15 minute drive; soaked in the desert landscape.  Lucky in life.
Steady climb in elevation, steady drop in temps.  Folks piled off the bus, I stayed behind.  Not leaving 'til I'm forced outside.  33 degrees & blowing wind.  Over the next half hour, bus slowly refilled with weather-beaten runners.  Not my first rodeo 🙂
8:30am start.  Popped off the bus & trekked dirt road for 4 miles.  Sand, gusting wind.  Kept my head down while I pushed thru the long stretch of flat.  Neck gaiter pulled over my mouth.  Adapted well.
Looped thru Titus Canyon, would spend remainder of the day here.  Tall canyon walls provided protection from the wind.  Shade (gloves on), sunshine (gloves off).  Desert climate created insta- 10-15 degree temp swings.
Miles 8-10: WOW whatta climb!  1700ft to 5400ft elevation.  Didn't even attempt to maintain pace.  Unpacked Fritos, slow-ate my Gala [apple], and hiked UP a series of switchbacks…Colorado style.  Whatta view!  LOVE LOVE our National Parks!
Posted a 2:47 first Half – maybe an all-time worst.  But then…I grew STRONG.  Down, down, down multiple miles of dirt & boulders – felt like home.  Runner ahead, I'd lock him/her in, match pace, speed up, barrel by.  Began passing tens of runners.
Refueled at mile 15.  Popped 2 anti-nausea pills & quickly re-tagged 3 runners who caught me at the water stop.
At mile 17, passed my first Halfer.  Entered the most memorable stretch of course in many a month.  Trail no more than 20 feet wide, path'd thru high rock 6 continuous miles.  Canyon exited at 23; met rangers equipped with water & a porta-john (first all race).
Stopped, regrouped.  Restarted slow, last 2 miles re-upped my pace.  Caught sight of the Finish & kept pushing.  Marathon #77, just under 5 hours – my 2nd best trail time.  Hour later, back in Furnace Creek: shower, dunes & dinner.
One more Nat'l Park day & maybe Hoover Dam 🙂  #noregretlife
2016 Death Valley Trail Start List
Saturday, December 3, 2016 8:29 AM (GMT-8) – Final results

Bib     Racer name                             Finish time
204    K R HAGA, Louisville CO      4:56:28.3
Death Valley (Race Director quip)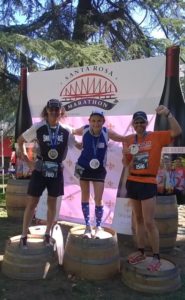 6am marathon start – back that an hour in Sebastopol where I picked up Carolyn.  She slept in an all-female teepee commune (Airbnb).  Makes Motel 6 sound a bit more sexy, huh? (actually kinda jealous — HA!)
Overcast cool morning – couldn't ask for better running weather in August.  FAAANNNTASTIC!
Started in Corral 2, race paced quick.  Hadn't run with Carolyn since our NM desert trail run last March.  Good conversation, felt super relaxed.  Generally I'm a solo runner, even in training – much appreciated sharing the day.  I'd get a little fast, Carolyn would pull back the reins.  sub-9 pace for 10 miles.  Thanks friend.   Not looking for a fast 10K, but a steady sub-4 marathon finish.
Mike from Southern Cal joined our pack; finished the Half three-four minutes under 2 hours.  Nice flat course, few rolling hills, cloud cover protection from August summer rays.
Unfortunately, started puking at mile 13, then again at 15.  Slowed, couldn't hold with my running pals – but kept pushing, didn't quit.  Sick again at 18.  Popped a pill at mile 21 (brought one along, just in case).
Stomach settled before mile 23 (big thanks Zofran).  Slogged next 2 miles.  Saw Carolyn just after the 25 mile-marker.  She finished 3:59+, then walked back to pace me – WOW, thanks pal 🙂
Marathon 68 done.  Marathon run streak continues at 33 months consecutive.
My first 26.2 since being diagnosed – and I had a GREAT 15 miles.  Getting stronger, really good day.
Santa Rosa Marathon  28 August 2016

K R Haga

Net Time  04:39:31.003

Event:  Full Marathon

Race No:  1516

Country Representing:  United States

Wave:  Full Marathon Start 6:00 AM
With yesterday's 50 States Award Presentation, not a lotta time for pre-marathon adventuring.
[however] 6pm return flight home.  Plenty o' hours to get our California on 🙂
Quick stop at the Charles Schultz Museum.  Always been a Peanuts fan.  Received a plush Snoopy as a one-year-old from my Grandmother.  Memory tugs at the heart.  Started the drive back to San Fran early – destination: Golden Gate Park (a close 30 minutes from the airport).  Bridge ride-over, pulled off along the ocean.  Walked beachside past Seal Rocks, up to Cliff House.
Palm trees, sand & blue ocean water – ah, yes…California.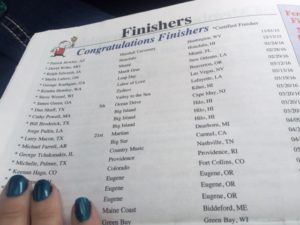 Plan always was to finish in Colorado – marathon all 50 states but gotta/hafta/MUST finish in Colorado.  Set a goal, meet a goal, make it happen.
the 50 States Marathon Club certifies results & presents awards at our quarterly reunions – reunion locations which rotate 'round the 50 States.  Super nice to be recognized amongst one's peers – we're a tight running community.
First opportunity to receive my award, club's 3rd quarter reunion in Santa Rosa CA.
early Saturday a.m. start – flight delay, heavy fog in San Francisco.  Met up with Carolyn (my running partner from Indiana), picked up the rental & hit the highway.  Slow going even on the weekend – Cali loves their traffic.  Crossed the Bay Bridge.  Soooo many cars. Two ½ hours later arrived in California wine country.  Bib pick-up for tomorrow's 26.2 at DeLoach Vineyards, nestled in Sonoma County's Russian River valley.
Located our reunion location – cool temp room, walled with oak wine barrels.
Whatta journey.  Alaska to Hawaii, Maine to California, 26.2 miles in every U.S. state.  Additionally, I'll attempt tomorrow to keep my monthly marathoning streak alive.  Haven't missed since December 2013.  FAAANNNTASTIC!
50 States Award Presentation