Stumbled across this Sunday's run on the Maniacs calendar.  Local charity run in Washington state.  Limited to 50 participants, no set entry fee.  Suggested $25 donation, pay as much as you please – all funds raised, 100% to the cause.
Hooked after reading the site's About page.  That's how I chose the big C Marathon.
story behind the big C marathon

I wasn't going to make this personal but I decided to be honest – it is personal.  On July 25, 2016 I was diagnosed with breast cancer.  My immediate thought was that I didn't want to "do" this.  I felt like I had been signed up for a race that I didn't want to run.  Not only that, it was a race with no set distance (was it a 5k or a 100-miler), I didn't know how hilly it was, what the elevation was, nor what the weather might be.  The thing about a cancer diagnosis is you don't know what you're up against until piece by piece the specifics of your disease are revealed to you.  I soon found myself relying on my marathon experiences to deal with my new situation.  I decided that whatever my path would be, I would have to pace myself and run aid station to aid station.  I had done this many times in the past to break down what seemed like an unusually long, tough race into small, manageable pieces.  Since my diagnosis, I have of course met many other people who have experienced, are experiencing, or love someone who has or is experiencing the big C, and I have found that it unifies people – just like running does.  I have also spent many middle-of-the-night hours searching websites for answers of how to deal with having, and recovering from this.  I kept finding the same thing – exercise helps.  It helps in dealing with the side effects of treatment.  It helps to smooth out the emotional affects of the disease.  And it helps in feeling strong and more in control.

So, this marathon is to remind all of us to set goals, to break scary things down into smaller, more easily-digestible pieces, to keep moving forward, to hold our loved ones in our hearts, and to do something that might be terrifying with dignity – and maybe even a smile.

We welcome ALL paces and would be thrilled if you decided to do this as a tribute to a loved one – knowing that we have your back, and will encourage, cheer, and not leave until you have crossed that finish line…
WOW, right?
Kicked up my daily mileage 2nd half of November.  How fitting would it be to finish this year's 2,017 miles at an event giving back to cancer?  Ya'll know I'm goal-determined, hell or high water I'd finish my GOAL miles December 3rd in Puyallup, Washington.
Southwest flight to Sea-Tac Saturday afternoon.  Early dinner, early sleeps in Sumner.
Fun story.  Short of time, been scheduling haircuts in marathon locations.  Fort Worth TX, Mankato MN, Dublin Ireland – I'm a guy, it's just hair.  Googled Sport Clips.  2 in Puyallup, what are the chances?  Arrived at "Sports Cut".  Shady part of town.  One chair barbershop, older Asian lady with buzz clippers.  Only hair, right? (& only $10)  LOL>
Early Sunday a.m. alarm.  Rain all day yesterday, cool & overcast today.  Morning drive: Cockrell Cider Farms, day's marathon Start & Finish.  Many thanks for their generosity.  They took NO cash, charged our event nada – 100% charity.
Bib pick-up, $100 donation.  Hope others matched my gift ❤
8am Start.  RD Cat Schwartz read a note from one of last year's participants.  Sadly he passed away Saturday morning (literally yesterday).  Remember why we're doing this & remember to smile (her words of encouragement).
Sported a hydration vest today – no cup event 🙂  Less than 4 miles of town/suburbia roads.  Picked up Foothills Trail, a scenic bike path parallel Hwy 162.  Unlike Colorado bike paths, this trail was well-treed (lotta overhanging greenery).  Zagged thru tree nurseries & berry farms, trekked alongside the Puyallup (& later Carbon) River.  Urban-ran 'cross [the town of] Orting, before rejoining Foothills Trail mile-half from the turnaround.
Mentally significant/symbolic turning the Half.  Chalked on pavement: 'big C' & an arrow.  Simple marker but something much bigger rattling in MY head.  Less than a year ago I was undergoing chemo.  Today, once around 'the big C' (circled the pavement) & kept running – I moved on, as I now have with life.  HUGE scary part of my past [cancer] but time to let go & move on.  Done.
Slowed significantly 2nd Half.  Skies drizzled, air felt heavy.  No gas in the tank – common complaint all Fall.  Counted only 3 ahead of me first Half.  At least twice that number passed on the 13-mile return.  Ho, hum.  But not really 'bout the run today, huh?
Finished 4:45, 4:46-ish I think.  Marathon #104, 2nd in Washington.  (No official results yet, will post later).
After party?  Warmed inside 'the Roost', Cockrell Farms' Tasting Room.  FIRST RATE cider, AWESOME post-race chili.
Next weekend, the Buckeye Marathon (AZ) – scored a cheap (sub $100) flight to Phoenix.  Happy day.
Several of you have asked that we create a Paypal account so you and/or your friends and relatives can donate. Well, it is done – the account is: thebigcmarathon@gmail.com  And as always, 100% of profits goes to Fred Hutch Cancer Research.  Thanks!  Cat.
"Keep Portland Weird" is a popular slogan that appears on bumper stickers, signs, and public buildings throughout Portland, Oregon and its surrounding metro area.  The slogan has been called the unofficial motto of Portland.
My kind of town – the 'city' version of Boulder.
Flannel fashion, inventive chefs, hippie homeless.  'Live & Let Live' friendly (the American West standard, ZERO tolerance for discrimination).  Environmentally minded: NO plastic bags (outlawed/entire county); NO new highways – voted to manage growth thru expanded/improved public transportation.  $5 rail ticket, my ride to the Airport.
One of City's downtown landmarks – Powell's City of Books.  Page turning?  9am-11pm, 7 days a week.
Covering an entire city block, Powell's City of Books is more than a great bookstore: It's a microcosm of Portland, packed with smart and eclectic offerings, passionate people and, naturally, its own coffee shop. And, just like Portland, it's open 365 days a year!

It's the largest independent chain of bookstores in the world, and when you visit the aptly named flagship shop, Powell's City of Books, you'll need a map to find your way around (the store provides one).  Powell's enormity is a measure of how much Portlanders love books.  Cruise the aisles, grab some coffee and enjoy the lost art of thumbing through bound paper stamped with words.
Portland FOOD.  Post-hike gorged at Ned Ludd's Friday nite.  Met & talked with its Food Network chef (Jason French, a former Boulderite).  Three courses, dinner entrée: whole roasted trout.  WOW!  Head & a backbone, only remnants on my plate.  Brunched Saturday, another Portland staple.  Hipster beignets – not necessarily Creole, but served on a bed of chocolate.
Sunday, RUN day.  [Remember when EVERY day was a run day – HA!  #2017runfail]
LOVE LOVED staying at the Hilton, the Portland Marathon's host hotel.  Bib pickup literally downstairs, booked early & secured the runner's room rate, walked 2 blocks to this morning's Start.  Couldn't be more convenient.
Big City race, my first in eons.  Full/Half combined start – sooooo many runners, not in Okoboji today 🙂   Heard today's 7am Start waiting patiently in Corral C, 12 minutes back.  Two 11-minute miles, before the field thinned/run became manageable.
Cool morning temp, overcast sky – GREAT running weather.  If only I had remembered 'portion control' during my big FAT foodie holiday (I gots no 'off' switch); two days of 'Rose City' gluttony.  Appreciated the porta-potties at mile 8.  'Nuf said.
Mostly flat course, gradual incline miles 5-9.  Crossed St. Johns Bridge at mile 10.  Portland's tallest bridge (built in 1931) spans the Willamette River (crossed back at mile 18).  Beautiful panorama, slightly foggy.  Reminiscent of San Francisco 2 years ago.
Drizzle just past the Bridge, but never a steady rain.  Again, couldn't have asked for better conditions.
Incline blip at mile 22.  da Truth: walked it, nothing left in the tank.  excuse Time ['cause ya'll know I got 'em]: Body's tired.  Running so often (21st marathon of 2017), find myself lacking late in the year.  Frustrating, but it is what it is.
Mile marker 25.  PUSH, PUSH, PUSH.  Late burst of reserve, FINAL STRETCH of downtown city street.  Marathon SUCCESS!  Surprise, surprise – this day, medal AND a rose.  Super classy.  BIG thanks, City of Roses🌹  Great memory.
Paid the extra $25 for a 1pm check-out.  It's the Hilton, choose your battles (but as host hotel, could've been a bit more generous).
Sit-down lunch, sit-down movie (The Mountain Between Us), window-napped on my Southwest flight home.
On the runway in Denver – SNOW – first of the season, LOVE LOVE my Colorado life! ❤
Lotta talk this summer 'bout last minute registrations.  Not so this weekend.  Added the Portland Marathon last Thanksgiving, bought airfare over Christmas break.  Almost a year ago, seriously – that's a lotta love for the Pacific Northwest.
2 hour direct flight, arrived just after midnight.  Hotel'ed nearby, picked up my rental following morning.  Why pay for a car overnight to sit in the hotel parking lot?  Free airport shuttle, up by 7am.  Big plans, outdoor Oregon plans.
When I ranked my 50 State marathons ('cause people asked), Oregon came out on top.  Crater Lake Nat'l Park.  Whatta memory, whatta beautiful place.  However, never got the chance to see Portland during my first 50 State tour.
Friday HIKE day.  Saturday CITY day.  Sunday RUN day.
HIKE day: Columbia River Gorge, 72 waterfalls.  Most of the day's preplanning went into which waterfalls I'd have to skip.  Dropped off I-84 early, driving the Historic Columbia River Highway.  First stop: Vista House.  However, pasted across Exit 23: CLOSED.  That's disappointing, website still posting active hours.  Next stop: Exit 25, Latourell Falls Trailhead.  Again, CLOSED.  What the heck?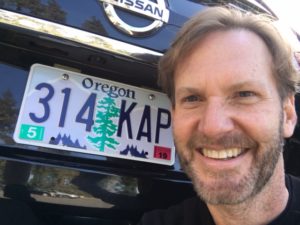 Drove up Corbett Hill, stopped by the country store.  Wildfire.  HUGE wildfire.  All of Oregon's Columbia Gorge gone.  Eagle Hill Trailhead – today's 'Wild' hike to Bridge of the Gods – gone.  Multnomah Falls: trees charred, ground still smoldering, no access.  Entire Gorge likely will remain closed to the public thru 2018 year-end – with an active State Police writing citations.  150 given to PCT hikers & tourists last weekend alone.  Ugh.
Plan B?  Hiking the other of the River – Washington State.
Brief stop at Bonneville Dam.  Toured the hatchery.  Most fish released early (water temps spiked during the wildfire).  Few old sturgeon remained.  Talked with Rangers re: potential hikes.  Cross the Columbia at Bridge of the Gods, 15-minute drive to Dog Mountain Trailhead.  Sage advice: Don't forget to buy a park pass in Cascade Locks or State Police will ticket your car at the Trailhead.  Who knew?  Thanks Ranger 🙂
In the movie 'Wild' (& also in my hike book), folks cross Bridge of the Gods – Oregon to Washington – on foot.  Argued a few minutes with the toll booth lady, who said it wasn't illegal but she wasn't letting folks walk.  Too much traffic today.  Double ugh.
Columbia Market, purchased my Northwest Forest Pass.  DROVE over the Bridge ($2 toll).  Hung a right, one small town, easily located the trailhead.  Backpack.  Started UP.  Tired of human chatter/enough talk 'bout what I CAN'T do.  STEEP UP first seven-tenths mile.  Quick sweat, shed a layer.  Another half-mile, settled into the hike.  Mood improved, body dwarfed by Cascade pine.
Evergreen blanketed in hair-like moss.  Marveled first time I witnessed in the Sierra Nevadas.  2 months later, just as stunning ❤
2,000ft UP.  Forest opened, huge expansive vista.  Columbia River Gorge down below.  Across the Gorge, hours away by car – Oregon's Mount Hood, snowcapped/towering high above treeline.  WOW!
7 mile hike, never topped 3,000ft.  No waterfalls BUT good to be outside.  For that I'm thankful, always grateful.
Car return, fancy downtown digs – the Hilton – CITY day tomorrow.
Columbia River Gorge