Lotta talk this summer 'bout last minute registrations.  Not so this weekend.  Added the Portland Marathon last Thanksgiving, bought airfare over Christmas break.  Almost a year ago, seriously – that's a lotta love for the Pacific Northwest.
2 hour direct flight, arrived just after midnight.  Hotel'ed nearby, picked up my rental following morning.  Why pay for a car overnight to sit in the hotel parking lot?  Free airport shuttle, up by 7am.  Big plans, outdoor Oregon plans.
When I ranked my 50 State marathons ('cause people asked), Oregon came out on top.  Crater Lake Nat'l Park.  Whatta memory, whatta beautiful place.  However, never got the chance to see Portland during my first 50 State tour.
Friday HIKE day.  Saturday CITY day.  Sunday RUN day.
HIKE day: Columbia River Gorge, 72 waterfalls.  Most of the day's preplanning went into which waterfalls I'd have to skip.  Dropped off I-84 early, driving the Historic Columbia River Highway.  First stop: Vista House.  However, pasted across Exit 23: CLOSED.  That's disappointing, website still posting active hours.  Next stop: Exit 25, Latourell Falls Trailhead.  Again, CLOSED.  What the heck?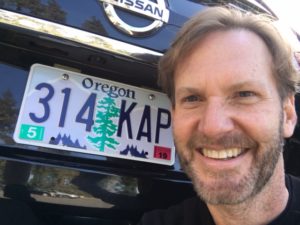 Drove up Corbett Hill, stopped by the country store.  Wildfire.  HUGE wildfire.  All of Oregon's Columbia Gorge gone.  Eagle Hill Trailhead – today's 'Wild' hike to Bridge of the Gods – gone.  Multnomah Falls: trees charred, ground still smoldering, no access.  Entire Gorge likely will remain closed to the public thru 2018 year-end – with an active State Police writing citations.  150 given to PCT hikers & tourists last weekend alone.  Ugh.
Plan B?  Hiking the other of the River – Washington State.
Brief stop at Bonneville Dam.  Toured the hatchery.  Most fish released early (water temps spiked during the wildfire).  Few old sturgeon remained.  Talked with Rangers re: potential hikes.  Cross the Columbia at Bridge of the Gods, 15-minute drive to Dog Mountain Trailhead.  Sage advice: Don't forget to buy a park pass in Cascade Locks or State Police will ticket your car at the Trailhead.  Who knew?  Thanks Ranger 🙂
In the movie 'Wild' (& also in my hike book), folks cross Bridge of the Gods – Oregon to Washington – on foot.  Argued a few minutes with the toll booth lady, who said it wasn't illegal but she wasn't letting folks walk.  Too much traffic today.  Double ugh.
Columbia Market, purchased my Northwest Forest Pass.  DROVE over the Bridge ($2 toll).  Hung a right, one small town, easily located the trailhead.  Backpack.  Started UP.  Tired of human chatter/enough talk 'bout what I CAN'T do.  STEEP UP first seven-tenths mile.  Quick sweat, shed a layer.  Another half-mile, settled into the hike.  Mood improved, body dwarfed by Cascade pine.
Evergreen blanketed in hair-like moss.  Marveled first time I witnessed in the Sierra Nevadas.  2 months later, just as stunning ❤
2,000ft UP.  Forest opened, huge expansive vista.  Columbia River Gorge down below.  Across the Gorge, hours away by car – Oregon's Mount Hood, snowcapped/towering high above treeline.  WOW!
7 mile hike, never topped 3,000ft.  No waterfalls BUT good to be outside.  For that I'm thankful, always grateful.
Car return, fancy downtown digs – the Hilton – CITY day tomorrow.
Columbia River Gorge
Yesterday in the high Sierras, today on scenic Lake Tahoe.
Sunrise woke in South Lake Tahoe, circled the lake northward – day's first stop:  Emerald Bay.  Mix of tall redwood & pine – HUGE evergreen – line California's largest freshwater lake.  Bay tinted green (emerald green) where it hugs shore.
$10 to the Park Ranger.  Successfully secured parking (kinda a big deal in California).  Stared long/hard at the Lake horizon, before starting the short steep hike DOWN to Vikingsholm on tourist-heavy Tahoe – HIKE day ❤
Vikingsholm…this magnificent "castle" is a unique blend of nature's spectacular beauty and man's architectural ingenuity.

The Vikingsholm foundation was laid in 1928, but the building was constructed in 1929 by 200 workers. Vikingsholm was built by Mrs. Lora Josephine Knight as a summer home. Before starting construction, Mrs. Knight and her architect traveled to Scandinavia to gather ideas for the construction of the house. Some parts of the structure contain no nails or spikes, as a result of old-fashioned construction methods. Most of the building was made from materials found at Lake Tahoe.

Mrs. Knight is best known for building Vikingsholm, but she and her husband Harry, a businessman were primary backers of Charles Lindbergh's non-stop solo flight across the Atlantic in 1927.
Followed the steep one-mile path DOWN DOWN DOWN to Vikingsholm.
White granite canyons, HUGE forest'd trees.  Snagged 2 enormous pine cone for my Colorado mantel.
Interesting well-preserved residence, Vikingsholm, but didn't purchased a ticket to tour inside.  I trail-hiked DOWN to see California redwood, to enjoy the all-consuming scent of pine.  Not disappointed, WOW!
Dipped both hands into Lake Tahoe before trekking back UP.  UP UP to Hwy 89, the local northbound highway I'd travel lake-circumference.  Tahoma, Tahoe City, then lunch.  3 more hours to play 'til my return flight home from Reno.
89 North to Truckee, diverted left on Squaw Valley Road.
Squaw Valley, California – site of the 1960 Winter Olympics.  Gotta/hafta/must STOP, right?  Team USA won first-ever hockey GOLD; Americans [David Jenkins & Carol Heiss] topped both figure skating podiums.
The Games' spirit, the OLYMPIC FLAME stays lit 24/7, 365 days/year.  Pretty neat.  I was here.
After a weekend off from marathoning, back on the trail – literally.
Friday a.m. flight to Reno, scenic hour-half drive to South Lake Tahoe.  Running on 2 historic trail systems tomorrow – the PCT (Pacific Crest Trail) & XP (Pony Express) trails in California's Sierra Nevadas.
Easy laid-back drive, radio set to classic 70's – never turned the dial, all weekend.
Hotel check-in, then a rural 45 minutes on US 50 West to Kyburz (bib pickup).  Located tomorrow's trail Start at Echo Summit (1968 US Olympic high-altitude training center).  Quick hello/goodbye.  Back in the morning California redwood, Ponderosa pine ❤
First year event – read & re-read the course description PLUS snapped a shot of the map itself (nothing left to chance).  More concerned being lost in the high Sierras than any wildlife encounters (only bear I saw/stuffed at Strawberry Lodge).
RACE DAY, SATURDAY:  Cool & overcast.  Mix of HIGH CLOUDS & MASSIVE TREES.  Super thankful, appreciated the cover.
Most of the day, focused/eyes alert for PINK ribbons.  13.8 miles in, started the climb UP.   Two HUGE hikes, over 4000ft vertical gain.  Lovers Leap Trail: let's just say, I know why they leaped.  Crazy difficult hike.
but…the Panorama?  (like being) Wrapped inside an Ansel Adams photograph.  Just WOW!  Every north-facing tree blanketed in vibrant green moss.  Yellow-green: closest colour match in my Crayola box.  That's the memory I'll take home to Colorado.
Only negative?  Course went long.  I know, I know, it's trail.  Folks: this course went long.  My watch (& Strava app) died somewhere after 30.5 miles – my first ultra finish of 2017.  (I say first 'cause I haven't yet given up on running a 50-miler this year.)
#94 in the books.  2nd longest [amount of time] I've been on my feet (behind 2013's Barr Trail hike UP Pike's Peak).
TROY'S CALIFORNIA TRAIL RUNS

Echo Summit Trail Challenge – August 5, 2017

Trail Marathon  Jude Archie  M  06:40:28    1

Trail Marathon  HAGA K R  M  07:51:36    2
HIKE DAY tomorrow 'round tourist-friendly paradiso, Lake Tahoe.  Living well, lucky in life 🙂
road-trippin': Reno to Tahoe