Direct flight on Southwest, winter marathoning in Michigan – extending my monthly steak to 39.
Crazy quick turnaround on Super Bowl weekend.  16 hours – touchdown to take-off.  Landed late Friday nite, rental car pick-up, 20 minute drive to Wyoming — Wyoming, Michigan 🙂  frugal Super 8 fast sleep, 5 hours total.  Checked my weather app – still below zero.  Yikes!  After balmy treks in Florida & Georgia, today would be my first 'true' winter marathon of 2017.
We've all heard of Punxsutawney Phil, the little furry guy in Pennsylvania who comes out, sees his shadow, and declares six more weeks of winter. Then there's Augustus T. Groundhog, better known as Grand Rapids Gus. He's Phil's much more interesting cousin. Unlike Phil, who it seems can only see shadows, Gus has much better eyesight and can look at a calendar on February 2 and know that spring doesn't start for six weeks. Gus suggested that instead of lamenting over six more weeks of winter, we should EMBRACE the cold and snow and do something fun.

And so, the Groundhog Day Marathon was born.

Full Marathon:

Like the movie, you'll feel like you're repeating the same day over and over.  A total of 6 loops of approximately 4.4 miles…will have you feeling just a little case of deja vu.  500 Runner limit combined for full and half marathons.  Don't plan on the course being free of snow.  It's paved, which means no underlying rocks and roots, but that's about all we're promising.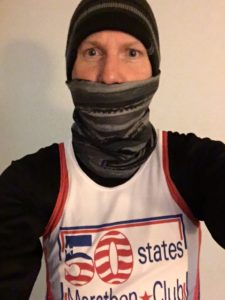 Parked my rental at John Ball Zoo & boarded an early 6am shuttle to the Start.  Michiganers know,   sub-zero Start = HUGE WARMING tent (that's where all pre- & post- race festivities centered).   Unfortunately, the porta-potty still stood outside – brrrr on the bum).  Multiple layers, neck scarf, sweats, beanie & a Captain America hoodie (summoned all my super powers this run).
Crowded full & half-marathon field, combo start.  Whitney Houston anthem, air horn start, careful walk over heavy ice to snow-covered trail.  Tough first mile.  Mind wandered, now 9 above zero, self-questioned whether to run or call it a day.  Runner field thinned; I adapted to course conditions.  More like running [on] trail today: focused on foot placement & staying upright.
First lap in 41 minutes, one minute behind goal…my pre-race 'non-snow' goal.  Sunshine on the next 2 laps created landscape magic.  Ran thru a frozen forest, popsicle-like trees & field grass weighed heavy under quarter-inch ice.  Winter beauty, truly stunning.
Wind ceased, third run aside Grand River.  Large upstream chunks of ice pushed down its center, breaking thru the city stream.  Crazy beautiful.  Sun disappeared, temp held steady at 12 degrees.  Lost much of the field as half-marathoners completed their journey.
NEVER a fan of laps – but DID look forward to 2 stretches each rotation.  Popsicle forest & the iceberg-laden Grand River.  Ya'll know I'm a fan of winter…& this was some of its best.
Last lap, last aid station.  Water or Gatorade?  Naaahh mahh, wahhh-ter.  Just point, she says: 'sometimes my tongue freezes too'.  WHAT?  true Michiganer experience.
Lost 6 minutes over the last 10K – but overall, my strongest run all year.  Fastest finish time, fastest recovery, fastest car ride back to the airport.  Didn't refill my tank, completely outta time (sorry Enterprise, but only drove 22 miles total).  Small airport, no problem with security – yikes! my return flight was already boarding.  Would have to shower at home 🙁   #dirtyflyer
Groundhog Marathon
SAT FEBRUARY 4

K R Haga  M  Louisville CO  US  4:39:12.86
tomorrow: Super Bowl 51 at Ash & Tom's home — Go Pats!
next weekend: skiing Vail (first time) — LOVE LOVE my Colorado life!
To all of you who ran Groundhog, I hope you are as proud of yourselves as I am. Remember, this is a race with a mileage that killed the first man that did it (and it sure as hell wasn't tundra-level weather when he did). You are so frickin' awesome! To those who volunteered–manning/womanning the aid stations, warming tent, and parking direction­–I feel like you had it even harder because you endured the arctic to provide us runners with the crucial necessities we needed to achieve this goal (and you certainly don't mess around when it comes to cookie variety ). Thank you for being there and being an immensely valuable presence of this race when you easily could have just slept in and let us die. To all who were involved in creating this year's Groundhog with set-up, management, and that kick-ass warming tent at the finish, thank you for giving the running community this opportunity to be completely insane and run this race. I'll see you at the next one!
Punxsutawney Phil Sees His Shadow
Like the close of the Olympics, always sad when the torch is extinguished – official end of the Games.
Lotta laughs, lotta activities, WHOLE LOTTA FOOD…but St Louis Reunion 2016 ultimately came to a close.  Expect we'll next get together for Ash & Tom's wedding, May 2017 in Silverthorne (Colorado).
That said, ya'll know there's always a marathon (or 2) on the list which brings Family my way.  Lucky in life 🙂
Goodbye St. Louis.  GREAT job Sis – super FUN weekend!
Haga-Greco Family Reunion (St Louis 2016)
Last day in St Lou-ie.  Grant's Farm – Sis pulled out all the stops.
…one time owned by Ulysses S. Grant and prior to that, by the Dent family.  It is now owned by the Busch family, who owned the Anheuser-Busch Brewing Company for many years until it was sold to InBev in 2008.  Grant's Farm has been an animal reserve for many years and is open to the public for free.  The farm is home to such animals as buffalo, elephants, camels, kangaroos, donkeys, goats, peacocks, the iconic Budweiser Clydesdales and many more.  Most of these animals can be seen by visitors on a tram tour of the deer park region of the park, while the Clydesdales are found in their nearby barn and pastures. The farm also contains a cabin called "Hardscrabble," which was built by Ulysses S. Grant on another part of the property and later relocated to Grant's Farm.  It is the only remaining structure that was hand-built by a U.S. president prior to assuming office.
Started off the day with a tram ride thru Deer Park – where deer, buffalo & native birds roamed the grounds free.  Additionally, snapped a sweet shot of Grant's Cabin, early home to our 18th President Ulysses S. Grant.
Disembarked in Tier Garten, where for a $1 the family got to bottle-feed baby goats.
Price was certainly right – everyone joined in the fun.  Highlight of the day 🙂  From there, things turned animal-exotic.  Grant's Farm houses elephants, kangaroo, zebra, camels, llamas, lemur & multiple varieties of birds.  Much to see.
The Bauernhof

German for "farmstead", The Bauernhof was built in 1913. It surrounds a beautiful courtyard typical of a 19th century Bavarian farm, complete with stables, a carriage house, and offices and quarters for those who lived and worked there. Today, it houses the Busch family's world-renowned carriage collection and stables.
Sis' husband (a St Louis native) provided historical facts 'bout the Busch family, as we stable-walked by horses & carriages of days past — all started with German-immigrants Adolphus Busch & his father-in-law, Eberhard Anheuser in 1879.
'Over 21s' paused at the Budweiser Brewery trailer – chilled in the cooler & free sample imbibed 🙂
Finished?  Heck no.
No Anheuser-Busch trip is complete without visiting the world famous Clydesdales.  MASSIVE creatures — WOW!
The Clydesdale is a breed of draught horse derived from the farm horses of Clydesdale, Scotland, and named after that region. Often bay in color, they show significant white markings due to the presence of sabino genetics. The breed was originally used for agriculture and haulage, and is still used for draught purposes today.  The Budweiser Clydesdales are some of the most famous Clydesdales, and other members of the breed are used as drum horses by the British Household Cavalry.
Rain started falling as we began our goodbyes.  Michaela's trip ended first, home on a 3pm flight to Connecticut.  The rest of us however kept adventuring – day's last stop: Fitz's Bottling Company.
[while waiting for a table] Watched a line of black cherry soda being bottled.  Crazy busy joint.  My food memory?  the Mt Everest Special – Fitz's famous draft Root Beer topped with vanilla & chocolate ice cream PLUS whipped cream.  H-U-G-E!
Sadly all great vacations come to an end – but for Team Colorado, still one more show to go.
Landed in Denver at 9-ish.  On the 45-minute drive home, saw no less than 10 firework displays – brightly colored explosions from both sides of the Interstate.  No exaggeration…most every Foothills community was celebrating the 4th under clear Colorado skies.
Happy Independence Day, USA!
Grant's Farm (St Louis 2016)