The first-ever Nebraska Marathon was held on Sunday, October 18, 2015 where almost 900 runners took their mark at Turner Park at Midtown Crossing and crossed the finish line at the Lewis and Clark Landing.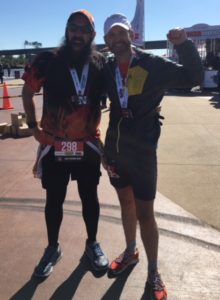 That first year offered a Half, last year the event's first FULL – this year a mix of running distances.  Omaha, new to marathoning?  Heck no, this town supports THREE separate marathons.
Ironically, today's 'Nebraska' Marathon comprised more Iowa asphalt than Nebraskan.  Crossed the Missouri River before the Half, would cross back into Nebraska post-mile 25.
Chilly morning start – my first of the Fall season.  October can be a mixed bag for weather.  Thankful for cooler temps.  Not a lotta tree cover on America's Great Plains – Nebraska or Iowa.
Late start with a BIG BANG – it's the Midwest, no shortage of guns. LOL>  Combined Full/Half Start across from the host hotel.  GREAT location, GREAT digs – super hospitable!  Kudos Team Nebraska 🙂
First Half, scenic Half.  Marathon'd 7 days ago, no time goal today.  Ran with a Halfer from Columbus.  Good conversation, good pace.  Said our goodbyes at mile 12, finished my Half right at 2 hours.
Not a lotta natural trees in neighboring Council Bluffs, but miles & miles of maintained bike path.  Nice clean community.  Tidy parks, manicured ball fields.  Norman Rockwell America.
I've run all 50 States – 20 of them twice – would definitively say: Middle America, folks living on our Great Plains/America's Heartland are the kindest/most visitor-friendly states.
Steady headwind 2nd Half however didn't lose our sun.  Small marathon field sparsely spaced along the course.  Miles 15 & the turnaround return to 22 were some of the loneliest.  Caught a lot of crosswind.
Sub-10 minute miles thru mile 19.  30K in 3 hours.  Dropped off soon after.  Strava stats recorded 12 & 13-minute pace, miles 22 to 25.  Crossed Bob Kerrey Bridge over the Missouri & back into Nebraska, finished a half-mile later at Lewis and Clark Landing.
Another medal, another marathon experience.  FAAANNNNTASTIC!
Last chemo- December 22nd.  10 months & 22 marathons later, celebrating Historic #100 in Dublin IRELAND.  One month shy of 4 years, soooo many race memories.  Thankful for my family, great friends & our SUPPORTIVE INSPIRING run community.
My life 2nd Half, absolutely no regrets.  Nothing left undone.
NEBRASKA MARATHON
224      K R Haga        4:43:14.12
Two years ago same month bought an overnight Amtrak ticket to Omaha.  Picked up my rental at the Airport, drove to Des Moines for my 50-State 'Iowa' marathon.  Same event where I enjoyed a VIP performance of Dracula.  Still a FUNNY story – LOL>
Fast forward to Thanksgiving 2016.  Received an email announcing the 2nd annual Nebraska Marathon.  Train ride nostalgia that day I guess.  Yep, they got me.  Generally I only race register 3-4 months in advance.
Friday night train (7pm ticket), no work day miss 🙂  Parked at DIA, took commuter rail to Union Station.  Would be returning Sunday by air.  Learned rail isn't known for on-time punctuality.  2015: train-returned home almost a half-day late.
9:45pm Friday:  Greeted on-board by a juggler, my seatmate aisle over.  Nope, can't make this stuff up.
8:21am Saturday:  Tagged a ride Downtown using my Lyft app.  No rental required this trek.
Hotel check-in (host hotel assured a post-race shower), bib pick-up (across from baseball's College World Series), afternoon matinee at the Orpheum (Finding Neverland).  Who knew there was so much happening in Omaha!
FOOD.
24 hour fine-dining binge.  Tuna burger at Denver's trendy Hopdoddy.  Oktoberfest-celebrated with Bräts & kraut in Omaha.  THEN seafood-gorged at Shucks Oyster Bar at happy-hour prices: 99-cent oysters, 35-cent peel-n-eat shrimp.  FAAANNNNTASTIC!
It's not a gland problem folks.  I run because I eat ❤
Marathon in morning – might need to circle the Park twice.  So much food, so little time.
Amtrak juggler
3 weekends of high mountain hikes, tough to get the marathon juices flowing again.
Saturday's trail run one of 3 last-minute selections needed to reach magic #100 in Dublin.  My third consecutive trail race – Tahoe, Steamboat & the Hawk.  Better known for its grueling 100-mile race, 26.2 miles the shortest distance one can enter.  100 miles, 50 miles or Marathon.  Seriously, that's it.  First time, I'VE been the late start at an event.
Organized by an upbeat group of local trail runners, the Lawrence Trail Hawks.  What's not to love?  Direct flight (Denver to KC), cheap airfare, entire trip/in-n-out < 30 hours.  'though Kansas in September, probably gonna be warm, really warm.
Hotel check-in, bib pick-up, dinner.  Early to bed, early to rise.
Race Morning.  Packed up the rental – not expecting to squeeze in a hotel 'finish' shower.  No worries this day, scoped out a $5 shower at Clinton State Park (campground showers), 10-minute drive from today's race Start.  Like a Boy Scout, always prepared 🙂
Last minute race announcements, BAM – started on time.  Similar to Steamboat last month, well organized event.
Whole lotta up & down.  Root & rock trail, large leafy trees provided much appreciated shade.  Special for Marathoners: an extra 1.2 mile loop thru fresh-cut grass, then UP Sanders Mound.  Roughly 25 miles 'round Clinton Lake.
Middle/back of the pack first 3 miles.  Settled into pace by the first Aid Station.  Sooooo much FOOD – FAVE difference vs road marathoning.  Sweet, salty, crunchy, energy gels, granola bars – and PICKLES.  Love me some pickles.  Good on the stomach.
Single file track.  Ran with an older guy first 12 miles.  Military, his first marathon.  Quick steady pace.  Daughter was running 2nd female, inspired Dad/Chuck to hit the trails.  Conversation passed the time (no headphones this race).  Second pass by West Park Road Aid Station & we said our goodbyes.  Think he went out a bit too fast (first marathon).
Tough race – maybe all trail runs are?  More mental for sure.  Zone out & risk going down hard (aka 2nd leg Steamboat).
Last Aid Station stop, 7 miles to go.  First humans I'd seen in quite a while.  One deer, one snake – but no peeps.  Wouldn't see another runner 'til the Finish.  Pushed hard last mile, just missed 6 hours.  Should have gutted a little sooner.  Ho hum.  Wasn't 'til Monday morning (checking results online) did I find I finished 11th overall.  WOW, I'll take it.  Eases the sting of missing 6 hours, right?
2pm Finish, came in hot.  Laid long on the grass, folks brought over ice.  3rd finish in Kansas, ironically 2 on trail.
Campground shower, early evening flight home, church in the morning.
Marathon next (short 2 weeks away): Clarence DeMar in Keene NH.  LOVE LOVE Autumn in New England 🍁
The Hawk Hundred

September 09, 2017

Lawrence, US

Race Summary

START TIME  8:00:17 AM

DISTANCE  26.2 Miles

OVERALL

Timothy Hazlett  M Bib 1025 Lees Summit, MO 4:40:11

Carsten Giessmann M Bib 1021 Irvine, CA 4:49:33

Suresh Nagarajan M Bib 1048 Grover, MO 4:52:50

Nathan Goertzen M Bib 1079 Hampton, NE 4:54:03

Justin Douglas M Bib 1014 Lawrence, KS 5:01:28

Katherine Martyn F Bib 1040 Lawrence, KS 5:02:10

Jim Cozzi M Bib 1012 Geneva, IL 5:38:17

Randy R M Bib 1022 McMinnville, OR 5:46:52

Daniel Auten M Bib 1001 Colorado Springs, CO 5:48:50

Brian Forbes M Bib 1017 Spring Hill, KS 5:57:50

Keenan Haga M Bib 1023 Louisville, CO 6:00:46