3 weekends of high mountain hikes, tough to get the marathon juices flowing again.
Saturday's trail run one of 3 last-minute selections needed to reach magic #100 in Dublin.  My third consecutive trail race – Tahoe, Steamboat & the Hawk.  Better known for its grueling 100-mile race, 26.2 miles the shortest distance one can enter.  100 miles, 50 miles or Marathon.  Seriously, that's it.  First time, I'VE been the late start at an event.
Organized by an upbeat group of local trail runners, the Lawrence Trail Hawks.  What's not to love?  Direct flight (Denver to KC), cheap airfare, entire trip/in-n-out < 30 hours.  'though Kansas in September, probably gonna be warm, really warm.
Hotel check-in, bib pick-up, dinner.  Early to bed, early to rise.
Race Morning.  Packed up the rental – not expecting to squeeze in a hotel 'finish' shower.  No worries this day, scoped out a $5 shower at Clinton State Park (campground showers), 10-minute drive from today's race Start.  Like a Boy Scout, always prepared 🙂
Last minute race announcements, BAM – started on time.  Similar to Steamboat last month, well organized event.
Whole lotta up & down.  Root & rock trail, large leafy trees provided much appreciated shade.  Special for Marathoners: an extra 1.2 mile loop thru fresh-cut grass, then UP Sanders Mound.  Roughly 25 miles 'round Clinton Lake.
Middle/back of the pack first 3 miles.  Settled into pace by the first Aid Station.  Sooooo much FOOD – FAVE difference vs road marathoning.  Sweet, salty, crunchy, energy gels, granola bars – and PICKLES.  Love me some pickles.  Good on the stomach.
Single file track.  Ran with an older guy first 12 miles.  Military, his first marathon.  Quick steady pace.  Daughter was running 2nd female, inspired Dad/Chuck to hit the trails.  Conversation passed the time (no headphones this race).  Second pass by West Park Road Aid Station & we said our goodbyes.  Think he went out a bit too fast (first marathon).
Tough race – maybe all trail runs are?  More mental for sure.  Zone out & risk going down hard (aka 2nd leg Steamboat).
Last Aid Station stop, 7 miles to go.  First humans I'd seen in quite a while.  One deer, one snake – but no peeps.  Wouldn't see another runner 'til the Finish.  Pushed hard last mile, just missed 6 hours.  Should have gutted a little sooner.  Ho hum.  Wasn't 'til Monday morning (checking results online) did I find I finished 11th overall.  WOW, I'll take it.  Eases the sting of missing 6 hours, right?
2pm Finish, came in hot.  Laid long on the grass, folks brought over ice.  3rd finish in Kansas, ironically 2 on trail.
Campground shower, early evening flight home, church in the morning.
Marathon next (short 2 weeks away): Clarence DeMar in Keene NH.  LOVE LOVE Autumn in New England 🍁
The Hawk Hundred

September 09, 2017

Lawrence, US

Race Summary

START TIME  8:00:17 AM

DISTANCE  26.2 Miles

OVERALL

Timothy Hazlett  M Bib 1025 Lees Summit, MO 4:40:11

Carsten Giessmann M Bib 1021 Irvine, CA 4:49:33

Suresh Nagarajan M Bib 1048 Grover, MO 4:52:50

Nathan Goertzen M Bib 1079 Hampton, NE 4:54:03

Justin Douglas M Bib 1014 Lawrence, KS 5:01:28

Katherine Martyn F Bib 1040 Lawrence, KS 5:02:10

Jim Cozzi M Bib 1012 Geneva, IL 5:38:17

Randy R M Bib 1022 McMinnville, OR 5:46:52

Daniel Auten M Bib 1001 Colorado Springs, CO 5:48:50

Brian Forbes M Bib 1017 Spring Hill, KS 5:57:50

Keenan Haga M Bib 1023 Louisville, CO 6:00:46
Bib pickup yesterday at Three Sons in Milford IA.  For those of you taking U of O's entrance exam, answer key is at the register 🙂
The University of Okoboji is a fictitious university in the state of Iowa. The university was the creation of three brothers (The Three Sons of their dad) in the early 1970s, who printed T-shirts with an "official" school crest.  The word "Okoboji" refers to several lakes, and to the town of Okoboji, in the Iowa Great Lakes region that are popular recreational destinations.

The university is home of the undefeated Fighting Phantoms.

It is common among those claiming to be alumni to display university decor, such as car decals and T-shirts without informing unsuspecting out-of-staters that the university is fictitious.  The name is now used in connection with several annual fund-raising events for charity, including bike rides, a marathon, and a winter games competition.  A local radio station, KUOO, has joined in the joke and refers to itself as the "campus radio".
5 o'clock alarm, early 6am marathon start.  Luckily, my evenings digs were only 10 minutes away – not a whole lotta sleep after last night's live 'Little House' performance.  Double lucky?  Air conditioning.  5am, already 78 degrees.  Gonna be a July hot one.
Watched a lotta ultra races on YouTube while Bighorn training…including Badwater, a 135-mile endurance run thru Death Valley in JULY.  120+ degree heat, last year 84 of 97 finished.  Key?  Hydration AND a cold wet sponge (over the head/back of the neck).  Hmm…
Start/Finish at Arnolds Park Amusement Park.  Small marathon field, no more than 100.  5K turnaround at Okoboji's The Inn, then clockwise circled West Okoboji Lake.  Plan today: slow steady pace.  'Steady' the plan; goal: even splits.
With the exception of a fast first mile (7:25/min pace), held a steady 9:25/min pace thru 14.  Multiple views of Iowan summer vacations: lotta boats, whole lotta skiers.  Lost my way 3 times – almost a full mile off-course at mile 18.
[Check out my Strava pic/out-n-back line 'bove 160th St.  Luckily, sun-bathing residents provided return directions.  ARGH!]
Port-a-john at mile 19, negative splits next 4 miles.  12 min/pace, but moving.  Took advantage of every opportunity to water douse my hat/head/shirt/arms/neck.  iShuffle died, 7 miles to go.  It's a crutch [I know] but helps calm madness/'the voices' after mile 20.
Walk, jog, sponge bath.  Kept moving forward.
Seemingly out there by myself – but I did it, I finished.  HOT day: 94 degrees & high humidity.  Just under 5 hours (mere 30 seconds under).  Medic placed a bag of ice on my neck.  Said my thanks, collected a medal & retrieved my rental [car].  No drama 🙂
3 hour haul to Minneapolis, air conditioner on HIGH.  Flying home tonite.  Home sweet Colorado home.
U of Okoboji Marathon, Triathlon, Half Marathon & 10K – Marathon (Jul 15, 2017)

Haga, K R   4:59:31.95

City: Louisville, CO
Bib #: 679
Elbert & Aspen, 2 big mountain hikes.  Mental fixed, done retreating.  Back to marathoning.
Days after Bighorn, laid out my path for 100.  Had already registered for six races, 3 more needed to hit my target in Dublin.  Travel costs, proximity to home, days off required [from work] – add NO repeats.  Thus far, all 91 marathons have been unique/original runs.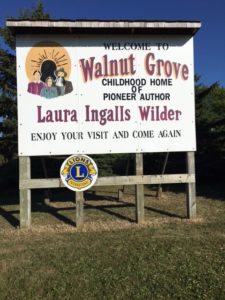 Lake Okoboji.  Midwest humidity, 90+ degrees.  Ya'll know how I love heat, ARGH!
Friday morning flight.  Said I'd never fly Frontier again but for $60 (one-way), I'd live out of my carry-on.  3-hour drive from Minneapolis.  Lunch stopped in Mankato, 2 hours on flat farm roads 'cross the Iowa border to bib pick-up.  Motel check-in (another $49 bargain) in Spirit Lake then my Midwest adventure began.  Hmm…what to do in rural Iowa?
An hour-half north & west using a handful of rural state roads, crossed back into Minnesota & entered Walnut Grove.  'The' Walnut Grove – as in, 'Laura Ingalls/Little House on the Prairie' Walnut Grove. Even bigger?  Once a year (each July) the town celebrates with a series of events – biggest being a live outdoor performance, known as Wilder Pageant.  Called, tickets available – heck yeah, I'm in.
First stop: Laura Ingalls Wilder Museum on [aptly-named] Ingalls Street.  GREAT collection of both Wilder's books AND the television series.  Outside stood a replica of the Ingalls' dugout sod home.  As a kid, LOVED the show…however, was even a BIGGER FAN of the books.  'On the Banks of Plum Creek' (centered in Walnut Grove) was my personal favourite of the series.
Between 2nd & 3rd grade my family moved 'cross country.  HUGE life adjustment.  Lived out of a camper while my dad built an add-on structure (lived there 3 years).  Wood stove, no toilet, no running water. Dad went thru a series of assembly jobs, laid-off each winter.
Rural town, new school, tough times.  Poor family, no money.  That year, my 3rd grade teacher read a chapter aloud [once a week] from 'Little House in the Big Woods".  I was HOOKED.  Reading became an escape, I was a mind traveler & the library was FREE.  [could be] Transported far from my family's struggles, their squabbles 'bout money & later divorce.
Inside the museum, a photograph of Mary, Laura & Carrie.  A newspaper clipping (dated June 1879) reporting Mary's illness & sudden blindness.  An audio recording of Laura (from the 1950's), interviewed by a newspaper reporter in Mansfield MO.  Real people, real lives.
5 minute drive away, visited the Ingalls Dugout Site.  $5/car to visit a sign by a creek, on a rural farm.  No regrets 🙂
Car napped an hour before Wilder Pageant.  Gates opened at 7, local singers entertained at 8, play began at 9pm – titled "Fragments of a Dream", show's 40th anniversary.  2 Acts, 16 scenes.  An older Laura (age 70) narrated the Ingalls' story: family's arrival in Walnut Grove, building the local church, fighting a plight of grasshoppers & Laura's schoolyard fights with Nellie Oleson.
(FUN FACT: the infamous 'Olesons' were actually the 'Owens' – learned many names were changed in the books)
Well done Walnut Grove, well done.  Sadly, left the land of many mosquitoes (Minnesota) between Acts (left at intermission).  Long day, lotta hours logged in the rental.  Hour-half return drive to Iowa (late midnight arrival), marathon in the morning.