food, FAMILY & fun – but first…another marathon 🙂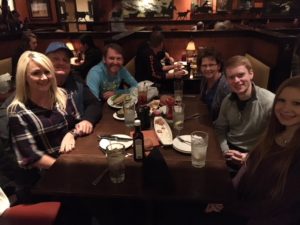 Early 5am flight to Dallas, morning arrival in Arkansas.  First stop: Family.  Kid brother owns a trucking company AND just opened a gym.  We all work somewhere – but the gym…that was mighty impressive.  Pre-kid days, Bro was a power lifter (obviously not my twin).  Daughter now off to college, LOVE LOVE he's following his passion.
Next up: lunch at Williamsburg Kitchen.  That's where one finds Mom weekdays (owner/creator/innovator of this lunch-only spot 30 years+).  LOVE this place, LOVE her Reuben, LOVE the family 'eats for FREE' discount.  FAAAANNNNTASTIC!
3 ½ hour drive on rural Arkansas roads, day's destination: Cotter AR.
Population: 948.  Five miles past Flippin, 20.2 miles from the Missouri border.  Middle of nowhere.  People in Arkansas haven't heard of this town.
Fun story.  Sun goes down maybe 10 miles from Cotter.  I'm not a great driver – even worse when it's dark.  900ft from Cotter High School (bib pick-up), Google Maps says to turn left.  Dirt road…no judgments, we have those in Colorado.  Rental car lists dramatically to the left, something is wrong – I now see the sign: Railroad Crossing.  Yep, been driving on the tracks themselves.  Pitch black, no stars here.  Yikes!  Good laugh AFTER I eased off the tracks & wasn't killed.  LOL>
Pasta charity dinner.  Sleeps 10 miles away in Mountain Home.  Daybreak marathon start.
AWESOME turn-out.  Field was limited to 750 participants AND it sold out, 4th year in a row.  Today's experience would be all about weather.  Warm start.  Never peeled my first layer so humidity-dripped in Razorback winter.  Sweated it out with a trio of runners kicking the Half.  Chatty upbeat folks.  Group slowed at mile 12.  Goodbyes, maintained pace, exited to the left – second lap.
Cloud-cover cooled conditions.  Wind gusted, no bugs 2nd Half.  No elevation gain either – 'bout as flat a course you'll find.  Hit the wall early, more mental than anything.  Notta lotta runners & I had no tunes.  [note: iPods don't last forever.]  Light rain, extra out-n-back at mile 18-ish (special from the first lap).  30mph headwind at the turn, 7 miles to go.  Walked much of mile 20.
Run-Walk-Ran last 5 miles with Sarasota runner, Buzz Scott.  Half-mile to Finish, pep talk from Buzz.  Marathon finish #103.
Heat/humidity, gusty wind, light rain & some folks say sleet.  Another sub-par effort.  17 pounds UP since June's REVEL run – lotta gain for a guy my size.  Not a dieter.  Who gains weight over the summer?!  …but first (28 miles away), 2 slices of the best gas-station pizza ever. Four other runners also crowded in – no mistaking us: race shirt & shoes, we all look alike.  HA!
Family nite in Fort Smith.  Dinner out, cards at Mom's, Sunday morning church.  Good to be HOME ❤
Agee Race Timing, LLC

K R HAGA
2017 White River Marathon

Overall: 102 out of 188
Time: 05:13:55.56
Georgia or Vegas – either location keeps me on my 100 marathon path.
Two/three marathons a month (Jan-June, Sept-Oct), only one in July & August (attitude climbing both months).  Running consistent, training hard, on track for Dublin/October 29th.  Set a goal, visualize/see yourself there, make it happen.
Friday morning flight to Atlanta – chose Georgia, same day bib pick-up, AFB run location.  LOVE our country & any experience which supports our Armed Forces.  PLUS travelled to Hoover Dam just last month (Vegas run option).
Flight delay in Charlotte, didn't ATL jet-bridge 'til almost 7pm.  2 hour drive to Macon, quick shuteye, early a.m. start.
Much of the South was coated in ice just a week ago.  Many marathon friends were disappointed when Mississippi Blues cancelled their annual event.  6 days later – what a difference!  Gonna be a warm one today, high would top 80 degrees.
2 laps, 13.1 mile course = marathon medal #80.  Unexpected marathon delay…didn't actually start running 'til almost 9.  Sun already high.  Yep, gonna cook today.  Both of my 2017 winter runs have been crazy warm & balmy.
2 miles thru housing & base training facilities, short wooded trek, then 3 miles of open-space…ran parallel to the Base air strip.  Hefty hill at mile 10, popped up into a manicured golf course, easy rolling hills – one lap complete.
Second lap: started slow, stayed slow.  Walked in Florida 2 weeks ago, a steady jog would be momentum-building from last race.  ALSO, no meds – neither pain nor nausea pills (purposely didn't pack either).  Ground heating up, air strip rotation ahead: no trees.
Watched participants shed their shirts.  Always been too self conscious to race shirtless.  NO more.
Pushed up the course's one sizeable hill (now mile 23) & slogged to the Finish.  Zapped, always struggle in heat, breathing's all over the place.  Not a great finish, but improved 20 minutes on 2017's first marathon.
3 week break 'til my next 26.2 mile trek…legs getting stronger, no more gutting thru 26.2.
Museum of Aviation Marathon

Warner Robins, GA

1/14/17

MOA Marathon Results

38        K R  Haga       4:54:47
Hotel shower & a swanky nite in Hotlanta.  Dinner at the Livingston, Marriott upper-floor stay (glass elevator ride UP).  Lazy Sunday morning start, pricey a.m. breakfast, afternoon flight home.
Next weekend: snow hiking in Staunton State Park 🙂
Haven't been home since being cancer diagnosed last July.  AND because I'm not the best with sharing personal information (this comes from a guy who weblogs 10x/month), best response – show up in person.  Alleviates some worry: sharing dinner, sharing laughs, worshipping together…and completing another marathon (of course).
December 18th – celebrated baby Bro's birthday LIVE & in PERSON.
Game night, [Hallmark] Christmas movies – and birthdays too!  FAAAANNNTASTIC!
Unexpectedly my 3-day weekend trip became a 4-day adventure — weather delayed my return flight home.  Bright side?  Extra half-day with Mom & a crack-of-dawn work-out at my brother's new gym (not yet open to the public).  Sweet!
Mark your calendar, FAMILY.  Marathoning OKC next April – short (3 hour) road trip away…hint, hint 🙂
[Colorado fun fact: Dec 18th/my 7th year as a Colorado homeowner]
Williamsburg 'Clown Room', Bro's new gym & Family Game Night