Early to bed, early to rise — woke marathon morning to FOG.  Dense, thick, 'can't see 10 feet in front of you' FOG.
Layered up — 2 shirts (long sleeves under yesterday's 'Run WV' purchase), shorts, running tights, ball cap & gloves.  35 degrees, pretty much perfect conditions.  All signs point to marathon EXCELLENCE!
Drove in early from neighboring Barboursville, stadium parked, pre-race porta-potty'd, patiently waited for my run sister Carolyn.  BQ — all about HER this day.  Months of texts back-n-forth; I'm just the lucky guy signed up to enjoy the ride.  Flat 2-lap course — notta fan of laps, never been…but a flat course in West Virginia?  That I dig.
Crowded field.  Could not connect with Indiana.  Hovered 'round the 4 hr pace group.  Cannon pop, we're off.  Two/three minutes, happy upbeat Carolyn tags in.  No tunes, no playlist.  Passed the morn with runner banter.  Whole lotta chatter.
Slow first mile, then paced up.  8:20, sub-8, 8:35 — slow down she says, voice of reason.  My best chance for sub-4 would be a quick first half.  Not steady enough to run 9 minute/miles the entire duration, haven't finished a strong 2nd in over a year.  We agree on 1:55 — "it's a marathon, not a 10K"…I know, I know.  Chilly weather, good sleeps & remembered my meds — popping anti-nausea at 9 & 15…no pain pills 'til the end — dulls the pain but zaps the adrenaline…sweat a lot, jacks my breathing.
No head games, steady easy run.  STRONG today.
St. Mary's Marathon:
K R HAGA crossed the 13.1 Mile at 08:54
Course time: 01:53:37
Pace: 08:41 min/mi
2nd lap: slowed our pace 2 miles in.  Quads, legs tight.  Hadn't run this fast all year.  No giving in to pain, best chance at sub-4.  Stopped briefly at mile 18, hydrated.  Carolyn shed layers; I chose to run warm.  Lagged a step behind thru 19 — and said our goodbyes.
Running empty but knew I had 7 '1st Half' minutes banked.  10 min, 10:20, pacing too slow.  Puked at 23 — come on man, dig deep!
Aid station straight ahead.  Stopped for water, 4 hr pace group bounced by…with one mile to go.  Super frustrating.  9 minute/mile no longer possible.  Nothing left.  Laid on a park bench, wrecked.  5 minutes.  Blew my nose, deep breath.  Ok, it is what it is.
Steady jog to Joan C Edwards Stadium, grabbed a football & did my lap.  Marathon 75.  Check, done.
St. Mary's Marathon:
K R HAGA crossed the Finish at 11:08
Course time: 04:08:18
Pace: 09:29 min/mi
my friend Carolyn?  sub-3:55, new PR, Boston 2018.  Couldn't be prouder.
40 minute drive in rural Appalachia for a true West Virginia celebration.  Hillbilly Hotdogs.  Highlighted on Food Network's "Diners, Drive-Ins & Dives", had this joint scoped out before leaving the Rockies.  Picnic tables outside, school bus seating inside, a true dining destination.  If ever in Lesage WV, gotta/hafta/must go.  Highly recommended.
Next weekend, family weekend — DisneyWorld…but first, marathoning in nearby Winter Park, FL 🙂
Marshall University Marathon
Hillbilly Hotdogs, WV
accountability partner end goals: Carolyn BQs (Boston qualify), I PR.  Both happen if we run sub 3:55 this year.
Been a long journey since May – whole lotta texts back n forth (Indiana to Colorado) – so couldn't have been more surprised when Carolyn chose a race in West Virginia for her BQ.  Out of all 50 states, my run in Morgantown WV was the hilliest.
Never argue with a woman – I signed up 🙂   Not super easy to reach the coal mining lands of southern WV.  Boarded a mighty small connection in DC.  One by 2 seats across, prop plane.  Sunday's marathon commemorates the university football team, who went down in a plane crash November 14 1970.  No survivors.  Team, coaches, prominent citizens.  Makes one think.
Arrived in Charleston, day ahead of my running pal (5 hours away in Indiana).  Woke Saturday to sunshine.  Added West Virginia to my capitol-dome tally, my tenth (LA TX IN IA AR AL CT DC & IL).  Was never a goal to see all 50…but have certainly enjoyed the journey. Quiet, still morning…just me & a parade of ground squirrels.  HUGE fan of both history & architecture.  FAAANNNTASTIC morn!
On the highway before noon, hour drive west to Huntington.  Bib pick-up, 50 State Marathon Club reunion & PASTA 🙂  (however no red sauce for me/stomach cancer irritant, but do love to carb load – YUM!)  Dumb luck re: the reunion — completely unplanned.  Have been to three in my life (Indianapolis, Falmouth Mass & Santa Rosa).  Always fun to connect with folks on a similar journey.  Humbling too.  More than handful of runners have collected 300+ medals.  That's a whole lotta miles.
Buddy time.  Did a thorough campus walk.  'We are Marshall' – snapped that shot plus one of Memorial Fountain.  Thankful I saw the movie this past week.  Made my experience much more impactful.  Tomorrow we'll lay white roses at the fountain…last two-tenths of our run; marathon finishes in the football stadium.  Quick drive to Spring Hill Cemetery, then parted ways with my friend.
Tomorrow a.m. my 75th marathon – We are MARSHALL.
Marshall's Memorial Fountain is a celebration of life

"They shall live on in the hearts of their families and friends forever, and this memorial records their loss to the university and the community."

The Memorial Student Center Fountain is a tulip-shaped sculpture which will always serve as a reminder of Marshall University's past and its future. Located in the plaza area on the campus-side of the Student Center building, this unique landmark stands as a monument to those who perished in the November 14, 1970 plane crash that killed most of the school's football team.

This tragedy cut so deep because it involved more than the football team, coaching staff and school administrators. Also lost were some of the school's strongest supporters. Doctors, attorneys, business people and civic leaders were also on board the ill-fated flight in which there were no survivors.

The fountain serves as a monument to honor those who died, but that isn't the sole purpose for its existence. When the fountain was dedicated a few days before the second anniversary of the crash in November 1972, sculptor Harry Bertoia made it known that his creation was more about celebrating life as opposed to mourning the tragic deaths of the crash victims.

There's strong symbolism associated with Memorial Fountain. The flowing waters from the fountain represent the continuation of life. Every year on November 14, the school conducts a memorial service which includes the traditional laying of the wreath at the front of the fountain. Once that part of the service is completed, the fountain's waters are turned off until the next spring.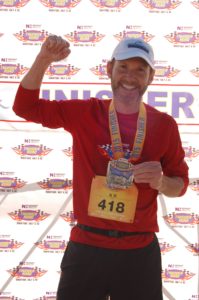 Advertised as North Carolina's toughest road race – was NOT the reason I chose Thunder Road as my NC marathon.  Selected NC's most economical place to fly, Charlotte.  Sometimes it comes down to $$.
Tenth week marathoning – would be my shortest time away.  In Friday afternoon, out 25 hours later.
Taxi'd uptown, bib pick-up, hotel check-in, NASCAR.  When in Charlotte, gotta visit the NASCAR Hall of Fame.  Redneck paradise.  [joking] actually kinda interesting.  History of car racing, followed by rows n rows of vintage cars – not so much – but the racing simulator…fun time, highly recommended.
Early to bed, early to rise.  Scored late hotel check-out.  Tomorrow's marathon goal: run fast enough to catch a shower before flying home 🙂  [this Fall's all-East Coast running theme]
Saturday, woke to sunshine & unseasonably warm temps.  Running in November, never know what you're gonna get (even in South).  On my way to the Start, walked past Bank of America Stadium – NFL home of the Carolina Panthers.  Nice digs.  This town loves their sports.
Start/finished at BB&T BallPark, Charlotte's triple A baseball stadium.  Again, nice digs.  Not a lotta marathon participants (< 1,000) especially for such a large city – but great crowd support.  Thanks Charlotte!  Hills seemed never ending but that's become 2016 standard – from Vermont & San Francisco to Ohio & West Virginia…I've seen a lotta hills this year.
Novant Health Thunder Road Marathon

Charlotte, NC    Nov 14, 2015  7:30AM

418  K R HAGA » Marathon » Louisville, CO » 04:27:51
Social Media Recap:  #46 in the books – only 5 states to go (PA TN HI IL & CO); beautiful weather, whole lotta hills, whole lotta music & great crowd support.  Go Charlotte, nicely done!  Ended in the medic tent, needed to ice the Achilles – 10 weeks of marathoning taking its toll.  Doc says keep it iced all week & should be fine for Philly next Sunday.  Cut more than 10 minutes off last week's finish time. Celebrating with French onion soup & oysters.  FAAAANNNTASTIC!
Next weekend: Philadelphia