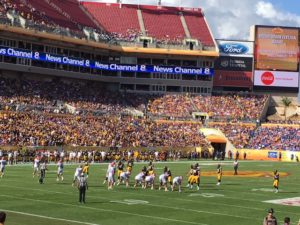 Marathoning, raw oysters, Frida Kahlo – and college football.  Agreed, all seemingly unrelated…but what a FUN start to 2017!
Lazy morning, 2 ½ mile bridge run ('cause every day's a run day), beach & breakfast.  That was my day before noon, quick shower & a change of clothes kicked off Jan 2nd Part 2.
Been to a few college football games – but never a Bowl game.  New Year, new adventure.  Purchased tickets late last Fall – while prices were reasonable, but still only Big Ten vs SEC…no idea which teams would finish strong & represent post-season.
Hotel check-out, hour drive to Tampa: today's Outback Bowl played at Raymond James Stadium, NFL home to the Tampa Bay Buccaneers.  Haven't been to a pro game YET, but this already my 6th stadium (Denver, Indianapolis, Seattle, Baltimore & Carolina)…lotta sightseeing marathoning the USA.
Mid-80's, high beams & humidity…winter in "the Sunshine State". LOL>  Slathered on sun block, borrowed a pair of shades & settled into an already in-progress game (slow to leave the beach this morning 🙂 ).  Iowa vs Florida: Tough day for the Hawkeyes, playing the local University team.  Chomp, chomp, chomp – fans with outstretched arms made the gator gesture…often.
Iowa trailed from the Start, double-digit hole by half-time, lost the game by 30.  My first Bowl game – not a close one.  Colorado home by 10pm, returned to bitter wind & snow.  New Year, new adventures…but always good to be home.  LOVE LOVE my Colorado life.
the Outback Bowl
Florida smashes Iowa in Outback Bowl, 30-3

AP Published 5:04 p.m. ET Jan. 2, 2017 | Updated 8:16 p.m. ET Jan. 2, 2017

TAMPA, Fla. (AP) — Austin Appleby threw for 222 yards and two touchdowns, helping Florida end a two-game losing streak with a 30-3 rout of Iowa in the Outback Bowl on Monday.

Mark Thompson scored on an 85-yard pass play in the first half and Appleby, a graduate transfer who spent the past four seasons at Purdue, tossed a 6-yard TD pass to DeAndre Goolsby to break the game open late in the third quarter. Chauncey Gardner, Jr., returned the first of his two fourth-quarter interceptions 58 yards for a 24-3 lead.

Florida (9-4) rebounded from lopsided losses to archrival Florida State and No. 1 Alabama, scoring more points on Iowa (8-5) than the Hawkeyes allowed to Michigan, Illinois and Nebraska combined while ending the regular season on a three-game winning streak.
The exhibit is an intriguing exploration of the life of Kahlo, her striking artwork and her fascinating psyche. Together with the exclusive photographs of family, friends and lovers, the exhibition gives a complete view of Kahlo's world, along with the joys, passions and obsessions of this remarkable artist.

"With her dreamlike images, Kahlo has stirred huge public interest beyond the traditional art audience. In a way, Kahlo created a persona that serves as a contemporary feminine ideal – both tender and fierce," says Dali Museum Executive Director, Dr. Hank Hine. "Much like Dali, she constructed an eccentric identity through the iconography in her paintings and then dressed and carried herself as the personality she created in her art. Painting by painting, she becomes a heroic figure of struggle and perseverance."
In addition to some lazy beach lounging, drove to neighboring St. Pete & visited the Dalí Museum.  Deciding factor?  Frida Kahlo.  Hard to explain my life-long attraction.  Frida was a Communist, I an American imperialist – proud of our nation's growth, our need to push forward, move boundaries, explore, expand, invent.
Kahlo was shocking but real, honest to her character, comfortable in her own skin.
Started with a 20-30 minute film, a brief explanation of her life & work.  Wore headphones briefly; began a self-guided tour provided by the Museum.  Two paintings in – unplugged, no longer interested in hearing what I was supposed to see & feel.  Sat, stood, stared, reflected, soaked in…natural emotion.
Kahlo's work is raw – it provokes emotion.
Common trait?  We draw strength, passion from our topography.  Casa Azul, her 'Blue House'.  The Rockies, my Colorado home.
Thankful Frida Kahlo's work exists today.  60 years after her death, it still sparks discussion, it still evokes thought.
…AND I walked the halls & toured Spanish surrealist painter Salvador Dalí's art…for whom the museum is named.  From the photos posted below, I did more than just 'tour' Dalí's pieces.  I truly appreciated the experience…but I came to see Frida.
Any other year, no way I could take off the 31st from work…end-of-month in Finance, gotta/hafta work requirement.  That's of course unless New Year's weekend is a rare Saturday/Sunday combo 🙂  Google-searched (then promptly registered) for a New Year's Day marathon in Spring Hill FL.  Direct flight to Tampa – couldn't imagine a better way to kick off 2017.  FAAAANNNNTASTIC!
Lazy pre-race day, 2-mile run 'cross the Causeway [bridge] to Clearwater…breezy, humid conditions.  82° forecasted for tomorrow's 26.2.  Early to bed, early to rise – except for, a powerful midnight firework display celebrating the start of 2017.
Hour-15 north from Clearwater – not a soul on the road at 6am…most folks snoozing late this Sunday holiday.  Same day bib pick-up at Anderson Snow Park, a local ball field.  Small group of local runners gathered – 10K, half marathon, 26.2 mile options.  No more than 50 registered for the Full.
Comfortable temps gave way once the morning sun broke.  Today's course – the Suncoast trail – an out-n-back bike path built parallel to a northbound toll road.  Flat paved path, not super scenic, no trees.
Ran strong for 12, walked/ran at 15, called my Sis at 21, death-marched or slogged the final 5.  No good excuse, complete mental fade – let the day's heavy humidity exaggerate today's marathon collapse.  I've run in hotter…most affected by the January temp swing, been snowscape training in Colorado.
Not the way I envisioned my 2017 start – 5 hour finish, not a great run…but I finished.  Marathon #79, first of the new year, 9th consecutive run day.  No chemo, weaning myself off meds & running EVERY SINGLE day.
High hopes for 2017 – New Year, New You.  Gonna live HUGE.
Spring Hill Marathon Mania – Jan 1, 2017
Haga, K R   LOUISVILLE CO  1664   5:14:14
Post marathon plans?  beach, Frida Kahlo, dinner at Guppy's.  Lovin' me some fresh seafood.  Watch out New England – Gulf Coast oysters, they've got game.  YUM!