Stumbled across this Sunday's run on the Maniacs calendar.  Local charity run in Washington state.  Limited to 50 participants, no set entry fee.  Suggested $25 donation, pay as much as you please – all funds raised, 100% to the cause.
Hooked after reading the site's About page.  That's how I chose the big C Marathon.
story behind the big C marathon

I wasn't going to make this personal but I decided to be honest – it is personal.  On July 25, 2016 I was diagnosed with breast cancer.  My immediate thought was that I didn't want to "do" this.  I felt like I had been signed up for a race that I didn't want to run.  Not only that, it was a race with no set distance (was it a 5k or a 100-miler), I didn't know how hilly it was, what the elevation was, nor what the weather might be.  The thing about a cancer diagnosis is you don't know what you're up against until piece by piece the specifics of your disease are revealed to you.  I soon found myself relying on my marathon experiences to deal with my new situation.  I decided that whatever my path would be, I would have to pace myself and run aid station to aid station.  I had done this many times in the past to break down what seemed like an unusually long, tough race into small, manageable pieces.  Since my diagnosis, I have of course met many other people who have experienced, are experiencing, or love someone who has or is experiencing the big C, and I have found that it unifies people – just like running does.  I have also spent many middle-of-the-night hours searching websites for answers of how to deal with having, and recovering from this.  I kept finding the same thing – exercise helps.  It helps in dealing with the side effects of treatment.  It helps to smooth out the emotional affects of the disease.  And it helps in feeling strong and more in control.

So, this marathon is to remind all of us to set goals, to break scary things down into smaller, more easily-digestible pieces, to keep moving forward, to hold our loved ones in our hearts, and to do something that might be terrifying with dignity – and maybe even a smile.

We welcome ALL paces and would be thrilled if you decided to do this as a tribute to a loved one – knowing that we have your back, and will encourage, cheer, and not leave until you have crossed that finish line…
WOW, right?
Kicked up my daily mileage 2nd half of November.  How fitting would it be to finish this year's 2,017 miles at an event giving back to cancer?  Ya'll know I'm goal-determined, hell or high water I'd finish my GOAL miles December 3rd in Puyallup, Washington.
Southwest flight to Sea-Tac Saturday afternoon.  Early dinner, early sleeps in Sumner.
Fun story.  Short of time, been scheduling haircuts in marathon locations.  Fort Worth TX, Mankato MN, Dublin Ireland – I'm a guy, it's just hair.  Googled Sport Clips.  2 in Puyallup, what are the chances?  Arrived at "Sports Cut".  Shady part of town.  One chair barbershop, older Asian lady with buzz clippers.  Only hair, right? (& only $10)  LOL>
Early Sunday a.m. alarm.  Rain all day yesterday, cool & overcast today.  Morning drive: Cockrell Cider Farms, day's marathon Start & Finish.  Many thanks for their generosity.  They took NO cash, charged our event nada – 100% charity.
Bib pick-up, $100 donation.  Hope others matched my gift ❤
8am Start.  RD Cat Schwartz read a note from one of last year's participants.  Sadly he passed away Saturday morning (literally yesterday).  Remember why we're doing this & remember to smile (her words of encouragement).
Sported a hydration vest today – no cup event 🙂  Less than 4 miles of town/suburbia roads.  Picked up Foothills Trail, a scenic bike path parallel Hwy 162.  Unlike Colorado bike paths, this trail was well-treed (lotta overhanging greenery).  Zagged thru tree nurseries & berry farms, trekked alongside the Puyallup (& later Carbon) River.  Urban-ran 'cross [the town of] Orting, before rejoining Foothills Trail mile-half from the turnaround.
Mentally significant/symbolic turning the Half.  Chalked on pavement: 'big C' & an arrow.  Simple marker but something much bigger rattling in MY head.  Less than a year ago I was undergoing chemo.  Today, once around 'the big C' (circled the pavement) & kept running – I moved on, as I now have with life.  HUGE scary part of my past [cancer] but time to let go & move on.  Done.
Slowed significantly 2nd Half.  Skies drizzled, air felt heavy.  No gas in the tank – common complaint all Fall.  Counted only 3 ahead of me first Half.  At least twice that number passed on the 13-mile return.  Ho, hum.  But not really 'bout the run today, huh?
Finished 4:45, 4:46-ish I think.  Marathon #104, 2nd in Washington.  (No official results yet, will post later).
After party?  Warmed inside 'the Roost', Cockrell Farms' Tasting Room.  FIRST RATE cider, AWESOME post-race chili.
Next weekend, the Buckeye Marathon (AZ) – scored a cheap (sub $100) flight to Phoenix.  Happy day.
Several of you have asked that we create a Paypal account so you and/or your friends and relatives can donate. Well, it is done – the account is: thebigcmarathon@gmail.com  And as always, 100% of profits goes to Fred Hutch Cancer Research.  Thanks!  Cat.
food, FAMILY & fun – but first…another marathon 🙂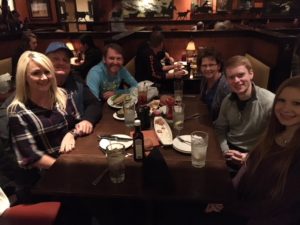 Early 5am flight to Dallas, morning arrival in Arkansas.  First stop: Family.  Kid brother owns a trucking company AND just opened a gym.  We all work somewhere – but the gym…that was mighty impressive.  Pre-kid days, Bro was a power lifter (obviously not my twin).  Daughter now off to college, LOVE LOVE he's following his passion.
Next up: lunch at Williamsburg Kitchen.  That's where one finds Mom weekdays (owner/creator/innovator of this lunch-only spot 30 years+).  LOVE this place, LOVE her Reuben, LOVE the family 'eats for FREE' discount.  FAAAANNNNTASTIC!
3 ½ hour drive on rural Arkansas roads, day's destination: Cotter AR.
Population: 948.  Five miles past Flippin, 20.2 miles from the Missouri border.  Middle of nowhere.  People in Arkansas haven't heard of this town.
Fun story.  Sun goes down maybe 10 miles from Cotter.  I'm not a great driver – even worse when it's dark.  900ft from Cotter High School (bib pick-up), Google Maps says to turn left.  Dirt road…no judgments, we have those in Colorado.  Rental car lists dramatically to the left, something is wrong – I now see the sign: Railroad Crossing.  Yep, been driving on the tracks themselves.  Pitch black, no stars here.  Yikes!  Good laugh AFTER I eased off the tracks & wasn't killed.  LOL>
Pasta charity dinner.  Sleeps 10 miles away in Mountain Home.  Daybreak marathon start.
AWESOME turn-out.  Field was limited to 750 participants AND it sold out, 4th year in a row.  Today's experience would be all about weather.  Warm start.  Never peeled my first layer so humidity-dripped in Razorback winter.  Sweated it out with a trio of runners kicking the Half.  Chatty upbeat folks.  Group slowed at mile 12.  Goodbyes, maintained pace, exited to the left – second lap.
Cloud-cover cooled conditions.  Wind gusted, no bugs 2nd Half.  No elevation gain either – 'bout as flat a course you'll find.  Hit the wall early, more mental than anything.  Notta lotta runners & I had no tunes.  [note: iPods don't last forever.]  Light rain, extra out-n-back at mile 18-ish (special from the first lap).  30mph headwind at the turn, 7 miles to go.  Walked much of mile 20.
Run-Walk-Ran last 5 miles with Sarasota runner, Buzz Scott.  Half-mile to Finish, pep talk from Buzz.  Marathon finish #103.
Heat/humidity, gusty wind, light rain & some folks say sleet.  Another sub-par effort.  17 pounds UP since June's REVEL run – lotta gain for a guy my size.  Not a dieter.  Who gains weight over the summer?!  …but first (28 miles away), 2 slices of the best gas-station pizza ever. Four other runners also crowded in – no mistaking us: race shirt & shoes, we all look alike.  HA!
Family nite in Fort Smith.  Dinner out, cards at Mom's, Sunday morning church.  Good to be HOME ❤
Agee Race Timing, LLC

K R HAGA
2017 White River Marathon

Overall: 102 out of 188
Time: 05:13:55.56
The first-ever Nebraska Marathon was held on Sunday, October 18, 2015 where almost 900 runners took their mark at Turner Park at Midtown Crossing and crossed the finish line at the Lewis and Clark Landing.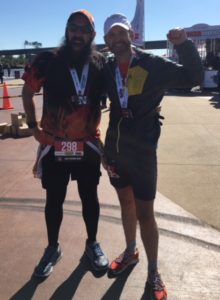 That first year offered a Half, last year the event's first FULL – this year a mix of running distances.  Omaha, new to marathoning?  Heck no, this town supports THREE separate marathons.
Ironically, today's 'Nebraska' Marathon comprised more Iowa asphalt than Nebraskan.  Crossed the Missouri River before the Half, would cross back into Nebraska post-mile 25.
Chilly morning start – my first of the Fall season.  October can be a mixed bag for weather.  Thankful for cooler temps.  Not a lotta tree cover on America's Great Plains – Nebraska or Iowa.
Late start with a BIG BANG – it's the Midwest, no shortage of guns. LOL>  Combined Full/Half Start across from the host hotel.  GREAT location, GREAT digs – super hospitable!  Kudos Team Nebraska 🙂
First Half, scenic Half.  Marathon'd 7 days ago, no time goal today.  Ran with a Halfer from Columbus.  Good conversation, good pace.  Said our goodbyes at mile 12, finished my Half right at 2 hours.
Not a lotta natural trees in neighboring Council Bluffs, but miles & miles of maintained bike path.  Nice clean community.  Tidy parks, manicured ball fields.  Norman Rockwell America.
I've run all 50 States – 20 of them twice – would definitively say: Middle America, folks living on our Great Plains/America's Heartland are the kindest/most visitor-friendly states.
Steady headwind 2nd Half however didn't lose our sun.  Small marathon field sparsely spaced along the course.  Miles 15 & the turnaround return to 22 were some of the loneliest.  Caught a lot of crosswind.
Sub-10 minute miles thru mile 19.  30K in 3 hours.  Dropped off soon after.  Strava stats recorded 12 & 13-minute pace, miles 22 to 25.  Crossed Bob Kerrey Bridge over the Missouri & back into Nebraska, finished a half-mile later at Lewis and Clark Landing.
Another medal, another marathon experience.  FAAANNNNTASTIC!
Last chemo- December 22nd.  10 months & 22 marathons later, celebrating Historic #100 in Dublin IRELAND.  One month shy of 4 years, soooo many race memories.  Thankful for my family, great friends & our SUPPORTIVE INSPIRING run community.
My life 2nd Half, absolutely no regrets.  Nothing left undone.
NEBRASKA MARATHON
224      K R Haga        4:43:14.12