Lotta talk this summer 'bout last minute registrations.  Not so this weekend.  Added the Portland Marathon last Thanksgiving, bought airfare over Christmas break.  Almost a year ago, seriously – that's a lotta love for the Pacific Northwest.
2 hour direct flight, arrived just after midnight.  Hotel'ed nearby, picked up my rental following morning.  Why pay for a car overnight to sit in the hotel parking lot?  Free airport shuttle, up by 7am.  Big plans, outdoor Oregon plans.
When I ranked my 50 State marathons ('cause people asked), Oregon came out on top.  Crater Lake Nat'l Park.  Whatta memory, whatta beautiful place.  However, never got the chance to see Portland during my first 50 State tour.
Friday HIKE day.  Saturday CITY day.  Sunday RUN day.
HIKE day: Columbia River Gorge, 72 waterfalls.  Most of the day's preplanning went into which waterfalls I'd have to skip.  Dropped off I-84 early, driving the Historic Columbia River Highway.  First stop: Vista House.  However, pasted across Exit 23: CLOSED.  That's disappointing, website still posting active hours.  Next stop: Exit 25, Latourell Falls Trailhead.  Again, CLOSED.  What the heck?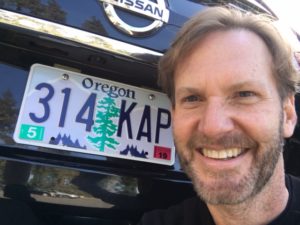 Drove up Corbett Hill, stopped by the country store.  Wildfire.  HUGE wildfire.  All of Oregon's Columbia Gorge gone.  Eagle Hill Trailhead – today's 'Wild' hike to Bridge of the Gods – gone.  Multnomah Falls: trees charred, ground still smoldering, no access.  Entire Gorge likely will remain closed to the public thru 2018 year-end – with an active State Police writing citations.  150 given to PCT hikers & tourists last weekend alone.  Ugh.
Plan B?  Hiking the other of the River – Washington State.
Brief stop at Bonneville Dam.  Toured the hatchery.  Most fish released early (water temps spiked during the wildfire).  Few old sturgeon remained.  Talked with Rangers re: potential hikes.  Cross the Columbia at Bridge of the Gods, 15-minute drive to Dog Mountain Trailhead.  Sage advice: Don't forget to buy a park pass in Cascade Locks or State Police will ticket your car at the Trailhead.  Who knew?  Thanks Ranger 🙂
In the movie 'Wild' (& also in my hike book), folks cross Bridge of the Gods – Oregon to Washington – on foot.  Argued a few minutes with the toll booth lady, who said it wasn't illegal but she wasn't letting folks walk.  Too much traffic today.  Double ugh.
Columbia Market, purchased my Northwest Forest Pass.  DROVE over the Bridge ($2 toll).  Hung a right, one small town, easily located the trailhead.  Backpack.  Started UP.  Tired of human chatter/enough talk 'bout what I CAN'T do.  STEEP UP first seven-tenths mile.  Quick sweat, shed a layer.  Another half-mile, settled into the hike.  Mood improved, body dwarfed by Cascade pine.
Evergreen blanketed in hair-like moss.  Marveled first time I witnessed in the Sierra Nevadas.  2 months later, just as stunning ❤
2,000ft UP.  Forest opened, huge expansive vista.  Columbia River Gorge down below.  Across the Gorge, hours away by car – Oregon's Mount Hood, snowcapped/towering high above treeline.  WOW!
7 mile hike, never topped 3,000ft.  No waterfalls BUT good to be outside.  For that I'm thankful, always grateful.
Car return, fancy downtown digs – the Hilton – CITY day tomorrow.
Columbia River Gorge
Clarence Harrison DeMar (June 7, 1888 – June 11, 1958) was a U.S. marathoner, winner of seven Boston Marathons, and Bronze medalist at the 1924 Paris Olympics. He was known by the nickname "Mr. DeMarathon."

DeMar won his last Boston in 1930 at the age of 41. His record of seven wins has never been broken, and he remains the oldest winner of the event ever.
In my quest for 100 marathons, have double/tripled & even 12x run my home state & neighboring others.  Costs, time off from work – additionally not as tough to bounce back physically when travel is minimized.
This weekend my third marathon in New Hampshire – different story.
Hadn't been to a 50 State Marathon Club reunion since receiving my award last August in Santa Rosa.  Reunions rotate among the 50 States – hence, this weekend's race in Keene, now my third 26.2 in NH.  Enjoy the camaraderie, LOVE LOVE our tight-knit community.
Reunion attendance Con?  Most active runner in your hometown (BIG FISH) sitting in a room with folks who have finished 200 & even 300+ marathons in their lifetime (now a LITTLE FISH).  300+ marathons, insane?  Nope, addictive.
Left Saturday's reunion MOTIVATED to complete a 2nd rotation of the US by 2019 year-end.  Heaven help me – LOL>  That said, SUPER THANKFUL to be cancer-free.  Can't wait to see where/what towns my 50 State Déjà Vu tour will take me 🙂
Bib pickup, tried the Captain Crunch dog (skip it).  Leaf peeping (2 weeks too early), early to bed.
You are all aware of the forecast for tomorrow and the impact on your run. Tomorrow is not your PR day or your BQ day. Those plans evaporated with the high temperatures you'll run in tomorrow. We are taking all reasonable precautions to create the safest event we can for you, but it is now all up to you. Any decision to black flag the race before everyone finishes will be less about the temperatures or our wet bulb reading than it will be on how our runners react to those conditions. If too many of you require emergency medical attention, our medical resources will be at risk of being overwhelmed and will force us to make that decision. If that happens, we urge everyone left on the course to respect that decision, and cooperate with our protocols to bring you safely to the finish line.
Marathon morning.  Received another email warning 'bout the unseasonable heat.  Low 90's, late September.  Ugh.
90+ marathons completed, first time I forgot my race Bib.  Noticed it missing 10 minutes before the Start.  Remember looking inside my swag bag (nite before), saw the long-sleeve race shirt (too hot to wear long sleeves) – totally forgot about the Bib.  Double ugh.
Small town race, Race Director +++  Wrote down my name, provided a spare Bib, later (while I was actually running) fixed/updated my registration online to reflect the new Bib #.  Very very much appreciated.
Started far from the back, jogged/chatted first 7 miles with my Maniac buddy Stacey.  Comfortable early temps, leafy-canopied course.  It'd get super warm on the back-half…but no regrets.  Not a PR day.  Goal was to enjoy the run – and FINISH.
First 15-16 miles, picturesque New England.  Gilsum to Surrey Dam to Greenlawn Cemetery.  Heat (& East Coast humidity) dialed waaaay up before the first Half.  Salty & light-headed, puked throughout the Cemetery (mile 22).  Hate heat.  Residents water-sprayed runners & provided ice – most EVERY street 'til the Finish.  AWESOME acts of kindness.  New Englanders, the BEST!
Ugly finish, just under 6 hours.  3 of my 50 State friends – Dan, Seth & Cade – greeted me at the Finish (& asked what happened).  Some days you're the windshield, some days you're the bug.  Can't change the weather, all part of the journey.
Drama on every United flight home – been added to my (3rd strike) Frontier/Spirit DO NOT FLY list.  Kept a smile on my face, thankful not to walk in their shoes.  Must be a crummy job to maintain that level of unhappiness on a daily basis.
Home sweet Colorado Home.  40-degree temperature drop, snow in the mountains ❤
iResultsLIVE! Alert!
Event: Clarence DeMar Marathon
Name: K R Haga
Bib #: 430
Time: 5:55:39 (Net Time)
3 weekends of high mountain hikes, tough to get the marathon juices flowing again.
Saturday's trail run one of 3 last-minute selections needed to reach magic #100 in Dublin.  My third consecutive trail race – Tahoe, Steamboat & the Hawk.  Better known for its grueling 100-mile race, 26.2 miles the shortest distance one can enter.  100 miles, 50 miles or Marathon.  Seriously, that's it.  First time, I'VE been the late start at an event.
Organized by an upbeat group of local trail runners, the Lawrence Trail Hawks.  What's not to love?  Direct flight (Denver to KC), cheap airfare, entire trip/in-n-out < 30 hours.  'though Kansas in September, probably gonna be warm, really warm.
Hotel check-in, bib pick-up, dinner.  Early to bed, early to rise.
Race Morning.  Packed up the rental – not expecting to squeeze in a hotel 'finish' shower.  No worries this day, scoped out a $5 shower at Clinton State Park (campground showers), 10-minute drive from today's race Start.  Like a Boy Scout, always prepared 🙂
Last minute race announcements, BAM – started on time.  Similar to Steamboat last month, well organized event.
Whole lotta up & down.  Root & rock trail, large leafy trees provided much appreciated shade.  Special for Marathoners: an extra 1.2 mile loop thru fresh-cut grass, then UP Sanders Mound.  Roughly 25 miles 'round Clinton Lake.
Middle/back of the pack first 3 miles.  Settled into pace by the first Aid Station.  Sooooo much FOOD – FAVE difference vs road marathoning.  Sweet, salty, crunchy, energy gels, granola bars – and PICKLES.  Love me some pickles.  Good on the stomach.
Single file track.  Ran with an older guy first 12 miles.  Military, his first marathon.  Quick steady pace.  Daughter was running 2nd female, inspired Dad/Chuck to hit the trails.  Conversation passed the time (no headphones this race).  Second pass by West Park Road Aid Station & we said our goodbyes.  Think he went out a bit too fast (first marathon).
Tough race – maybe all trail runs are?  More mental for sure.  Zone out & risk going down hard (aka 2nd leg Steamboat).
Last Aid Station stop, 7 miles to go.  First humans I'd seen in quite a while.  One deer, one snake – but no peeps.  Wouldn't see another runner 'til the Finish.  Pushed hard last mile, just missed 6 hours.  Should have gutted a little sooner.  Ho hum.  Wasn't 'til Monday morning (checking results online) did I find I finished 11th overall.  WOW, I'll take it.  Eases the sting of missing 6 hours, right?
2pm Finish, came in hot.  Laid long on the grass, folks brought over ice.  3rd finish in Kansas, ironically 2 on trail.
Campground shower, early evening flight home, church in the morning.
Marathon next (short 2 weeks away): Clarence DeMar in Keene NH.  LOVE LOVE Autumn in New England 🍁
The Hawk Hundred

September 09, 2017

Lawrence, US

Race Summary

START TIME  8:00:17 AM

DISTANCE  26.2 Miles

OVERALL

Timothy Hazlett  M Bib 1025 Lees Summit, MO 4:40:11

Carsten Giessmann M Bib 1021 Irvine, CA 4:49:33

Suresh Nagarajan M Bib 1048 Grover, MO 4:52:50

Nathan Goertzen M Bib 1079 Hampton, NE 4:54:03

Justin Douglas M Bib 1014 Lawrence, KS 5:01:28

Katherine Martyn F Bib 1040 Lawrence, KS 5:02:10

Jim Cozzi M Bib 1012 Geneva, IL 5:38:17

Randy R M Bib 1022 McMinnville, OR 5:46:52

Daniel Auten M Bib 1001 Colorado Springs, CO 5:48:50

Brian Forbes M Bib 1017 Spring Hill, KS 5:57:50

Keenan Haga M Bib 1023 Louisville, CO 6:00:46