Late night Friday – head didn't hit the pillow 'til 12:30am, Atlantic time.  Sunday marathon, Saturday rest day?  Heck no – touring Annapolis Valley, then driving 3 hours to Nova Scotia's southernmost point (pre-race bib pick-up in Barrington Passage).
Surrounded this trip by teachers – so felt well educated before this morning's stop at Grand-Pré  [National Historic Site].  On Saturday morning's run, Kyla talked 'bout the French Acadians' intricate levee/tide gate system, creating farmland from Minas Bay & the Bay of Fundy.  Same day hiking to Cape Split, Jade spoke of the Expulsion – more than 10,000 Acadians were removed from their houses by the British, many resettling in the States (Boston, NY, Philadelphia…and 'Cajun' Louisiana).  Sad tale – interesting history.
The Acadians were the first European settlers in Nova Scotia, brought over from France in the years after 1632 to colonize what was then the French territory of Acadie, land which included modern-day peninsular Nova Scotia, New Brunswick and Prince Edward Island. By 1713, when Acadie was ceded to the British and became Nova Scotia, the Acadians were long-settled and well-established. Scattered across the peninsula in a chain of loosely-connected agrarian communities, they claimed political neutrality and asked to be left alone on their farmlands, undisturbed.

Over time, their neutrality became increasingly problematic. Known as the 'Neutral French', they were Roman Catholic, occupied valuable and productive farmland, maintained a friendly relationship with the Mi'kmaq, and vastly outnumbered the British — who in turn were predominantly English-speaking Protestants congregated in small, isolated nodes of settlement, where nervous magistrates struggled to govern effectively. All of this at a time when religion, language and relations with the Mi'kmaq were indicators of larger national allegiances — and mattered significantly.

By 1754, Great Britain and France were at war in America and it was no longer deemed safe to have the Neutral French as the majority population in Nova Scotia; their continued presence was perceived as a threat which could not be satisfactorily contained. In June 1755 the British captured Fort Beauséjour, strategically located on the Isthmus of Chignecto at the head of the Bay of Fundy; as the next step in securing the safety of Nova Scotia, the Council at Halifax decided in July 1755 to deport the Neutral French.

Thus began the tragic chain of events which saw the rounding-up of the Acadians, the seizure and destruction of their homes, farms and livestock, their forcible banishment from Nova Scotia.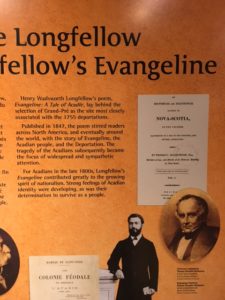 Visiting Grand-Pré cemented my newly gained knowledge.  Adding Longfellow's epic poem Evangeline made that history personal, humanized dates/facts/figures/their struggle.
"…the betrothal of a fictional Acadian girl named Evangeline to her beloved, Gabriel, and their separation as the British deport the Acadians from Acadie in the Great Upheaval. The poem then follows Evangeline across the landscapes of America as she spends years in a search for him, at some times being near to Gabriel without realizing he was near. Finally she settles in Philadelphia and, as an old woman, works as a Sister of Mercy among the poor. While tending the dying during an epidemic she finds Gabriel among the sick, and he sadly dies in her arms."
Still before noon, stopped briefly at Covenanters' Church, the place where Acadians were forced to pledge allegiance to Britain or face deportation.  Whole lotta history, emotionally charged morning.
Less history, more geography.  Next up: Gaspereau Vineyards.  Not a wine drinker (since 2012) but find the scientific process fascinating – the agricultural landscape, the vineyards…stunning.
Few more neighbor visits, lunch, then said our goodbyes.  Half-way point: Mahone Bay.  GREAT stop for a tea & something sweet 🙂  Snapped a pic of 'The Three Churches'.  Another hour-half on the 103 – SUCCESS, [marathon] packet pick-up in Barrington Passage.
Sleeps tonite in Shelburne.  Town's claim to fame?  Founded by British Loyalists, once North America's 4th largest town (bigger than Halifax, larger than Montreal).  More than 10,000 American colonists, still loyal to the Crown, emigrated here (in 1784) just after the end of the Revolution.  Who knew?
Watched an amazing sunset, beautiful pinks over the North Atlantic.  Late 8 a.m. marathon start.  Sticking to road, staying out of the water.  Big seal population.  Our course 'round Cape Sable Island is a Great White breeding ground.  Yikes!
Evangeline A Tale of Acadie (1847)

This is the forest primeval. The murmuring pines and the hemlocks,

Bearded with moss, and in garments green, indistinct in the twilight,

Stand like Druids of eld, with voices sad and prophetic,

Stand like harpers hoar, with beards that rest on their bosoms.

Loud from its rocky caverns, the deep-voiced neighboring ocean

Speaks, and in accents disconsolate answers the wail of the forest.

This is the forest primeval; but where are the hearts that beneath it…
Late arrival in Buffalo, cabin rental 20 minutes west of Dayton.  Buffalo NY, Dayton Ohio?  Heck no.  I'm talking Wyoming.  In town for Saturday's ultra, Bighorn.  One mile shake-out run along State Hwy 14, road trippin' after breakfast.
Montana.  2 hours north on I-90.
Forty Mile Colony.  Lodge Grass.  Crow Agency.  Today's destination: Little Bighorn Battlefield on the Crow Reservation.
The Battle of the Little Bighorn (commonly referred to as Custer's Last Stand) was an armed engagement between combined forces of the Lakota, Northern Cheyenne, and Arapaho tribes and the 7th Cavalry Regiment of the United States Army. The battle, which occurred June 25–26, 1876, along the Little Bighorn River in eastern Montana Territory, was the most significant action of the Great Sioux War of 1876.

The fight was an overwhelming victory for the Lakota, Northern Cheyenne, and Arapaho, who were led by several major war leaders including Crazy Horse and Chief Gall and had been inspired by the visions of Sitting Bull (Tȟatȟáŋka Íyotake). The U.S. 7th Cavalry, including the Custer Battalion, a force of 700 men led by Lieutenant Colonel George Armstrong Custer, suffered a major defeat. Five of the 7th Cavalry's twelve companies were annihilated; Custer was killed, as were two of his brothers, a nephew, and a brother-in-law. The total U.S. casualty count included 268 dead and 55 severely wounded (six died later from their injuries), including four Crow Indian scouts and two Pawnee Indian scouts.
Purchased a guided tour at the Visitors Center, operated by Apsaalooke Tours (affiliated with the Crow Nation Office of Tourism).  Bus tour was led by an enthusiastic Apsaalooke [Crow].  Details of the battle & war strategy were painstakingly reviewed.  Additionally our guide shared his language, teaching [us] multiple native words: hello, goodbye, bird, coyote, mustang, mountain.
While I struggled with his accent & the story, the landscape around me was breathtaking.  LOVED being here.  Life is about seizing opportunity.  I could have laid low the day before Bighorn…but a short 2 hours away, engaged/partook/learned 'bout Custer's Last Stand, a significant piece of U.S. history – a story retold by descendants of the native people who won that battle.
Inspired, I needed to know – so, how did it all end?
After Custer's defeat, Sitting Bull, along with his people, fled north to Canada.  In 1881, he returned to the United States to surrender.  Sitting Bull was killed by Indian police on the Standing Rock Reservation in South Dakota on December 15, 1890.
Sad end to the Lakota spiritual leader – resisted westward expansion, in an effort to preserve the Lakota way of life.
Little Bighorn Battlefield
4 weekends marathoning – this Saturday: kick around, do laundry?  Heck no – road trippin' SD: "Great Places, Great Faces".
Ended Friday work week with my final father-daughter dance lesson.  Too far/too late to reach South Dakota – but how 'bout Lusk? [Wyoming of course 🙂 ]  Small but clean digs, free buffet breakfast.  Short hour-half drive to Custer State Park, car-dodging buffalo by 9am.  FAAANNNTASTIC!  Native to the U.S.A, our American bison – BIG, STRONG, MASSIVE.  Personal fave of the animal kingdom.
20 minutes west thru Custer, 20 minutes north to Crazy Horse Memorial.  Had heard mixed reviews 'bout the Monument.  Lakota Chief Henry Standing Bear commissioned the project in 1939 – Crazy Horse's massive 87ft face wasn't completed 'til 1998.  Current work is focused on Crazy Horse's hand, finger & his horse's mane.  Timeline?  Long after my life span.
Paid an extra $10 to school bus-ride near the base of the Mountain.  Felt a bit nickel-n-dimed but WOW – gotta say, being so close to something so massive, was well worth the $$.  Wrong time to be short-sighted with cash.  Once completed Crazy Horse will rival nearby Mt. Rushmore.  Sculpted to 'honor the culture & heritage of all North American Indians'.   Just WOW.
Didn't leave the Memorial Museum for almost 2 hours.  LOVE LOVE LOVED!  Native American artifacts, photographs, sculptures, paintings.  Completely unexpected.  WELL WORTH GOING!
Wait, wait – the day's not over.  Next up: Mount Rushmore.  Washington, Jefferson, Roosevelt & Lincoln – literally carved IN the Black Hills of South Dakota.  Short-hiked up-n-down the Presidential Walk.  Fave spot?  Rushmore's 'Walk of Flags' entrance.  Every state, every U.S. territory represented.  Left beaming USA pride.  Bought an ice cream recipe'd by Pres. Thomas Jefferson himself ❤
Sleeps in historic Deadwood.  Dinner above the saloon where Wild Bill Hickok was killed, tomorrow visiting his marker.