4 weekends marathoning – this Saturday: kick around, do laundry?  Heck no – road trippin' SD: "Great Places, Great Faces".
Ended Friday work week with my final father-daughter dance lesson.  Too far/too late to reach South Dakota – but how 'bout Lusk? [Wyoming of course 🙂 ]  Small but clean digs, free buffet breakfast.  Short hour-half drive to Custer State Park, car-dodging buffalo by 9am.  FAAANNNTASTIC!  Native to the U.S.A, our American bison – BIG, STRONG, MASSIVE.  Personal fave of the animal kingdom.
20 minutes west thru Custer, 20 minutes north to Crazy Horse Memorial.  Had heard mixed reviews 'bout the Monument.  Lakota Chief Henry Standing Bear commissioned the project in 1939 – Crazy Horse's massive 87ft face wasn't completed 'til 1998.  Current work is focused on Crazy Horse's hand, finger & his horse's mane.  Timeline?  Long after my life span.
Paid an extra $10 to school bus-ride near the base of the Mountain.  Felt a bit nickel-n-dimed but WOW – gotta say, being so close to something so massive, was well worth the $$.  Wrong time to be short-sighted with cash.  Once completed Crazy Horse will rival nearby Mt. Rushmore.  Sculpted to 'honor the culture & heritage of all North American Indians'.   Just WOW.
Didn't leave the Memorial Museum for almost 2 hours.  LOVE LOVE LOVED!  Native American artifacts, photographs, sculptures, paintings.  Completely unexpected.  WELL WORTH GOING!
Wait, wait – the day's not over.  Next up: Mount Rushmore.  Washington, Jefferson, Roosevelt & Lincoln – literally carved IN the Black Hills of South Dakota.  Short-hiked up-n-down the Presidential Walk.  Fave spot?  Rushmore's 'Walk of Flags' entrance.  Every state, every U.S. territory represented.  Left beaming USA pride.  Bought an ice cream recipe'd by Pres. Thomas Jefferson himself ❤
Sleeps in historic Deadwood.  Dinner above the saloon where Wild Bill Hickok was killed, tomorrow visiting his marker.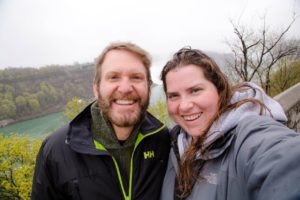 12:30am arrival – even the best of friends say 'take an Uber' after midnight.  My Canadian bestie?  Short cat nap, greeted me just past Customs…then hit the highway.  HUGE surprise.  Middle-of-the-night trek to Niagara Falls.  Hotel slept, woke directly across from North America's greatest free falling water.  Chilly a.m. mist but whatta morning run!
GREAT to wake in Canada!  Purchased 2 tickets on Hornblower Cruises.  Would be seeing the Falls up close & personal.  Donned my plastic 'Hornblower pink' rain jacket & boarded the boat (America's competing 'Maid of the Mist' provide jackets o' blue).
Niagara Falls is actually comprised of three waterfalls: American, Bridal Veil and Horseshoe Falls.  The first 2 lie in the U.S., the latter straddles both U.S. & Canada borders.  Elaborate walkways built on the American side provide 'a' view of the Falls.  Canada however, positioned directly across from the Falls, claims BEST view…by far.
Cruise first passed by American & Bridal Veil.  Lotta opportunity for selfies, water crashing over large boulders below.  Seagulls darted in & out of the Falls, diving into the water below fishing for dinner.  Provided some of the day's favourite shots.
When folks think of 'Niagara' Falls, it's Horseshoe Falls we've seen.  Powerful, thunderous water, tinted green of mineral-eroded limestone.  The force of falling water created a wide spray across the entire boat.  Whatta memory – SUPER FUN (& wet)!  One of the most wondrous, magical, 'take your breath away' places on Earth.  I was here, May 6th 2017.  Could not stop smiling ❤
Boat disembarked.  Slow-walked 2 miles down the boardwalk, past flowering Queen Victoria Park.  Watched fast moving water pour over Horseshoe Falls, self-surrounded by a swath of daffodils.  Hot chocolate at Tim Horton's.  a WOW kind of day!
Rode the QEW (Queen Elizabeth Way), over Burlington Skyway Bridge, then the 407 – to Sarah's flat in Brampton.  Impromptu pull-off to view an old grounded ship on Lake Ontario.  Unplanned excursions, highly recommended.  Many thanks Sarah, much LOVED!
The Grounded Ship was a replica of the Grand Hermie used by Jacques Cartier in 1535-1536 and 1541-1542 to explore Canada. This ship was built in 1967 for Expo 67 [in Montreal] as part of the nautical theme as Expo 67 which was on islands in the St. Lawrence Seaway.  The ship was taken to Quebec City and abandoned in 2001.
Marathon in early a.m. – but not before dining fancy in North America's tallest building, the CN Tower.  No regret, B-I-G life 🙂
Niagara Falls
Sand dunes, salt flats, mountain hike & my 77th marathon finish.  Last desert day…all good things come to an end.  Drove back by way of Dante's View — one last hike in the Park, one last overlook of Death Valley.  WOW, just WOW.
More than an afternoon in Vegas ['til my return flight].  Casino walk, afternoon show?  Naw…been there, done there.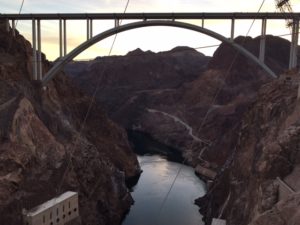 Hoover Dam.
Did a fly-over 2 years ago during my Grand Canyon Heli Tour, but never down, down, down to the Dam's base nor studied its history.
At the time of its creation, Hoover Dam was the largest of its kind.  Harnessing the power & volume of the mighty Colorado River, water is distributed amongst the West thru a system of pipes and irrigation canals.  Hoover Dam's reservoir, Lake Mead, is America's largest man-made reservoir.
Dam construction created thousands of jobs during the country's Great Depression & completed 2 years ahead of time.  The Dam's spillways were last tested in the 1980's; since then water levels have diminished significantly, triggering renegotiation of the Colorado River Compact within the next 2 years.  While Colorado snowpack has provided steady & consistent volume, population explosion in Las Vegas, Los Angeles, San Diego, Phoenix & Tucson have eroded Lake Mead's levels.
Living in Colorado, many of us grow frustrated and anger at California's seemingly wasteful use of water resources: creation of lush manicured lawns & agricultural water waste.  Arid landscaping — popular in Colorado, New Mexico, Nevada & Arizona — has not been widely adopted in America's most populous state.
…but I digress.  Breathe in, count to 10, exhale 🙂
$20 was the ticket price for the tour.  Historical film, followed by a series of elevator rides to the Dam's bypass pipes & massive hydropower generators.  The science as to how this all works — super interesting!
Elevator UP.  Walked the Dam perimeter, snapped sunset shots, self-toured its Monument.  Thank goodness for standby — 'cause this flyer missed his departure home.  Many thanks Southwest Airlines.  Life lesson learned.
Hoover Dam (in 47 seconds)