Ironman Boulder was about the journey – I did not finish, am not an Ironman.
It's tough to set a goal, call it out to the universe & not succeed.
Not completing a goal leaves unfinished business – but the effort was there.
I learned to swim, bike & run.  During the journey, I ran 8 marathons – and committed to running one in each 50 states.  I sacrificed time with friends & family.  I logged in literally thousands of hours at the gym.  I put in the time.
Woke 3:15am on Sunday.  Ash & Tom dropped me at Boulder High to catch the bus to Boulder Reservoir (swim event site).  Wet-suited up after race officials announced Rez temps at 74.5 (below the 76.1 degree wetsuit threshold).
National anthem, 6:20am starting gun for men pro athletes, the ladies staggered 10 minutes back.  After the pro start, athletes lined up based on expected swim time.  My fastest lap swim has been 2hrs 05 min – so I cued way way back.
Gun pop, walk forward; gun pop, walk forward.
Nervous but ready to compete.  My strategy today: swim hard (try not to zigzag), finish under 2:20, then no more swimming – giving it up; jump on the bike, pace myself across 7 aid stations, finish 112 miles, then no more road biking – yep, also giving up biking.  Not super positive I suppose (giving up both disciplines)…but after 10 months of training, I found it motivating.
I've only open-water swam twice.  Steamboat was numbing cold; Boulder Rez bathwater warm (with lotta algae).  Started zigzagging almost immediately.  Picked a flock of women swimmers with bright pink caps & kept them to my left, 10 feet out.
At the one mile mark, folks started slowing but found myself still hitting the water strong.  I'm not a fast swimmer but I swim relaxed & maintain almost clock-like rhythm.  I started passing swimmers, seeing more & more men's green caps on my left.  Key for me – watching for swim caps.  At the first turn transition, kayakers quickly corralled me back on path…same at the second transition turn.  Not sure why I can't swim a straight line in open water (I can swim with my eyes closed for laps in a pool).
Stroke, stroke – pitched up & could hear the race announcer…only a quarter-mile more.  Stumbled out & saw 1:55 on the race timer (1:51 official finish time) – FAAANNNTASTIC!
4 people pulled off my wetsuit (little weird having folks undress you but appreciated), grabbed my bike gear bag, changed in the transition tent, then handed discarded swim gear to yet another group of volunteers.  Well run IM Boulder, well done!
Mounted my bike & rode north to Lyons.  I've ridden this route twice, no surprises.
And then it started….
On your left.  On your left.  Cyclist after cyclist passed by.  Like I wasn't even moving 🙁
Flying down a hill on the St. Vrain approach, experienced my first bike crash.  As I flew over the handle bars, I sensed what was happening & instinctively tucked-n-rolled.  It's asphalt so came up bloodied & bruised – but had always expected the pain to be much worse.  HUGE phobia re: road biking – and in the end, crashing was not so bad.
Front tire rubbed & I lost a valve stem but thankfully no flat.  Picked up, sucked up & continued the ride.  Checked my bike at the first aid station.  Front tire definitely messed up, constant rubbing further slowed my cadence.
Took a bite of a bagel, downed some Gatorade and headed to Longmont.
Just inside Berthoud, 2 guys in a Super Shuttle van followed behind close.  I waved them around.  As they matched my pace, they shouted I would not make the next Aid Station before the time cut-off.  They asked for my timing chip & I jumped aboard.  Disheartening.  I really only missed cut-off by 5 minutes.  That said, my cycle pace was not Ironman standard & undoubtedly would have missed the next time cut-off 60 miles away.  Hot day.  Ho hum.
My Ironman journey ended without a medal but during the process I transformed both body & mind.
(Kinda cool to see my name listed in the official Ironman Participant Guide 🙂 )
Retrieved gear bags later in the day & saw the pro athletes.  Amazing, fit beings.  Truly impressive.
Taking a mental break & hitting the mountains for 6 weeks.  Enjoy the summer!
Boulder resident wins inaugural Ironman Boulder
Thanks for personally reaching out & providing encouragement.
HUGE thanks to Ash & Tom for acting as my race support team all weekend.  Much appreciated!
Dawn  Not an Ironman, but a paragon & a lodestar! XXOO
Kelly  You did awesome! Are you running the Boulder Marathon in October?
Keenan  Maybe next year Kelly. Running in Nebraska the weekend before (and catching the annual Buffalo RoundUp in Custer State Park SD – bucket list item).
Krissy  still so proud of you and the effort and spirit you put into this!
Michael  Valiant valiant effort. You set a goal 99% of us wouldn't even consider. I know you let yourself down and that's a tough nut to swallow. But, so many are proud that you trained and tried. I hope there's a next time.
Rajeev   read your blog – very inspiring….
Robin   Ahh…Keenan, you might not have finished, but you didn't fail. You are a rock star in my humble opinion. Enjoy the mountains
Sharon  Still proud of you
Bill   You rock, Keenan!
Leslie  Life is about the Journey, not the Destination! You Rock!
Karen   I just think it's amazing that you entered the Ironman race to begin with! Congratulations on a job well done and on how far you did make it! That was an accomplishment in and of itself and one most of us will never have bragging rights to in our entire lifetime!
Shane   Medal or not… you're still a beast!
Anish  you rule…!
Beth  You are a winner in my book! Fantastic! I am amazed at all you do all the time!! Great job and great swim time!!! enjoy the mountains and rest a little. You deserve it!!
Sarah  YOU are still an IRONMAN in my books!!! there's always next year!
hope you are resting up and taking care of yourself… as you enjoy the rest of the summer!
Chris   Wonderful perspective and attitude! Congrats. You are an Ironman!
Lori   You ARE an iron man and a wonderful man! I hope you are enjoying all this training that must have been needed.  Next time compete in NYC and swim the Hudson
Laura   Keenan, we are so inspired by your effort, commitment and spirit!
Have been actively training since last October, the big day is almost here & I find myself mentally paralyzed.
Over the past week…
swam 100 laps – no, not open water but I've got the (Ironman) distance.  Still a slow & steady swimmer, finished in 2:05 – only 15 minutes faster than cutoff.  Gonna have to swim straight ahead this go around, no zigzagging the lake like in Steamboat.
biked 60 miles – Boulder to Lyons, Louisville return (after work).  Valmont was closed for night construction, was detoured almost 10 miles out.  Didn't get home 'til 9pm – and it was dark….don't want to do that again.  Still haven't biked any further than 80 miles in my life (failed Santa Fe Century ride).  112 miles will be quite a stretch.  Don't worry about the bike.  I was wiped at 60; I'm worried.
finished my 9th marathon 2 weeks ago & ran 10 miles last night – felt good, no complaints.  Not expecting to start my Ironman Marathon leg 'til 6pm (best case based on swim & bike times).  That gives me 6 hours to complete before I time out.  17 hour maximum, Ironman finishes at midnight (on 13th & Pearl).
What a journey these past 10 months:
SWIM, BIKE, RUN – only 4 days left.
Surrounding myself with positive energy, it's all mental now.
Jennifer   Remember to keep giving yourself positive talks for Sunday's race-like, "I can do this!" Let's go have some fun. Hard to believe that you can count how close for Ironman on one hand- where did the time go?
Lisa   You got this! Don't exercise anymore….you're not going to improve fitness and better to enter well-rested!! Mental prep now….not physical
Laura   4 days!!! You can do it, Keenan! Can't wait to hear all about it.
Denise   You've got this! Positive vibes going your way!!!
Shane   You'll get it man! It's all mental at this point. You are strong all the way around!
Preston   You'll win it!
Mayoura   You CAN do it!
Chuck   We're all rooting for you!!!!  You will do great!!!
Keenan   I know this post seems super self serving. Greatly appreciate everyone's positive vibes. Much appreciate the love! Thanks!
Mike   I think it was Stuart Smalley from SNL that said "I'm good enough, I'm smart enough and doggone it people like me." You can do it. I'm cheering for you here in AZ.
Ellen   You CAN do this! You do everything you set your mind to. Sending you all kinds of prayer and positive energy, my friend. As you can see, you already have quite a group of cheerleaders. You rock, man!
Kelly   Your body can do almost anything, it is your mind you have to convince  Rest up, stretch, HYDRATE AND EAT!!!! Don't think of the distance, just one more step, one more push, just one more. Relentless forward progression. Crush!!!!
Erin   You got this K*!!!!
Regina   You can do this.
Collette   Yes you can!!!! . I know your confidence has been pushed down a little, but you can do anything you put your mind to. Your body is ready and now it's all about mentally being capable! Give it all you've got and believe you can do it. You have accomplished so much already and have inspired others along the way so it's a win win either way!!! I am so proud of you!!!
Krissy   you can do this!
Karen   Exact ditto to what Lisa said! There's power in prayer and I am sending them upward for you. Your determination has never stopped you before–look up, then look forward.
Sharon   You will do great, have faith in yourself and it will go just fine. you can do it.
Stephen  you are a winner, Keenan!!!
Kausalya  Good Luck
Inspiring Ironman Triathlon Finish (short 2 minute video)
This video is a great glimpse into the unique culture of the Ironman triathlon. The time cutoff is 17 hours (midnight). We shot this video at 8 minutes past midnight, of the last finisher crossing the line. Notice the professional male and female winners at the finish, who by tradition stay to welcome the last finisher.
Boulder Daily Camera (local news)
Boulder braces for world's largest Ironman
In less than a month, thousands of athletes will be splashing through Boulder Reservoir, riding on county roads and running along the Boulder Creek Path for the city's inaugural — and the world's largest — Ironman triathlon.
Ironman Boulder: 140.6-mile race draws competitors of all ages, motivations
Some might say it's fitting the biggest race in the history of the Ironman brand would take place in Boulder, which has become a training hotbed over the years for elite athletes from all over the world. It's really no surprise the race sold out here in less than a week more than a year ago. This community seems to be filled with people who love to challenge themselves after all.
And make no mistake, a full Ironman at a mile high altitude in the blazing August sun figures to be the mother of all challenges.  Competitors will attempt to conquer a 2.4-mile swim at Boulder Reservoir, a 112-mile bike ride that will take them near Fort Collins and back and a full marathon course through the streets of Boulder and the countryside of Boulder County. They will have 17 hours to do it.
So who are these people and are they nuts?
Some always have been driven, type-A personalities. Others used to be couch potatoes. They range in age from teenagers to well into retirement and they have different motivations for wanting to push their bodies to their physical limits.
This much is certain. There are moments for every person who undertakes an Ironman in which doubt creeps into their mind and they begin to question themselves. Sometimes they're questioning whether they can get through their next training run. Sometimes they're questioning whether they can reach the next telephone pole a tenth of a mile up the road. Sometimes they are questioning their next step or pedal rotation or swimming stroke.
Ironman Boulder organizers urge patience, alternate routes for Sunday's triathlon
Starting at 10 p.m. Sunday, the race hosts a special finisher party for the final athletes crossing the line before the midnight cut-off.
Many of those final athletes have made finishing an Ironman a bucket-list item and have inspiring stories, race organizers said.
"The finish line is truly special," said race organizer Dave Christen. "The tradition of Ironman is that those who have finished earlier in the day all come back and bring home the last athletes into the finish line. The stories that develop over those last two hours are magical — something that everyone should experience if they can.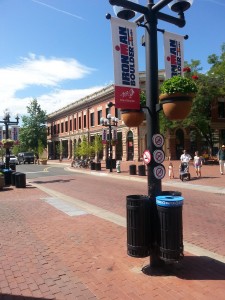 A week ago I ran a marathon in Minnesota.  This weekend my first triathlon, Tri the Boat in Steamboat Springs.
With Ironman only 6 weeks away, using this race to figure out the logistics of competing 3 sports same day.  Felt a bit intimidated at sign-in.  Boulder & Steamboat Springs are both athlete meccas, attractive for altitude training & the arid climate – sunshine, no humidity. I waited behind a trim zero-body-fat group, picked up my race packet & intently listened to instructions – where to park, where to leave my bike, starting time, transition area…becoming a quick study of everything Triathlon.
Sunday morning came early, an hour drive from my hotel in Kremmling.  Parked, carried the bike over my shoulder (like the true triathletes) & headed to transition slot 169 – my home for the day.
Pulled & tugged at my XTERRA wetsuit – crazy tight fit – but eventually managed success, zipped up ready to go.  Lined up on the shore of Stagecoach Reservoir.  Have never done this before – super nervous.
Air horn sounds & in we go.  Sub-60 degree water, C-O-L-D.  Panic, can't breathe.  Up for air every stroke.  And unlike my gym pool, open water is murky – and deep.
Two strokes right, rollover, two strokes left – ok, moving.  Steady swimming, no longer swallowing water.
BUMP – I strike a small boat outside of boundaries.  They point the way – my goggles useless — scratched, dingy for months now. In a pool, no big deal.  In open water, can't see a thing – pulling them on my forehead to catch a glimpse of other swimmers.
BUMP – now it's a kayak on the other side.  Ridiculous.
I continue zigzagging my way across Stagecoach – back n forth, back n forth 'til 2 kayakers guide my return home.  I hear them talking: I think he's disorientated.  I tell them I'm fine – just can't see.  They say I've swam full Ironman distance – yeah, that far off course.  I stumble onto shore and spew breakfast just past waterline.
I look at rows of empty bike racks – only 2 of us left…then the lady behind me quits.  Ugh – dead last 🙁
Sun beating down, I start the 56 mile bike ride – almost 3,000 feet elevation change.
No other human around.  That was the worst of it – the solitude.
Stopped at both bike aid stations but kept at it.  Last 2 stations already closed – but I finished.  I reached transition & slipped on my Hokas.  Asked directions from a volunteer & started the half marathon run.
Was pulled at the first aid station – too far back, time limitation.  Argh; it is what it is.
Hottest day of the year in Steamboat, I finished both the swim & the bike.  Not a complete fail, but gotta figure this out.
Beyond exhausted, I stop an hour later & rent a room.  Sun burnt and sleep deprived, I down a ginger ale, shower & set my alarm for 4 a.m. – back to work tomorrow: Monday, start of the work week.