"Everest is and always will be dangerous.  Tragic as it is when we lose people, it's important that we remember that the very reason we go to the high mountains is to approach that edge.  Doing so amplifies what it means to live."
Kilian Jornet, professional ski mountaineer and mountain runner, via Facebook:

Thank you Ueli for being a mentor in alpinism and a constant source of inspiration. Every climb with you was a learning to keep improving along with a mountain lover. My thoughts are with Ueli's family and friends.
Sadly heard about Ueli Steck's fatal accident in the airport, on my trip home from Oklahoma City.  These guys are tops in their sport, seem immune to death.  We remember a life well lived, a no regret life.
My own personal journey to Everest ended 2 months before my flight itinerary/anticipated departure – cut short by a series of earthquakes, closing the mountain in 2015.  Will I try again?  Not saying no…just saying 'not yet'.
January 2019 goal: Antarctica.  Still a year & a half away, whole lotta living to do – but by calling it out to the universe – right here, right now – makes the goal actionable, no longer just a dream.  Life is meant to be lived.  Thanks Ueli.
Dream; stay inspired.  Absolutely anything is possible!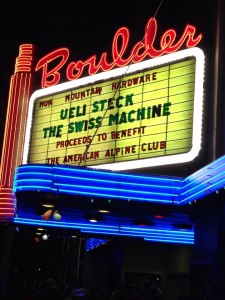 Ueli Steck, the Swiss Machine | Published December 8, 2014 |
Two years in a row, I've seen a NatGeo Adventurer of the Year in person – here in Boulder.
I met last year's winner Kilian Jornet at a book signing, in Colorado competing at the 100K Ultra Race of Champions.  This year [saw] nominee Ueli Steck at historic Boulder Theatre benefiting the American Alpine Club.  Tonite I kicked back, watched [videos] & listened to Ueli talk mountaineering, climbing, endurance & technique.
— 2012:  52 different hikes in 52 weeks
— 2013:  first full marathon in Alaska
— 2014:  Ironman Boulder
— 2015:  TBA
Gonna keep 2015 plans under wraps a few more weeks while I coordinate logistics & details.  Might have thought 26 marathons in a calendar year was the BIG goal next year – nope 🙂   Crazy excited – seriously folks, this is B-I-G!
Adventurer of the Year, Ueli Steck, Killed Climbing Near Mount Everest

The "Swiss Machine" was known for his speed ascents and love of mountains.

By Andrew Bisharat

PUBLISHED APRIL 30, 2017

Ueli Steck, a charismatic Swiss mountaineer famous for speed ascents of some of the tallest and most difficult mountains around the world—feats of mind-blowing endurance that earned him the nickname "Swiss Machine"—was killed on Sunday while acclimatizing in the Everest region of Nepal. He was 40 years old.

A spokesperson for Steck's family confirmed his death on his website:

"Ueli Steck was killed while trying to climb Mount Everest and the Lhotse. His family has learned of his death today. The exact circumstances are currently unknown. The family is infinitely sad and asks the media builders to refrain from speculation about the circumstances of his death due to respect for Ueli."

This season, Steck was preparing to attempt to ascend 8,850-meter Mount Everest and Mount Lhotse next month. On April 24, 2017, Steck shared this Instagram post from Khumbu Icefall as he acclimatized and trained for his upcoming expedition.

Steck's remains were reportedly discovered near the base of West Nuptse, a 7,800-meter peak standing to the west of the Everest massif. Climbing alone, Steck was reportedly acclimatizing on Nuptse when the accident took place. This acclimatization run was in preparation for Steck's ultimate goal: a traverse of both Everest (8,850 meters) and Lhotse (8,516 meters) in a single push, while taking an ambitious route to the summit of Everest—the infamous West Ridge, unrepeated since its first ascent in 1963. He was also planning to climb without using supplemental oxygen.

Steck had been training for the "Everest-Lhotse Project," as he called it, for years. His face lit up with excitement and awesome wonder every time he described it. It was this unbridled enthusiasm for climbing, combined with his inhuman endurance, that so greatly inspired both core climbers and armchair mountaineers around the world. It also earned him recognition as a National Geographic Adventurer of the Year in 2015.

"Ueli transcended simple inspiration," says Cory Richards, a National Geographic photographer who is currently in Tibet, acclimatizing for his own ascent of Everest. "What he gave to our community was matched only by the tracks he left in the mountains. For me, the space he leaves is one that can't be filled. Simply admired and revered."

Steck's death is the first fatality of the 2017 Everest season, a period that lasts from March to May. Upwards of 1,000 Everest-bound climbers are reportedly in the region this year, a record in and of itself. That Steck, who was considered perhaps the best mountaineer in the world at this time, died on a standard acclimatization run speaks to the inherent risks of mountaineering in the Himalaya.

Perhaps Steck's most impressive achievement was his solo 28-hour-roundtrip speed ascent of 8,061-meter Annapurna in 2013, a feat that earned him a Piolet d'Or award, mountaineering's highest honor. Steck tackled the South Face, an intimidating 10,000-foot vertical wall of ice and crumbling rock. In 2007, Steck nearly lost his life attempting the South Face when rockfall knocked him 300 meters down the mountain. Miraculously, he survived with only minor injuries.

Steck was raised in the idyllic town of Langnau, in the Emmental region, and spent his youth playing hockey with his two older brothers. He discovered climbing at age 12 when some friends of his father, a coppersmith, took him to some local crags. He promptly traded the hockey rink for the climbing gym, and was soon competing on the Swiss junior climbing team. Steck was always a gifted rock climber, capable of climbing at a high level. In fact, in 2009, for his honeymoon, he free climbed "Golden Gate," a 3,000-foot 5.13a on El Capitan in Yosemite National Park, California, with his wife. Steck's near "onsight" turned heads earned him respect among the typically unfazed Yosemite denizens.

Everest is and always will be dangerous," says Richards. "Tragic as it is when we lose people, it's important that we remember that the very reason we go to the high mountains is to approach that edge. Doing so amplifies what it means to live.

Steck's real passion, however, was for the mountains—moving light and fast and covering as much terrain in a single push as possible. He trained for his biggest Himalayan ascents by running and soloing in the European Alps. One of his favorite outings was to speed climb the infamous Eiger Nordwand ("North Face"), an historic feature first climbed over four epic days in 1938. Steck first soloed the Nordwand when he was 28 years old, taking just 10 hours. Over the years, he continued to improve his time, ultimately racing, in 2015, to the Eiger summit in just 2 hours 22 minutes and 50 seconds—a standing record.

Steck's career was not without controversy. In 2013, he was acclimatizing on Everest with Simone Moro, a famous high-altitude mountaineer and helicopter pilot from Italy, and Jonathan Griffith, an English climber and photographer. The trio made the decision to climb above a team of rope-fixing Sherpas, an action to which the Sherpas took offense. An altercation ensued at a lower camp in which a large, angry group of working Sherpas confronted the European climbers, and ultimately hurled rocks at their tents.

To many, Steck will always be remembered as the Swiss Machine—a powerful, rare animal stretching its formidable legs and lungs across an impossible mountain sweep. But to those who knew him, he was much more. As British journalist Ed Douglas, who has covered Steck's career over the years, wrote on Twitter:

"One thing Ueli Steck wasn't and that's a machine. Warm and at times surprisingly fragile. But not a machine."
2 ½ months 'til my 2017 challenge – BIGHORN.
100+ consecutive run days, 100 miles+ ahead for the year.  Kicked it up another notch – just added swimming.  Not a fan of early morning water, but pulling out all stops this year…no excuses, nothing undone.
10K morning – 6 mile run, quarter-mile swim.  Increasing lung capacity, lengthening my stride, strengthening mind & body.  Marathoning 5 of the next 6 weekends (Colorado, Oklahoma, Canada & New Hampshire).
June 17th: BIGHORN TRAIL RUN.  52 miles of trail – at altitude, north on the Wyoming/Montana border.  Won't be physically strong enough by mid-June, counting on mental strength to gut thru the day.
Nutrition.  Have yet to solve the riddle, [expecting a] 15 hour run day.  Must learn to eat while running – or I'm doomed.
Bighorn Trail Run 52m

Course Elevation at the Start: 8800 feet

The 52 mile course begins at Jaws Trailhead and proceeds easterly on trail approximately 1.5 miles where it crosses Forest Service Road #14 (Devils Canyon Road).  At this point, the trail joins trail #50 (Little Horn Trail) and starts to descend into the Little Horn drainage. Here is where you start your adventure on the original Little Horn Trail #50. The trail crosses several small creeks as you drop into Willow Creek then Duncum Creek drainage. Panoramic views and splendid seas of wildflowers greet you as the trail descends into the Wagon Box drainage.

After dropping about 1000 feet in 8 miles SPRING MARSH Aid Station #1 awaits your arrival. The supplies are limited there as it is accessible only by foot, so all supplies have been packed in. As the trail descends the Little Bighorn Canyon to Leaky Mountain Creek you might notice a sign about 150 yards after crossing Leaky Creek. At this sign turn and look to your left and you'll see why it was appropriately named Leaky Mountain. As you descend deeper into the canyon excellent views are afforded of the lower parts of the Little Bighorn Canyon and the confluence of the Dry Fork Canyon coming in from the south. Another limited aid station called THE NARROWS Aid Station #2 at 5500 feet and 15 miles into the course is awaiting your arrival.

Continuing down to the FOOT BRIDGE Aid Station #3 at 18 miles and 4200 feet you'll find your drop bag at the fully equipped aid station. It is advisable to have dry socks and shoes in your drop bag here. After crossing the Foot Bridge, you begin a major climb up the Dry Fork reaching BEAR HUNTING CAMP Aid Station #4, a limited aid station at mile 21 1/2 and approximately 6300 feet. The course then levels off slightly to the KERNS COW CAMP Aid Station #5 at 28 miles and approx. 6800 feet. This is the course junction where you join the 50 Km course. You'll continue on together climbing up to the HEAD OF THE DRY FORK Aid Station #6 at mile 34 and approx. 7650 feet. This is your second and final drop bag cache.

After leaving the aid station the course proceeds up the Freeze Out road, following trails and a gravel road cresting on Camp Creek Ridge at 8,100 feet. It then descends down Sheep Creek drainage to 7,300 feet on a four-wheel drive road. After running about 5.5 miles from the Dry Fork station you will reach the fully supplied UPPER SHEEP CREEK aid station (39 Mile Checkpoint). Next is the summit of Horse Creek Ridge at 8,000 feet, following trails and primitive four-wheel drive roads, which will then drop you into Tongue River Canyon. Take a moment to view the canyon and the distant plains before you descend the trail through seas of wildflowers.

LOWER SHEEP CREEK aid station at mile 44 1/2 and 5025 feet, is a good place to fill your bottles before entering the sometimes hot canyon below. Continuing on to the TONGUE RIVER aid station at mile 46 1/2 and approximately 4225 feet you will leave the trail and run on a relatively flat gravel road for the remainder of the distance. At about mile 49 is the final aid station, HOMESTRETCH aid station. Continue on and just as you are entering Dayton you will cross the Tongue River on a rustic footbridge. Runners then cross Highway 14 and proceed into town making a left onto 3rd street. Go one block and make a left onto Broadway and into Scott Park where the FINISH and picnic gala await you.
Brian Morrison, Western States 100 – 'bucket list' endurance race
Good morning son.  The new year will soon be here and I am so thankful I have been able to have had a visit with all my children to end this old year.  I have been so blessed this whole year way beyond my expectations!  Last night we went to Lulu's Bistro and all enjoyed a very high class dining experience.  Came home and played Mexican Train Dominos with Collette, Maddie, Tori and Tammy while Paul, Jack and James watched a fight they rented on pay per view. Praying you will have a blessed day today and are feeling good.  Love you Mom ❤️

Sent from my iPhone
New Year's Eve – great time to reflect.  Easy to get caught up with an 'out with the old, in with the new' attitude.  Easy to provide excuses:   I would have, had xxx not happened.  No judgment zone here – I reflect because I want to remember.  We all have a limited time span, a   life journey, a finite # of days.  How did I spend MY days?  Did I dream?  Did I live with regret?  Did I inspire?
Family
Ash & Tom · road travelled to Yellowstone & Grand Teton Nat'l Park(s).  geyser toured, Old Faithful watched, horseback   trod.  Colorado ⇨Wyoming ⇨Idaho ⇨Montana   HUGE memories.  Thanks Ash, thanks Tom.
Michaela & David · shared space in the one place on Earth they love most – DisneyWorld.  Many thanks Jill.
St Louis Reunion · ping pong, fireworks, Grant's Farm, Fitz', Purina.  siblings, spouses, [grown] children & Mom – EVERYONE travelled to St Louis.  Sharing laughs & creating new memories with Family, nothing better.  Thanks Sis.
Stephen · whale watched, kayaked, beached oceanside, caught 4 shows (including Tony Award-winner Audra McDonald), feasted on tea-smoked duck birthday nite…Cape Cod on my 50th.  Biggest thanks Stephen.
Travel
Hawaii · Snorkeled Molokini Crater, drove the road to Hāna & experienced the waves of Pāʻia, attended a traditional Polynesian luau & hiked Haleakalā Nat'l Park.
Canada · Marathon'd 42.2K twice (2 different provinces: Alberta & New Brunswick), then brought Canada home to Colorado. After tea-house hiking in Banff Nat'l Park with my friend Sarah (bucket list destination), ballooned high over 'our' Rockies 3 months later with the same great gal.
Russia · Single biggest life-altering change in my adult life – living in Moscow, May '96/Sept '99.  Never really said 'goodbye' when I completed my expat assignment.  Red Square, the Kremlin, St Basil's Cathedral, Gum Department Store, multiple Orthodox cathedrals, the Metro 'Circle Line' – AND reconnected with former workmate Dima (& wife Natasha).  Fast forward 17 years: literally ran down the streets of Moscow, completing a 'dream come true' marathon adventure.
Death Valley Nat'l Park · Trekked the salt flats of Badwater Basin (another bucket list destination), watched a sand dune sunset, hiked Dante's View, then missed my flight home touring Hoover Dam.
Marathoning
Completed my 50 State journey on May 1st in Fort Collins, Colorado – finished a full marathon in all 50 States plus DC.  Four months later, was recognized by my 50 State running peers in Santa Rosa CA.  BUT my 2016 tally didn't end there.  Completed 29 marathons this year (including 3 ultras) – upping my FULL stats from 49 to 78 finishes.  Haven't missed a month marathoning since December 2013.  37 consecutive months marathoning, 1900 miles+ logged in 2016.  Thanks Sis for the initial inspiration.  Thanks Carolyn (my Indiana-based running pal) for your daily texts & holding me accountable all year.  I owe you.
After travelling (& marathoning) all 50 States…my proud take-away?  We're all the same.  Alaska to Maine, Texas to California, Alabama to New York City.  Divisive election, yes.  But when it matters, when it really matters – when our country is attacked (9/11), in time of natural disaster (Hurricane Sandy) – we Americans come together like no nation on Earth.  Super proud to be an American.
Other
Oh…and I got cancer.  While a significant life event, I was not defined by illness.  I continued to work.  I continued to run full marathons.  I got up every day & continued to LIVE.
"Life is either a daring adventure or nothing at all." – Helen Keller
So while I'm super eager, anticipating what lies ahead in 2017 – I am grateful for a life well lived.
I am grateful for the past 366 days.  I left nothing undone 🙂