I get by with a little help from my friends" — the Beatles
2 weeks ago my first ultra, last Saturday marathon #53 – this weekend, BOTH.  Before Moab, had never run trail nor finished an ultra distance (even in training).  Big disconnect [in my head] between trying one & signing up for 5 this year, huh?
Maniac running buddy, Stacy hooked us up with a few of her running friends, Andrew & Elizabeth…and BAM, new friends for life.  Easy hour-half flight to Tulsa, 6 hours of zzz's, morning alarm confirmed wake-time for Saturday's 50K.
Double-shirted early, cool start – however expecting day temps to top out near 80; gonna be a warm one.  Tulsa-native Andrew forewarned today's 4-loop course would be a tough one…finish estimate, 8 hours.
Day Highlights: 'the Hill from Hell' and Holmes Peak – climbing these two giants not once but FOUR times.  Yikes!
Elected to take the early start – award ineligible, but outta day temps an hour early.  No regrets, good decision.  Started quick, held that pace for 14 miles.  Well marked course, green-ribbons every 20-30 feet.  Expended lotta energy; lapped by elites beginning of lap 3.  Dropped to a single shirt & flushed fluids.  Paced slower, started walking hills.
FAVE Aid Station – Oklahoma Oktoberfest (costumes, music, upbeat volunteers) – both sweet & salty snack-equipped.  Sounds disgusting but…pickle juice, day's best mate.
Haven't ever been a marathon eater, so struggling running even longer distances with little/no fuel.  Generally bonk after 5-5 ½ hours.  Colder temps help extend the window — but 6 hours in, mental succumbs to physical & all falls apart.  Pace, breathing, posture fail.  Yeah, I become a hot mess.
3rd go at 'the Hill from Hell', 1.7 kilometers further: lap 4 start.  More pickle juice.
Snapped shots of an armadillo (don't see THAT everyday) & pushed down a handful of salty Fritos at the Oktoberfest station.  15-year old elite runner, Brandon Plate, lagged just behind – struggling, just wasn't his day (remember, he's running a 50K [31+ miles] at just age 15).  Asked if he wanted to jog the next hill…he wasn't talking.  Told him I was running up, expected he would pass me on the downhill – that's just the way it happened. Kid came alive with conversation.  Walked lotta the last 4 miles – at a good clip, but still walking.  Only goal this weekend was to complete my first Double – 50K Saturday, marathon Sunday.  Energy level UP, paced strong from Heaven's Gate to the Finish.
2nd ultra FINISH in 3 weeks!  
Half-bowl of chili & a banana.  Sink-washed salt caked 'round my eyes, sides of my face.  Met up with Stacy, Andrew & Elizabeth – shared the Tulsa skyline in our host's rooftop hot tub.  FAAANNNTASTIC!  Fun sharing war stories & later, pasta (thanks Elizabeth).
Groundhog Day — all starts again Sunday morn.
No breakfast.  Tired, wonky from prior day's run in noon day sun, can't eat.  Today – 26.2 miles of trail.  Again, 4 laps…flattened from yesterday, no Holmes Peak – but 'Hill from Hell' four times more.
Didn't lead the pack this go-around but paced faster than expected, settled into fourth.  In-n-out the tree-trail maze, stopped for Oktoberfest.  Smell of pickle juice & Fritos turned my stomach (too much of a good thing I suppose).  Sip of water, kept plugging along.
Long downhill stretch.  Bounced, trail jarred – stopped, puked.  Ugh.  Gotta take in fluids, hold something down.  Small cup of Powerade before 'the Hill from Hell', spewed blue near Heaven's Gate.  New plan: Run faster.  Not hydrating, need to Finish sooner.  Wooded oak section, stop: orange Powerade – puke.  Ran steady with a group of Halfers – held pace uphill, briefly gapped on the downs.
2nd time up 'the Hill from Hell'.  Dry heaving, struggling mentally (no food, no liquid, no fuel).
Started Lap 3.
First Aid Station, stopped.  Legs ok but dizzy, spinning, oddly emotional.  What to do?  Radioed the Race Director, asked 'bout my options. I could downgrade to the Half, still complete the Double Challenge – not take a DNF.  Ok, done.
Dehydrated, received an IV of fluids: virtual insta-fix.  Nausea near gone, met up with Andrew & Elizabeth (who also ran downgraded distances) & finished a half-bowl of chili.  Much better now.
Messaged an Oklahoma-based friend I hoped to see at the Finish.  There she is – hadn't seen Lory in 25 years.  WOW!  Same face, same laugh, same great sense of humour.  Worked together a lifetime ago.  She a 22-year-old bartender; I an underage waiter.  Soooo instead of slogging 13 miles more trail, got to share time with a gal I hadn't seen in light years.  Everything happens for a reason 🙂
AND 3 of us picked up Post Oak plaques – DOUBLE SUCCESS!
Celebrated with Mexican [food] at a neighborhood restaurant, then airport returned to Denver.  Awesome weekend of friends – both old & new!  Wouldn't have been the same without any of them.
2016 POSTOAK CHALLENGE

SUNDAY, FEBRUARY 28th, 2016

TULSA, OK

DOUBLE RESULTS –  50K & HALF MARATHON – MALE/FEMALE

Place Name       City/State     50k Time  Ha Time   Net time  Bib#

===== ========== =============  ========  ========

5 K R Haga   Louisville CO  8:05:45   2:59:30   11:05:15   97
Best way to celebrate Colorado Day?  Outdoors of course 🙂
On August 1, 1876, president Ulysses S. Grant signed a proclamation admitting Colorado as a state. Colorado Day was celebrated as a state holiday on August 1 for many years, and then was moved to the first Monday in August.  The day no longer became a public holiday, but rather an observance, when the state started observing Martin Luther King Jr. Day as a public holiday in 1985.
Started the day with an early hour-half drive to Estes Park.  Rocky Mountain Half Marathon, my first Half in 18 months.  6am Gun time – something special about racing pre-dawn, settling into pace, then experience sunrise.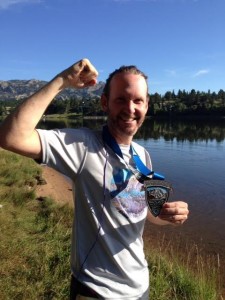 Circled Estes Lake. Mile 2 jammed up on the running path – lotta runners, maybe 2 across possible.  Picked up pace & caught the 1:50 racers.
Mile 4 thru 8 – UP.  Elevation AND incline – but no negativity this day.  I dug in, held pace & picked off tens of runners walking the last mile up.
Miles 9, 10 & 11 – big smile.   Ripped DOWN (rare for me, generally I pull up, hold back).
UP again at mile 12 to the Stanley, then finished flat to the Fairgrounds. (Kinda weird ending – passed a '3' which we all assumed was mile 13…but that happened another half mile later, then the final tenth mile was actually .3 miles.  Not a deal breaker but I went out fast, far too early.)
Good day.  13.1 miles, half the distance – nice to have some gas left in the tank.
Hills & altitude – my new favourite combo.  Finding hills to be an age equalizer.
Bib       Name              City                              Chip Time       Division Place
327      K R Haga        Louisville CO              1:52:21             6
Rocky Mountain Nat'l Park – Planned to re-hike Black Lake, hadn't been in 3 years (2012 challenge: 52 weeks, 52 hikes).  9am in the Park but couldn't find parking, even RMNP's Park N Ride advised to come back at 2pm.  Seriously?  (Easy to get frustrated with summer tourist season but learning to share the love.  National Parks are OUR parks as Americans – all Americans, no discrimination.)
Snuck the Prius in Moraine Park campground & hiked the extra mile to Cub Lake trailhead.  Not a lotta trees in the meadow (Fern Lake fire burned most in 2012).  Temps soon soared near 90, warm day.  Last mile forested, blanketed in wildflowers 🙂
Cub Lake – pulled off my shoes & soaked.  Lily pads, 2 ducks, dragonflies, small blue fish.  Nibble, nibble, BITE.  Hey, that's no fish – pulled off a blood-sucking leech attached to my foot.  'Nough soaking, hiked back – 4.6 miles total.
½ marathon run followed by a Nat'l Park hike.  Colorado Day done?  Nope, not yet.
Colorado Shakespeare Festival (Boulder) – 8pm curtain time, biggest concern was sleep deprivation.  Half-moon outdoor arena, center aisle seat, Flatirons sunset, temps in the low 70's – yep, pretty much PERFECT.
From the opening dialogue, was hooked.
Iago couldn't have been more sinister, nor Othello more tormented.  Acting from these 2 overshadowed all other players.  Othello a North African Moor, interracial marriage – and Iago's sheer cunning to drive noble Othello mad.
NOT the Shakespeare of my youth.  Far exceeded all expectations – I'll be back next summer.  FAANNN-frickin-TASTIC!
Colorado Day, day after?  Sleep 🙂
After Friday night's ballgame, struggled with the 4 a.m. alarm on Saturday morning.
Up, dressed & on the road for a 25k trail race in Greenland – 30 minutes north of Colorado Springs.
Arrived early, picked up my race bib & shirt – then dozed 45 minutes before the 25k race start.  Running at 7,500 ft elevation, stunning view of the Rockies & all trail – my first trail race, LOVED it!
3 hills – 2 huge hills which slowed my pace to just over a fast trot.  And since today's course was a loop, I got to see those same 3 hills twice.  Fortunately I was strong this day & continued my trot UP while others walked at miles 10 & 12.
Tough course – altitude & hills – but loved running on trail.  Found it easier than marathon road running.
Only 8 days 'til Maine!
Place   Bib#
98       1117      K R Haga     M    LOUISVILLE  CO       2:25:21