During off-season (5 weeks between past Saturday's Rehoboth Beach marathon & next January's Mississippi Blues full), decided to focus on one BIG weakness – endurance.  Not beating myself up – I completed 17 marathons in 17 different states…that's a great accomplishment – but I gutted out the last 3, hovering at 4:30 finish times.  I can do better.
Gonna make peace with the beast – HILLS.  Will not only improve marathon results but also increase lung capacity & quad strength for my BIG August 2015 life adventure.  3 days in – breathing like a rookie, sweating hard, struggling.
Day 4: signed up for a 5am meetup at Manitou Incline, 2 hours away – you do the math, mighty early Saturday wake.
Manitou Incline is a popular hiking trail rising above Manitou Springs, Colorado. The trail is the remains of a former 3 ft narrow gauge funicular railway whose tracks washed out during a rock slide in 1990. The Incline is famous for its sweeping views and steep grade, as steep as 68% in places, making it a fitness challenge for locals in the Colorado Springs area. The Incline gains over 2,000 feet of elevation in less than one mile.
2 years ago I hiked Barr Trail (28 miles – crazy long day) but missed the Incline – no dogs allowed.  That day Ro & I salmoned 3 miles up the return trail, dodging runners 'til we passed the Incline junction.
Arrived first & inadvertently introduced myself to spooked hikers 'til my new running group arrived.
Tough meeting new folks – not sure of pace or even what folks look like plus this would be my first high altitude run in months (perfect match for my off-season hill challenge, huh 🙂 )
Manitou Incline is only one-mile UP – but with a 2,000ft elevation gain.
Was forewarned to go out slow, advised there is a bail-out point two-thirds up, and that the last third was straight UP.  Picked up pace ½ in, then waited for our group near the Christmas tree summit.  No altitude adjustments needed here 🙂
20 minutes later – MAGIC.  Sunrise pinks & oranges coloured the horizon.
Chatted it up with Jim, a local runner who hits this trail regularly.  Good guy.
Amazing start to the weekend – thin air, cool temps & a mountain sunrise.  FAAAANNNNTASTIC!
Took a spill on the trail run return – mostly superficial scrapes, no muscle damage but busted a toe…will lose the nail in a few weeks.  Ouch.  Never considered I could fall, didn't try to catch myself – hit hard.  Life lesson.
Big fan of the Springs – beautiful place to run.  I'll be back; highly recommended.
I started this series in January to monitor my marathon progression – journaling biweekly to keep me accountable.  3 days before my Alaska marathon, I'm posting my last 'Believe-to-Achieve'.
Although I didn't follow any 'established' plan, over the past 6 months I developed a consistent routine listening to my body.  A race a month minimum – check.  Traversed ~ 750 miles, done.
That said, had not yet run a full 26 miles – even in training.  Sunday (June 9th) was my day.
Attended church, then exchanged Sunday shoes for running shoes – goal: 26.5 miles.
16 miles in, seriously needed a bathroom break.  Gotta figure this out – not sure what I'm gonna do on race day 🙁  At mile 23, stopped & puked.  Yeah, this story is not a pretty story – but it's honest.  Unlike race events, local trails do not include water stations.  Found myself dehydrated in our warmer summer weather.
Legs ached; felt like a rusty bike chain.  Running one fist clenched, I kept moving.  Hardest restart I've done in a while.
Home.  26.5 miles – check, done.
(And of course Ro still needed to be walked.  Argh.)
Lost 4 pounds over my marathon weekend (hiked 2 peaks in RMNP & ran 26.5 miles).  4 pounds is a lotta weight – like a contestant on the Biggest Loser.   Scheduled a deep tissue massage on Monday.  Exactly what I needed.
Grizzlies, moose, mosquitoes – bring it.  I'm ready.  Nothing stopping me now!
Movie of the Week
Into the Wild (2007) – still my favourite movie of all-time, first viewing of 2013 – timely, considering my weekend destination. Key difference:  I plan on returning from Alaska, no Magic Bus death pour moi.
Runner Log
Fri May 24th – 5.25 miles
Mon May 27th – RACE DAY (Bolder Boulder 10K)
Wed May 29th – 10.5 miles
Thu May 30th – 5.25 miles
Sat June 1st – RACE DAY (Taste of Louisville Half 13.1 miles)
Wed June 5th – 6 miles
Thu June 6th – 3.25 miles
Fri June 7th – 1.5 miles
Sun June 9th – 26.5 miles
Wed June 12th – 1.5 miles
Thu June 13th – 6.5 miles
Sat June 15th – 7.25 miles
Sun June 16th – 6.75 miles
YTD total – 747 miles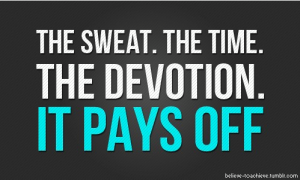 Reflections on my first sports obsession – Björn Borg
Growing up rurally I did not have a ton of TV exposure but one of my first sports memories was watching Wimbledon & Swedish tennis legend, Björn Borg.  All of the American stars were angry, screaming at umpires, throwing rackets – but Borg stayed icy cool, focused, no emotion, no noise – just steely determination.
In addition to his incredible gamesmanship, Borg maintained a few unique superstitions.  Each Wimbledon fortnight he stopped shaving throughout the entire tournament.  Did it work?  The guy won 5 consecutive Wimbledon titles.
Friday May 17th was my last shave day.  Expect it's gonna get ugly – but hoping to awake my inner Borg.
Marathon in 30 days!
completed my 3rd half marathon – sixth race of 2013
running the BolderBoulder on May 27th, another half marathon on June 1st, (hopefully) hiking a 14er (Longs Peak) on June 15th – then A-L-A-S-K-A
Movie of the Week
Django Unchained (2012) – vintage Quentin Tarantino, not for the faint of heart.  I had avoided this film thinking it was a slavery flic (an embarrassing portion of U.S. history which is often film romanticized).  In reality, Jamie Foxx & Christoph Waltz are bounty hunters.  It a long film (could have easily ended 30 minutes earlier) but fresh & completely original.  Recommended for Jamie Foxx's performance alone (but warning: there's a high body count).
Runner Log
Sat May 18th – 6 miles
Sun May 19th – RACE DAY (Colfax Half Marathon 13.1 miles, Denver CO)
Tue May 21st – 5.25 miles
Wed May 22nd AM – .75 miles
Wed May 22nd PM – 10.5 miles
Thu May 23rd – 3.25 miles
YTD total – 647.45 miles