Crazy cold in Toronto 2 weeks ago, today's forecast in New Hampshire: low 80's.
7am marathon start.  Mid-50's, sunny skies, pretty much perfect.  Would go out fast, try to log as many miles as possible before temps started heating up.
My first cloverleaf course.  Little confusing initially – overall, HUGE fan.  Generally NOT excited 'bout running loops…but when 4 of those 5 loops are unique, hardly seemed like lap running.  Loved the ole New England feel of Nashua's historic Main Street, [ran] out-n-back 4 times.
Started UPHILL past Nashua City Hall, on the right: Church of the Good Shepherd (circa 1871), [ran] by the Telegraph (city's newspaper home), over the Nashua River, long trek down Manchester/Hill's Ferry/Concord streets, east 'round Atherton Park, back over the River, THEN Main Street-returned via my favourite chunk of local architecture – St. Mary & Archangel Michael's Coptic Orthodox Church, built in 1898 (previously Roman Catholic)…beautiful old building, Nashua's tallest church.
17 miles in, sun blazed warm.  Avoided the day's strongest rays for another 3 miles.  Ran those miles alongside water-gorged canals in Mine Falls Park.  Dirt path, BEAUTIFUL treed property – LOVED.
21-mile aid station.  Stopped/regrouped, slow jogged back to Main.  Loop 5: shortest of the cloverleafs. Seemed like a looooong 4.3 miles.  Walk/jogged, water-doused my head at both aid stations.
Finish line.  Came in hot, unsteady.  Main Street never looked so good.
Southern New Hampshire Medical Center provided support in the Finish area.  Blood pressure 80 over 40, body temp just over 93.  Disoriented, not my best.  Hour later, good to go ❤
Beautiful course, well run event – with friend support at both Start & Finish.  Not a great finish (20 minutes slower than my past 2 marathons) but…a finish is a finish.  #90 in the books.
3rd Annual Gate City Marathon, Half Marathon, and Relay – FULL

#1095  KR HAGA

Place:  138

Net Time: 4:39:30.5
3 week run break.  Next Sunday surrounded by Colorado mountains, I'm walking the bride.  Nothing better.
4:45am alarm, crazy tired start to marathon morning.  Living B-I-G can have its drawbacks.
Didn't end Super Saturday early, even after a FULL day at Niagara Falls.  My Canadian bestie next drove us from her Brampton home to downtown Toronto (45 minutes away).  Trip wouldn't be complete without a ride UP the CN Tower, tallest building in the Western Hemisphere.  Sarah however had other ideas.  No trip would be complete without FINE DINING at the WORLD's highest & largest revolving restaurant – 1,152ft UP.  Yeah, yeah we walked out on a scary glass panel (2 floors BENEATH the restaurant) – but it's our fancy 3-course meal, I'll long remember.  Thanks friend, GREAT idea!
Home by 11pm – morning came early.  5:15am climbed in Sarah's car Milo, arrived at Ontario Place by 6am.  45-minute bus ride to Mel Lastman Square (marathon Start), dropped between the North York Civic Centre & Toronto Centre for the Arts.
7:30am Start, Orange Corral.  Caught the 4 hour pace group after 2K (no miles today — we're in Canada, running 42.2K).  Cold damp day but unlike yesterday, no rain.  After running in shorts the past 2 weeks, risked getting hot & donned a ski jacket…trying to outthink today's 2nd Half along wind-happy Lake Ontario.
One steep climb 5K in.  3:50 pacers passed me going up, I caught them on the down.  Stayed just ahead thru 25K.  HUGE blast off Toronto's Great Lake pushed me backward.  Pacing bunny (that's what they're called in O' Canada) went by on the left…and that was that.  No mo' gas.  Flat course 'round the lake (Martin Goodman Trail) but went out too fast too early.  Strong headwind next 7 miles, running 9:40-10/min miles.
Entering Humber Bay Park, passed by the 4 hour pack.  Wind at my back, 35K to the Finish.  Slow/run combo to the end, no more slog.  Either gonna run or walk fast – but no more humped shoulders/slow jog.
Realize I went out too fast today but on the right path – know I got it in me, I WILL PR this year.  It will happen.
Back at Ontario Place, marathon FINISH #89.  Couple seconds quicker than last weekend, 2nd fastest run of 2017.  Third province completed & a new Canadian PR (almost 30 minutes better).
Convoluted flight path home, Monday morning work day awaits.  Sunshine – home, sweet Colorado home 🙂
Goodlife Fitness Toronto Marathon
2017-05-07 • Marathon

583   K R Haga   Louisville   04:17:04.8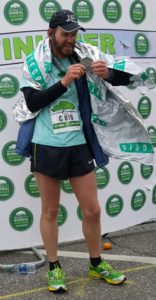 6:30am Start – up early, 5:30 shuttle last transport from my hotel.  One block from the Outdoor Memorial.  National Anthem, followed by 168 seconds of silence – respect for the lives lost in 1995.
Chilly start – gusty wind & light rain.  Running in shorts again…gotta check the weather app before I leave home.  LOL>  25,000 runners, corral start.  Lotta local crowd support, much appreciated.
Started tenth-mile behind the 4:15 pace group.  Hung close thru mile 2.  Chickasaw Bricktown Ballpark (home to OKC's Triple-A Dodgers).  Past two [Phillips 66] oil derricks, 500 feet outside the Oklahoma State Capitol.  Caught the 4 hour pacers at mile 5.  Halfers peeled off before 8.
Gorilla Hill, Nichols Hills, Rose Hill, Heritage Hills – not a flat course 🙂
2:01 first Half.  Couple minutes slower than last Saturday…on a more technical course – I'll take it.  Struggled the two miles 'round Lake Hefner.  High gusty winds.  Head lowered, pushed thru the day's weather obstacle.  Misty rain blew sideways.  4 hour pace group matched me, moved past me.
Tree cover at mile 16, more at 18.  Downhill stretch [thru mile 20] before a quad-burning 4 mile climb…topping out in OKC's scenic Heritage Hills.  Mighty late in the day for 4 miles of UP.
Run/walk combination last 2 miles.  Mental dip/endorphin drop but not a bad performance – maintained posture, felt good in my shoes.  Hilly run…third straight weekend marathoning – finished just over 4:15, an Oklahoma PR. 2nd fastest of 2017, 16th best of my 88.  128 consecutive run days – feelin' STRONG!
2017 Results – OKC Marathon

Haga, K R   LOUISVILLE  CO   4:17:20
6 hours to burn before my Colorado flight home.  Fried pickles at Toby Keith's (while in Oklahoma, gotta/hafta), feet up/giant Coke & a movie….then, 2 stops of interest: Oklahoma's Land Run Monument & a brief pull-over at the State Capitol.
More than 50,000 Americans lined up at noon on April 22nd 1889 for our country's last great Land Run.  Towns were formed, homesteads staked.  Ironically, monuments outside the state's Capitol Dome celebrate Oklahoma's Native American population (from whom the land was taken).  Cowboys, Indians & Oil.  American history is kinda messed up, huh?
Far North next weekend, adventuring with my Canadian bestie Sarah.  Marathoning of course but ALSO…Niagara Falls!
Oklahoma City Memorial Marathon