Run the Year Motto:  EVERY day's a run day, 2017 miles in 2017
October 2017 update:  Technically missed my miles, but still sported HUGE HIGH FIVES this month.  Completed marathon #100 – celebrating with family in Dublin, Ireland 🍀.  Logged 135 miles total, leaving ~ 80/month to SMASH another 2017 goal.
2018 goal-setting was an unexpected theme this month.  Started tri training to improve fitness (more mental than physical).  Shooting to complete this year's UNFINISHED targets: a new marathon PR & Bighorn, my first 50-mile trail race (registration opens Jan 5th).
50 State Déjà Vu tour: kicking off 2018 with an all UPHILL ultra climb, Hilo-to-Volcano, Hawaii.  Additionally, set a 7-continent marathon challenge.  TIME GOAL: May 2020.  Fingers crossed I'll be marathoning Antarctica in January 2019!
2-month focus: STAY the COURSE
NEXT month my 4 year RUNniversary.  48 consecutive months marathoning!
Race ReCap:  3 marathons, 3 time zones – 2 continents.  Portland, Omaha & IRELAND.
Marathoning Streak:  47 months
Mileage ReCap:  ended October at 1,854 miles (only 163 miles 'til GOAL)
Leader: The pathfinder, able to get from here to there, to connect in service of a goal.  Setting an agenda, working in the dark, going new places and tackling unknowable obstacles.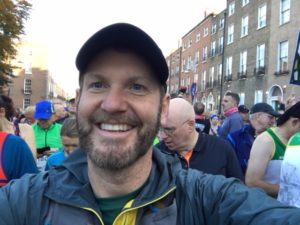 No more planning.  Tick, tick, tick.  Time is here.
Late 9am Start.  Extra hour of sleep (clock fell back last night).  Long corral walk, 30 minutes+ after the Elites.  Same elite Africans I rode the elevator with this morning (GREAT hotel choice, Sis! – my 2nd floor accommodations like the Olympics).
No Half, no 5K – thousands lined up ALL running 26.2 miles.  Always a bundle of nerves.  Not so much today.  3 of us marathoning, walked to the Start with Sis & husband Paul.
4th largest race in Europe, 2nd biggest field of participants EVER – for me, only 2015's New York City Marathon larger.  Much more a fan of smaller races (crowds make me claustrophobic) – but this, magic #100.  Go BIG or Go Home, no regrets 🙂
Irish weather?  Not this day.  Cool sunshiny start.  Winds gusted time to time, skies waffled between overcast & sunshine – pretty much PERFECT.
Today, would run with Sis.  She'd keep me motivated/stay upbeat.  Sis' GAME plan: Galloway's Run Walk Run method, attempting a 2nd Half negative split.
Wall of people.  Gun start, moseyed slow thru downtown Dublin.  Crowds thinned after Phoenix Park, Europe's largest public grounds. Sunshine, manicured lawns.  BEAUTIFUL.  So much GREEN.  Exited before mile 10, climbed the largest of the day's hills.
Run Walk Run.  Timer rang, we'd walk.  Ding again, back to running.  Just dumb luck…but felt a bit jinxed with today's hills.  UPHILL we'd charge, then her watch would alarm. Downhill'd all the walks.  Coincidence?  Hmm…thinking: childhood payback.
Castles & commuter trains, AWESOME crowd support.  2nd Half & next slog of miles: 15-seconds faster.  Sis like the Energizer Bunny.  AND that attitude.  2018 goal: I will someday/somehow/somewhere be this upbeat 17 miles into a run.
[Sis' suggestion] iPhon'd today's marathon experience.  More payback?  Smiles, chitter-chatter, laughs then the 2nd Half.  Like watching a train wreck – you just can't turn away.  Laboured breathing, lack of coherent conversation, nonstop mileage updates.  Repeated words like a trained parrot.  Telling ya, I'm a hot mess.  HA!
THEN somewhere in the 20s (mile marker), Sis kicked it up another 15-seconds.  Ok fine, I'll admit it.  My YOUNGER sister beef'd up our pace another 15-seconds, somewhere in the 20s & I faded.  Like the end of Titanic, I begged her to let me go – sure I was dying.  'No, no I'll wait': she said.  Then just like the film, they tear your fingers off the door & let you sink to the bottom of the Atlantic.  Yep, just like that.  LOL>
3 STRONG!  Think Sis took a coffee while waiting, but was there when I FINISHED #100.  Blanket-wrapped, awaited our family's 3rd finisher, my brother-in-law Paul.  That's how we roll.  THREE MARATHON FINISHERS in this clan.
100 marathons.  Who would've guessed THIS 4 years ago, after running my first 26.2 in Anchorage, Alaska?  Lucky in life.
Colorado-bound in the early a.m. – outta vacation days.  Good problem to have, 2017: WOW whatta year!
SSE Airtricity Dublin Marathon
SUNDAY 29TH OCTOBER 2017

K R Haga  Marathon Maniacs  4:46:57
Dublin Marathon 2017
The first-ever Nebraska Marathon was held on Sunday, October 18, 2015 where almost 900 runners took their mark at Turner Park at Midtown Crossing and crossed the finish line at the Lewis and Clark Landing.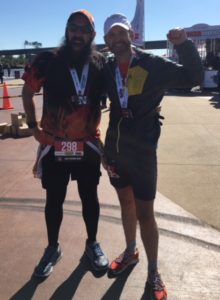 That first year offered a Half, last year the event's first FULL – this year a mix of running distances.  Omaha, new to marathoning?  Heck no, this town supports THREE separate marathons.
Ironically, today's 'Nebraska' Marathon comprised more Iowa asphalt than Nebraskan.  Crossed the Missouri River before the Half, would cross back into Nebraska post-mile 25.
Chilly morning start – my first of the Fall season.  October can be a mixed bag for weather.  Thankful for cooler temps.  Not a lotta tree cover on America's Great Plains – Nebraska or Iowa.
Late start with a BIG BANG – it's the Midwest, no shortage of guns. LOL>  Combined Full/Half Start across from the host hotel.  GREAT location, GREAT digs – super hospitable!  Kudos Team Nebraska 🙂
First Half, scenic Half.  Marathon'd 7 days ago, no time goal today.  Ran with a Halfer from Columbus.  Good conversation, good pace.  Said our goodbyes at mile 12, finished my Half right at 2 hours.
Not a lotta natural trees in neighboring Council Bluffs, but miles & miles of maintained bike path.  Nice clean community.  Tidy parks, manicured ball fields.  Norman Rockwell America.
I've run all 50 States – 20 of them twice – would definitively say: Middle America, folks living on our Great Plains/America's Heartland are the kindest/most visitor-friendly states.
Steady headwind 2nd Half however didn't lose our sun.  Small marathon field sparsely spaced along the course.  Miles 15 & the turnaround return to 22 were some of the loneliest.  Caught a lot of crosswind.
Sub-10 minute miles thru mile 19.  30K in 3 hours.  Dropped off soon after.  Strava stats recorded 12 & 13-minute pace, miles 22 to 25.  Crossed Bob Kerrey Bridge over the Missouri & back into Nebraska, finished a half-mile later at Lewis and Clark Landing.
Another medal, another marathon experience.  FAAANNNNTASTIC!
Last chemo- December 22nd.  10 months & 22 marathons later, celebrating Historic #100 in Dublin IRELAND.  One month shy of 4 years, soooo many race memories.  Thankful for my family, great friends & our SUPPORTIVE INSPIRING run community.
My life 2nd Half, absolutely no regrets.  Nothing left undone.
NEBRASKA MARATHON
224      K R Haga        4:43:14.12