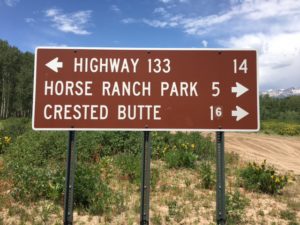 Whole lotta, whole lotta going on yesterday.
Today: new town, new adventure.  Eased into the morning with a skillet breakfast at McGill's – "the" place for a.m. grub in Crested Butte. Diner breakfast in the high mountains. PERFECT day start.  Highly recommended 🙂
Walking tour of downtown:  Town Hall, the Trading Post, historic Rock School Building (circa 1883, now houses the community library) – AND a museum.  FAAAANNNTASTIC!
[History nerd alert]  When the railroad extended from Gunnison, modern-day Crested Butte was born – a vital link for 3 neighboring boom towns (all since deserted), providing supplies/necessities, transporting silver back to Denver.  Early 1900's living, mighty tough at 10,000ft.  "Nine months winter and three months company."  Another fave: "This is God's country but He doesn't live here in winter."  LOL>
Read 'bout Colorado's largest mine disaster, Jokerville mine.  Gas explosion killed 60 miners, the site never reopened.  Read 'bout the town's transformation into a ski destination.  Had the place to myself – the ONLY tourist this day.  NO regrets!
High noon: started the 3 ½ hour drive to Aspen.  Yep, original plan was to hike over the Pass, spend the night in Crested Butte, then return hike the following day.  Sooooo my hotel reservation tonite was back in Snowmass Village.
Not ideal folks, but only serving lemonade today, no more lemons 🙂
Scenic dirt-road tour of Gunnison Nat'l Forest, over Kebler Pass, thru the Grandfather Aspen – NEVER seen so many Colorado Aspen.  WOW!
Stopped at the reservoir spillway in Paonia State Park.
Visited Redstone's historic 'beehive' coke ovens.  Built in the 1890's to carbonize or "coke" coal mined nearby, product was later loaded onto rail cars.  Laugh if you will but MIGHTY interesting stuff – unlike the museum earlier, was not the only car to stop.  LOL>
Rolled into Aspen late afternoon. Window-shopped, toured downtown, watched kids play in the town fountain.  Fancy trout dinner (local catch).  YUM!
Back home tomorrow, Independence Day cookout on Ash's grill – but not before an hour solitude/a walk-about in John Denver Sanctuary.  LOVE LOVE my Colorado life ❤
He climbed cathedral mountains, he saw silver clouds below

He saw everything as far as you can see

And they say that he got crazy once and he tried to touch the sun

And he lost a friend but kept his memory

Now he walks in quiet solitude the forest and the streams

Seeking grace in every step he takes

His sight has turned inside himself to try and understand

The serenity of a clear blue mountain lake

And the Colorado rocky mountain high

I've seen it raining fire in the sky

You can talk to God and listen to the casual reply

Rocky mountain high (Colorado)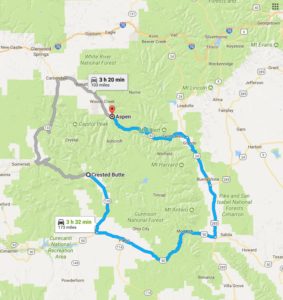 Holiday weekend.  Add Monday as a vacation day & suddenly you're 4 days from the office.  Mentally scheduled this weekend's trek a year ago, when PS' CEO (my employer) made the journey.  Hotels in two towns – both sides of this epic mountain crossing adventure.
Aspen to Crested Butte.
By car it's a 3 ½ hour drive.  On foot, one can be there in under 8.  Waist-high fields of wildflower.  Hike start at Maroon Bells, Colorado's most photographed peak.  Sign me up!
Lazy morning start, couldn't drop Pup at the kennel 'til 9am.  Lunch in Georgetown, Hwy 24 south to Leadville, west over Independence Pass (open 'til October or first snow).  Late afternoon arrival in Snowmass Village, 20 minutes from downtown Aspen (& much better on the pocket book).  Carb- loaded for dinner.  Hiking all day tomorrow, why not?  🙂
Sunday morning.  What I didn't know?  Only access to Maroon Bells trailhead [in summer] is by bus.  No cars allowed.  No drama, surprises happen…but later trail start than expected.
Maroon Bells.  Never been in summer.  Trees all leafed out, lush meadow undergrowth – whole lotta green.  Maroon-Snowmass Trail #1975 to Crater Lake, 1.4 miles.  Busy hike path.  Trek canopied in Colorado Aspen.  BEAUTIFUL!
Snapped photos & snacked at Crater Lake.  Couple of hikers shared their topo map (thanks!) – soon after, switched trails.  Next landmark: West Maroon Pass.  Path broke from rock to mud. Long patches of pack snow.  Continued to lose trail, backtrack, regain trail.  Snow-melt waterfalls, beautiful landscape though sometimes frustrating process to maintain forward momentum.
Biggest trail miss?  Came across a large swath of glacier remnant & fresh snow.  Fast-moving water rushed underneath weakening the base, making it precarious to cross.  Trail couldn't be on the other side, right?  Bush-whacked 45 minutes (half-mile) UP UP thru dense willow & snow-covered pine.  Zero path, nada.  Continued to push thru thicket, trek UP/over, listening for human sound.  SUCCESS!  Group of 6 hikers stopped for lunch high 'bove a scenic glacier – unfortunately not trekking to Crested Butte, not on trail.  ARGH!  Obliged to snap a group photo, then far far in the distance saw 2 hikers snow-crossing.  TRAIL!  Backtrack, restart.
Most harrowing water crossing?  Used a fallen pine to ford West Maroon Creek.  Fast-moving waist-deep water.  How cold would a complete submersion be?  Yep, that thought entered the brain.  Slow & steady.  Luckily, no drama 🙂
Elevation increased, temps dropped.  Deep shoe-sucking mud, emptied into seasonal streams, trail ultimately lost under pack snow.  Snaked thru a large boulder field, cairn-marked between competing 13- & 14er peaks.  Less than a mile UP to West Maroon Pass, then another 4 [miles] down to the trailhead.  Transport on the other side leaves at 4pm – mighty tight timing.  Yikes!
Dark clouds from the West.  Weather change.
Passed a guided group of climbers; they had turned back.  20 feet of snow at West Maroon Pass.  IMPASSABLE.
15 minute discussion with my hiking mate.  [good/bad trait] I'm a determined, focused individual – not easy to redirect once I've got a game plan cemented in the head.  Lost the battle today; turned around we did.  In hindsight OF COURSE we had no choice…but at the time, disappointment overwhelmed any happy endorphins.  Hiked a good 2 miles in silence.
This too shall pass.  AND it did 'bout the time we reached Crater Lake.
Caught the return bus back from Maroon Bells, headed back to my Snowmass digs – hoping to find a spot in the Inn.  3-day holiday weekend, not a chance.  Nor another hotel in Aspen…or Snowmass Village…or Carbondale…or Glenwood Springs (an hour out).
Of course I DID have a hotel reservation tonite – in Crested Butte, 3 ½ hours away by car.  Fueled up, purchased a bag of gas station snacks.  All part of the journey.  9:30pm rolled into my HIKE destination.
New town, new adventure awaits in the morning 🙂
Aspen to Crested Butte
Dropped Ro at Divine Canine & vehicle-loaded Thursday after work – weekend destination: Utah.  Monday, Colorado Springs; Saturday, Salt Lake City – count it, 5 days between marathons.  FAAANNNTASTIC!
8 hour drive to Salt Lake.  Well that's no fun – breaking it up over 2 days however, no problemo 🙂
Lived B-I-G and slept Thursday nite at the historic Hotel Colorado (scored with mid-week, off-season pricing).  Presidents Teddy Roosevelt & William Howard Taft plus multiple governors & early-20th century celebrities adorned hotel walls in black-n-white photographs – super cool…unfortunately, little time to browse.  Quick 'express' hike planned.
Hanging Lake.
Crystal clear water, emerald green hue, and a mountain waterfall.  SPECTACULAR view!
That's the way I described the hike in June 2012.  4 years later – same SPECTACULAR view.
Quick UP & down trek – returned coated in a thick layer of human salt.  No wish I woulda.  Absolutely no regrets.
Lunch, 3 hours of desert, then north an hour – greeted by the backside of the Colorado Rockies. "Welcome to Cottonwood Heights" and the beautiful Wasatch Mountains.  City slogan: "City Between the Canyons", flanked by Big Cottonwood Canyon to the North and Little Cottonwood Canyon on the South.
Tomorrow a.m. – marathon #70, my third in 13 days.
Hanging Lake (Glenwood Springs CO)