Set my watch-alarm – no need today – woke early to other 4WD vehicles struggling up the boulder-littered trek to Bridal Veil Falls.  Cool morning temps, dusky predawn sky.  Telluride HIKE day!
Mile drive (from last night's sleepover).  Parked; positioned third roadside.  Spots fill fast (& ranger patrolled).  You're late, you hike – an additional 2 ½ miles UP.  Crawled thru the gate at Bridal Veil Powerhouse (built in 1907 to power Smuggler-Union Mine).  Would snap a pic of the Falls on the hike return.  Tall evergreen (pine & spruce), lush undergrowth (fern & wildflower) AND….waterfalls.
Would see more waterfalls on today's trek than any previous Colorado hike in my life.
Relatively short 5.4 miles roundtrip.  Blue Lake wasn't my original hike destination – one left turn when I should have veered right, log-crossed Bridal Veil Creek.  Bluest blue water, absolutely no regrets.
Open meadows of wildflower, canyon wall backdrop.  Waterfall, waterfall, waterfall.  WOW.  Top 10 Colorado hike location.  If only Telluride were closer – so many hikes, so little time.  I see a week-long backpack adventure in my summer future.
Unleashed Ro early on (slept much of the drive home).  Up trail, down trail.  Run, run, run.  Poised high on rocks above, bouncing thru field flowers trying to flush out wildlife (chipmunk & grouse).  Happy dog, happy life ❤
Altimeter topped at 12,400ft.  Mountain walls reflected off Blue Lake's quiet clear surface.  Crazy beautiful.
Dropped off trail.  Waded thru a tall cascading waterfall, explored an abandoned mining cabin.  Bridal Veil Falls tourist shot snapped – check, done.  $3 shower at Town Park in Telluride, money well spent 🙂  SUPER FUN DAY!
Left early/drove 7 hours straight to avoid next day's holiday traffic crunch.  Reward?  Monday cookout at Ash & Tom's.  Burgers & pasta salad [black bean burger/non-cow eaters].  Afternoon'd w/ daughter at the family puzzle du jour.   Happy Labor Day 2017!
Blue Lake Trail-Telluride
Labor Day: unofficial start to Autumn.  For us snow lovers…almost made it thru another summer 🙂
3 day holiday.  Staying 'local' this year, road trippin' Colorado's Western Slope.  Trip highlight: hiking in scenic Telluride – yep, another high-elevation ski town mountain-etched by massive canyons [the San Juans].  Aspen, Crested Butte & now Telluride – been an outstanding Colorado summer.
Friday 5pm.  Work ends, holiday begins.
Packed, picked up the Pup, on the road by 6 – along with most of my Front Range neighbors.  Argh.  Camping holiday.  Needed to check into my site by 10pm.  Valley View folks were mighty nice to hang around 'til 20-past.  Otherwise would have started my adventure with a hefty night hike, parked on the wrong side of a chained cattle-gate.  As it was, struggled to pitch-tent in the dark.  Mighty remote.
Woke Saturday morning to quiet Colorado paradise.  Dry arid landscape, mix of evergreen & cacti.  Natural hot springs tucked between the Great Sand Dunes & Gunnison National Park.  Hiked thru fields of sunflower, lapsing 30-45 minutes at each naturally heated pool.  Meadow Pond, Waterfall Pond, Top Pond, Party Pond…whole lotta warm-water bubbling.
Pupster begged, no one around.  I relented.  Happy dog-paddling pup.
Our most remote ponds are up a short, but steep trail. Most take about twenty minutes to trek the ¼ mile trail to the Top Ponds. Guests agree these peaceful, bubbling warm waters make it the trip well worthwhile. It's a series of three (almost four) ponds flowing one into the next. The top-most pond fills about two feet deep and offers ample space to find a corner to one's self. Its water cascades down to join more warm source water beneath a large tree providing shade throughout the day. Water temperatures vary dramatically as these ponds mix with more snow-melt and runoff than our other sources. In recent months, temperatures ranged from 98°F to 107°F.
Showered, on the road by 1pm.  Quick detour in Villa Grove.  Small 3-building town – but one of those buildings advertised pie.  Never miss an opportunity for pie ❤
3 hours of winding byway.  Poncha Springs, Gunnison, fuel/sanity break in Montrose.  Ridgway, Placerville, Sawpit, Telluride.  Campground, no room in the Inn.  Soooo many people…Telluride Film Festival.  Who knew?
Opted to drive toward Bridal Veil Falls – tomorrow morning's hike launch.  Mile-half of dirt & boulders (4WD trek).  Secured an overnight pull-off, clouds grayed, evening skies opened.  RAIN.  Car-camped high above Telluride.  Nite 2 elevation: 10,000ft+.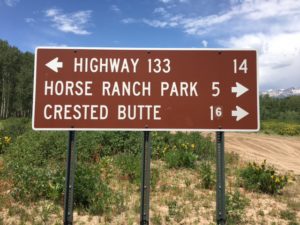 Whole lotta, whole lotta going on yesterday.
Today: new town, new adventure.  Eased into the morning with a skillet breakfast at McGill's – "the" place for a.m. grub in Crested Butte. Diner breakfast in the high mountains. PERFECT day start.  Highly recommended 🙂
Walking tour of downtown:  Town Hall, the Trading Post, historic Rock School Building (circa 1883, now houses the community library) – AND a museum.  FAAAANNNTASTIC!
[History nerd alert]  When the railroad extended from Gunnison, modern-day Crested Butte was born – a vital link for 3 neighboring boom towns (all since deserted), providing supplies/necessities, transporting silver back to Denver.  Early 1900's living, mighty tough at 10,000ft.  "Nine months winter and three months company."  Another fave: "This is God's country but He doesn't live here in winter."  LOL>
Read 'bout Colorado's largest mine disaster, Jokerville mine.  Gas explosion killed 60 miners, the site never reopened.  Read 'bout the town's transformation into a ski destination.  Had the place to myself – the ONLY tourist this day.  NO regrets!
High noon: started the 3 ½ hour drive to Aspen.  Yep, original plan was to hike over the Pass, spend the night in Crested Butte, then return hike the following day.  Sooooo my hotel reservation tonite was back in Snowmass Village.
Not ideal folks, but only serving lemonade today, no more lemons 🙂
Scenic dirt-road tour of Gunnison Nat'l Forest, over Kebler Pass, thru the Grandfather Aspen – NEVER seen so many Colorado Aspen.  WOW!
Stopped at the reservoir spillway in Paonia State Park.
Visited Redstone's historic 'beehive' coke ovens.  Built in the 1890's to carbonize or "coke" coal mined nearby, product was later loaded onto rail cars.  Laugh if you will but MIGHTY interesting stuff – unlike the museum earlier, was not the only car to stop.  LOL>
Rolled into Aspen late afternoon. Window-shopped, toured downtown, watched kids play in the town fountain.  Fancy trout dinner (local catch).  YUM!
Back home tomorrow, Independence Day cookout on Ash's grill – but not before an hour solitude/a walk-about in John Denver Sanctuary.  LOVE LOVE my Colorado life ❤
He climbed cathedral mountains, he saw silver clouds below

He saw everything as far as you can see

And they say that he got crazy once and he tried to touch the sun

And he lost a friend but kept his memory

Now he walks in quiet solitude the forest and the streams

Seeking grace in every step he takes

His sight has turned inside himself to try and understand

The serenity of a clear blue mountain lake

And the Colorado rocky mountain high

I've seen it raining fire in the sky

You can talk to God and listen to the casual reply

Rocky mountain high (Colorado)