Rolled into Pueblo 10 minutes before bib pick-up ended.  Landscape more reminiscent of New Mexico than the Rockies.  Former steel town (one old smokestack remains)…Spanish just as prevalent as English.  LOVE the diversity of our state – Eastern Plains to the Rockies, canyon walls of the Western Slope, red clay of Pueblo.  Colorful Colorado.
Only 2 ½ hours from home but decided to hotel before tomorrow's marathon…close 5 minute walk away.  Still full from my Deli lunch, night-walked the City downtown before setting my morning wake-up buzz.  Last shuttle bus depart: 7:30am, late 9am marathon Start.
Woke Sunday to sunshine, forecast low 60's – 'bout 15 degrees cooler than Friday's unseasonal high.  No specific time goal today, training focus [has] been on leg strength: Wyoming's Bighorn 50 in June.  PR speed will come later.
Hour+ wait before the day's start.  Met up with fellow 50-Stater Dave Bell, introduced myself to 3 other Maniacs.  No matter how remote the run, our community's well represented/we're a tight knit group.  Even in far-away Russia, I connected with 4 fellow Maniacs.
First race with a watch, have resisted for years.  HUGE adventure planned in March, needing an easy way to log my daily mileage.  (Thanks Bro, lovin' my 2014 Christmas gift!)
Race Start.  Easy 10+ minute pace, still chatting with my 50 State friend …decided to use today as a training run.  Beautiful weather, why not?  Trekked entirely on bike path.  First few miles in Lake Pueblo State Park.  (in my opinion) Left too early, nothing crazy scenic in Pueblo.
Never been one to run & talk, never felt it possible.  STRONG today – consistent training paying off. Easy, comfortable 2:35 first Half (one of my slowest starts ever).  Hung with Dave thru mile 14. Quickened my step, said our goodbyes & I took off.  Checked the watch: 8:35 mile.  Goal: every mile under 9 minutes.  Electrolytes & water at each aid station.  No walk at mile 18.  No slog at 20.
2:35 first Half – dude, we were way way back.  Didn't catch another runner 'til mile 19…but then I kept ticking them off.  Guy in a red cap, girl in pink tights, 2 couples running together.  But where's the Newton kid?  (First 5-6 miles Dave & I traded leads with the 'Newton kid'.  Guy shared my shoe love, Boulder's local Newton Running Company.  Been running in Newtons since early 2015.)
Series of loops, miles 18 to 23 – spotted 'Newton kid' on my left…at least a mile half lead.  Older lean lady-Ironman tattoo, woman wearing a North Carolina cap, my first Maniac.  Mile 24 – 9:03 mile.  Dug deep to drop pace under 9 again.  No pills, no puking – that was last year.  Mental transformation.
Mile 25: Blue Newton shoes in sight.  No walking, he's not given in.  If I want it, I've gotta catch him soon.  Mile 26: I'm still a body length back.  Breathing hard, been pushing for too long…too late in a race.  Finish line ahead.  Held my breath, swallowed hard.  Sprinting, I didn't look back.
Marathon #82 – my strongest 2nd Half in years…a 2:04 – after running 13+ miles.  Laid in the grass & panted.  Stretched, up in 5.  Shook hands with fellow runners, congratulated their achievement.
BIG day for me.  Not my finish time…but HOW I finished – at least 5 more miles left in the tank.  FAAANNNTASTIC!
On track for 100 – next weekend: Fort Worth's Cowtown Marathon, everything's bigger in Texas 🙂
Keenan Haga

Pueblo Marathon and Half – Marathon – Pueblo, CO Feb 19, 2017

Overall: 57     4:39:24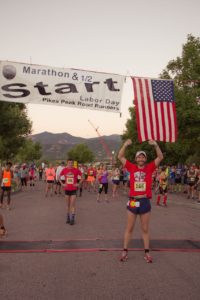 End of holiday breaks are always kinda sad – sharing one chalked full of adventure with my Canadian bestie, definitely bittersweet.  Ballooning, hiking, high altitude fine-dining, plus tourist trekking in Manitou Springs & Garden of the Gods – EPIC!  Thanks again Sar 🙂
Weekend concluded with a rare Monday marathon – a Labor Day urban-trail run thru Colorado Springs.  Early morning start in America the Beautiful Park.  Saw many of my Maniac running pals before Race Start. Haven't run a ton of marathons this summer, 6 total.  In perspective, guess that's not so bad.  HA!
One of my most patriotic marathon starts – Star-Spangled Banner sung proudly by many this day.
Went out fast, hung with the 3:45 pace group for 10 miles – finished my first Half in under 2.  Relearning to run with pace this past month.  Have a PR goal in mind for November (Marshall University Marathon).
Nice mix of bike path & dirt – not overly hilly either. Altitude is always an element when Colorado running but today's late race obstacle: HEAT.  Forewarned temps would kick up to 80, no trees mile 18 to Finish.
Popped a pill at 15 – my first experiment at marathoning with meds.  Consistent & beefed-up training are gonna reduce my need for Western medicine.  In the meanwhile, plan to stay ahead of nausea – not altering my life, will continue to marathon…even with cancer.
Slowed pace to a 10:30/mile jog from mile marker 18.  Sun was there, sure – but I stayed steady/consistent, stopped for water/doused my head, but didn't walk.  Not my fastest, not my slowest – mentally however, HUGE victory.  2nd consecutive week marathoning & FINISHED feeling GREAT.
American Discovery Trail
September 05, 2016


166 K R Haga Louisville CO 4:56:23
Post-marathon DINER dinner celebration – [presently] diet-restricted from red sauce, but not 1950's Americana fare 🙂  Shared a few last laughs with Sarah; chauffeured my Toronto-based friend to DIA morning following.
Busy 3-day weekend.  Think I need a vacation from my stay-cation.  Thank goodness for work days.  LOL>
Last time I saw Sarah, she set up a sweet hike above scenic Lake Louise in Banff Nat'l Park.  Hike day culminated in a high-altitude tea aside an alpine lake, Lake Agnes.  Set the bar mighty high, huh?  Well…she IS Canadian after all.
Early morn hot air balloon, diner breakfast – next up, one of my hike faves, Brainard Lake.
Alpine lake, lodgepole pine, glacier snow on the peaks – all at 10,300ft starting elevation…pretty SPECTACULAR.  Ever Google the elevation in Toronto?  249ft.  True flatlanders.  Whatta sport – thin air, little oxygen, yet not a peep of negativity outta Sarah.  Hiked to Long Lake – pic I use as my website cover art.  LOVE LOVE this place.  Sharing the experience with friends, no words.  Full heart.
Anything any better?  uh…Cue, wildlife.  Chipmunks, pika, black squirrels, elk – easy.  How 'bout MOOSE?  FAAANNNTASTIC!  Shower, change of clothes, night trek up Boulder Canyon to Gold Hill Inn.  Fine dining at 8,000ft.  Kinda hard to match Banff but folks – an alpine hike, 2 moose & a 5-course meal at 8,000ft – I attempted to reach that bar.  WOW, whatta day!
(whole lotta photo credit: sarahontheroad.com)
Sunday: [marathon] bib pick-up day in Colorado Springs.  10 minute chore – check, done.
Garden of the Gods.  Monolith red rocks curtained by mighty Pikes Peak in the background.  2 ½ hours from home, but I visit this Park at least twice a year.  Any excuse, friend/family visit to Colorado – Rocky Mtn Nat'l Park to the North, Garden of Gods to the South.  Both treks highlight every itinerary.  AWESOME amazing acts of God.
Manitou Cliff Dwellings.  Something old, something new – well, at least new to me.  LOVE history, LOVE everything Native American. Visited the three-story Pueblo-style Cliff Dwellings, descendants of the ancient Anasazi (existed 1100-1300 A.D.)  Honestly not a ton to see & do, but happy to have gone once.  Museum's a bit dated – more walk-thru placards than actual artifacts.
Dinner & a short tourist walk downtown.  Highlight: the healing waters of Shoshone Spring & a random local releasing their pet sugar glider (small, nocturnal gliding possum).  Startling, unexpected but pretty cool experience.
Night sleeps in Manitou Springs, tomorrow another 26.2.
(even more photo credit: sarahontheroad.com)
Labor Day 2016 (Colorado mix)