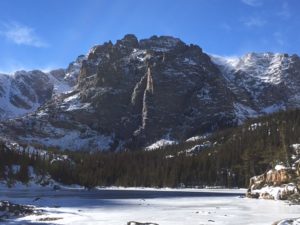 5 weekends of running, time for a hike – maybe even 2 hikes.  After Thursday's 'first snow', nothing but mountains & snow camping on the brain.  Temps plummeted to the 20's…so settled on glamping & 2 RMNP alpine hikes (making the most of my 2016 Parks pass).
Woke to sunshine Saturday.  Beaver Meadows Entrance, quick left to Bear Lake.  20 minute ride, trailhead-parked at Glacier Gorge (last pull-off before Bear).  Winds blew, BIG smile.  Initial hike goal: 5 Lakes (Loch Vale, Haiyaha, Dream, Nymph & Bear)
Just under a mile to Alberta Falls, another 2+ to Loch Vale.  Most tourists can make the Falls hike; super thankful for winter & open trails.  Forgot how beautiful Alberta Falls can be…even frozen solid.  Tested the ice; crampon spikes a good gauge for weakness.  Must've flash-froze over the past couple days, thin ice covered in snow.  Snapped a pic, hiked on.
Last trekked Loch Vale 4 years ago, mid-November.  That day, hiked in heavy snow – white-out conditions limited our group's day goal.  Winter precip accumulated 3" inches an hour, awesome memory making snow angels.  hike LOVE.
Today's path vacillated between ice (sunshine melt/refreeze) & shin-deep snow (tree cover shade).  Both lodgepole & Ponderosa [pine] lined the Park's well-maintained trail system.  Crazy beautiful, sunshine & solitude.
Left to Mills, right to Haiyaha, Loch Vale straight ahead.  Tested out trail conditions to Haiyaha…deep snow, no visible trek tenth-mile out.  Not happening today.  Turned back, Loch Vale < half-mile away.  Pushed thru a grove of trees, saw the Loch.  Frozen alpine lake blocked in by the some of the Park's highest peaks.  Outdoor WOW moment.  Opened armed, let the cold wind blow, envelope me.
Snow whipped off the rock heights above.  Crampons scratched the Loch's surface but no cracks.  Breezy, strong numbing wind.   Footsteps crunched over the thick ice.  No words.  Just WOW!  Wind-retreated after 15 minutes.  Sheltered behind two boulders, downed half a turkey wrap.  Only one Lake today…but absolutely no regrets.
Sunset.  Headed into Estes Park for a pricey dinner & the city's tree lighting ceremony.  'Cowboy Brad' welcomed visitors with a mix of John Denver & Colorado Christmas carols.  No better way to usher in the season.  FUN night!
Home?  Heck no.  Not before a Sunday a.m. hike — only 3 miles roundtrip.  Felt small under tall lodgepole pine, switch-backed UP 1,000ft, followed signs for 'Trail Around Lake', dropped off trail to snap shots of slushy Bierstadt Lake.
BEST vacation from a vacation – I choose mountain hike over Disney World every time 🙂
alpine hikes & holiday lights (Estes Park CO)
Best way to celebrate Colorado Day?  Outdoors of course 🙂
On August 1, 1876, president Ulysses S. Grant signed a proclamation admitting Colorado as a state. Colorado Day was celebrated as a state holiday on August 1 for many years, and then was moved to the first Monday in August.  The day no longer became a public holiday, but rather an observance, when the state started observing Martin Luther King Jr. Day as a public holiday in 1985.
Started the day with an early hour-half drive to Estes Park.  Rocky Mountain Half Marathon, my first Half in 18 months.  6am Gun time – something special about racing pre-dawn, settling into pace, then experience sunrise.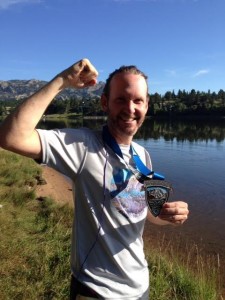 Circled Estes Lake. Mile 2 jammed up on the running path – lotta runners, maybe 2 across possible.  Picked up pace & caught the 1:50 racers.
Mile 4 thru 8 – UP.  Elevation AND incline – but no negativity this day.  I dug in, held pace & picked off tens of runners walking the last mile up.
Miles 9, 10 & 11 – big smile.   Ripped DOWN (rare for me, generally I pull up, hold back).
UP again at mile 12 to the Stanley, then finished flat to the Fairgrounds. (Kinda weird ending – passed a '3' which we all assumed was mile 13…but that happened another half mile later, then the final tenth mile was actually .3 miles.  Not a deal breaker but I went out fast, far too early.)
Good day.  13.1 miles, half the distance – nice to have some gas left in the tank.
Hills & altitude – my new favourite combo.  Finding hills to be an age equalizer.
Bib       Name              City                              Chip Time       Division Place
327      K R Haga        Louisville CO              1:52:21             6
Rocky Mountain Nat'l Park – Planned to re-hike Black Lake, hadn't been in 3 years (2012 challenge: 52 weeks, 52 hikes).  9am in the Park but couldn't find parking, even RMNP's Park N Ride advised to come back at 2pm.  Seriously?  (Easy to get frustrated with summer tourist season but learning to share the love.  National Parks are OUR parks as Americans – all Americans, no discrimination.)
Snuck the Prius in Moraine Park campground & hiked the extra mile to Cub Lake trailhead.  Not a lotta trees in the meadow (Fern Lake fire burned most in 2012).  Temps soon soared near 90, warm day.  Last mile forested, blanketed in wildflowers 🙂
Cub Lake – pulled off my shoes & soaked.  Lily pads, 2 ducks, dragonflies, small blue fish.  Nibble, nibble, BITE.  Hey, that's no fish – pulled off a blood-sucking leech attached to my foot.  'Nough soaking, hiked back – 4.6 miles total.
½ marathon run followed by a Nat'l Park hike.  Colorado Day done?  Nope, not yet.
Colorado Shakespeare Festival (Boulder) – 8pm curtain time, biggest concern was sleep deprivation.  Half-moon outdoor arena, center aisle seat, Flatirons sunset, temps in the low 70's – yep, pretty much PERFECT.
From the opening dialogue, was hooked.
Iago couldn't have been more sinister, nor Othello more tormented.  Acting from these 2 overshadowed all other players.  Othello a North African Moor, interracial marriage – and Iago's sheer cunning to drive noble Othello mad.
NOT the Shakespeare of my youth.  Far exceeded all expectations – I'll be back next summer.  FAANNN-frickin-TASTIC!
Colorado Day, day after?  Sleep 🙂
If I had to blame someone for my love of Irish music, Irish dance & storytelling (art of telling a good joke) – it'd be my friend Stephen.  I remember late nights in Landaff, New Hampshire listening to his dad, step-mom Donna, Trudy & Bob – Trudy & the Pioneers – singing & playing instruments 'til midnight.  Sooooo much fun.  Talk about a favourite memory – folks, that's a Top 10.
Stephen & his sister Sheila exposed me to Celtic Thunder – a Dublin-based group, which tours the U.S. annually (cousin Neil is in the band).  When I read Celtic, Keith Harkin would be soloing at the Rocky Mountain Irish Festival in Estes Park – HAD to get tickets.
Work early Saturday – my daily painting assignment done (2 more walls of green) – then drove an hour-half north to RMNP (Rocky Mountain Nat'l Park).  Mountain air & glacier snow: good for the head, good for the soul.  Beautiful sunny weather, busy day in the Park.
Back down the mountain, made my way to the Stanley Park Fairgrounds – home to Estes' annual Rooftop Rodeo.  Not much of an actual Irish festival – this ain't Boston – but couldn't beat the view.  Sun set over the Rockies as dancers, violinists & vocalists took to the outdoor stage.  Unfortunately, my Celtic Thunder guy was a no show – replaced by an Elvis singer…yeah, kinda weird.
Nice diversion from painting & Home Improvements 🙂  Last local weekend before my sister's visit next month – marathons in Charlevoix MI & Angel Fire NM in my immediate future.
traditional Irish dancing