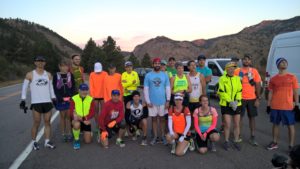 After last weekend's marathon fail in Boulder, wasn't sure when I'd next long-run.  Down a day depressed, whole lotta sleep – then like most, licked my wounds & got back on the horse.  Short run Tuesday, 8 miles Thursday…head back in the game.
Thursday morning identified a last minute race addition on the Maniacs calendar – only an hour-half from my home.  Late registration thru Friday night.  Done; meant to be.
Laid low Saturday, short hike in Eldorado Canyon, bed by 9pm, up again at 3:15am.  Quick shower, walked/fed Ro…on the road north by 4am – marathon meet-up at 530am in downtown Fort Collins.  Late instructions, Race Director greeted participants – in particular, a large Fort Collins Running Club contingent – all car-journeyed to the Canyon, parked at Picnic Rock Rest Area (mile from the Finish), then van-pooled another 2,000ft UP the Canyon to today's high-altitude start: milepost 94 on Poudre Canyon Road.
Super scenic landscape.  15 miles course-shared with the Colorado Marathon.  Lotta memories there – race where I finished my 50 State Quest.  Cool temps 'til the sun rose – but not as cold as last May…was literally snowing last time I ran this route 🙂
Start time: 713am…yep, that specific (daybreak)
Pre-race pic; pretty much on my own after the first 4-5 miles.  Course spilled between large canyon walls, Cache la Poudre River on runner's left…saw maybe 2 vehicles total.  Surrounded with views of the Rockies ALL day.  Quiet & isolated.  BIG smile.
(last 10K) Picked off by a few runners but finished 12th overall (super small field).  4:30 finish, not bad at 7,000ft.  AND for the first time ever, won my Age Group & scored a bobble-head.  Marathon 72 RE-DO SUCCESS!
No marathons for 2 weeks but…maybe/might have located another last-minute race, just 7 hours away in Nebraska.  LOL>
Cache La Poudre Canyon Marathon – October 16, 2016

20 Keenan Haga  4:33:07
Have become super sensitive with my run schedule since April.  Learning balance.  Consistent training & rest, now a key part of active marathoning.  PR goal this Fall – leg fatigue or re-injury would limit that.
Ever since my first Fall snow hike 4 years ago, Steamboat has always tugged at my heart.  Returned the following year for my first (& only) Half Ironman.  It was there I was humbled by my first open water swim – BIG difference from lap swimming at the gym.  HA!  Steamboat Springs was also my initial 50 State finish destination.  3 hours from home however; added Fort Collins last minute to better share the experience with family & friends.  No regrets…but still love me some Steamboat, not missing Sunday's 26.2.
Been heating up all week, start of our 4 month summer season.  Not a hot weather runner – but who doesn't love summer?  14er hike   season 🙂  Left Ro with Ash on Saturday, drove US36 to Denver, I-70 West past the Divide.  Snow garnished the landscape just past Idaho Springs.  Last hour-half north from Silverthorne, summer heat gave way to snowy meadows as I upped elevation & crossed Rabbit Ears Pass.  Haven't seen winter precip since my Evans hike last month.  Kid giddy.
Bib pick-up, light dinner, 8pm hunkered down.  Early start tomorrow.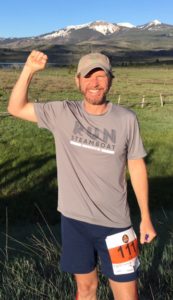 Pre-dawn parked downtown, caught the marathon Start bus.  Point-to-point course, 8100ft elevation.
Chilly arrival, almost an hour early – watched the sun rise over Hahn's Peak.  double WOW!  Fought the urge to double-shirt & slabbed on extra sun block.  Temps would soar +30 degrees by Finish.
Small marathon field – less than 300 – & similar to Coeur d'Alene, jacked with elites and tri-athletes.  Another high altitude training hub.  Hilly start, first 4 miles.  Long slope decline thru 8 – fairly flat going forward.  A few rolling hills but nothing to wake the quads.
sub-2 first half, another fade to the Finish.  Heat cooked.  Flagged down an aid truck at 18 but changed my mind & waved him on.  Followed a group of young runners next 2 miles, then iPhoned Ash at marker 20 for inspiration.  Last miles to town, a mix of jog, walk & slog.
I live in altitude (5600ft) but add a 1000ft & my lungs beg for air like a flatlander.  Not enough high altitude marathoning in my war chest.
Stopped digesting water at 24.  Rinsed my mouth last 2 aid stops for hydration – anything swallowed, I spewed on the highway.  Physically I've got this – mentally, I still struggle in heat.  Determined to succeed.
Last half-mile finished strong.  Medics applied ice [to the] back of my neck, poured water over my head.  Hot, dehydrated – up and on my way in 20 minutes.  Not pretty – I get that – but it's all a process.  Thin air & summer heat, not a strength…yet.
McDonalds splash bath, 3 hours open highway.  Colorado marathoning: home before dinner, still gotta walk the dog 🙂
Steamboat Marathon – June 5, 2016

K R Haga        Louisville CO       5:07:30
Touchdown from Chicago at 930pm, 1030 home, asleep by 11.  Alarm sounded at 245am, Maniac pal Stacy rang my doorbell at 315 – car pooling north to Fort Collins to finish my 50 States Quest, marathoning all 50 in under 3 years.
Knee wrapped, body banged up from yesterday's 26.2 in Illinois – but mentally in a good place…today, the journey ends.  What started as a 'one and done' marathon in Anchorage evolved & spread across the whole USA.  Maine to Miami, Fargo to Falmouth, Sioux Falls to San Francisco, New Mexico to New York City.  After today, I will have marathoned every American state – all 50 plus DC.
430am bus departure – north up Poudre Canyon, point-to-point trek finishing in downtown Fort Collins.  No accident I would end my Quest in Colorado.  May 1st in Colorado.  Temps in the 20's, light snow falling on canyon boulders & lodgepole pine.  It's like the gods knew – it's his 50th – make it PERFECT!
Layered up, descended the bus with hundreds of other eager runners, John Denver's Rocky Mountain High blaring on outdoor speakers.  This was REALLY happening.  WOW WOW WOW!  Snapped more than a few snowy pre-race pics.  I never started with the dream of finishing all 50 – one of the biggest personal accomplishments of my life.
Queued up with the 5 hr pace group.  Slow n steady.  No failing today – run, walk, crawl – but finish before the 6 hour cutoff, gut out 26.2 miles.  Made insta-friends with 1st time marathoner, Jen & trekked together the first 15 miles.  Easy, forgiving course, mostly downhill to the Half.  IT band stung by mile 7 but kept trucking along.
HUGE smile, enveloped by snow – 100% in my element.  2:30 Half, one of my slowest…but on track to Finish.
Said my goodbyes to Jen at mile 15.  Walk, run – but kept moving,  Mile 18: shooting pain.  Not proud, but popped a pain pill.  Getting thru today's run doing absolutely whatever needed to finish.
Left leg completely stiff – same recurring injury – just 3 miles more.  Not gonna sugar coat it – I hurt.  Each pounding step, nerve strikes from my weakened left knee (like bone grinding on bone).
Entered Fort Collins.  Focused.  Mile 24.
Pain was frustrating – constant, pulsing.  Crossed a long wooden bridge.  Mile 25.  I can do anything for a mile.  Felt better to slog than walk, drug my left prosthetic along.
Two-tenths to go, saw people, saw the Finish.  Bent the tin-man leg, willed it to move.  Music blaring in my headset, eyes tearing, pounded my chest – each step closer, folks cheering me on.  Kept pushing.  Would not stop.
Joy, relief.  So much emotion.  I DID IT – I finished.
If I never run again, this day I set a goal, met a goal.  I walked the talk.  I did the impossible.  No excuses, no regrets, nothing left undone.  Proud to have family & friends see me finish.  INNER PRIDE – absolutely anything is possible.
Congratulations #50 K R HAGA!

Here are your results for the 2016 Colorado Marathon:

Your final time is 05:23:27
Post-marathon lasagna.  Next stop: dessert – at The Chocolate Café.  Shower, ('nother) pain pill, change of clothes, Dinner Theatre in Boulder.  Notta lotta sleep – 4 hours spread over 2 days – but tonite we celebrate.  B-I-G.  #noregretlife
May 1 • Fort Collins • Colorado Marathon
pre-race clip in Poudre Canyon — will never forget this day, snow/mountains/Colorado, storybook ending to my 50 States Quest