REDEMPTION WEEK.
Gotta say – last week's marathon result really really stung.  Been putting in the time, working hard.  Heat or no heat – never expected to throw a 5 hour marathon result again.  Aside from the mental struggle of a sub-par performance, took 'til Wednesday to bounce back physically.  Nauseous, early week pace all over the place in my training runs.
8.7 miles Wednesday, 12.2 miles Thursday.  Back on track.  Unlike last week, took a taper day [on] Friday.  Easy 2 mile jog, marathoning Saturday morning in Brighton – 2nd weekend my run commute would be under 30 minutes.  Nice 🙂
FUN FACT: to keep costs down, Director reused old race bibs.  Tomorrow I'd be running a Ladies 9K event from 2014.  LOL>
Early wake-up, early Start.  Cold morning.  35 degrees, woke to rain.  Swapped rain for sleet as Brighton temps dipped just under freezing.  Small race, 20 laps 'round a flat 1.3 mile course.  20 laps, ugh.  Packed a run bag with all my fave food & drinks.  Tucked under a picnic area awning – would have 20 opportunities to grab a snack.
6am Start.  Went out fast, hung a quarter-mile behind the lead pack.  Followed the flags, made my way once around the course.  Multiple mud crossings, developed a rhythm.  Lap 4: gloppy cold rain, mix of wet snow & rain.  Increased speed, held an 8:20/min pace, started picking off runners.  Slowed — ran an easy 9:30/min mile — every third interval.
1:56 Half marathon.  Not a personal best…but the fastest I'd run post-cancer.  Mentally knew: pacing too quick – it's a marathon, not a 10K.  Would keep running STRONG 3 more laps, then reassess.  Not targeting a new PR 'til September…but what if.  What if today everything came together for my first sub-4 since 2015.  Logged a slow loop, but surprisingly followed with two sub-9/min miles.
Rain stopped at lap 17 (22 miles).  Fizzling, running empty/outta gas, 9:40 lap.  Refueled, sucked down 2 packets of soft food.   A minute+ under sub-4, quickly eating thru my time bank.  2 laps remaining.  Lap 19, run clock read 3:51.  Legs like lead, breathing labored.  Pushing hard, forward thru mud, sloppy conditions – no longer avoiding the muddiest stretches.  Everything I have this day, no holding back.
Finish time – unfortunately, just missed – 4:01:34.  No sub-4, not today…but almost there.
Fastest run of 2017.  Strike that – fastest run since March 2015 & a new Colorado PR.  3rd place Male, 4th overall.
2017 Runs With Scissors – April 22, 2017

Male Marathon Results

Place      Name               Age    Time

Nicholas Ferron     34    03:00:18
David Jepsen        41    03:22:44
K R Haga            50    04:01:34
Sometimes you're the windshield, sometimes you're the bug…  MARY CHAPIN CARPENTER
Tough day.  Heat fail.
Training hard all month – Bighorn just over 60 days away.  Completed another 10K Friday: 6 mile run, quarter-mile swim.  Slept hard, probably some of my best [the] day before a marathon.  Haven't yet acclimated, deep sleep after every swim.
Today's run only 20 minutes away in Westminster.  Can't beat that commute, huh?
Sunshiny skies, 8am Start, expecting a warm Finish.  Commuted with my North End neighbor, Larry – he'd run the 10K today.  Beautiful morning, well organized event.  All-Out Beat the Heat Marathon.  'Beat the Heat' was exactly the plan.
Cool comfortable temp, Star-Spangled Banner blared proudly.  Dropped my hat, hand over heart & sang along.  Countdown from 10, our marathon journey began.  Briefly started on asphalt (ran past an alpaca farm), then adjusted to packed trail (dirt).  Climb, Climb, Climb – course incline the first 8 miles…that's a lotta climb, luckily I'm a fan of hills 🙂
Marathon athletes will start out heading west on Big Dry Creek Trail toward Standley Lake Regional Park. At about 2.5 miles athletes will begin 4 miles of the gravel trail & road system within the park, including the spectacular views along a north / south dogleg near the dam, then exit the park to continue west toward the south trailhead and the west turnaround. As they return they way they came, athletes will skip the dogleg to return to Big Dry Creek Trail and follow it east for about 16 miles to the east turnaround.
Sun kicked in at 10 – rays were always there, but didn't feel the heat 'til 2nd Half.  70, 75, 81° F.  Perfect for a casual walk with the pup – but on a marathon run without any tree cover, our high-altitude sun baked.  Number of participants dropped off significantly — folks opting to finish the Half, avoid the exposed bike path east to Denver.  Today's first Half highlighted shots of Standley Lake, backdropped by the Flatirons.  2nd Half however was dry, flat, cracked earth, patches of dried salt littered the landscape.
Mentally broke at 21.  My friend Larry doubled his 10K effort, met me just past mile 23.  Walking now.  Notta lotta chatter.  Notta lotta options – small race, no golf-cart to the Finish should you call it quits.  UGLY…nearly 2 hours to finish those last 5 miles.  Dehydrated, sweat-caked salt 'round my eyes, dried to the sides of my face.
A finish is a finish, collected my medal…but today's fail stung.
2017 All-Out Beat the Heat – Full

April 15, 2017 in Westminster, CO

2587   K R Haga   5:11:18
Shoes off, home.  2 hours sleep, briefly woke to shower.  3pm: bowl of soup.
6:15pm: my quarterly Boulder Dinner Theatre date with Ash, Tom & Stephen.  "Disenchanted!" – comedy depicting the now adult, middle-aged Disney princesses.  Time to turn that frown upside down.  Good laugh.
10 hours sleep, 2 easy miles on the treadmill, quarter-mile swim at CAC.  Weekend over?  Heck no, it's Easter Sunday!  Afternoon-celebrated at Casa Alegre — our Mexican Easter tradition — 4th year  with Ash & Tom.  Mexican fiesta, olé!
Margaret "Maggie" Brown (July 18, 1867 – October 26, 1932) (posthumously known as "The Unsinkable Molly Brown") was an American socialite and philanthropist.  She is best remembered for exhorting the crew in Lifeboat No. 6 to return to the debris field of the 1912 sinking of RMS Titanic to look for survivors.  During her lifetime, her friends called her "Maggie", but after her death, a 1960 Broadway musical based on her life and its 1964 film adaptation were each entitled The Unsinkable Molly Brown.
Marathon Sunday in Pueblo…time to pull out the folder.  AAA articles, newspaper clippings, emails/FB posts from friends, pages ripped from airline magazines – all activities/places which spark interest & light my heart.  Doesn't everyone have a folder?  🙂
First Colorado marathon of the year so…decided to celebrate a famous Coloradan – the Unsinkable Molly Brown.  Saw the 1964 movie (starring Debbie Reynolds) on Netflix.  Over-the-top energy, hillbilly drama.  Set in Leadville, the Browns would move to Denver (after a successful mining claim) & try to join the social elite…sorta like a movie version of "The Beverly Hillbillies".  Of course, there's no place for Molly at anyone's table (despite her wealth).  Freak circumstance puts her on the Titanic – and she becomes a national celebrity.
Kicked off 'Molly Brown Day', the night before in nearby Longmont.  Purchased dinner theatre tickets for a local adaptation of the Broadway play.  Reality: all 'Dinner Theatre' is not created equal.   Tonite's performance was light on talent & the hall struggled with food service.  Show started 45 minutes late –  but overall, a FUN experience.  Something new to do on a Friday night.  Check, done.  No regrets.
Saturday morning:  short 2-mile run, packed an overnight bag, quick shower.  Dropped Ro at the kennel, next stop: Denver – specifically, 1340 Pennsylvania Street…the actual Molly Brown House.  History nerd alert – LOVE LOVED it.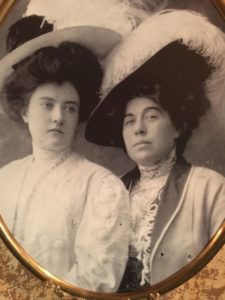 Movie: 'Molly' Brown
Reality: Margaret, Maggie — but never, Molly
Movie: illiterate mining girl
Reality: high school-equivalent education, well-educated vs her [female] peers
Play & movie were based off articles published in the Denver Post, written by socialites who disliked Molly because the Browns represented 'new money'.  Most of Denver's elite wanted to be accepted in East Coast social circles so went to great lengths to distance themselves from 'new money' (their parents' generation).  Colorado only achieved in statehood in 1876.
Turn of the century wallpaper, stained glass, kerosene lights, Victorian furniture, bear rugs & animal mountings (inspired by President Teddy Roosevelt)…like walking back in time.
Post-Titanic 'Molly' Brown fought for women's suffrage.  Colorado became the first U.S. state to provide the vote (Wyoming, technically 'the first', was a territory).  Mrs. Brown ran for US Senate twice.  She purchased land to create the City's first parks & fought for worker's rights – an issue which ended her marriage (technically though, they never divorced).
Really really interesting day.  If ever in Denver, take the hour-long house tour ($11).   Highly recommended.
New York Deli News for lunch (well-known Jewish deli, another 'first' experience), followed by my first Colorado visit to IKEA.  Haven't seen dollar hot dogs & cinnamon buns since leaving Connecticut.  LOL>
Sometimes the best vacation is in your own backyard.  LOVE LOVE my Colorado life!