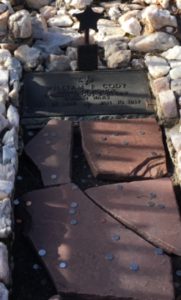 Sunday, FUN day.
Lucille's for breakfast – any excuse for beignets.  Fun story here is the group pic.  While positioning ourselves for a selfie, another patron came forward & asked if he could help.  Sure, why not?
Top 10 photo fail.  Where's Dawn?  LOL>
Filled my friend's last Colorado hours with a drive up Lookout Mountain in Golden.  Buffalo Bill Museum.  Never previously been – another rainy-day activity in a state with little rain 🙂
the Museum?  Chalked full of Wild West Show memorabilia.  LOVE history, LOVE museums, LOVE LOVED their collection of Western American art (an unexpected theme this weekend).
Beautiful overlook, beautiful sunshiny day.  distant Foothills all snow-covered.  'Tis the season ❤
Lotta controversy over Bill's gravesite in Golden.  Towns in South Dakota & Wyoming both laid claim to the body.  In the end, it was Bill's wish to be buried near his Sister's home where he spent his final days.
2 ½ days of food & Colorado sunshine.  Thanks friend, best 'rainy-day' weekend ever.
IS BUFFALO BILL CODY REALLY BURIED ON LOOKOUT MOUNTAIN?

by KELLEN on October 4, 2016

On January 10, 1917, while visiting his sister in Denver, famous scout, Buffalo hunter, showman and ultimate Son of the West, Buffalo Bill Cody died from kidney failure. Because he passed away in the middle of the winter the road to Lookout Mountain, the spot where he wanted to be buried, was impassable. So Olinger's Mortuary, where he was initially interred, kept his remains in cold storage for six months – embalming it six times – until the road up to the Lookout Mountain was made passable.

Much of the controversy that followed the death of Buffalo Bill and his burial revolves around Colorado's neighbor to the north, Wyoming. The Cowboy State wanted Bill to be buried there just as much as Colorado wanted him to stay in a mountain state. In the first draft of Cody's will, written before he died, he had stated he wanted to be buried outside the town he founded, Cody, Wyoming, somewhere on Cedar Mountain. But in an updated will, Buffalo Bill had specified that he wanted to be buried atop Lookout Mountain with one of the most spectacular views in all of the west.

Buffalo Bill's Casket

There is a conspiracy theory that exists even to this day that says Buffalo Bill is actually buried in the Cowboy State, and not in Colorful Colorado. Legend has it that a number of folks from Wyoming snuck into the funeral home and replaced Bill's body with a local vagrant, a look-alike impostor, then took the real Cody back to the town he founded.

However, there exists quite a lot of evidence debunking this outrageous tale. During the June funeral in 1917, many of Cody's family members as well as thousands of mourners attended the event, and numerous photographs were taken of the family filing past the open casket. If the Bill in the casket was an imposter, it's more than likely one of his relatives would have noticed and said something.

Most of the burial controversy comes from Cody's niece, Mary Jester Allen, who, after the death of Bill's wife Louisa Cody, claimed that Denver officials had conspired to have Buffalo Bill buried on Lookout Mountain. The rumors so inflamed both sides that Cody's foster son, Johnny Baker, reburied the Codys under tons of concrete as security against theft.

Buffalo Bill's Grave

Further inflaming the controversy, in 1948, the Colorado National Guard stationed troops around the grave site after American Legion post members in Cody offered a $10,000 reward to anyone who could steal Cody's body. In 2006, Wyoming legislators jokingly debated waging a "clandestine" effort to retrieve Buffalo Bill. Many historians and a good number of people from Wyoming believe Bill is buried in Colorado, but that doesn't stop from the tall tales and controversy from raging on today.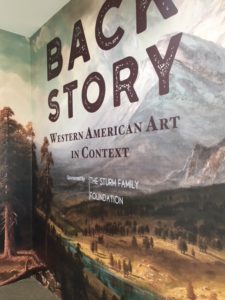 Good things happen to good people.  And this time, the good person was me 🙂
Haven't seen my bestie Dawn since our 2 week, 2 island, 'cross the Pacific Ocean, adventure to New Zealand.  Lucky me!  After visiting her godmother in Vegas, was treated to a Colorado weekend on her CT return home.  Hour upon arrival, Friday dinner at the Post.  FAAAANNNTASTIC!
Sunshiny Saturday.  6 years in Colorado but NEVER toured Denver.  Been waiting for a rainy-day that just never happened.  Super fun to have a weekend play friend! ❤
Walked the State Capitol grounds, enjoyed a few minutes of the annual Veterans Day parade.  HUGE USA flag traveled Broadway, before turning in front the Denver Art Museum.
Prime-time destination: the History Colorado Center – more specifically, their exhibit of Western American Art.  Lewis & Clark's telescope (circa 1800), bronzed Wild West sculptures & of course, walls & walls of art – landscape paintings, cowpokes & Native Americans.  LOVED LOVED!
Lunch'd at Denver's historic Brown Palace.  No formal tea service (reservations FULL thru December) – no worries, happily gorged at one of the hotel's 2 other restaurants.
Nite plans?  Tapas at neighbor Larry's home.  Morning next? Creole breakfast with Ash & Tom.
No questioning my excessive run habits.  I run because I eat – & I like to eat a lot.  LOL>
History Colorado Center
Veterans Day 2017
Who signs up for a 50K trail run only 4 days before the event?  Yep, that happened this week.
Received a promo email for The Bear Chase Trail Race last weekend, Friday before New Hampshire.  Generally I delete these (my run schedule's set 6 months out) but was out-of-town/travelling soooo the ad stayed in my Inbox.
Home sweet Colorado Home.  Cool & overcast all week, highs never topped 60 (GREAT weather).  Didn't have a great run in Keene (REDEMPTION).  Short miles this month in my Run the Year challenge (Sept 30th race) AND only 45 minutes from Home.
I know, I know – crazy 'healthy' addiction.  Paid FULL price & promised Ro we'd hike tomorrow 🙂
Saturday morning.  Hydration vest outta the closet, packed a drop bag – pickles/watermelon/chicken noodle soup, change of clothes (shirt/socks).  I'm my own crew today.  Socks?  Yep, NINE water crossings – 6 of those, knee deep water.  LOVE LOVED it!
Missed bib pick-up night before (work obligation).  Arrived half-hour early in Lakewood's Bear Creek Lake Park.  FREE parking ($10 fee waived for runners).  Volunteer handed me a Bib, 4 safety pins & my Bear Chase tech shirt.  BAM, done.
2nd time in a month, I'd be running the event's low-mile race.  100K, 50 mile or 50K – that's it.  First time since April 2016, I actually registered for a 50K (ran 3 last year).  Marathon + 6 miles.  Baby steps.  I see a 50-mile race in my 2018 future.
Sun rose pink over Bear Creek Lake, hats off for the National Anthem & we were off.  Bunched up at the first water crossing, then hiked UP the first of three big climbs.  Backside of hill?  I flew.  Since REVEL Rockies training this Spring, I'm a much better downhill runner.
Easiest trail terrain to date – rolling hills, root-free course (my trail nemesis).  Ran strong first 14 miles.  Lost my mojo during the sun-exposed 6.9 miles 'round Fox Hollow Golf Course.  No tree, no shade, no wind.  Popped in the ear-buds, tried to flood my head with sound.
Last loop (18.8 miles in), half marathon distance to go.  Dilly-dallied 10 minutes at Bag Drop.  Re-clothed (dry shirt/dry socks), bathroom break, swallowed a half-thermos of chicken noodle.  Departed with a fresh bottle of electrolytes.
Last climb UP, right quad cramped.  Unfamiliar territory.  Nearby runner asked if I needed salt tabs.  I thanked him, swallowed both & hoped for a miracle.  I'm a puker, not a cramper.  Limped/walked the climb, limped/jogged the backside.
Clouds rolled in, temp dropped 10-15 degrees, winds kicked up.  No sun, no headphones…no need.  Quad cramp ceased.  My miracle.
Slow pace – 12/min mile – but I kept moving.  Shoulders back, no walk, no slog.  Head voices stopped.  Focused on a guy in white, later a couple both dressed in red.  Approached, paced closed behind, then passed/moved ahead.  Ninth & final water crossing.
Less than a mile to go AND… I lost the trail.  Are you kidding me??  Bush-whacked thru high grass & willow thicket.  Crossed a paved road, met a 100K runner.  Had run past the Finish by more than half a mile.  Disappointed…but back on trail – I kept moving.
Actually came up BEHIND the Finish.  7 hours – that's a looooong time but I FINISHED.  32 miles total.  WOW!  ALSO surprisingly, compared with 2016 results – cut more than an hour off my best time.  Today's run a 50K PR.
Out like a LION (September), in with a ROAR (October) – starting tomorrow with a high-altitude hike.  Gotta, hafta – promised the pup, right?  LOVE LOVE my Colorado life ❤
The Bear Chase

Running @ Lakewood, CO, 50K 9/30/2017, by HAL Sports

Keenan Haga

Bib #732  CHIP TIME  07:04:43
meanwhile far, far away in Germany…look who's celebrating Oktoberfest!