No 'whale of a thirteener' hike, no 'Debbie Gibson' Lake, no bighorn sheep.  Small garter snake, remnants of Aspen yellow, SNOW & Grave Danger RADIATION.  What?????
Alarm buzzed at 5am.  Dark outside but could hear rain.
Alarm buzzed again at 6:30.  Felt my age this morning.  32 miles yesterday, slooooow start.  Cup of Pappy's sassafras tea.  Unpacked yesterday's gear, re-stuffed the backpack with hike essentials.  On the road by 8am.  New day, new month, promised Ro high elevation.
Plan A: Whale Peak (elevation 13,078ft), Plan B: Gibson Lake.  Hour-half drive on Hwy 285.  Morrison, Conifer, Bailey…dirt-road right, just past Grant.  BEAUTIFUL autumn drive.  Had I woke 'on time' today, would have all been dark.  Everything happens for a reason 🙂
Dodged potholes 5 miles to Hall Valley Campground…dirt road/lotta seasonal use.
ATV-road hike.  1.2 miles to Gibson Lake Trailhead.  The panorama?  Colorado Autumn – one of the last weekends of Aspen YELLOW.  Snowy mountain backdrop.  Today's WOW shots came early.
Gibson Lake Trailhead coated in ankle-deep snow.  Continued UP the ATV-road.  [in hindsight] Should've looked a little harder.  Back of the parking lot, no visible path – but on my hike return, spotted the weathered trail sign.  Gibson Lake → 3 miles.  Ugh.
Snow got deeper, off-leash joy for Ro.  UP, UP, UP.  Took more than a few water breaks.  50K day-after: legs weren't exactly bounding effortlessly.  LOL>
Trees stunted, wind blew.  Into the Backpack: treat for Ro, GLOVES for dad.  Trail snow thinned, precip blowing to the side in drifts.  Still no Lake but could make out a vault toilet, far in the distance.  Gonna top the next hill, lunch at the Lake, contemplate next steps.  Based on snow conditions, not sure how plausible summiting a 13er was gonna be.
"Go bak" – scribed on a large boulder.  'Vault toilet' reality: 3 buildings & an American flag.  Large purple gate (middle of absolute nowhere) tagged: 'Keep OUT Mine Property'.  Today's deal breaker?  "Grave Danger: Very High Radiation Area".
Hadn't seen THAT sign before.  4.4 miles in, good enough today.  Kicked back 20 minutes (ironically, against the RADIATION gate), downed a turkey sandwich (both halves), fed Ro.  Might be GLOWING, but my stomach would be full 🙂
2 roadside stops on the drive home: unplanned, unexpected, unrelated – but both SUPER cool.
photo opp: Christ of the Rockies statue (Camp Santa Maria)
food LOVE: foot-long w/ sauerkraut at Coney Island Boardwalk (Bailey)
Crazy FULL weekend – GRATEFUL to be working tomorrow.  Monday, REST day.
Master went to Grasshopper.
Too much time on the road Monday in Wyoming.  Wanted to hike this weekend, just didn't want to drive to get there.  Ash recommended Herman Lake, an alpine hike above tree-line – chock full of wildflower & only an hour-half from home.  Check, done.
Early Saturday start.  Full tank of gas, backpack, Ro in the backseat.  Beautiful Colorado day.
Handful of exits past Georgetown, one away from Grays.  Dirt trailhead parking lot right off exit 218: Herman Gulch Trail.  Steep hike on the CDT (Continental Divide Trail), BESTEST way to celebrate National Dog Day 2017!
Forewarned 'bout 2 Start complaints: highway noise & a HUGE initial climb.  Check & check.  Butted right against I-70, traffic noisy/distracting/easy-to-hear from Colorado's east-west thruway.  Drops off quarter to half-mile in.
1000 foot grind UP UP UP from the parking lot.  Think daughter felt vindicated after I shared my elevation stats.  AND no Colorado switchbacks this trek, just a direct push UP.  Settled/caught my breath, sucked down a liter of water, elevation bit shy of 11,000ft.  Trail emptied into high alpine meadow.  AWESOME hike!
Steady gradual UP 'til our lake destination, never really noticed.  Mountain decorated/dressed in colour.  Lush summer vegetation.  Evergreen: pine, spruce, juniper.  Wildflowers EVERYWHERE, every shade.  Absolutely beautiful.
Good for the head.  Surrounded by sheer MASS, felt small again.  Inner peace.
It's not Herman Lake's size, but its location – spongy tundra border, framed-in by Pettingell Peak.  Cold wind blew, snow a short 3 weeks away.  Nature knows.  Backed against a boulder, Ro tethered to my belt, lunched in the Colorado Rockies at 12,000ft.
No other place on Earth ❤
UPDATE:  Home by 2pm Saturday.  Grocery shopped, cleaned house/laundry, Sunday church – AND Patsy Cline.  Ok, not THE Patsy Cline (she's been gone since 1963) but a 2-hour two-Act matinee of the lady's music at Longmont Community Theatre.
I'm not just 'marathon man', I've got an artsy side too 🙂
'Today, Tomorrow & Forever', a Celebration of Patsy Cline (audio only)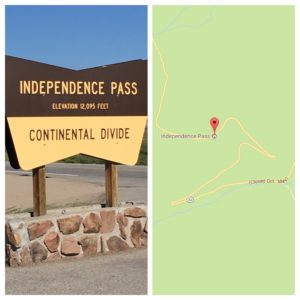 Anytime you see the word 'tundra' in July, it's a good day…a mighty good day.
Woke Tuesday outside of Aspen, Independence Day.  Big parade in town, gonna shut down Main Street 'til early afternoon.  Sit-down breakfast then hit the highway before the town's 930am curfew.  Could always take 'the winter route' home – but who doesn't want to travel Independence Pass on Independence Day.  Perfect, right?
Windy drive UP UP UP State Highway 82, short 45 minutes from Aspen.  Expecting a warm 4th – but at 12,000ft?  Ice still on the far edge of the lake, patches of remnant snow.  Stopped at the Pass, walked at the Pass.  FAAANNNTASTIC!
Colorado's only east-west highway, I-70 can a nightmare.  But today, breezed home.  Parked, unpacked by noon.  Quick run at the gym, off to Ash & Tom's at 4pm.  Grilling on July 4th, gotta/hafta – it's an American tradition.
Last year watched fireworks light up the highway as we returned home from St. Louis.  This year played cards 'til sunset, walked 2 blocks to Open Space & viewed 5 different town celebrations.  Clear skies, cool mountain night – PERFECT.  Best fireworks?  The ones shooting directly 'bove Ash's neighborhood.  WOW!
UPDATE:  Stephen in town Friday & Saturday, time for our quarterly gig at Boulder Dinner Theatre.  Summer season show: Joseph & the Amazing Technicolor Dreamcoat.  Yikes – whole lotta singing, not a lotta story.  And randomly, a bunch of middle-schoolers would sing.  Part of the show but not dressed for the show.  LOVE our artsy tradition but this particular show, not a fave.
Independence Day 2017