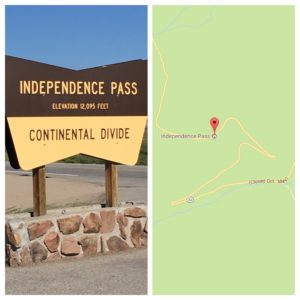 Anytime you see the word 'tundra' in July, it's a good day…a mighty good day.
Woke Tuesday outside of Aspen, Independence Day.  Big parade in town, gonna shut down Main Street 'til early afternoon.  Sit-down breakfast then hit the highway before the town's 930am curfew.  Could always take 'the winter route' home – but who doesn't want to travel Independence Pass on Independence Day.  Perfect, right?
Windy drive UP UP UP State Highway 82, short 45 minutes from Aspen.  Expecting a warm 4th – but at 12,000ft?  Ice still on the far edge of the lake, patches of remnant snow.  Stopped at the Pass, walked at the Pass.  FAAANNNTASTIC!
Colorado's only east-west highway, I-70 can a nightmare.  But today, breezed home.  Parked, unpacked by noon.  Quick run at the gym, off to Ash & Tom's at 4pm.  Grilling on July 4th, gotta/hafta – it's an American tradition.
Last year watched fireworks light up the highway as we returned home from St. Louis.  This year played cards 'til sunset, walked 2 blocks to Open Space & viewed 5 different town celebrations.  Clear skies, cool mountain night – PERFECT.  Best fireworks?  The ones shooting directly 'bove Ash's neighborhood.  WOW!
UPDATE:  Stephen in town Friday & Saturday, time for our quarterly gig at Boulder Dinner Theatre.  Summer season show: Joseph & the Amazing Technicolor Dreamcoat.  Yikes – whole lotta singing, not a lotta story.  And randomly, a bunch of middle-schoolers would sing.  Part of the show but not dressed for the show.  LOVE our artsy tradition but this particular show, not a fave.
Independence Day 2017
Alarm came early, morning after the wedding.  Hike day!  But first, another 4 mile trek along Silverthorne's Blue River Trail ('cause every day's a run day).  Altitude, check.  Thin air, check check.  Guilted Sis into joining me.  St. Louis has peaks, right?
Clothes change, backpack, piled into the Grecos SUV rental – heading UP.
The Buffalo Mountain Trail is fairly short but strenuous, gaining over 3000′ in just 2.75 miles. Portions of the trail negotiate steep switchbacks and rugged talus fields above treeline, which require careful time management and equal exertion on the descent.
Short quarter-mile trek thru lodgepole pine then SNOW.  Entire Greco family on today's hike PLUS Stephen (working next week from Colorado).  Sis & nephew Jack went out fast.  In theory, niece Victoria doesn't hike – she'd finish the same snow trek UP UP UP, all while holding a GoPro.  Despite the snow, sun blazed warm.  Perfect hike weather.  The trail itself, crazy steep.  Snow, snow melt, ice.
 N39 37.217 W106 07.809 — 1.5 miles : Rapid climb through high subalpine forest
Breathe.  Hike.  Suck down more water…and hike again.  Snow to the left, snow to the right, surrounded by pine – but the path always UP UP UP.  Never reached a point where the trail leveled off.  Going back was crazy fun.  Mix of slide, backside & feet.
For the record – I'm the one who called it.  No mas.  PLUS we've got afternoon plans 🙂
Splash bath in the hotel public restroom (already checked out of my room).  Saved a table in Frisco while Team Greco took proper showers.  Lunch choice: Greco's Pastaria.  Seemed fitting ('though we failed to receive any 'Greco family' discount) 🙂
Day's last activity: Frisco Escape Room.
Colorado's Favorite Historically Inspired Escape Room!

Frisco Escape Room is a fun, challenging, immersive, interactive game experience taking place every day. While it looks like an ordinary room, it's actually a puzzle. During your adventure in our escapes, you will find yourself flexing your brain and looking in nooks and crannies you never even noticed. Find the hidden objects, figure out the clues and solve the puzzles to earn your freedom. You have a limited amount of time, so be quick!
Entered the room, received our instructions.  No cameras, phones allowed.  Timer started & the game began.
In 1898 Pug Ryan and his gang robbed the Denver Hotel on Main St. in Breckenridge making off with considerable loot. The men fled to a cabin in Kokomo where they were soon caught up with by two lawmen. A shootout ensued, resulting in the death of Pug's partner and both lawmen. Pug narrowly escaped leaving behind his ill-gotten gains. Ten years later, school children stumble upon the treasure while having a luncheon on Jacque Mountain. Among the loot, was the gold pocket watch that belonged to Robert Foote, the owner of the Denver Hotel.

The year is 1908. You're a miner who's been down on their luck. You've just heard that some school children have found the loot from the Denver Hotel heist. Rumor is that they have stashed it in the schoolhouse until they can get it back to Mr. Foote. Can you sneak into the classroom and steal the watch while the kids finish their luncheon?
Locked in a 1908 schoolroom.  Blackboard, desks, lockers.  US Map & The Periodic Table, hung from the wall.
Tick, tick, tick.  10 minutes in, nothing.  Bell rang, timer revealed a hint.  Closer on the 2nd clue.  Bell rang again, ARGH – soooo close, seemed so obvious.  Clues progressively got harder.  At the same time, we grew stronger/more intuitive/worked together as a Team.
Periodic table — NINE — 3rd # of the combination lock.  Got it!
N – Nitrogen
I – Iodine
Ne – Neon
School books found inside each desk.  Puzzle piece on top of the lockers, placed over page 53 in 'Treasure Island' revealed 4 letters, to be used on an alpha lock, drawer in the Teacher's desk.  Inside?  Answer key to the students' history tests.
That's it, no more spoilers.  Locked in an old schoolroom with family – absolutely the BEST!!
Buffalo Cabin Trail  (short video before GoPro died — thanks Victoria!)
Last week of 2 Hagas in the office.  Ash said her goodbyes Wednesday, the future in-laws were first to arrive [from New Jersey].  PS gifted the couple a [Sprout] integrated amplifier & set of [ELAC] speakers.  Very nice.  Many thanks!
Sunday wedding.  Family arrived on multiple flights mid-day Friday/Friday nite/early Saturday/Saturday afternoon.  Hit the highway Saturday morning, easy 2 hour drive – destination: Silverthorne CO, elevation 9,035ft.  BIG smile ❤
Stopped at 'The Happy Cooker' in Georgetown for late breakfast/early lunch.  Window seat.  During the meal, saw an unusual number of pack mules.  As luck would have it, BEST LOCATION to watch today's Burro Race.  Finish Line literally across the street.  Promptly paid my tab & watched the day's first finishers.  LOVE LOVED it – start of what's undoubtedly gonna be a SUPER FUN weekend!
13th Annual Historic Georgetown Railroad & Mining Days Pack Burro Race

Georgetown, Colorado

The Western Pack Burro Ass-ociation seeks to continue a great sport begun by Colorado's miners.

Approximately 8-9 miles from Georgetown to Empire and back. Remember to follow traffic pattern around the roundabout, yield to downhill runners, and stick around after you're done to check for ticks.  And, there will be a prize at the end of the race for the runner who picks up the most trash on the course!

Entry fee: $50

Weigh-in time:  9:00 am

Start time:  11:00 am

Race Director: Bill Lee (Red Tail) – 720-234-8200 – laughingvalleyranchco@gmail.com
Back on I-70, cold drizzle turned to SNOW.  4 days 'til June – more importantly, 30 hours before the OUTDOOR Wilpiszeski wedding begins.  Snow is good luck, right?
Hotel check-in, afternoon altitude run ('cause every day's a run day).  Met up with Ash & Tom at 'Wilp Manor', the in-laws' Airbnb mansion rental.  Rehearsal dinner followed soon after at Dam Brewery in nearby Dillon.
FAM-FEST tomorrow – hanging with Mom, my siblings & their families first-half Sunday.
3pm pictures, 5pm WEDDING!  Weather Forecast: SUNSHINE ☀
Georgetown Burro Race
Memorial Day weekend SNOW