2017 – another year of thanks!
…but first, made room for turkey with an ABSOLUTELY FREE 5K in my hometown.  Four years ago, ran this event – super happy to be back!  This year, drug along Stephen (here on a holiday visit).  Whatta sport.  Prep time?  None.
Walk, run, got it done – AND with a smile on our face.
May have found my new run partner.  LOL>
Warm breezy walk with Ro 'round Waneka.  Plenty of time for Thanksgiving prep.  Feasting & football at 1pm, Ash & Tom's in Westminster.  Our Colorado tradition ❤
An ABSOLUTELY FREE 5K benefitting those in need!

• When: November 23rd, 2017

• Race Start: 9:00 a.m.

• Where:  Downtown Louisville, CO – 951 Spruce Street Louisville CO

• What: THIS RACE IS FREE (but you have to bring a donation – non-perishable food or winter clothing please).  Thank you for participating in the 2016 Turkey Trot.  Because of you and the support from our generous local businesses this event continues to be free.  In 2016 our runners donated over 20,000 pounds of food to the Sister Carmen Community Center and enormous trucks full of winter clothing.

• Who: Thousands of your closest friends and family looking to get some exercise before Thanksgiving feast.

• Benefitting: Community members in need!

We hope you can make it!

Project Louisville LLC & Events LLC
 Turkey Trot 2017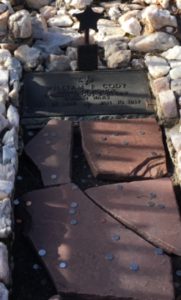 Sunday, FUN day.
Lucille's for breakfast – any excuse for beignets.  Fun story here is the group pic.  While positioning ourselves for a selfie, another patron came forward & asked if he could help.  Sure, why not?
Top 10 photo fail.  Where's Dawn?  LOL>
Filled my friend's last Colorado hours with a drive up Lookout Mountain in Golden.  Buffalo Bill Museum.  Never previously been – another rainy-day activity in a state with little rain 🙂
the Museum?  Chalked full of Wild West Show memorabilia.  LOVE history, LOVE museums, LOVE LOVED their collection of Western American art (an unexpected theme this weekend).
Beautiful overlook, beautiful sunshiny day.  distant Foothills all snow-covered.  'Tis the season ❤
Lotta controversy over Bill's gravesite in Golden.  Towns in South Dakota & Wyoming both laid claim to the body.  In the end, it was Bill's wish to be buried near his Sister's home where he spent his final days.
2 ½ days of food & Colorado sunshine.  Thanks friend, best 'rainy-day' weekend ever.
IS BUFFALO BILL CODY REALLY BURIED ON LOOKOUT MOUNTAIN?

by KELLEN on October 4, 2016

On January 10, 1917, while visiting his sister in Denver, famous scout, Buffalo hunter, showman and ultimate Son of the West, Buffalo Bill Cody died from kidney failure. Because he passed away in the middle of the winter the road to Lookout Mountain, the spot where he wanted to be buried, was impassable. So Olinger's Mortuary, where he was initially interred, kept his remains in cold storage for six months – embalming it six times – until the road up to the Lookout Mountain was made passable.

Much of the controversy that followed the death of Buffalo Bill and his burial revolves around Colorado's neighbor to the north, Wyoming. The Cowboy State wanted Bill to be buried there just as much as Colorado wanted him to stay in a mountain state. In the first draft of Cody's will, written before he died, he had stated he wanted to be buried outside the town he founded, Cody, Wyoming, somewhere on Cedar Mountain. But in an updated will, Buffalo Bill had specified that he wanted to be buried atop Lookout Mountain with one of the most spectacular views in all of the west.

Buffalo Bill's Casket

There is a conspiracy theory that exists even to this day that says Buffalo Bill is actually buried in the Cowboy State, and not in Colorful Colorado. Legend has it that a number of folks from Wyoming snuck into the funeral home and replaced Bill's body with a local vagrant, a look-alike impostor, then took the real Cody back to the town he founded.

However, there exists quite a lot of evidence debunking this outrageous tale. During the June funeral in 1917, many of Cody's family members as well as thousands of mourners attended the event, and numerous photographs were taken of the family filing past the open casket. If the Bill in the casket was an imposter, it's more than likely one of his relatives would have noticed and said something.

Most of the burial controversy comes from Cody's niece, Mary Jester Allen, who, after the death of Bill's wife Louisa Cody, claimed that Denver officials had conspired to have Buffalo Bill buried on Lookout Mountain. The rumors so inflamed both sides that Cody's foster son, Johnny Baker, reburied the Codys under tons of concrete as security against theft.

Buffalo Bill's Grave

Further inflaming the controversy, in 1948, the Colorado National Guard stationed troops around the grave site after American Legion post members in Cody offered a $10,000 reward to anyone who could steal Cody's body. In 2006, Wyoming legislators jokingly debated waging a "clandestine" effort to retrieve Buffalo Bill. Many historians and a good number of people from Wyoming believe Bill is buried in Colorado, but that doesn't stop from the tall tales and controversy from raging on today.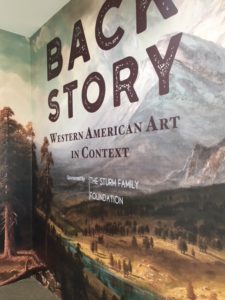 Good things happen to good people.  And this time, the good person was me 🙂
Haven't seen my bestie Dawn since our 2 week, 2 island, 'cross the Pacific Ocean, adventure to New Zealand.  Lucky me!  After visiting her godmother in Vegas, was treated to a Colorado weekend on her CT return home.  Hour upon arrival, Friday dinner at the Post.  FAAAANNNTASTIC!
Sunshiny Saturday.  6 years in Colorado but NEVER toured Denver.  Been waiting for a rainy-day that just never happened.  Super fun to have a weekend play friend! ❤
Walked the State Capitol grounds, enjoyed a few minutes of the annual Veterans Day parade.  HUGE USA flag traveled Broadway, before turning in front the Denver Art Museum.
Prime-time destination: the History Colorado Center – more specifically, their exhibit of Western American Art.  Lewis & Clark's telescope (circa 1800), bronzed Wild West sculptures & of course, walls & walls of art – landscape paintings, cowpokes & Native Americans.  LOVED LOVED!
Lunch'd at Denver's historic Brown Palace.  No formal tea service (reservations FULL thru December) – no worries, happily gorged at one of the hotel's 2 other restaurants.
Nite plans?  Tapas at neighbor Larry's home.  Morning next? Creole breakfast with Ash & Tom.
No questioning my excessive run habits.  I run because I eat – & I like to eat a lot.  LOL>
History Colorado Center
Veterans Day 2017