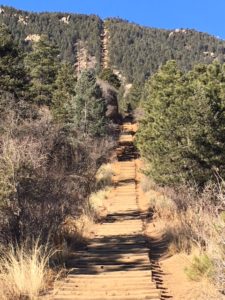 After a string of frigid cold days, switched Tuesday hike day to Wednesday on the premise of warmer temps.  Rolled the dice/took a chance.  Happy to report 9NEWS' Amelia Earhart landed this one!
Early to rise, easy highway drive, sunny skies south to Colorado Springs. By the time I hit Castle Rock (30 minutes south of Denver), day temps soared over 20, most snow gone/completely disappeared.  Appears the Springs must have missed our Christmas Eve wallop.  Trailhead parked before 9am.  Backpack-ready, rockin' winter layers – destination: Manitou Incline.  Next mile straight UP – 2,000ft elevation gain over a single mile.  You want to kick off a Resolution, this is the place to go 🙂
UP UP UP.  Last trekked the Incline in December 2014.  That day caught the sunrise with a group of local runners.  Enough impression to make this year's post-Christmas checklist.
Beautiful sunshiny day.  Went thru 2 bottles of water before reaching the Incline's Christmas tree summit.  From there it's an easy 3 mile trek down Barr Trail.  LOVE LOVE this country ❤
Home before 2 or….grab lunch inside a 1953 Boeing KC-97 tanker.  No brainer, right?
Built in 1953, this magnificent airplane refueled aircraft throughout the world. Forty-two passengers can actually eat in the plane of the 275-seat restaurant. …displaying 100's of pictures, memorabilia and rare artifacts, Solo's offers a flight through aviation history.
Burgers/fries – menu nothing special – but the experience itself, well worth the visit.
Day half over.  Evening plans?  Heck yeah.  Forest mushroom soup is back at Cracovia (our area's Polish restaurant).  Not sure where they pick local mushrooms in December, but luckily Ash's Tom caught the social media alert.  Restaurant still dressed in holiday spirit, enjoyed Cracovia's last 2 bowls of mushroom soup.  FAAANNNNTASTIC!
Entrée choice?  Go with the bratwurst.  Personally don't eat pork but envied Tom's brat sizzling tableside.
Nite ended with dessert – all good diets wait 'til after the holidays, right? 🙂
Manitou Incline '17