New Year's Eve – time to reflect on another year past, another year of growth, another year of INCREDIBLE life adventure.  Absolute no better time to say THANKS – new places/new faces, laughs shared with family & friends.
Family/2017 LIFE highlight
High in the Rockies, one exit past the Continental Divide, Ash & Tom's Colorado wedding over Memorial Day weekend.  Team Wilpiszeski filled the arena with laughter, dance & sheer noise.  Whatta FUN family – EVERYONE left Silverthorne crushing on Jersey.
The Haga Clan?  Let's just say this Father-Daughter brought it.  Memory I'll never forget.  Three time zones represented, family 'cross the USA – ALL flew in for Ash's BIG day.  BIG LOVE, proud Papa, thanks FAMILY ❤
Travel
New Zealand · two weeks, two islands, LIFETIME of memories.  Ran EVERY day – Auckland, Rotorua, Christchurch, Franz Josef Village, Queenstown, Dunedin, Oamaru, marathon finish'd in Hamilton.  Palm trees, glaciers, geysers, glow worms, whole lotta sheep, Fiordland Nat'l Park, Hobbiton & penguins too!  Nothing left undone.
Nova Scotia · two week vacation squeezed into a 4-day weekend.  Cape Split hike, toured Grand-Pré & Peggy's Cove (Nova Scotia's iconic lighthouse), my first Cèilidh (music/storytelling nite) PLUS a 4th Canadian marathon.  What an adventure!  To the Cavanaughs, Gillis' & Schofields – I am indebted.  Thanks from the bottom of my American heart ❤
TOTALITY (Casper WY) • Great American Eclipse on my BIRTHDAY.  Like nothing I've EVER experienced.  Skies darkened, white light glowed around our extinguished Sun.  [Next 2 minutes] 'diamond ring' visible to the naked eye.  Surrounded by sunset & stars, soaked up the cityscape lights of Casper below (street-lamps triggered by the mid-day eclipse).  WOW!
Dublin IRELAND · Marathon #100.  Ran this day side-by-side with Sis.  Cancer SURVIVOR celebration!
Marathoning
Completed 27 marathons this year (including one ultra) – upping my FULL stats from 78 to 105 finishes.  2,017 miles+ logged in 2017 (GOAL COMPLETE).  Haven't missed a month marathoning since December 2013, that's 49 consecutive months.  Next BIG thing – marathon on EVERY continent (including Antarctica) by May 2020.
Easy to get caught up with an 'out with the old, in with the new' attitude.
So while I'm super eager/anticipating what lies ahead in 2018 – I am grateful for a life well lived.  I am grateful for the past 365 days – laughs shared, high-altitude hikes, new places/new faces AND of course, my best pup Ro.  Nothing left undone 🙂
"Life is either a daring adventure or nothing at all." – Helen Keller
Father-Daughter Dance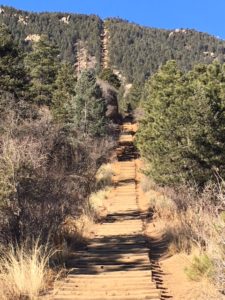 After a string of frigid cold days, switched Tuesday hike day to Wednesday on the premise of warmer temps.  Rolled the dice/took a chance.  Happy to report 9NEWS' Amelia Earhart landed this one!
Early to rise, easy highway drive, sunny skies south to Colorado Springs. By the time I hit Castle Rock (30 minutes south of Denver), day temps soared over 20, most snow gone/completely disappeared.  Appears the Springs must have missed our Christmas Eve wallop.  Trailhead parked before 9am.  Backpack-ready, rockin' winter layers – destination: Manitou Incline.  Next mile straight UP – 2,000ft elevation gain over a single mile.  You want to kick off a Resolution, this is the place to go 🙂
UP UP UP.  Last trekked the Incline in December 2014.  That day caught the sunrise with a group of local runners.  Enough impression to make this year's post-Christmas checklist.
Beautiful sunshiny day.  Went thru 2 bottles of water before reaching the Incline's Christmas tree summit.  From there it's an easy 3 mile trek down Barr Trail.  LOVE LOVE this country ❤
Home before 2 or….grab lunch inside a 1953 Boeing KC-97 tanker.  No brainer, right?
Built in 1953, this magnificent airplane refueled aircraft throughout the world. Forty-two passengers can actually eat in the plane of the 275-seat restaurant. …displaying 100's of pictures, memorabilia and rare artifacts, Solo's offers a flight through aviation history.
Burgers/fries – menu nothing special – but the experience itself, well worth the visit.
Day half over.  Evening plans?  Heck yeah.  Forest mushroom soup is back at Cracovia (our area's Polish restaurant).  Not sure where they pick local mushrooms in December, but luckily Ash's Tom caught the social media alert.  Restaurant still dressed in holiday spirit, enjoyed Cracovia's last 2 bowls of mushroom soup.  FAAANNNNTASTIC!
Entrée choice?  Go with the bratwurst.  Personally don't eat pork but envied Tom's brat sizzling tableside.
Nite ended with dessert – all good diets wait 'til after the holidays, right? 🙂
Manitou Incline '17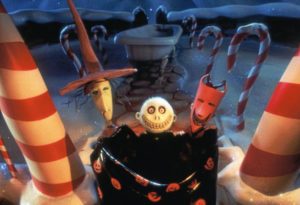 Third year running, celebrated Christmas Day at Ash & Tom's Westminster home.  Our Colorado tradition.  Their FIRST as Mr. & Mrs.
Outside temps warmed to single digits after last night's Arctic blast.  Day-started with hot chocolate & sticky buns, gifted with the Connecticut crew, then afternoon feasted.  Ham & all the fixin's – another tradition – nothing like food & FAMILY ❤
Blast from the past?  game of Life.  Journalism degree with 3 kids, yep dead last.  LOL>
Merry Christmas from snowy Colorado.
Wishing ALL good health, much laughter & more adventure in 2018 🙂
"The closest thing to heaven on this planet anywhere, is a quiet Christmas morning in the Colorado snow."