food, FAMILY & fun – but first…another marathon 🙂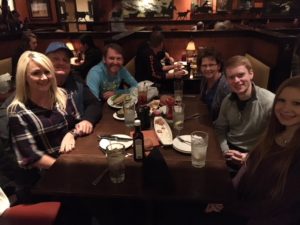 Early 5am flight to Dallas, morning arrival in Arkansas.  First stop: Family.  Kid brother owns a trucking company AND just opened a gym.  We all work somewhere – but the gym…that was mighty impressive.  Pre-kid days, Bro was a power lifter (obviously not my twin).  Daughter now off to college, LOVE LOVE he's following his passion.
Next up: lunch at Williamsburg Kitchen.  That's where one finds Mom weekdays (owner/creator/innovator of this lunch-only spot 30 years+).  LOVE this place, LOVE her Reuben, LOVE the family 'eats for FREE' discount.  FAAAANNNNTASTIC!
3 ½ hour drive on rural Arkansas roads, day's destination: Cotter AR.
Population: 948.  Five miles past Flippin, 20.2 miles from the Missouri border.  Middle of nowhere.  People in Arkansas haven't heard of this town.
Fun story.  Sun goes down maybe 10 miles from Cotter.  I'm not a great driver – even worse when it's dark.  900ft from Cotter High School (bib pick-up), Google Maps says to turn left.  Dirt road…no judgments, we have those in Colorado.  Rental car lists dramatically to the left, something is wrong – I now see the sign: Railroad Crossing.  Yep, been driving on the tracks themselves.  Pitch black, no stars here.  Yikes!  Good laugh AFTER I eased off the tracks & wasn't killed.  LOL>
Pasta charity dinner.  Sleeps 10 miles away in Mountain Home.  Daybreak marathon start.
AWESOME turn-out.  Field was limited to 750 participants AND it sold out, 4th year in a row.  Today's experience would be all about weather.  Warm start.  Never peeled my first layer so humidity-dripped in Razorback winter.  Sweated it out with a trio of runners kicking the Half.  Chatty upbeat folks.  Group slowed at mile 12.  Goodbyes, maintained pace, exited to the left – second lap.
Cloud-cover cooled conditions.  Wind gusted, no bugs 2nd Half.  No elevation gain either – 'bout as flat a course you'll find.  Hit the wall early, more mental than anything.  Notta lotta runners & I had no tunes.  [note: iPods don't last forever.]  Light rain, extra out-n-back at mile 18-ish (special from the first lap).  30mph headwind at the turn, 7 miles to go.  Walked much of mile 20.
Run-Walk-Ran last 5 miles with Sarasota runner, Buzz Scott.  Half-mile to Finish, pep talk from Buzz.  Marathon finish #103.
Heat/humidity, gusty wind, light rain & some folks say sleet.  Another sub-par effort.  17 pounds UP since June's REVEL run – lotta gain for a guy my size.  Not a dieter.  Who gains weight over the summer?!  …but first (28 miles away), 2 slices of the best gas-station pizza ever. Four other runners also crowded in – no mistaking us: race shirt & shoes, we all look alike.  HA!
Family nite in Fort Smith.  Dinner out, cards at Mom's, Sunday morning church.  Good to be HOME ❤
Agee Race Timing, LLC

K R HAGA
2017 White River Marathon

Overall: 102 out of 188
Time: 05:13:55.56