Enthusiasm is common.  Endurance is rare.
November 2017 update:  Month of Thanksgiving, time of thanks/gratitude/reflection.  Thankful for friends & family – saw both this month.  Visited my Mom & brother in Arkansas, completed a 'nearby' marathon.  Friends Dawn & Stephen travelled to Colorado.  Food fest'd, museum-toured Western Art, ran our local Turkey Trot Thanksgiving morn (canned goods donation to Sister Carmen).
December focus: STAY the COURSE
On track to complete 2,017 miles in 2017 next weekend at the big C Marathon.  Small charity run in the Pacific Northwest, 100% of proceeds go to cancer research.  Kicked off 2017 marathoning New Year's Day, 10 days after my last chemo treatment.  Seems more than fitting I would end 2017 giving back, now being on the other side.
Race ReCap:  2 marathons, long 5-hour finishes: Rim Rock in Fruita, White River Marathon in Cotter AR.
Marathoning Streak:  celebrated my 4 year RUNniversary – 48 consecutive months marathoning!
Mileage ReCap:  ended November at 1,981 miles (only 36 miles from GOAL)
Holiday Grinch 2017
Thanksgiving decorations make a quick exit & Santa explodes in the living room.
Hey, hey it's tinsel time.  Time of good cheer.
Fa-la-la-la-la, 'tis the season to be jolly.
Annual migration of wildlife – not Santa's reindeer but mule deer & Canadian geese.  HUGE flocks of geese, seasonal locals once again. Guess even snowy Colorado is 'summer' pilgrimage for some.  LOL>
Wrap your presents, send out cards.  It's the hap-happiest time of the year ♩ ♪ ♫ ♬ ♭ ♮ ♯
Thanksgiving Day migration
(whole lotta geese on Hecla; sorry for the video quality, 3G Galaxy borrow)
"As we express our gratitude, we must never forget that the highest appreciation is not to utter words, but to live by them." – John Fitzgerald Kennedy
I am thankful for my FAITH.  I can leap without fear; I am completely at peace.  A higher power guides the journey/prods the direction, knows my beginning & end.  Through HIM, anything is possible.
I am thankful for my HOME.  No matter what the weather, I am sheltered/comfortable inside.  Window view sports our snowcapped Flatirons – EVERY DAY thankful – my piece of the Rockies.  No other place on Earth.
I am thankful for an abundance of FOOD.  Never a time I went hungry.
I am thankful for GOOD HEALTH.  Easy to take for granted.  After last year's surprise, it's a gift.
I am thankful for DREAMS.  Always been a goal-driven individual – expectations tomorrow, in 3 months, next year.  Not all dreams complete as designed, but whatta life journey I've experienced.  2019: Antarctica ❄
I am thankful for FAMILY.  Laughter & shared life moments.  Inspiring circle I've chosen as Family; blood relatives I share DNA.  NZ, Toronto, Ash's wedding, Crested Butte, Nova Scotia, Ireland.  Lucky in life ❤
Thanksgiving Day feast with Ash & Tom in their Westminster home, our Colorado tradition.  Turkey & dressing, sweet potato casserole.  Veggies & mashed potatoes, deviled eggs & cranberry sauce.  An hour later, dessert: Ash's pumpkin cheesecake.  Tryptophan COMA.
Woke at 10pm, to drive home & sleep another 8 hours.  This is how the Pilgrims fed?  LOL>
ALSO, thankful for birthday cake, fondue & dinner theatre.  Yep, that happened this week too!  Celebrated Stephen's BIG day both Tuesday AND Saturday – a birth week celebration 🙂  Friday night, dinner theatre for 4 – tried a new venue, Candlelight Dinner Playhouse in Johnstown (not a fan of 'Annie', play showing in Boulder).  First impression, FAAANNNNTASTIC!  Good to have options.
LinkedIn Inspiration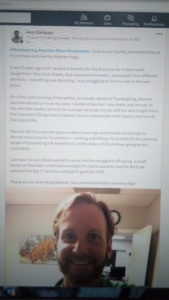 Arun:  thank you so much for the kind words – and sharing your post.  Much appreciated.
————————————————
#Thanksgiving #mentor #boss #inspiration
Time to say thanks, one more time, to my ex-boss and mentor, Keenan Haga.
It was 8 years ago and I landed in America for the first time for a short work assignment. New York streets, face-paced environment, and people from different ethnicity – everything was daunting. I was struggling to find my feet in the new place.
On a fine cold morning of November, few weeks ahead of Thanksgiving, Keenan was introduced to me as my boss. I smiled at him but I was shaky and unsure. In the next few weeks, not only he coached me to do my job well but also taught me a few important things: how to dream, how to treat people with respect and how to live a good life.
Keenan left his corporate gig a couple of years ago and moved to Colorado to devote more time for his passions – running and hiking. He recently hit his personal target of completing a full marathon in all the states of US and now going across continents.
Last year, he was diagnosed with cancer and he shrugged it off saying 'a small bump on the road', continued running with chemo sessions. And he did it, he survived the big 'C' and now setting his goals for 2018.
Thank you for everything Keenan. You continue to inspire me every day!  – Arun Kailasam