Lotta talk this summer 'bout last minute registrations.  Not so this weekend.  Added the Portland Marathon last Thanksgiving, bought airfare over Christmas break.  Almost a year ago, seriously – that's a lotta love for the Pacific Northwest.
2 hour direct flight, arrived just after midnight.  Hotel'ed nearby, picked up my rental following morning.  Why pay for a car overnight to sit in the hotel parking lot?  Free airport shuttle, up by 7am.  Big plans, outdoor Oregon plans.
When I ranked my 50 State marathons ('cause people asked), Oregon came out on top.  Crater Lake Nat'l Park.  Whatta memory, whatta beautiful place.  However, never got the chance to see Portland during my first 50 State tour.
Friday HIKE day.  Saturday CITY day.  Sunday RUN day.
HIKE day: Columbia River Gorge, 72 waterfalls.  Most of the day's preplanning went into which waterfalls I'd have to skip.  Dropped off I-84 early, driving the Historic Columbia River Highway.  First stop: Vista House.  However, pasted across Exit 23: CLOSED.  That's disappointing, website still posting active hours.  Next stop: Exit 25, Latourell Falls Trailhead.  Again, CLOSED.  What the heck?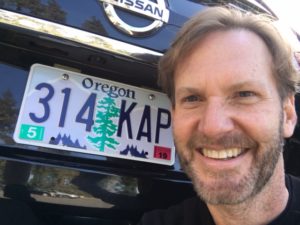 Drove up Corbett Hill, stopped by the country store.  Wildfire.  HUGE wildfire.  All of Oregon's Columbia Gorge gone.  Eagle Hill Trailhead – today's 'Wild' hike to Bridge of the Gods – gone.  Multnomah Falls: trees charred, ground still smoldering, no access.  Entire Gorge likely will remain closed to the public thru 2018 year-end – with an active State Police writing citations.  150 given to PCT hikers & tourists last weekend alone.  Ugh.
Plan B?  Hiking the other of the River – Washington State.
Brief stop at Bonneville Dam.  Toured the hatchery.  Most fish released early (water temps spiked during the wildfire).  Few old sturgeon remained.  Talked with Rangers re: potential hikes.  Cross the Columbia at Bridge of the Gods, 15-minute drive to Dog Mountain Trailhead.  Sage advice: Don't forget to buy a park pass in Cascade Locks or State Police will ticket your car at the Trailhead.  Who knew?  Thanks Ranger 🙂
In the movie 'Wild' (& also in my hike book), folks cross Bridge of the Gods – Oregon to Washington – on foot.  Argued a few minutes with the toll booth lady, who said it wasn't illegal but she wasn't letting folks walk.  Too much traffic today.  Double ugh.
Columbia Market, purchased my Northwest Forest Pass.  DROVE over the Bridge ($2 toll).  Hung a right, one small town, easily located the trailhead.  Backpack.  Started UP.  Tired of human chatter/enough talk 'bout what I CAN'T do.  STEEP UP first seven-tenths mile.  Quick sweat, shed a layer.  Another half-mile, settled into the hike.  Mood improved, body dwarfed by Cascade pine.
Evergreen blanketed in hair-like moss.  Marveled first time I witnessed in the Sierra Nevadas.  2 months later, just as stunning ❤
2,000ft UP.  Forest opened, huge expansive vista.  Columbia River Gorge down below.  Across the Gorge, hours away by car – Oregon's Mount Hood, snowcapped/towering high above treeline.  WOW!
7 mile hike, never topped 3,000ft.  No waterfalls BUT good to be outside.  For that I'm thankful, always grateful.
Car return, fancy downtown digs – the Hilton – CITY day tomorrow.
Columbia River Gorge