Shakespeare & classic 70's tunes – the connection?  Enjoyed both OUTDOORS this week in Boulder County.
Colorado Shakespeare Festival (Boulder) –  "Half-moon outdoor arena, center aisle seat, Flatirons sunset, temps in the low 70's – yep, pretty much PERFECT."  Stole the line from 2015; saw Othello that summer.
Fast forward 2 years: 2017, the Festival's 60th Season.
Hamlet, Julius Caesar – nope, threw my money at Henry VI Part III.  Absolutely no idea what to expect.  Yep, completely on purpose.
Different kind of performance.  Similar to Shakespeare's time, actors were given just 20 hours to learn their lines.  Introduce Hadley [Kamminga-Peck], Dramaturg & Prompter.  Kinda fun to see actors miss lines, turn to the lady seated off-stage & request dialogue.
What else was unique?  Audience members were provided red or white flags (Lancaster or York) – & encouraged to root for their 'House'.  "Take off his head" I screamed.  20 minutes later, booed/hissed when a member of my House, Clifford, was slain.
Typical Shakespeare – inconvenient marriages, 2 families vie for King, whole lotta slaughter.  Unfortunately, nite didn't end well for Team Red.
Tonite's STAR – Queen Margaret, House of Lancaster.  Wore a sword, led an army. The crowd cheered 'Henry', I bellowed: MARGARET!!
NOT the Shakespeare of my youth.  Far exceeded all expectations – FAANNN-frickin-TASTIC!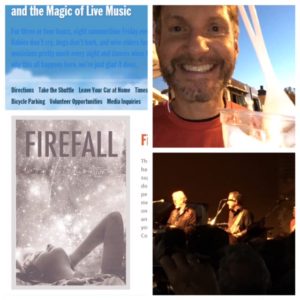 [2014] Kicked off the weekend at Louisville Street Faire listening to live outdoor music, filling up on pizza & ice cream…
[2015] Bowling, "Toy Story" Uno (family game night), Louisville Street Faire – and blink…it's time for all to go home…
Street Faire (Louisville) –  All summer, every Friday night on Front Street (just off Main).  Food, booze, crafts & LIVE music.  Not sure what excuse I was floating last year – but 2017, happy to be back in the WIN column.  Loser streak over.
Louisville residents skew mighty GRAY.  Tonite's band: Firefall.  Honest, had to Google-search but strangely remember their late '70's-era hits.  [thanks Mom 🙂 ]
Super FUN nite – LOVE LOVE my Colorado home ❤
Firefall is a rock band that formed in Boulder, Colorado in 1974.  The band's biggest hit single, "You Are the Woman", peaked at No. 9 on the Billboard charts in 1976.  Other hits included "Just Remember I Love You" (#11 in 1977), "Strange Way" (#11 in 1978), "Cinderella" (#34 in 1977), "Headed for a Fall" (#35 in 1980), and "Staying with It" (#37 in 1981) with female vocalist Lisa Nemzo.
Street Faire 2017